Welcome to Al Hubara, a great dining destination in Doha since 1982, where families come together to enjoy an exceptional culinary experience. Al Hubara is renowned for its international buffet restaurant that serves up a delectable array of dishes from around the world, all carefully prepared with the finest ingredients.
Al Hubara offers indoor seating that accommodates everyone, from couples seeking an intimate dining experience to larger groups and families. For those who love the outdoors, the restaurant's terrace allows you to enjoy Doha's perfect weather while enjoying a variety of bubbly flavors.
If you are seeking an unforgettable Friday brunch or a royal meal, Al Hubara promises a luxurious ambiance and a welcoming atmosphere to suit any occasion.
Sheraton Restaurants Doha
Sheraton Doha Resort & Convention Hotel has an array of attractive restaurants that satisfy different tastes.
Whether you are in the mood for exotic Indian cuisine at Jamvar, a flavorful international buffet at Al Hubara, the cozy ambiance of Irish Harp, poolside delights at Pool Cafe, relaxed moments at Artium Lounge, or the delectable flavors of Al Sultan Brahim, you are in for a culinary adventure like no other.
With a range of dining options to choose from, Sheraton Doha ensures a memorable dining experience for guests and visitors alike.
Al Hubara Restaurant Menu
For breakfast, they offer freshly squeezed juices like orange, grapefruit, watermelon, or carrot, as well as options like porridge served with nuts and cinnamon sugar.
The breakfast menu also includes a combo mezze featuring a selection of traditional hot and cold mezze dishes.
In addition to breakfast, Al Hubara's à la carte menu offers a variety of dishes, including classic options like Pizza Margherita and Penne Arrabiata for those craving Italian flavors.
To complement the meal there is a beverage menu that includes chilled juices such as apple, cranberry, mango, and pineapple, as well as a selection of teas for those looking for a refreshing sip.
This diverse menu ensures that guests can find something they enjoy, whether it is a hearty breakfast or a satisfying à la carte meal at Al Hubara Restaurant in Doha (Menu).
Al Hubara Restaurant Buffet Menu
The Al Hubara Restaurant Buffet Menu offers a delightful culinary journey with a wide range of delectable dishes to satisfy every palate.
The buffet showcases a tempting array of international and Middle Eastern flavors, all carefully prepared with the finest ingredients.
From succulent grilled meats to fresh seafood, aromatic stews, and an assortment of mouthwatering desserts, there is something for everyone to enjoy.
What is more, the Al Hubara Restaurant Buffet price is not only reasonable but also provides excellent value for the quality and variety of food offered, making it a popular choice for those seeking a memorable dining experience in Doha.
Al Hubara Restaurant Price
The breakfast menu offers options from 35 to 145 QAR, making it accessible for a light morning meal or a more elaborate start to the day.
If you are craving salads, you will find choices ranging from 85 to 150 QAR, while soups are priced at around 50 QAR.
For those with a taste for pizzas, they range from 70 to 85 QAR, providing affordable yet delicious options. When it comes to main courses, prices vary from 70 to 320 QAR, allowing diners to select dishes that fit their budget.
If you wish to complement your meal with wine, Al Hubara offers bottles priced from 225 to 775 QAR, ensuring that you can find the perfect pairing for your dining experience.
Al Hubara Restaurant Night Offers
At Al Hubara Restaurant, the nights are as exciting as the days, with special offers that cater to every taste.
If you are longing for the flavors of the Mediterranean Coast, do not miss their Mediterranean Night; delicious food with a wide variety of fresh pasta, delicious seafood, the best sauces, and delectable desserts of the region.
Join them for dinner from 7 pm to 11:30 pm at just QAR 235 per person, and children below 5 years dine for free when accompanied by an adult.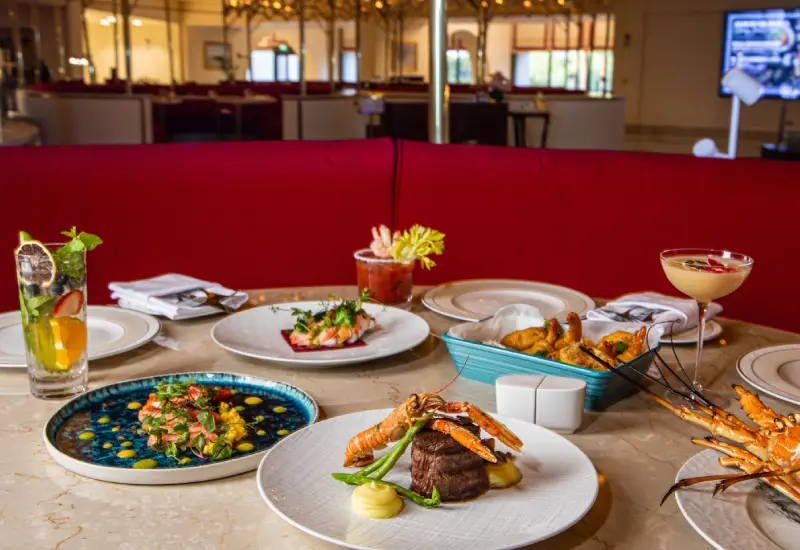 Seafood lovers will enjoy Seafood Night, happening every Wednesday from 7 p.m. to 11:30 p.m. For QR 350 per person, including soft beverages, you can indulge in a wide range of seafood selections, from lobsters and tiger prawns to oysters and mussels, all served right at your table.
And if you love lobster, mark your calendar for Lobster Night every Thursday, also from 7 p.m. to 11:30 p.m., at the same price of QAR 350 per person.
Bring your favorite people along, and savor the tempting buffet experience with Al Hubara's renowned lobster selection that will truly delight your senses.
Al Hubara Restaurant Lunch Offers
Al Hubara Restaurant welcomes you to enjoy delightful lunch offers that will surely meet your expectations.
On Saturdays, dive into the rich and delicious flavors of local Qatari cuisines and international dishes, all under the classic golden domes of Al Hubara.
This special lunch, known as Hayakum Lunch, is available from 12:30 p.m. to 3:30 p.m. at just QAR 215 per person.
If you are looking for a weekday lunch treat, Al Hubara has you covered with their International Lunch buffet.
From Sunday to Thursday, between 12:30 p.m. and 3:30 p.m., you can enjoy an array of international cuisines. The price for this delightful lunch experience is QAR 175 per person.
Whether it is a quiet Saturday or a busy weekday, Al Hubara's lunch offers provide a perfect opportunity to relish delicious meals in a welcoming setting.
So, gather your friends or colleagues and head to Al Hubara Restaurant to enjoy these nice lunch options; it is a culinary journey you do not want to miss.
Al Hubara Restaurant in Doha has garnered praise from visitors on TripAdvisor, earning itself a reputation as a top dining destination.
Reviewers consistently highlight the restaurant's diverse culinary offerings, elegant ambiance, and attentive service.
Many guests have praised the extensive international buffet, with dishes from around the world prepared with care.
The welcoming atmosphere and luxurious surroundings also receive high marks, making Al Hubara a popular choice for both locals and travelers looking for an exceptional dining experience in Doha.
In addition to the delicious food and pleasant ambiance, Al Hubara's staff are often praised for their impeccable service.
Visitors often mention the warm hospitality and attention to detail, creating a memorable and enjoyable dining outing. Al Hubara's positive TripAdvisor reviews reflect its commitment to providing a fantastic dining experience for all who visit.
More Info to Visit Al Hubara Restaurant Doha
Al Hubara Restaurant Email address: F&[email protected]
Al Hubara Restaurant contact number: 97444853000
Al Hubara Restaurant website: Click Here!
Al Hubara Restaurant Address: Al Corniche Street Doha, Doha, Qatar
Final Word
Visiting Al Hubara Restaurant is a truly wonderful experience that you do not want to miss when you are in Qatar. With its delicious international buffet, luxurious surroundings, and warm hospitality, it is the perfect place for family gatherings, business lunches (Doha Business tour), and special occasions.
The combination of popular dishes and a pleasant atmosphere creates unforgettable memories for all who dine here.
So, when you plan your trip to Qatar, be sure to include a visit to Al Hubara and discover the diverse culinary delights it has to offer, along with other remarkable dining destinations across this beautiful country.
Are you planning to travel to Qatar? Check out our Qatar tours.