Soon travelers will switch their holidays and vacation for this jewel of the Middle East. Qatar is the new meaning of luxury in the Middle East. Soon eyes will be staring at this country and Qatar hotels will be full of travelers. Qatar offers much wide range of hotels for all budgets, from cheap hotels in Doha to A 5 stars Banana Island resort. With our hotel services in Qatar, you have access to all types of accommodations.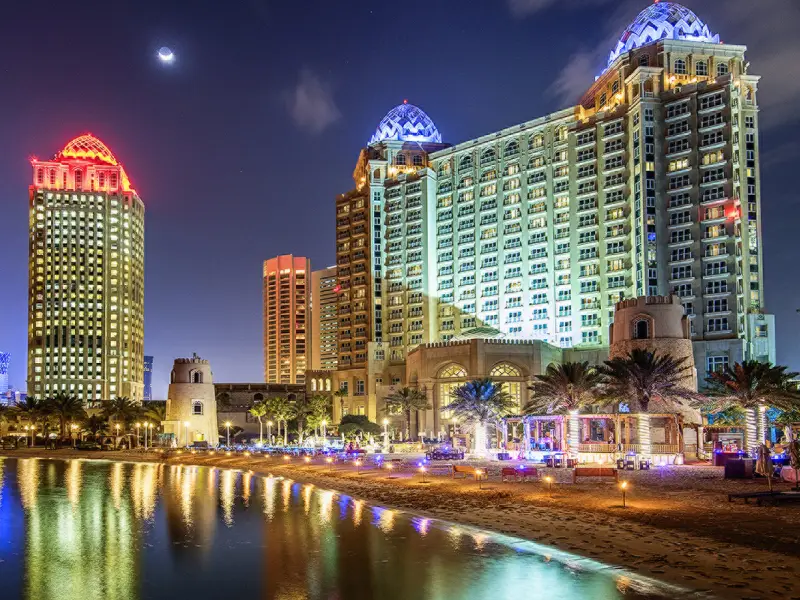 As a new destination for tourists, Qatar had to build ultra-luxury hotels that meet all the needs of travelers, for this reason, in recent years, with the help of hotel brands, it has built the best 5-star hotels in the Middle East. Qatar hotels bring traditional style along with modern style. Wyndham Grand Doha West Bay Beach, Banyan Tree Doha, Mandarin Oriental, DoubleTree by Hilton Doha Downtown, and Dusit Doha Hotel are the best hotels you can find in Qatar.
A getaway from the hustle and bustle of the city, A 20 minutes boat ride, It's a world-class Banana Island Resort. This Qatar hotel has private marina and reefs and brings all activity from water and land. Diving, swimming or golfing and bowling, don't matter, it is your escape from all the stress and a welcome sign to the land of relaxation.
Qatar offers you breathtaking public beaches to soak up the sun and enjoy the water. All of the beaches are clean and safe for family and solo travelers. Beach hotels and resorts are the greatest options for accommodation in Qatar to live like a billionaire. Salwa Beach Resort, InterContinental Doha, St. Regis, Four Seasons, Grand Hyatt, Sheraton Grand Doha Hotel, and Sharq Village & Spa are the best Beach hotels and Resorts you can reserve.
As we said before you can find all types of accommodations in Qatar, especially in Doha. Cheap hotels are very popular among travelers who want budget travel. Premier Inn Doha Airport, Premier Inn Doha Education, Chelsea Gardens Apartment, Jouri a Murwab hotel Doha, and Saraya Palace Hotel are the low price hotel and hotel apartments you could find in Doha and other cities.
Our Hotel Services in Qatar
As one of the companies providing tour services in Qatar, we know Qatar very well. For this reason, we can give you the best professional advice in choosing a hotel and accommodation. Just contact us for any inquiries about booking hotels in Qatar. JUST CONTACT US.