Qatar is known for its luxurious lifestyle and high-end accommodations, and the Banyan Tree Doha at La Cigale Mushaireb is no exception. This magnificent oasis is located in the heart of the city and combines modern design and traditional Qatari hospitality. From its stylish rooms to its modern facilities, the Banyan Tree Doha promises an unforgettable stay for its guests. This hotel is one of the best hotel in Qatar.
Banyan Tree Doha history
Banyan Tree Hotel is the first of its kind in the region and opened its doors in 2000. It has since become one of the leading hotels in the country and has been praised for its luxurious amenities, exquisite service, and beautiful architecture.
The Banyan Tree Group, an international luxury hotel chain that is renowned for its high-end services and opulent accommodations, owns the hotel.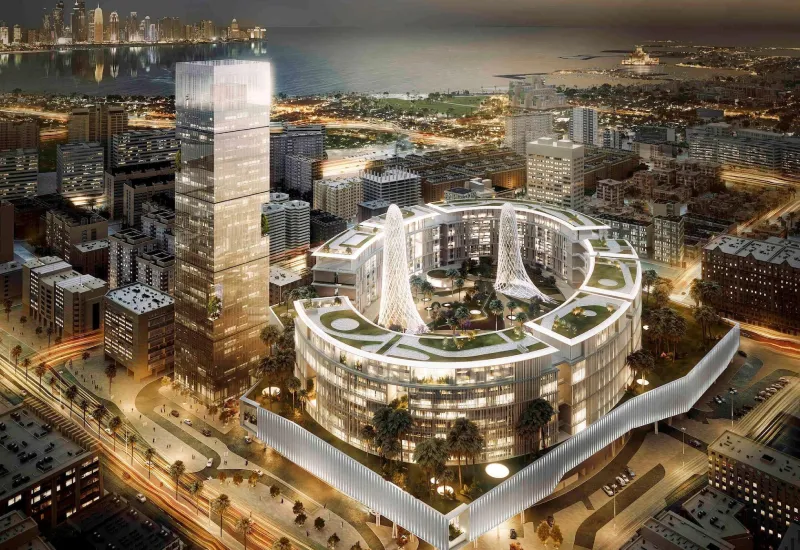 The hotel is located in the West Bay area of Doha and is a few minutes drive from the airport.
Hotel has been praised for its exquisite service and attention to detail, making it one of the top luxury hotels in the region.
The hotel is committed to providing guests with an unforgettable experience, and its beautiful architecture and luxurious amenities ensure that visitors to the hotel are treated like royalty.
Read more: Regency Sealine Camp
Banyan Tree Doha architecture
The hotel is one of the most luxurious in the city and has been designed with a focus on contemporary architecture and modern amenities.
The hotel's design was inspired by the traditional elements of Middle Eastern architecture with a modern twist.
The distinctive building features a façade of curved glass, highlighted by copper and gold accents. Inside, the hotel features an open-air lobby with a grand staircase leading up to the second floor.
The interior of the hotel is a blend of modern and traditional design, with a mix of stone and wood finishes.
The lobby features a grand chandelier and a series of large, ornate arches. The hotel has a variety of elegant suites and rooms, which are decorated in natural colors and textures.
Read More: Cielo Lusail Hotel
Rooms and Suites
The hotel features 96 well-appointed rooms and suites, all of which are designed to provide a comfortable and luxurious stay.
The rooms feature contemporary decor with traditional Qatari touches, and each room comes with a private balcony with stunning views of the city skyline or the Persian Gulf.
The rooms are big and have large windows that let in plenty of sunlight. The plush beds are outfitted with soft linens and down pillows, ensuring a good night's sleep.
The bathrooms are equally impressive, with marble floors and a separate rain shower and bathtub.
The rooms are also equipped with all the modern amenities, including flat-screen TVs, Nespresso machines, and high-speed internet.
For those looking for a more luxurious experience, the hotel also features a range of suites, including the Presidential Suite, which boasts a private rooftop pool and stunning views of the city.
Banyan Tree Doha Restaurant
This hotel is home to three restaurants and bars, each offering a unique dining experience. The hotel's signature restaurant, Tai Chi, serves authentic Chinese cuisine, while the Horizon Lounge offers a selection of international dishes in a casual setting.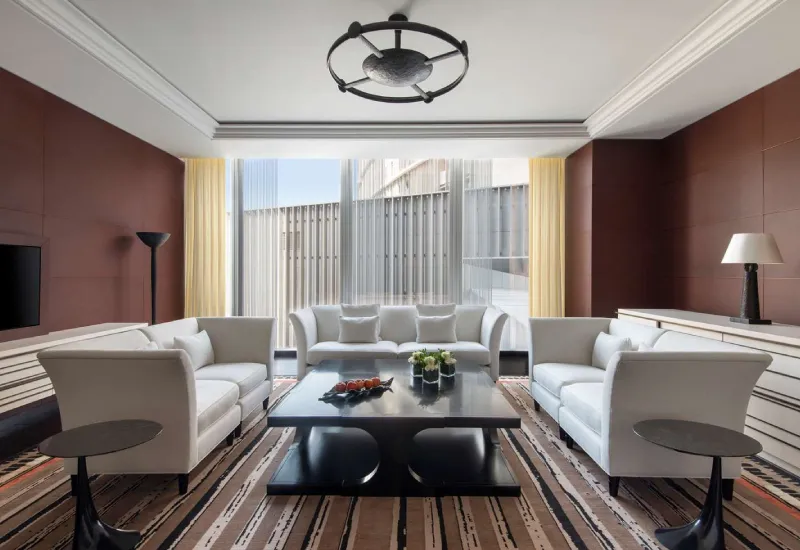 For those looking for a more stylish experience, the Vertigo Bar is a perfect choice. Located on the 28th floor, the bar offers stunning views of the city skyline and serves a wide range of cocktails and spirits.
Read More: Banana Island Resort & Spa
Banyan Tree Doha bar
The bar has a chic and modern decor with a hint of traditional Qatari elements. This bar is open seven days a week and offers a wide selection of international wines and spirits, as well as a wide variety of local and international beers.
The Banyan Tree bar is known for its extensive selection of food and drinks, as well as its friendly and knowledgeable staff.
The menu features a variety of dishes, including local specialties, as well as dishes from around the world. The bar also offers a range of snacks and desserts and a wide selection of alcoholic and non-alcoholic drinks.
The Banyan Tree Doha Bar is a great place to relax and enjoy a night out with friends. With its chic and modern decor, a wide selection of drinks and food, and friendly staff, it is no wonder that the bar is a popular destination for locals and visitors alike.
Facilities
The Banyan Tree Doha features an impressive range of facilities, including a rooftop pool, a fully equipped fitness center, a tennis court, a jogging track, and a spa. There is also a range of water sports, such as kayaking, jet skiing, and swimming.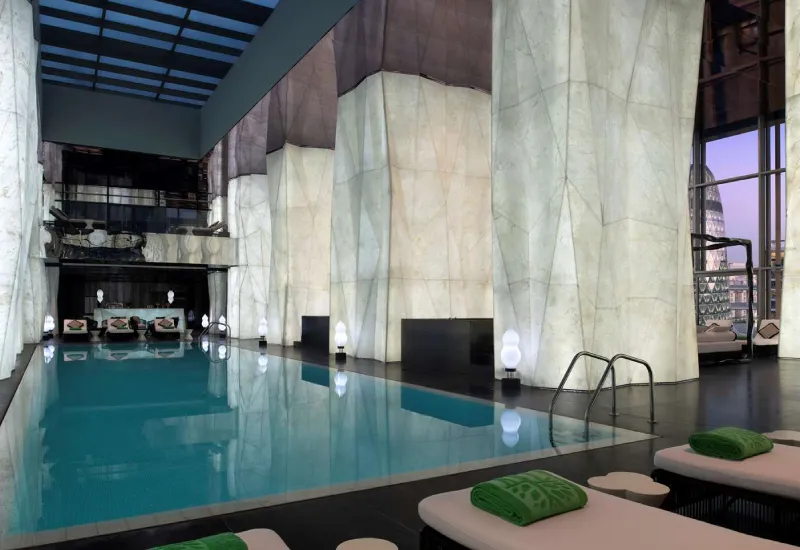 Guests can also take part in a range of cultural activities, such as a camel ride or a visit to the Souq Waqif. The rooftop pool is the perfect place to relax and soak up the sun while taking in the stunning views of the city.
The fitness center features modern equipment and the hotel also offers personal training sessions for those looking to take their fitness routine to the next level.
Banyan Tree Spa Doha
The spa at the Banyan Tree Doha is a true oasis of calm and relaxation. The spa offers a range of treatments, including traditional Qatari massage, Swedish massage, hot stone therapy, facial treatments, and aromatherapy sessions.
The spa offers a sauna, steam room, and Jacuzzi, which makes it an ideal spot to relax and rejuvenate oneself after a tiring day. Guests can also take advantage of complimentary yoga classes and private consultations with spa therapists.
Service
One of the standout features of the Banyan Tree Doha is its exceptional service. Once guests arrive, they are treated with the utmost care and attention.
The staff is friendly, courteous, and always ready to assist with any request. The hotel also offers a range of personalized services, including a butler service and a 24-hour concierge.
Read more: Fairmont Doha Hotel
Banyan Tree Doha Address
The Banyan Tree Doha at La Cigale Mushaireb is a luxurious 5-star resort in the heart of Qatar's capital city.
The hotel is located in the vibrant area of La Cigale Mushaireb, which is known for its many restaurants, cafes, boutiques, and entertainment venues.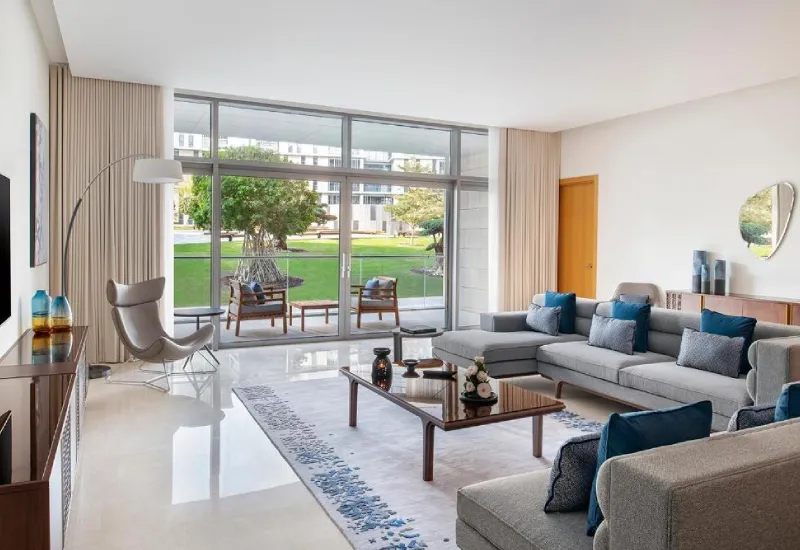 The resort is designed in a contemporary style, combining modern design with traditional Arab culture and hospitality.
Banyan Tree Doha is a stone's throw away from the city's major landmarks, including the Museum of Islamic Art and the Corniche, a beautiful waterfront promenade that stretches for several kilometers.
The Doha Exhibition and Convention Center is also located nearby, making it an ideal choice for business travelers.
More Information
Website: Here
Parking: The hotel offers a secure, underground parking facility with direct access to the hotel lobby.
Opening Hours: Hotel is open 24 hours a day, seven days a week.
Contact Number: +974 4455 5555
If you have any questions or would like to make a reservation, feel free to contact the friendly staff.
Conclusion
This hotel is a luxurious oasis in the heart of Qatar that promises an unforgettable stay. With its stylish rooms, modern facilities, and exceptional service, it is the perfect choice for both leisure and business travelers.
Whether you are looking to relax by the pool, indulge in a spa treatment, or explore the city's landmarks, the Banyan Tree Doha is the perfect place to stay.
Are you planning to travel to Qatar? Check out our Qatar Hotel page & Qatar tours.