Regency Sealine Camp of Qatar is the largest all-seasonal beach camp in the Middle East. Located on the turquoise waters of the Qatar-UAE border on the east coast of Qatar, this luxurious resort is the ultimate vacation destination.
This impeccable site is surrounded by free-roaming sand dunes, a unique blend of bays and coves, and also a wide beachfront with protected waters. Regency Sealine Camping offers an ecstasy of luxury camping experiences with spectacular views of the Persian Gulf.
Regency Sealine Camp 5 Star Hotel
The Regency Sealine Camp Doha is an award-winning 5-star camping and outdoor adventure destination.
This camp offers a unique combination of breathtaking scenery, luxury amenities, and a distinctively Qatari atmosphere.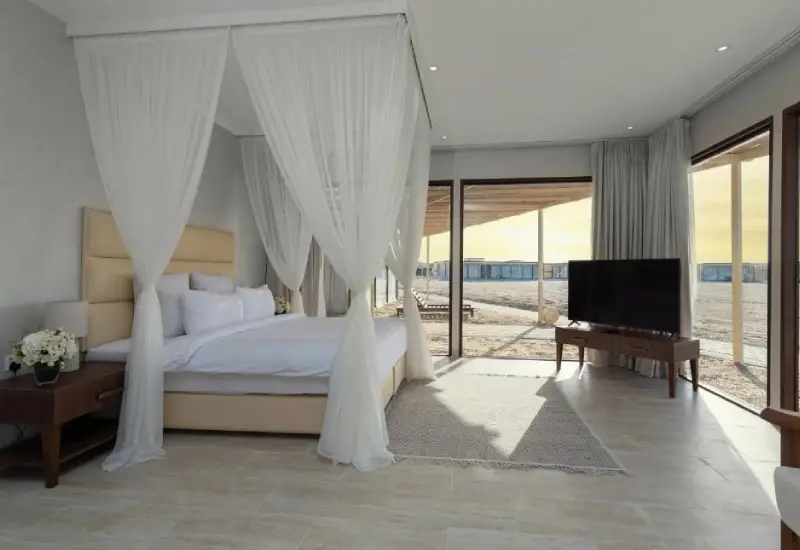 With its five-star rating, Regency Sealine Camp consistently delivers a level of excellence that surpasses expectations, making it a sought-after destination for travelers looking to immerse themselves in the enchanting beauty of the Qatari desert.
Read more: Mandarin Oriental Doha
Regency Sealine Camp Atmosphere
Regency Sealine Camp is designed to transport guests into a world of Arabian charm and hospitality. Upon arrival, you are greeted with warm smiles and traditional Arabian coffee, setting the tone for a truly authentic experience.
The camp's architecture draws inspiration from traditional Qatari tents, showcasing a seamless fusion of modern comfort and traditional aesthetics.
Regency Sealine Camp Facilities
One of the highlights of a stay at Regency Sealine Camp is the opportunity to explore the mesmerizing desert landscape.
The camp organizes thrilling desert safaris and dune-bashing experiences that allow guests to witness the stunning beauty of the dunes up close.
Expert drivers navigate the undulating sand dunes, providing an exhilarating and adrenaline-pumping ride. Camel rides are also available, allowing you to immerse yourself in the serenity of the desert as you traverse the golden sands.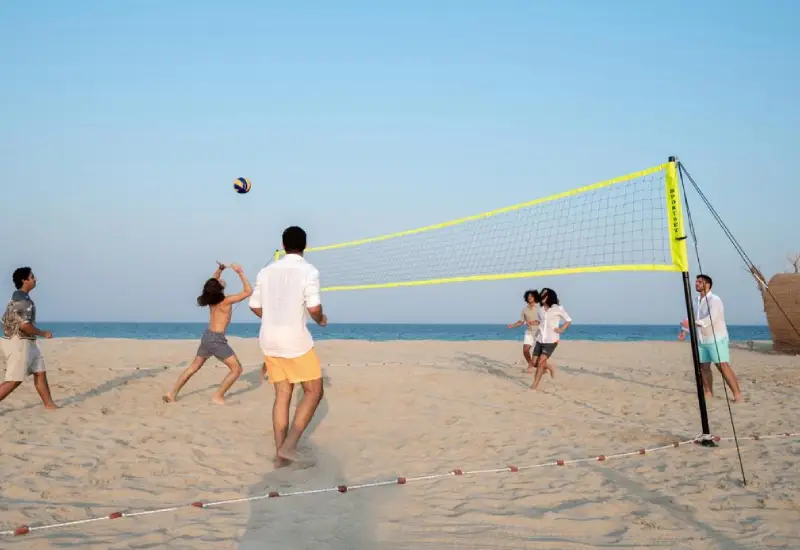 After a day of adventure, guests can indulge in a range of activities within the camp. Regency Sealine Camp boasts a variety of recreational facilities, including a swimming pool, volleyball court, and a dedicated children's play area.
You can also experience traditional activities such as falconry displays and henna painting, offering a glimpse into Qatar culture and traditions.
Read more: Al Rayyan Hotel Doha
Regency Sealine Camp Restaurant
Regency Sealine Camping offers exquisite cuisine from cuisines all over the world, as well as local and international specialty dishes that will excite any palate.
Moreover, the in-house chef will prepare the freshest ingredients and seafood to tantalize guests' taste buds.
The Regency Sealine Camp of Qatar Restaurant is a perfect place to experience the traditional cuisine and culture of Qatar.
The staff is friendly, and the atmosphere is warm and inviting. With an amazing selection of dishes, traditional Middle Eastern fare, and an opportunity to learn about the local culture, the Regency Sealine Camp Restaurant is an ideal place to experience the best of Qatar.
Regency Sealine Camp Alcohol
Regency Sealine Camp is an alcohol-free establishment, that embraces the cultural norms and traditions of the region.
By choosing to create an alcohol-free environment, the camp encourages guests to fully immerse themselves in the serene and authentic desert experience, fostering a sense of tranquility and allowing for a deeper connection with the natural surroundings.
Regency Sealine Camp Price
Regency Sealine Camp in Qatar offers a range of accommodation options to suit various budgets and preferences.
The prices for staying at the camp can vary depending on the type of accommodation, the season, and any special offers or packages available.
It's always best to directly contact the camp or visit their official website for the most accurate and up-to-date pricing information.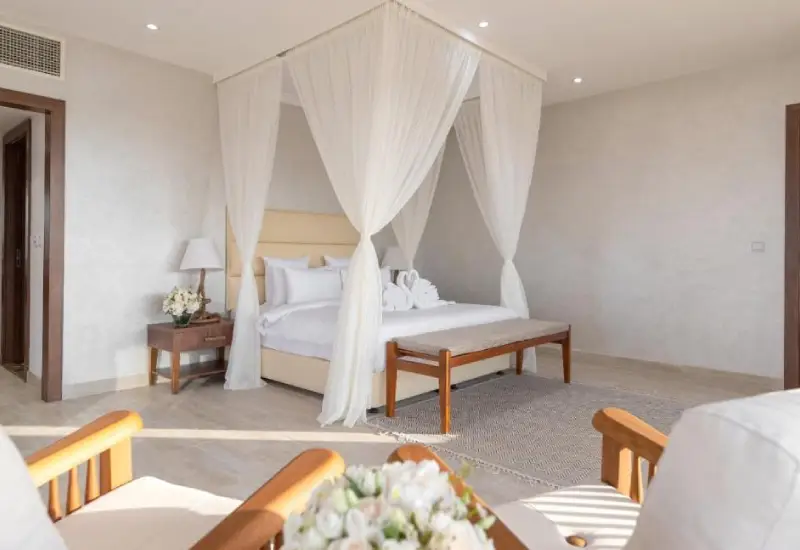 The cost for a basic package ranges from $150 to $200 per person per night.
More expensive packages are also available, which offer additional amenities, such as two-way airport transfers, guided tours, and additional activities.
The cost for these packages ranges from $300 to $600 per person per night.
Regency Sealine Camp Review
Regency Sealine Camp review describes it as an oasis of tranquility and indulgence, offering an ecstasy of luxury camping experiences with spectacular views of the Persian Gulf.
Visitors praise Regency Sealine Camp in their reviews for its impeccable service, breathtaking surroundings, and wide range of activities that cater to all ages and preferences.
Whether you're seeking relaxation by the shore or thrilling adventures in the desert, this remarkable camp, as attested in numerous Regency Sealine Camp reviews, is sure to exceed your expectations.
Read more: Best Hotels of Qatar
Regency Sealine Camp Location
The Regency Sealine Camp is located in an area of outstanding natural beauty, surrounded by the breathtaking sand dunes and rolling hills of the Arabian Peninsula.
With an area of approximately 2,300 square kilometers (1,346 square miles), it lies southeast of Doha, Qatar's capital city.
The camp is situated in a stunning coastal location, overlooking the sea with views of the Gulf of Qatar as well as views of the iconic skyline of Doha.
It provides visitors with an authentic way to experience the Qatar desert without having to travel too far.
More Info to Visit Regency Sealine Camp
Address: 12 Km Off Road From Sealine Area, Mesaieed Qatar
Regency Sealine Camp Contact Number: +974 55353463
Website: Here
Email: [email protected]
Final Word
Regency Sealine Camp promises an experience that will leave you in awe. With its blend of luxury, adventure, and Qatari hospitality, this desert retreat offers an escape from the ordinary and a chance to immerse yourself in the mystique of the Arabian Desert.
From thrilling dune-bashing rides to tranquil evenings under the stars, Regency Sealine Camp is an oasis of luxury and adventure that will create memories to last a lifetime.
Are you planning to travel to Qatar? Check out our Qatar Hotel page & Qatar tours.