Qatar, with great hospitality, has a wide selection of hotels to suit all tastes. Spend your leisure time in Qatar's most luxurious hotels and suites, enjoy some of the best cultural and leisure activities, and taste one of the best cuisines in the world while enjoying beautiful views and learning about the local culture. Qatar has a lot to offer, especially during the World Cup 2022. And what's the best thing to do after a long day of cheering and watching matches at the stadium? That's right! A suitable hotel to rest in and refresh yourself for the next day. Here are the 9 best hotels in Doha, Qatar.
Al Messila
As a luxury collection hotel & spa located in the heart of Doha, Al Messila provides a luxurious oasis for travelers who visit Qatar and seek the best hotel in Doha for families.
You will feel at home at Al Messila with rooms and suites that accommodate all of your needs. Not only can you have a great rest in the hotel rooms, but you can also use its amusing facilities, such as its famous spa.
A unique spa experience at Al Messila introduces holistic wellness to a completely new level. It is impossible not to be pleasantly surprised by the cuisines the restaurants of Al Messila Hotel serve. Travelers will find Al Messila Hotel & Spa to be truly heaven on earth.
In the modern Msheireb Downtown Doha, the city's newest and most exciting neighborhood, Mandarin Oriental is an intimate, stylish urban retreat.
Luxury is brought to Qatar with a blend of chic, contemporary design and Qatari heritage. It features ten dining outlets offering a variety of culinary experiences, as well as traditional local dishes and delicacies featuring flavor profiles from around the globe.
The Spa at Mandarin Oriental features six private treatment rooms, a couple's suite, two VIP suites, and extensive heat and water experiences, which include two indoor pools.
Located in the heart of Mushaireb, Banyan Tree Doha is an urban luxury resort in Doha that redefines luxury, comfort, and hospitality.
A luxurious accommodation option and stunning architectural design created by renowned interior designer Jacques Garcia. Earth, fire, water, and air are symbolic of the four elements of life in the hotel lobby, decorated with trees of life.
Peaceful heaven, Banyan Tree Doha, offers an inspirational ambiance for guests to refresh their minds, body, and soul, enhancing their experience with warm hospitality.
Banana Island Resort is the perfect destination for those seeking a relaxing and enjoyable vacation. Banana Island Resort Doha provides relaxation, adventure, wellness, and luxury all at the same time.
Whether you are looking for romance or unforgettable holidays with friends and family, the overwater villas are a perfect choice. Among the resort's features are a marina, a surf pool, and a diving center with all the necessary equipment.
The variety of fun in water sports ranges from the relaxing pace of kayaking, and stand-up paddle boarding, to the thrills of wakeboarding, banana boats, and donut rides.
A five-star experience awaits you at the St. Regis Doha, with its exquisite suites and rooms, award-winning restaurants, and luxury amenities.
It is located near the Pearl, one of Doha's most beautiful neighborhoods, in the West Bay, the city's business center. In addition to offering bespoke luxury services in rooms and suites, dining options that are exclusive to the resort, along with leisure facilities that can accommodate families, guests are guaranteed to have a memorable stay at the resort.
Opening in 2012, this spectacular hotel features superb restaurants and bars with delectable dishes and cooking stations.
High above the marina and offering stunning views of the infinite Persian Gulf, iconic Pearl, and Lusail City, The Ritz-Carlton, Doha offers luxurious accommodations in the heart of the city.
With a prime location in the heart of Doha's business district, the West Bay Lagoon, and close to one of its most famous neighborhoods, The Ritz-Carlton Doha is home to outstanding cuisine, modern rooms, and suites, a deluxe club level, as well as an extensive spa and outdoor pool area.
As well as the luxurious Katara Suite, the spacious outdoor terrace offers a comfortable seating area and picturesque views of the surroundings.
The Ritz-Carlton Sharq Village
Designed after a traditional Qatari village, The Ritz-Carlton Doha is a beachfront property that promises a luxurious stay and spa experience that awakens your senses.
The beachfront property overlooking Doha bay is unique in Qatar for its authentic re-creation of life in an attempt to replicate a desert village.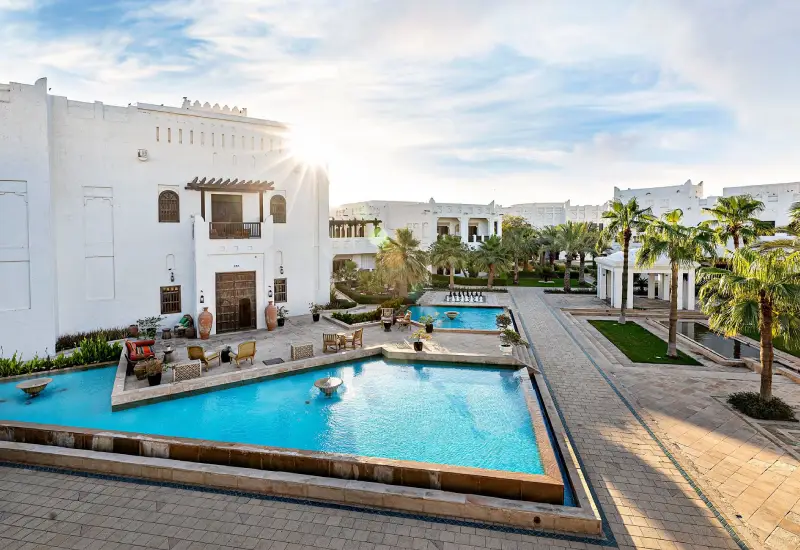 From traditional Arabian cuisine to international flavors like Persian, Pan-Latin, and more, the variety of dining choices at The Ritz-Carlton Sharq Village is tailor-made to serve the palates of local and international guests alike.
The outdoor dining options here offer panoramic views of the Doha skyline, creating memories to last a lifetime.
Discover one of the best hotels in Qatar, the Hilton Salwa Beach Resort & Villas, offering luxurious, majestic, and relaxing stay options with a wide range of amenities.
Several activities are available at this family-friendly resort, including a fantastic water and Adventure Park, a sports club, spas and pools, gourmet restaurants, and much more.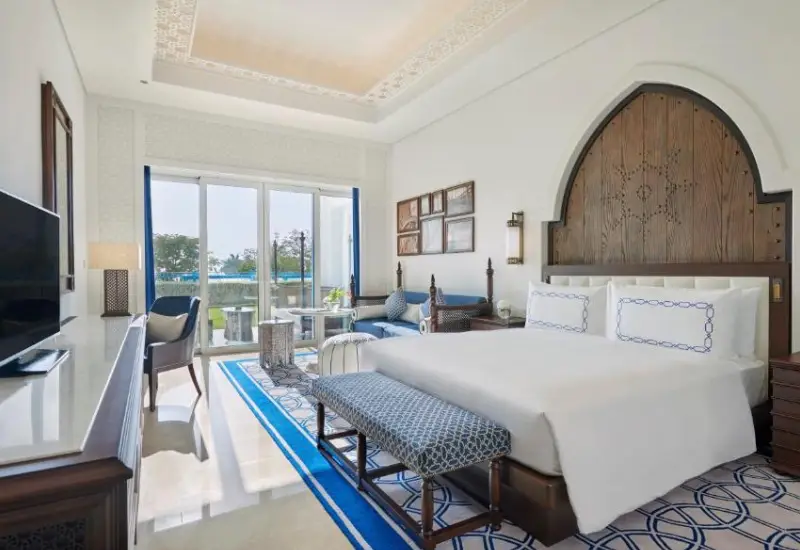 At the southwestern tip of Qatar, Hilton Doha Salwa Beach Resort is surrounded by pristine waters of the Gulf and offers a tranquil setting for those who enjoy sun, sand, and sea.
The scenery will be forever in your memories of your trip to Qatar. Therefore, if you are looking for the best hotel in Qatar with spectacular views, infinite amenities, and a fun time, Hilton Salwa Beach Resort is the one.
Mondrian Doha
Mondrian Doha, located in West Bay, where the city becomes alive, is at the crossroads of Doha and Lusail City and is designed to meet the needs of all travelers. Luxury and intricate design come together at the Mondrian Doha, a hotel that combines local culture with luxurious design.
This hotel in Qatar was developed over six years and now features a distinctive falcon-inspired design. The entrance design of the hotel resembles the falcon's beak since the falcon is a significant symbol in Qatari culture.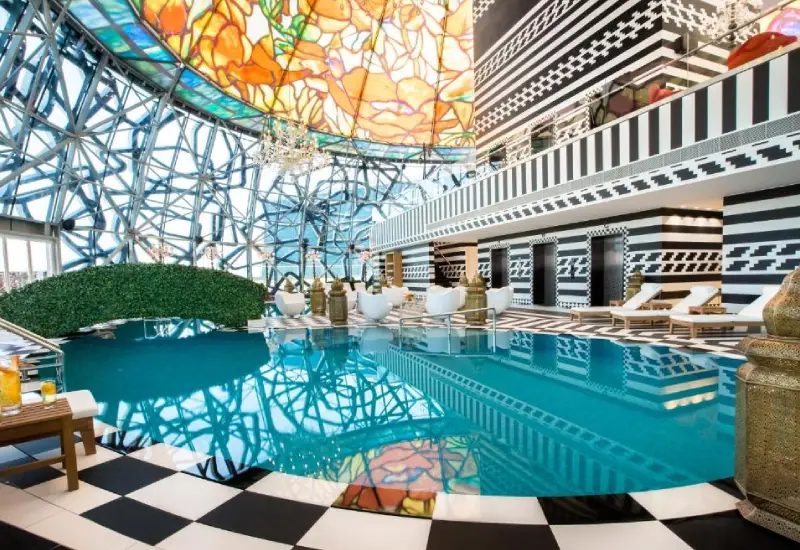 A pattern of birds' nests covers the podium of the Mondrian hotel, perfectly displaying how important falcons are to Qatari People. Another splendid aspect of the Mondrian hotel is that it can instantly become a favorite place for any food lover.
Food lovers can journey through the captivating designs of the Mondrian hotel to choose from a myriad of indulgent dining options, including Morimoto, an artfully designed Japanese restaurant, and Walima steakhouse, which offers the best in Qatari and Middle Eastern cuisine in a traditional atmosphere and New York-style burgers you cannot miss.
Conclusion
The abovementioned hotels are among the best hotels in Doha that you can book anytime for your travel to Qatar. From cheap hotels for economic trips to 5-star luxury hotels for business trips. Qatar has a variety of hotels, so it's trouble-free for you to choose your hotel. Have a pleasurable vacation in Qatar's most luxurious hotels and suites.
Are you planning to travel to Qatar? Check out our Qatar Hotel page & Qatar tours.