Experience the breathtaking Arabian elegance, luxury, and peace at Hotel Ritz Carlton Doha. Located in Doha, the heart of Qatar, which is famous for being an alternative and mini-version of Dubai. Doha Ritz Carlton is a 5-Star Experience spa with a view to the peaceful and endless sea of the Persian Gulf, modern fitness centers, swimming pools, excellent restaurants, and also Golf Courses are the features that make your stay at this hotel an unforgettable one.
A new sensation of placidity and hospitality in Qatar's most important port. Doha Ritz Carlton has a lot to offer when it comes to bringing a delicate and joyful feeling of travel to an Arabian country in the Middle East.
What does it have to offer?
When you book a 5-Star Hotel, you expect a 5-Star experience. Well, Doha Ritz Carlton goes beyond that. The mixology of the traditional culture of Qatar and the futuristic design of rooms and suites make it a perfect place for international travelers.
There are 374 luxury rooms and suites, 61 signature rooms, and 4 renovated Grand Amiri suites with unique designs decorated with Christopher Guy and Giorgetti furniture. The Ritz Carlton Doha offers the best service in the finest setting and luxurious amenities.
Read more: Cielo Lusail Hotel
Featured Amenities at the Doha Ritz Carlton
Ritz Carlton club level, Modern Fitness centers, Indoor and outdoor swimming pools with swim-up bar, whirlpool, plunge pool, and children's pool are also available.
Of course, there are some extra activities for travelers, such as golf courses, tennis courts, squash courts, retail shops, florists, Palmera Fashion Boutique & hair salons. But some of the facilities can charge additional fees.
Nonetheless, stylish rooms, perfect and comfortable design combined with the Arabian hospitality of this hotel, which is located on an exclusive private island, can truly awaken your senses. Ritz Carlton Doha is the preferred luxury choice for any foreigner.
Doha Ritz Carlton Location
Hotel Ritz Carlton is located on the West Bay Lagoon In Doha on an island resort. So if you turn your head in any direction from your window, you can see the peaceful blue sea. The hotel's area is a nice place overall for sightseeing and enjoying the cultural elements of Qatar.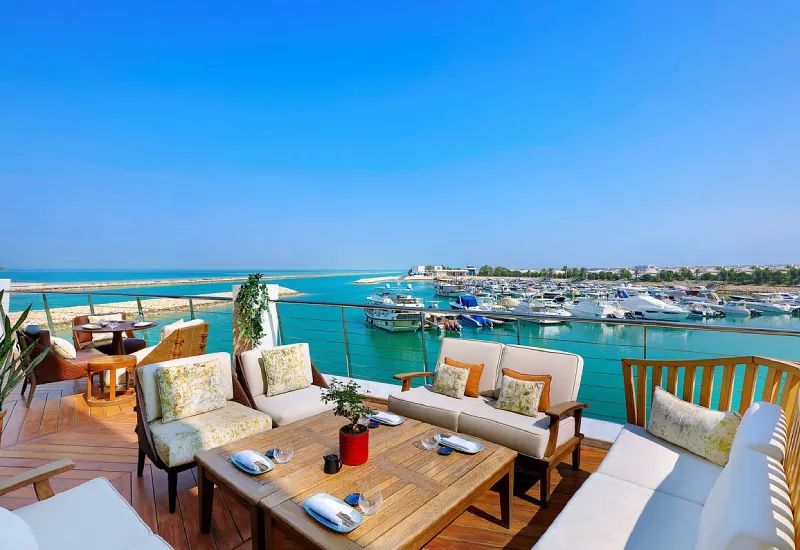 There are lots of things you can do in that area, and it is proximate to good restaurants and has beautiful neighborhoods.
For example, you can check out the Pearl Qatar, or if you have a very artistic personality, there are many options, like the Museum of Islamic Art or Katara Cultural Village.
Getting to the airport
The hotel is also accessible to the airports. Hamad International Airport is only 34 minutes away from the hotel. Although there are no public transportation options, you can access the hotel via car or taxi.
Uber is also widely used by people, travelers, and foreigners. There are also other transportation alternatives like Karwa or Careem that offer good services.
History & Awards
Ritz Carlton Doha has been operating since 2001. The success of this business has grown over the past few years and has won many awards, especially between 2021-2022. Qua Ritz Carlton Doha has become very popular in Qatar and internationally.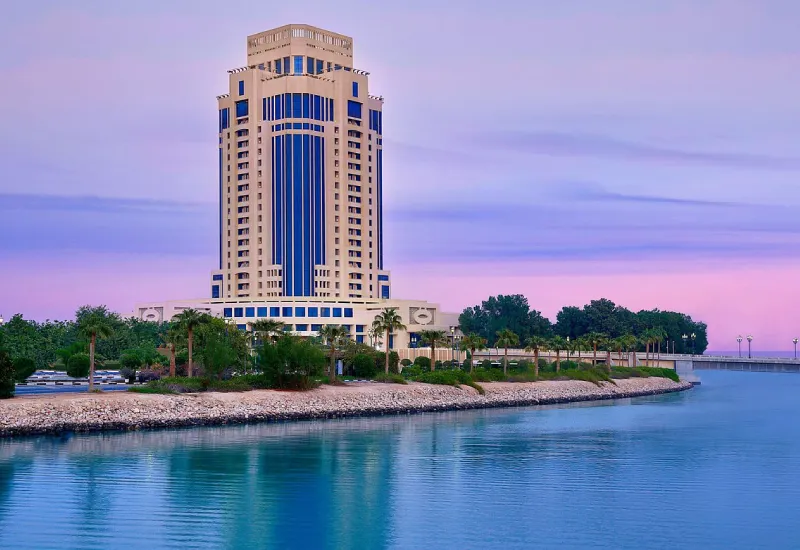 Here's a list of some Awards and Recognitions of Ritz Carlton, Doha:
Best Luxury Hotel in Qatar, International Travel Awards 2022
Best Five-Star Hotel in Qatar, International Travel Awards 2021
2021 Travelers' Choice Award Winner, TripAdvisor
Qatar's Leading Business Hotel, World Travel Awards 2020
Grand Amiri Suites – Qatar's Leading Hotel Suite, World Travel Awards 2022 & 2021
The Ritz-Carlton Spa, Doha – Qatar's Best Hotel Spa, World Spa Awards & Favorite Spa Design
Favorite Indoor Pool in Qatar by OHLALA Magazine 2021
Sel & Miel – 2021 Travelers' Choice Award Winner, TripAdvisor
Favorite French Restaurant in Qatar, Fact Dining Awards 2021
B-Lounge – Favorite Lounge in Qatar, Fact Dining Awards 2022
Restaurants and Cuisines
Food is an important part of any facility. Well, in the Ritz Carlton Doha, food is a kind of hotel's outstanding signature. Seven restaurants, lounges, and bars offer fine local and international cuisine with beautiful views and sweet spots that could be the best choice.
The perfect combination of a dish, chill music, and outstanding city sights and sea views, can leave you a great memory to remember later of your travel to Qatar.
B-Lounge Doha, with its Asian cuisine and comfortable ambiance, is the first choice for any resident. But there are other options like STK for meat lovers, Sel & Miel with french recipes, and Lagoon Restaurant with local flavors.
Read more: St. Regis Hotel Doha
An Unforgettable Stay in Doha
Ritz Carlton Doha is the new wing of Doha, sustaining Qatar's dignity. A five-star luxury combined with the Arabian tradition for a multicultural rich experience that anybody from anywhere could enjoy.
The extraordinary elegance of the Ritz Carlton Doha is sensational, and everything is perfect and ready to create an unforgettable experience for any foreign traveler.
Are you planning to travel to Qatar? Check out our Qatar Hotel page & Qatar tours.