The Corniche is a beautiful beach promenade that stretches for 7 kilometers along Doha Bay. The Doha Corniche map is in the shape of a crescent. Doha Corniche is one of the most famous sights in Qatar, and you can see it in every travel poster and brochure.
What has made this sidewalk attract so much attention is not its shape or location; rather, it is the space that has been created so that in this crowded city, people can gather and enjoy the peace flowing in it. Young and old, new travelers or citizens, anyone can be seen here.
Along this route, you can see the Museum of Islamic Arts and enjoy visiting luxury hotels. Since there are no streets suitable for walking in Qatar, Corniche can be an excellent choice to spend an afternoon by the bay. In general, walking here takes about 1 hour and 30 minutes.
The best time to walk and visit
One of the best times to visit the Doha Corniche is when the sun is setting. In addition, if you visit this area early in the morning at sunrise, you can see a beautiful view. Tourists who live near this area can come for a walk in the morning.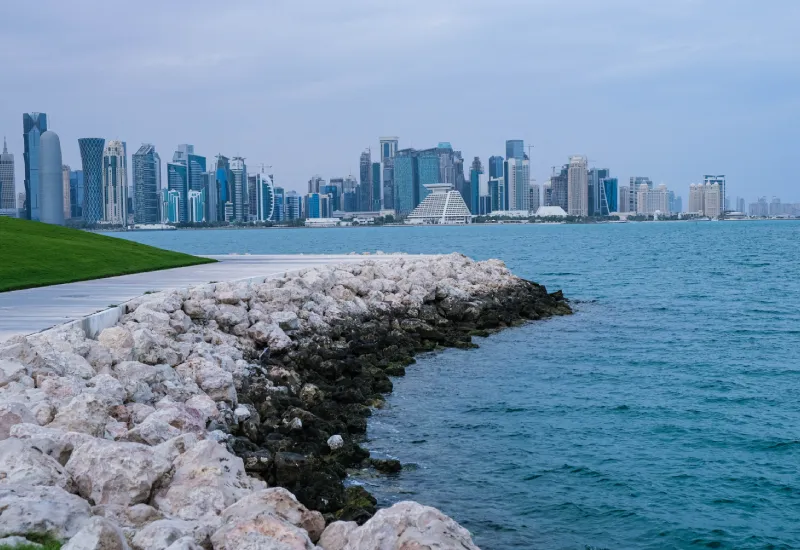 When the weather gradually brightens, the sunlight hits the skyscrapers, and the waters of the bay sparkle with sunlight, it will be the best time for a walk. One of the activities that you can do in the Corniche is kite flying, as there is a gentle breeze in this area.
The Museum of Islamic Arts contains one of the world's most extensive collections of Islamic works. The idea of collecting and displaying a vast collection of ancient works began in 1880.
Finally, this building was established and opened in 1903 in the Khedive Abbas Hilmi II region. Located right next to the National Library of Egypt, the building's facade is built in the Mamluk style.
In 2014, an explosion that targeted the building in front of this museum (Cairo Security Directorate) damaged its facade. This museum was renovated and reopened in 2017.
The museum building consists of two floors that display a vast collection of artifacts from around the world, covering subjects such as astronomy, medicine, and architecture.
This collection takes visitors on a journey through all periods of Islamic history and displays some of the most magnificent works. These works include carved woodwork, finely decorated ceramics, and rare manuscripts.
The Qatar Islamic Arts Museum grounds have lawns and beautiful decorative trees. The Qatar Museum of Islamic Arts was designed and built with post-modern style architecture. Due to the reduction of energy consumption in this museum, few windows have been used.
The museum's proximity to the Corniche beach creates a beautiful night view. As mentioned, the works of the three continents of Europe, Africa and Asia are exhibited in the Museum of Islamic Arts.
IM Pei, the architect, and designer of the entrance pyramid of the Louvre Museum is the same architect of the Qatar Museum of Islamic Arts. Its grand entrance is designed so beautifully that you cannot take your eyes off it.
When you enter the building, you are greeted by a masterpiece of light and space. The mesmerizing dome in the middle of this building draws the eye. In the architecture of this building, you can see a fusion of modern architecture with Islamic architecture.
The Museum of Islamic Art near the Corniche has three floors. Its first and second floors are related to permanent exhibitions, which include works of ceramics, enamel, glass, and exquisite fabrics.
All these works are kept in glass showcases due to their exquisiteness. This museum's placement of artworks and textiles has a unique arrangement that engages the viewer's mind.
You will be given free 40-minute tours to visit this museum. These tours are offered only from Thursday to Saturday. Seasonal and temporary exhibitions are on Wednesdays and can be visited from 2 pm.
Read more: Things to do in Qatar
Doha Corniche Beach
A part of the Corniche region has a beach where you can see boats in the water called Dhows. In fact, these traditional boats have been used in Doha since ancient times.
Dhows are sailboats that take you around the Doha area, and you can sit on the boats and watch the skyscrapers. The Doha Corniche boat ride price is 150 QAR per person for a round trip.
Sheraton Doha Hotel
Sheraton Hotel in Doha is one of the oldest hotels in Qatar. This hotel was built in 1982 and renovated in 2014. Sheraton Grand Doha Hotel is one of the best and most luxurious options for tourists and foreign travelers to stay. The architectural facade of this hotel is in the shape of a pyramid, which gives the city a beautiful and modern look.
This hotel is only three minutes away from Corniche beach. Travelers can also enjoy the view of the blue sea in their rooms by staying in this five-star hotel. Also, Sheraton Hotel has a private pool and beach that you can use if you like swimming.
The food variety of this hotel restaurant is very great. Some of the best chefs in the world are in the restaurant who cook Italian, Mediterranean, and Asian dishes.
Sheraton Hotel in Doha Corniche has high facilities you can use during your stay. Some facilities include a tennis and squash court, aside from a gym with complete and professional equipment.
Khalifa tennis and squash complex
The new Doha Tennis Stadium is the centerpiece of an integrated, world-class sports and leisure complex that combines sporting excellence and functional efficiency to inspire Qatari players of all ages. This stadium is designed according to Olympic, ATP, ITF, and QTF standards.
The complex has a multi-purpose hall with a movable roof with 12,000 seats. It also includes multi-purpose functions for concerts, conferences, and sports modes such as basketball, volleyball, badminton, table tennis, and beach volleyball.
Al Dafna Corniche Park
Al Dafna Park is located on La Corniche Street. This park is a refreshing and lovely area. One side faces Doha Bay with beautiful views, and the other side has many luxurious and unique skyscrapers. If you are interested in architecture, this is the place for you.
The Museum of Illusions in Doha is one of the best museums in this country. It offers you a rich and diverse experience of fascinating elements.
Fun and great tricks in this museum teach you about vision, perception, the human brain, and science, so it will be easier to understand why your eyes see things that your brain cannot.
Al Bidda Park
Al Bidda park is located in the heart of Doha and covers an area of 1,745,000 square meters. There are many facilities in this park for visitors that you can enjoy. The park has wide lawns where you can picnic or lie on the grass.
Although the entire park is one big play area for children, eight dedicated play areas are available with sand pits, climbing frames, swings, and even a zip line. Also, beautiful cycling and walking paths pass through different areas of the park. These paths can be used for cycling, skateboarding, and even rollerblading.
Conclusion
This is one of the most popular sightseeing spots in all of Qatar. Is it possible to go to Qatar and not come to the corniche? Enjoy the entertainment offered here.
Are you planning to travel to Qatar? Please read things to do in Qatar article & Check out our Qatar tours.