Doha Museum of Islamic Art is one of the masterpieces of architecture on the shores of the Persian Gulf. In this museum, works of art from the Islamic world are collected from 3 continents. Some of these works date back to the early days of Islam. As a result, the Doha Museum of Islamic Arts is considered one of the most important museums in the Islamic world in terms of Islamology.
The features of this museum are not limited to its ancient works. Doha Islamic Art Museum has an enormous building with an area of about 7 km. In addition to its size, this building has impressive beauty that cannot be found at any other museum in the area.
When was the Museum of Islamic Art Built?
The initial stages of constructing the Qatar Museum of Islamic Arts began in 2006. The design of this museum was assigned to Yu Ming Pei.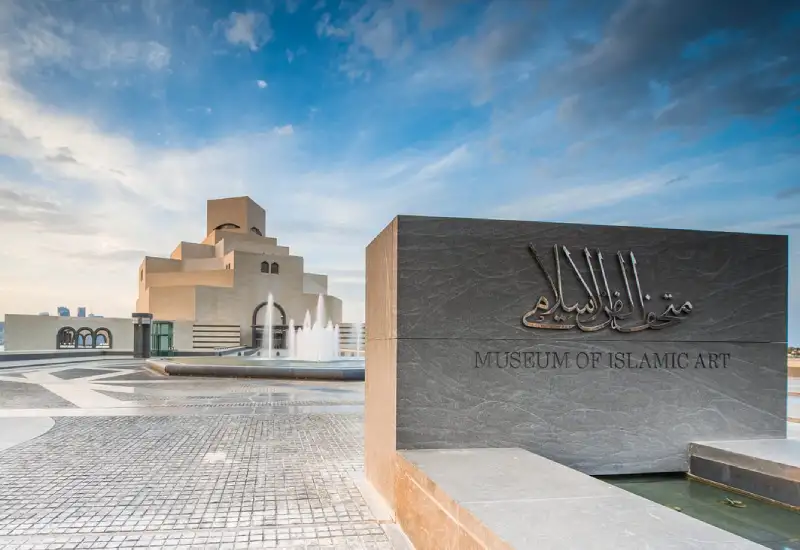 He is a prominent Chinese American architect with many famous buildings in his portfolio. The design and construction stages of the Qatar Islamic Arts Museum took about two years, and it was opened on November 22, 2008.
Read more: Museum of Illusions
The Museum of Islamic Art Architect
I. M. Pei was taught by Walter Gropius at Harvard University. His company is based in Boston, and he is also a Pritzker Prize winner. I. M. Pei owes most of its fame to the design of the modern glass pyramid as the new entrance to the Louvre Museum in Paris, which was built almost two decades ago.
In this building, he has combined the elements of traditional Islamic architecture with the modern architecture of the 21st century in an eye-catching way.
This complex seems to express I. M. Pei's favorite architectural style and elements a similar way to his Louvre design. The pyramid-like volume and curved display stairs in the central hall of the complex are some of the most important similarities.
Museum of Islamic Art Architecture
The Museum of Islamic Arts was built with new and modern materials; however, to make the building of this museum reminiscent of the art of old architecture, wood has been used to design parts of it.
In addition, in the interior design of the building, the hard edges of modern architecture are combined with the geometric and curved forms of traditional Islamic architecture. This museum has two large buildings.
Its main building has five floors and has 4225 square meters of exhibition space. This building is connected to the sub-building of the museum with magnificent bridges.
Natural skylights have played an important role in lighting old buildings; for this reason, atriums have been designed in this museum for lighting inside the museum. Massive chandeliers with Islamic designs, similar to what we see in mosques and religious places, also stand out in the corners of the Qatar Museum of Islamic Arts.
The entrance of this museum is located on its northern side. A glass wall with a height of 45 meters has been installed at the museum's entrance. The museum's entrance offers visitors a beautiful and spectacular view of Doha Bay.
Dome of Doha Museum of Islamic Art
The main symbol of Islamic architecture in this museum is its dome. The dome of this museum is different from the domes we have seen in other Islamic buildings.
This dome is built with modern architecture along with traditional design; As a result, it gives a unique beauty to the Museum of Islamic Arts. Under the dome, there is a very large circular chandelier. The diameter of this chandelier is about 12 meters.
Different Sections of the Museum of Islamic Art (mia) Doha Qatar
The Museum of Islamic Art has many different sections. The main building of the museum has four floors with active galleries.
A spacious restaurant with noble cuisine stands out on the museum's first floor, along with a cafe; a Qatar souvenir shop, a meeting hall, a place for temporary exhibitions, and a prayer hall are other facilities of the Islamic Arts Museum on the first floor. In addition, this museum has an extensive library with manuscripts and old engravings.
The second floor of the Islamic Arts Museum is dedicated to the art of calligraphy and sculpture. Calligraphy works from ancient times to today are kept in this museum.
The works of Kufi and Thuluth calligraphy are other treasures in the Museum of Islamic Art. Next to calligraphy works, old statues can be seen. Some of these works date back to the early days of Islam.
The third floor of this museum is dedicated to Islamic art from the 7th to the 12th century AH. In this section, works of art from all corners of the Islamic world have been collected. Interestingly, Iranian artists did many of the works collected in this section.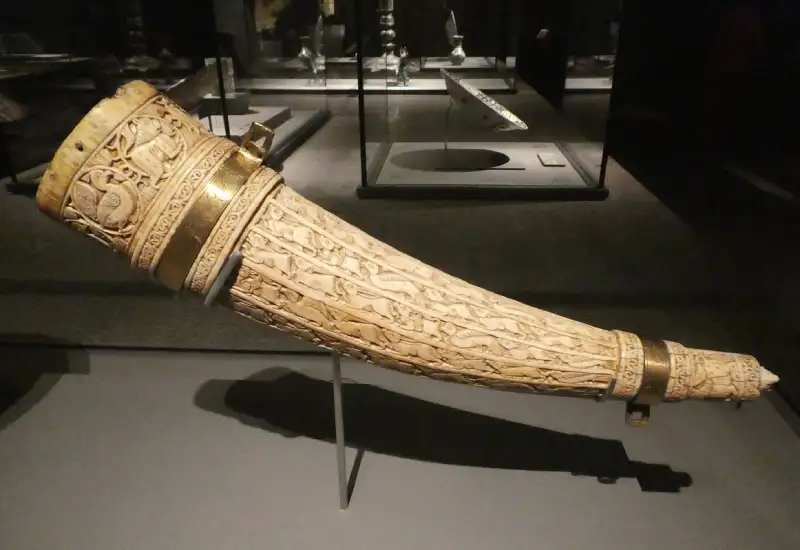 There are also works of art from Central Asia in this section. These works date back many years ago and show the importance of Islam in the eyes of the ancient people of Central Asia.
Read more: Qatar's Museums
Works of the Museum of Islamic Art Qatar
The Museum of Islamic Arts in Doha is considered the most significant Islamic museum, where Islamic antiquities, such as manuscripts, exquisite fabrics, precious stones, and old gold, silver, and bronze coins dating back to Islam and the Sasanian era, have been exhibited.
The Museum of Islamic Arts has exhibited a unique and rare collection of Egyptian, Spanish and Turkish manuscripts of the 11th, 13th, and 15th centuries with scientific and mathematical subjects.
Some other exquisite works displayed in this museum are:
Iranian turquoise clay bowl, belonging to the 15th century AD
The exquisite Iranian Quran
Ottoman tile decorated with the name of Allah
The book "Dala'il Al Khayrat" with Ottoman painting
Mongolian treasure
Remains of the 17th century in India
Iranian silk carpet from the 16th century
Brass vase with Slimi motifs from the 15th century
Location and Accessibility of the Museum of Islamic Arts
The Museum of Islamic Arts is located in the port of Doha. Doha port is very well connected, and wherever you are in Doha, you only need to take a taxi and ask the driver to take you to the museum.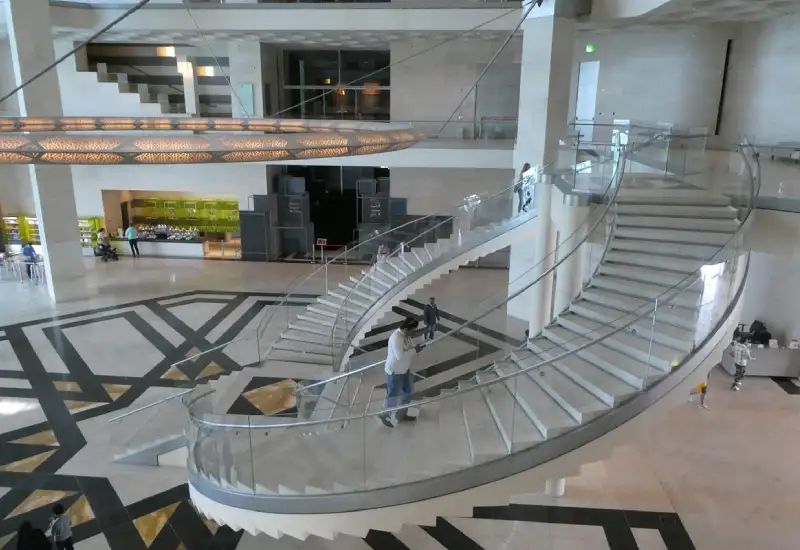 If you are riding the subway, you must get off the subway at Ad Dawhah station. It is only 4 minutes from this station to the Museum of Islamic Arts. Also, the distance between this museum and Doha airport is only 13.2 km.
Information on Visiting the Qatar Museum of Islamic Arts
Every week from Saturday to Thursday, free 40-minute tours are held for tourists in this museum. These tours start at 2 pm on Thursday. Occasionally, this museum hosts seasonal exhibitions, which start at 2 pm.
Since Islamic arts are kept in this museum, tourists should wear long clothes and observe Islamic customs.
Qatar Islamic Art Museum doors are open to tourists on Sundays, Mondays, and Wednesdays from 10:30 am to 8 pm. This museum is open to visitors on Thursdays and Saturdays from 12:00 noon to 8:00 pm. The Museum of Islamic Arts is closed on Fridays and Tuesdays.
Museum of Islamic Art Tickets
Museum of Islamic art ticket prices for different groups:
Adult: Full price (QR 50)
Child: Free (age 16 and under)
Student: 50% Discount (QR 25) upon presentation of a valid university student card
Groups (25+ people): 50% Discount (QR 25)
Qataris and Residents of Qatar: Free, upon presentation of a valid QID card
Culture Pass Plus Member: Free
Culture Pass Family Member: Free
ICOM Card holders: Free
All entrance tickets are valid for three days from the date of the first entry, except for group tickets, which are only valid for a single entry on the date of admission. Tickets cannot be refunded or exchanged.
Are you planning to travel to Qatar? Please read things to do in Qatar article & Check out our Qatar tours.