Lusail city, the second largest city in Qatar, is located on the coast in the southern part of Al Daayen municipality. This place is home to many attractions, luxury shops, and star-rating hotels. Lusail city also houses the biggest stadium in Qatar, owned by the Qatar Football Association, The Lusail Stadium. The Lusail Stadium is one of the arenas where events of FIFA World Cup 2022 took place in it. Visiting Lusail city, numerous star-rating hotels would make one be on the fence. However, among those options, Cielo Hotel is a one-of-a-kind experience. Cielo Hotel Lusail is a mixture of luxury and solace.
Cielo Hotel
Doha is the center of most activities in Qatar. Many attractions and 5-star hotels take place in this city. Nevertheless, plenty of hotels and attractions are situated in other cities of Qatar as well.
Cielo Hotel Lusail, located in Lusail city, is one of those exceptional resorts among other famous star-rating hotels of Qatar. With its rich minimalistic design and luxurious interior, this hotel stands out as the perfect place for travelers. Cielo Hotel Lusail is harmonic as its sounds.
Simplicity, accompanied by luxury, plays a fundamental role in the design of the Cielo hotel. The cleanliness and neat rooms elevate the minimalistic design of the hotel even further. The comfortableness of the Cielo Hotel Lusail is sensational.
Hospitality, good services, and exceptional views are the other most enjoyable factors this hotel offers for its visitors. Cielo Hotel Lusail booking is an excellent value for money if you are traveling with friends, family, or even by yourself.
Designating an unparalleled experience, Cielo Hotel Lusail invites its guests to relax and enjoy their moments in Qatar.
Read more: Mandarin Oriental Hotel
Location of Cielo Hotel Lusail
Cielo Hotel, in the second-largest city of Qatar, is easily accessible to many attractions that one must visit in travel to Qatar. Next to Qatar Mall, one of the newest and biggest malls in Qatar, the hotel offers a perfect service for visitors.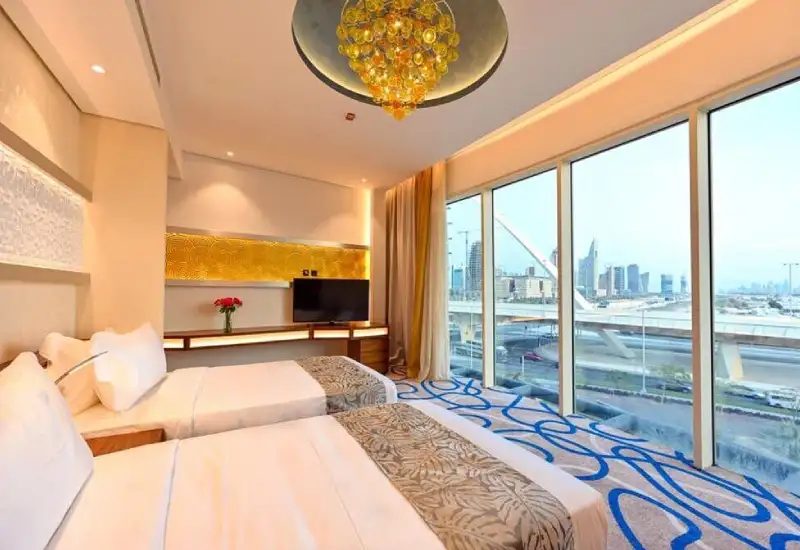 The Pearl Qatar, Place Vendomr Mall, Lusail University, Qetifan Island, and Marina Lusail are other places near the hotel. You can also check out the Katara Cultural Village, Katara Beach, Qanat Quartier, The Oyster, and Lagoona Mall, which are accessible around the location of the Cielo Hotel.
If you want to visit places like City Center Mall, The Corniche, MIA Park, and Souq Waqif, you can reach the spots within a 10-15 minute drive. Overall, the Cielo Hotel's accessibility is quite good. The hotel's location is exceptional, and you can enjoy plenty of activities around the hotel during your stay.
Features & Amenities of Cielo Hotel Lusail
The Cielo Hotel features various amenities and services. The Cielo Hotel holds about 70 luxury rooms, which are very clean and neat. In Cielo Hotel Lusail booking, there are three options, each of which covers the guests' needs.
The guest can choose junior suites, deluxe suites, or executive suites, and each is designed beautifully with the necessary amenities and room services.
The Cielo Hotel provides a rooftop pool, spa facilities, a fitness center, and award-winning restaurants. Complimentary Wi-Fi is also accessible in public areas and all the rooms.
A vibrant events space for special gatherings is featured at the hotel too. Therefore, if you are planning a special event, you can accommodate the hotel and have a memorable experience for your gatherings.
The Cielo Hotel Lusail pool, located on the rooftop, is so enjoyable and moderate. In addition to the five-star hotel services, excellent city views and a fine art collection enhances the experience even more.
Read more: Banana Island Resort
Cielo Hotel Lusail Restaurants
Foods and beverages represent the general quality of an establishment. Usually, a good hotel puts a lot of focus on its food outlets. Cielo Hotel Lusail restaurants, as a part of Cielo Hotel facilities, have incredible quality in their foods and beverages.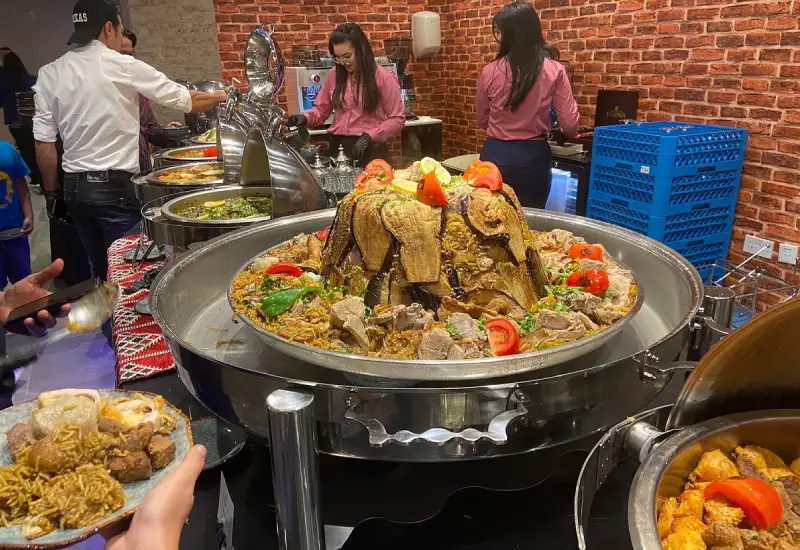 These award-winning restaurants offer exceptional drinks and dishes, from quick bites, high tea, and other drinks to the main dishes for lunch & dinner.
Al Masa Restaurant and Luee Café are the facilities that host guests. An incredible ambiance and setting, plus beautiful interior design, makes them a perfect place to have an important business meeting or even to chill out and enjoy the tastes.
Read More: Al Wadi Hotel Doha
Cielo Hotel Lusail Address & Info
Cielo Hotel Lusail is easily accessible via car or taxi. The distance from the Hamad International Airport to the hotel is 19 km and is about a 25-minute drive. For guests who drive their own cars to the hotel, the Cielo Hotel offers a free parking site.
For public transportation, Al Ghanim Karwa Bus Station is recommended. However, if you have too much baggage, taking an Uber or a taxi would be a better option.
Cielo Hotel Lusail Website: https://www.cielohotellusail.com
Cielo Hotel Lusail Contact: +974 44338444
Cielo Hotel Lusail Address: Cielo Hotel Lusail, Al Tarfa Service Rd Doha, Lusail, Qatar
Cielo Hotel Lusail E-Mail: [email protected]
A Memorable Stay
Although Qatar is a small country, there is more to it than meets the eye. This peninsular country does not end with its capital Doha. The city of Lusail is another majestic city of Qatar after Doha. Located on the coast of Doha, this city extends its vibrance alongside the tranquil blue sea.
Lusail city is the best destination if you want to behold more of the Arabian culture. Enjoy the luxury and peace at the Cielo Hotel Lusail while staying in the vibrant city of Lusail. Experience the serenity and comfort of the Cielo Hotel Lusail during your visit to Qatar's cities with friends & family.
Are you planning to travel to Qatar? Check out our Qatar Hotel page & Qatar tours.