Lusail Stadium, often referred to as the crown jewel of Doha, is an extraordinary sports arena set to play a pivotal role in the 2022 FIFA World Cup and AFC Asian Cup 2023. Located in the futuristic city of Lusail, just north of Doha, this stadium is more than just a venue for football matches; it represents a fusion of innovation, culture, and excitement. Let's read more about this masterpiece!
Exploring Lusail Stadium
When it comes to world-class sports venues, Lusail Stadium stands out as a shining star in Qatar. This article delves into the facts and features that make this stadium an essential part of the AFC Asian Cup 2023 experience.
Lusail Stadium, located in the heart of Lusail City, is set to be one of the main venues for the upcoming AFC Asian Cup. This remarkable stadium showcases a stunning design, impressive capacity, and a promising legacy beyond the tournament.
Lusail Stadium Facts
Read this facts about this stadium down blow:
Architectural Marvel
Lusail Stadium is a stunning architectural masterpiece designed by the renowned firm Foster + Partners. Its design is a harmonious blend of modernity and traditional Arabic architectural elements.
Green & Sustainability
Lusail Stadium is a sustainable sporting venue with an eco-friendly design. It features a lightweight, carbon-efficient roof and incorporates various green technologies and energy-efficient systems.
Lusail City
The stadium is located in Lusail City, a futuristic city situated just north of Doha, Qatar's capital. Lusail City is a rapidly developing urban hub designed to host a variety of events and activities.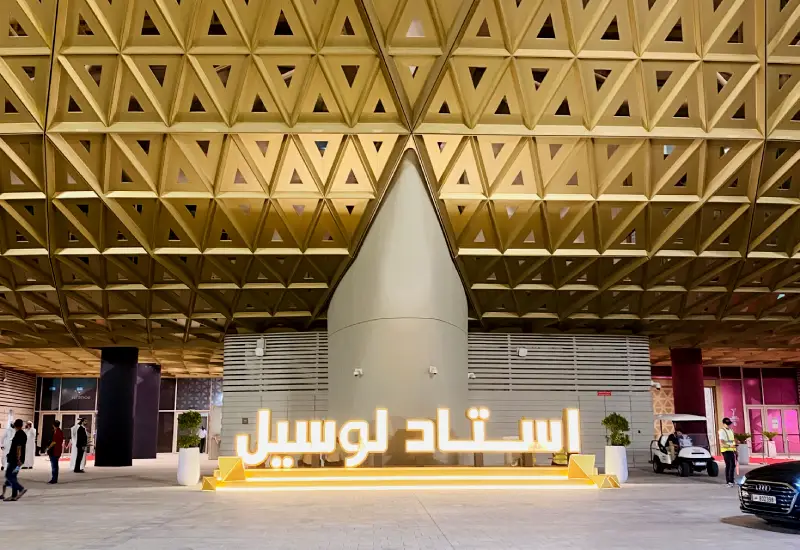 FIFA World Cup 2022
Lusail Stadium played a significant role in the 2022 FIFA World Cup. It was host several matches, including the World Cup final, making it a focal point for football fans and enthusiasts from around the world.
Legacy
Beyond the World Cup, Lusail Stadium is designed to have a lasting legacy. It will continue to host a wide range of sporting and cultural events, serving as a symbol of Qatar's commitment to promoting sports and culture within the region and beyond.
What is the capacity of Lusail stadium?
Lusail Stadium boasts an impressive seating capacity, accommodating approximately 88,966 spectators. This makes it one of the largest Asian Cup 2023 stadiums.
The stadium features state-of-the-art facilities to ensure a comfortable and enjoyable experience for every attendee.
Lusail Stadium Design: A Jewel on the Asian Cup Stage
Lusail Stadium's design is a true marvel of architectural excellence. Crafted by the renowned architectural firm Foster + Partners, it seamlessly blends modern aesthetics with traditional Arabic design elements.
The stadium's most striking feature is its lightweight, carbon-efficient roof, inspired by the region's architectural heritage.
This roof not only provides shade and shelter but also incorporates sustainability features, making it an eco-friendly structure.
Lusail Stadium's design showcases Qatar's commitment to innovation and sustainability, creating a unique and visually stunning venue for major sporting events.
Lusail Stadium Amenities
Lusail Stadium in Qatar offers a range of modern amenities to enhance the visitor experience during events. Here are some of the key amenities you can expect when attending Lusail Stadium:
Concessions: Numerous food and beverage concessions are available throughout the stadium, offering a variety of dining options for visitors.
Retail Outlets: Visitors can find retail outlets and merchandise shops within the stadium, where they can purchase event-specific memorabilia and souvenirs.
Parking Facilities: The stadium offers ample parking facilities to accommodate attendees, ensuring convenient access to the venue.
Wi-Fi: Lusail Stadium typically provides free Wi-Fi access to keep visitors connected during events, allowing them to share their experiences and stay in touch.
Restrooms: Clean and well-maintained restroom facilities are readily available, ensuring visitor comfort throughout the event.
First Aid Stations: In case of medical emergencies, there are first aid stations and medical personnel on hand to provide assistance.
Hospitality Suites: Lusail Stadium may offer hospitality suites or VIP areas with premium seating and catering services for a more exclusive and comfortable experience.
Entertainment Options: Beyond sporting events, Lusail Stadium may host live entertainment, concerts, and cultural performances, making it a versatile venue for various forms of entertainment.
ATMs: ATMs and banking services may be provided for visitors' convenience.
Lusail Stadium Tickets for the Asian Cup 2023
Securing Lusail Stadium tickets offers enthusiasts a gateway to unforgettable sporting moments. Whether for prestigious events like the FIFA World Cup or the Asian Cup, fans are eager to witness the thrill of top-tier football competitions.
Tickets for Lusail Stadium matches can be obtained through official channels, and they come in various categories to cater to different preferences and budgets, ensuring that every fan can be part of the action.
Lusail Stadium Location & Address
Lusail Stadium's strategic location adds to its appeal. It is situated in Lusail City, a rapidly developing city just north of Doha, the capital of Qatar. The stadium's proximity to Doha and the Persian Gulf ensures easy access for fans and participants alike.
The stunning waterfront view and the modern cityscape surrounding the stadium create a picturesque backdrop for one of the most significant sporting events on the planet.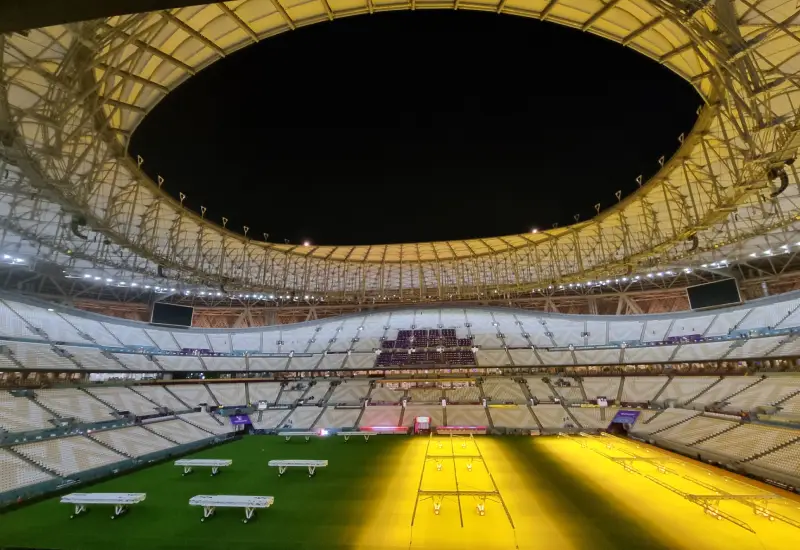 Lusail Stadium's strategic location in the city of Lusail, just north of Doha, is a testament to Qatar's commitment to providing an unforgettable experience for football enthusiasts. Its proximity to Doha and the scenic waterfront setting create a picturesque backdrop for the Asian Cup 2023.
Address: CFCR+75, Lusail, Qatar
How to get to Lusail Stadium
Getting to Lusail Stadium by public transportation in Qatar is a straightforward process, thanks to the well-developed infrastructure. Here's how you can reach Lusail Stadium using public transport:
Doha Metro
The Doha Metro is the primary mode of Qatar public transportation that connects Lusail Stadium to various parts of Doha, the capital city of Qatar. You will need to utilize the metro's Red Line, which has a dedicated station for Lusail Stadium, known as "Lusail Stadium Station."
Lusail Shuttle Service
In some cases, a shuttle bus service may be available to transport event attendees from the metro station to Lusail Stadium. Be sure to check if this service is offered during your visit.
Lusail Stadium Match Schedule
Lusail Stadium will host AFC Asian Cup 2023 opening match and final. The opening match will be played between the host team (Qatar) and Lebanon. Also, the final match will be held on February 10 at 18:00.
Conclusion
In conclusion, Lusail Stadium at the Asian Cup 2023 stands as a symbol of Qatar's commitment to excellence and a world-class sporting experience.
With its strategic location, vast capacity, iconic design, and ticketing options, it promises to deliver an Asian Cup like no other. Stay tuned for an unforgettable tournament that will leave a lasting impression on football fans from across Asia and beyond.
Are you planning to travel to Qatar and looking for a Qatar travel agency? Check out our Qatar tours and feel free to contact us.