The anticipation for the AFC Asian Cup 2023 is reaching new heights, and Qatar, the host of this tournament, is leaving no stone unturned in its preparations. One of the crown jewels of this event is the Al Thumama Stadium, a spectacular Football Stadium that embodies the blend of tradition and innovation. In this article, we will explore the fascinating journey of Al Thumama Stadium, from its inception to the upcoming tournament, highlighting its architectural marvel, sustainable design, and the significant role it is set to play in the AFC Asian Cup 2023.
A Legacy of Innovation
Qatar's Al Thumama Stadium, located in the heart of the vibrant Al Thumama district, is a testament to the nation's dedication to innovation and its passion for football. The stadium has been meticulously designed to reflect both Qatari culture and state-of-the-art architectural prowess.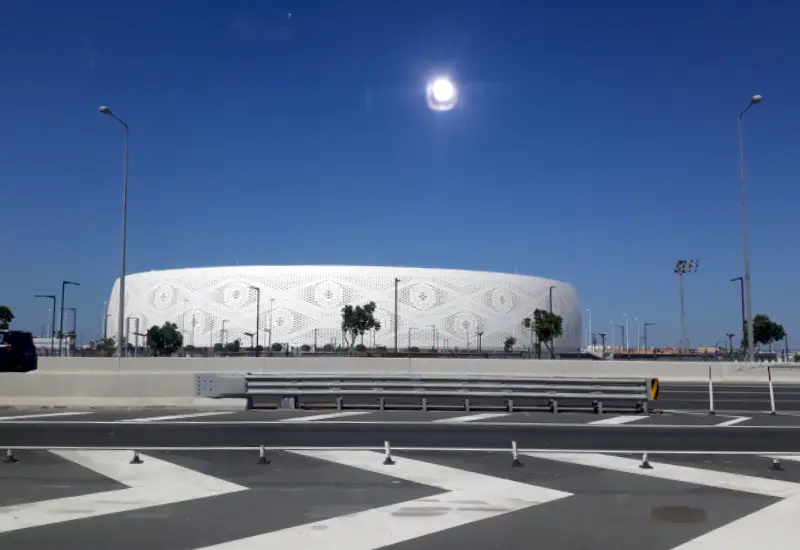 Inspired by the traditional "gahfiya" headwear worn by men across the Arab world, Al Thumama Stadium is an architectural marvel that marries cultural significance with modern aesthetics.
Who designed Al Thumama Stadium?
The stadium's design is the brainchild of the renowned Qatari architect Ibrahim Jaidah. He has succeeded in creating an iconic structure that pays homage to the region's heritage while incorporating cutting-edge technology.
The undulating design of the roof not only resembles the gahfiya but also serves a practical purpose by providing shade and ventilation to the spectators.
Sustainability Takes Center Stage
One of the most remarkable features of Al Thumama Stadium is its commitment to sustainability. Qatar, as the host nation of the FIFA World Cup 2022, has been at the forefront of promoting eco-friendly practices in stadium construction, and Al Thumama is no exception.
The stadium's sustainability efforts begin with its use of recycled and locally sourced materials, reducing the carbon footprint of construction.
Additionally, the stadium boasts an innovative cooling system that ensures a comfortable playing environment for athletes and spectators alike, even in the scorching Qatari summers. The energy-efficient design significantly reduces the stadium's energy consumption.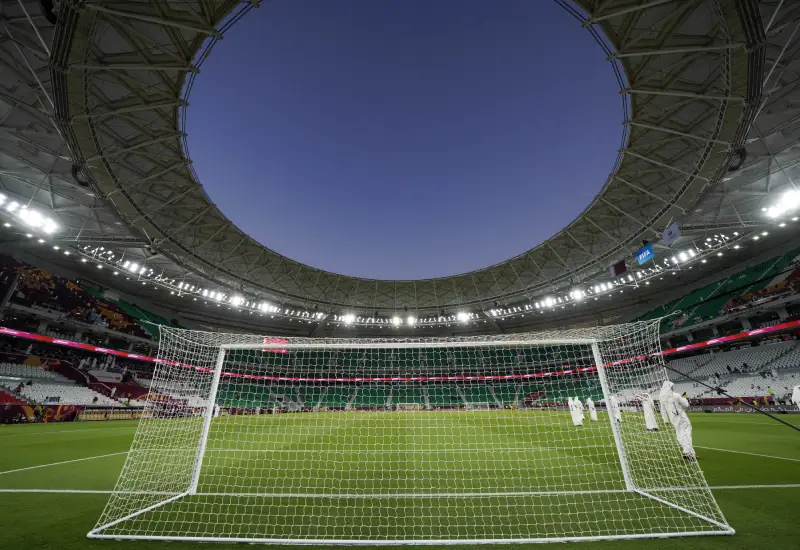 Al Thumama Stadium is also equipped with a state-of-the-art rainwater harvesting system that collects and stores rainwater for use in irrigation and cooling systems, further conserving valuable resources.
The stadium's commitment to reducing waste is evident in its recycling and waste management programs, which are geared towards minimizing environmental impact.
With these efforts, Al Thumama Stadium has been awarded the prestigious Global Sustainability Assessment System (GSAS) certification, signifying its commitment to eco-friendly practices and sustainable development.
A Spectacular Setting
The Al Thumama Stadium is not just a sporting arena; it's a destination in itself. Surrounded by lush greenery and thoughtfully landscaped areas, it provides a serene escape from the bustling city of Doha.
The stadium's location is strategic, with easy accessibility for fans and players alike, making it a focal point for the Asian Cup 2024.
The stadium's proximity to the Hamad International Airport ensures that international visitors can reach the venue with ease. Furthermore, its location within the Al Thumama district offers visitors a taste of Qatari culture and tradition, making it an ideal starting point for those looking to explore the rich heritage of the nation.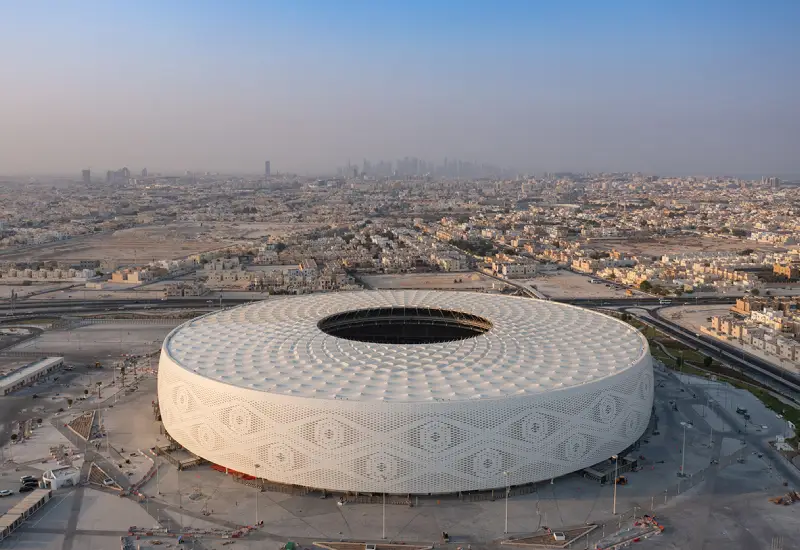 The Al Thumama district itself is a treasure trove of experiences. It features a blend of traditional Qatari architecture and modern amenities, with restaurants, cafes, and markets that allow visitors to immerse themselves in the local culture.
The district's proximity to the desert also provides an opportunity for tourists to experience Qatar's unique landscape.
Al Thumama Stadium Quick Facts
Here are the facts about this great stadium:
Unique Roof Design: Al Thumama Stadium's roof is inspired by the traditional "gahfiya" headwear worn in the Arab world, and it serves the dual purpose of providing shade and ventilation to spectators.
Hosting Asian Cup Matches: The stadium will host multiple matches during the 2023 AFC Asian Cup, symbolizing Qatar's dedication to promoting football and cultural exchange in the region.
Versatile Playing Surface: Al Thumama Stadium features a high-quality, FIFA-standard playing surface, ensuring that it can accommodate a wide range of sports and events beyond football.
Fan-Friendly Amenities: The stadium is equipped with modern amenities for spectators, including premium seating options, world-class changing rooms, medical facilities, and media areas to enhance the overall matchday experience.
Part of Qatar's Green Initiatives: The stadium is aligned with Qatar's broader green initiatives, promoting sustainability through its eco-friendly features and recycling programs, setting an example for future construction projects.
Al Thumama Stadium Capacity
The stadium has a seating capacity of approximately 44,000, providing a comfortable and immersive experience for spectators attending matches and events.
Al Thumama Stadium: The Host for History
The Al Thumama Stadium is set to make history by hosting multiple matches during the 2023 AFC Asian Cup.
This is a testament to Qatar's commitment to promoting football in the region and supporting its growth. The tournament is not only a celebration of sport but also an opportunity for cultural exchange and fostering international friendships.
Al Thumama Stadium, with its 44,000 seating capacity, is well-equipped to host matches of the highest caliber.
Its cutting-edge facilities, including world-class changing rooms, medical facilities, and media areas, will cater to the needs of both players and journalists.
Spectators will enjoy a fantastic view of the matches from their seats while being shielded from the intense Arabian sun, thanks to the unique roof design.
The stadium's significance in the 2024 AFC Asian Cup is not limited to the matches it will host. It will be a symbol of unity, bringing together football enthusiasts from across Asia.
The tournament provides a platform for nations to showcase their footballing prowess and celebrate their unique cultures. Al Thumama Stadium's fusion of traditional Qatari architecture and modern functionality will serve as a fitting backdrop to this international spectacle.
Al Thumama Stadium matches
The following games will be held in this stadium:
Japan vs Vietnam Sunday, January 14, 2024
Lebanon vs China Wednesday, January 17, 2024
Jordan vs South Korea Saturday, January 20, 2024
Japan vs Indonesia Wednesday, January 24, 2024
Legacy Beyond the Tournament
Qatar's commitment to the development of football extends beyond the tournament. The Al Thumama Stadium will continue to play a pivotal role in the country's sports scene long after the Asian Cup 2024 concludes.
It is designed to be a versatile venue that can host a variety of events, from local football matches to international concerts and exhibitions.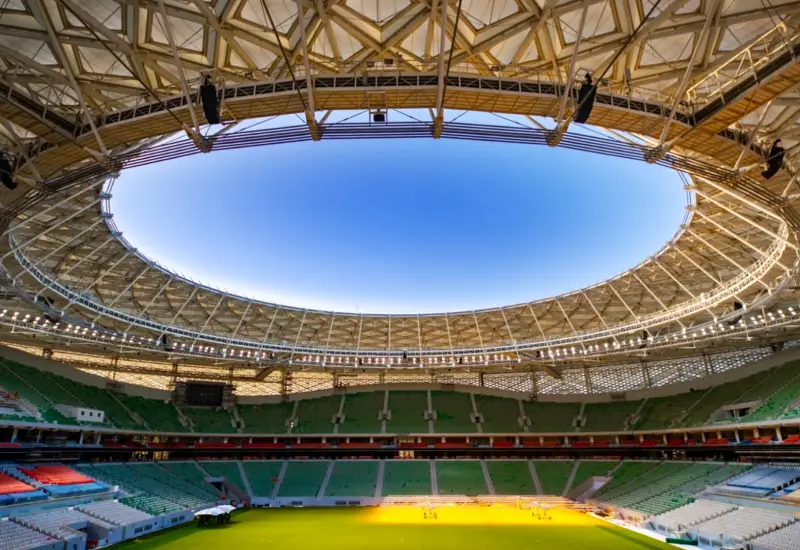 The stadium will become a hub for football development, providing training facilities for young athletes and hosting educational programs to nurture the next generation of football stars.
This legacy will serve to further Qatar's goal of promoting football not just within the nation but throughout the entire region.
Location & Address
Situated in the Al Thumama district, the stadium is conveniently located near Hamad International Airport, making it easily accessible for international visitors (Location on google map).
Address: 6GPJ+8X4, Doha, Qatar
Conclusion
As the countdown to the 2023 AFC Asian Cup continues, Al Thumama Stadium emerges as a symbol of Qatar's passion for football, innovation, and sustainability.
Its captivating design, commitment to eco-friendly practices, and strategic location make it an ideal venue for hosting international sporting events.
Beyond the tournament, it will leave an enduring legacy in the form of sports development and cultural exchange, enriching the lives of both Qataris and football enthusiasts from around the world.
With its mesmerizing design, sustainable features, and significant role in the AFC Asian Cup 2024, Al Thumama Stadium is set to shine as a true marvel in the world of sports and architecture.
Are you planning to travel to Qatar and looking for a Qatar travel agency? Check out our Qatar tours and feel free to contact us.