If you have experience living in big cities, surely you know that there are plenty of options to commute and go around in the city. Taking taxis and using busses are the two major options. However, these options are not fine and dandy with everyone. The inconvenience of bad experiences, traffics, or just being uncomfortable in a car or bus, can lead people to use the metro system. The metro system could be faster than a taxi or public bus. The Doha Metro has been on the up and up since its opening in 2019. The Doha Metro is the best way to explore the city and go where you want in a short amount of time.
Doha Metro
The capital city of Qatar, Doha, is a large city to explore. Doha has developed very well in recent years, and there are many sites to visit in the amazing city of Doha. Therefore, the metro is a convenient way to move around the city.
The metro system provides easy access to many touristic destinations, including museums, attractions, malls, and bazaars.
Doha Metro began its operations in May 2019. Doha metro is one of the fastest automatic & driverless trains in the world.
With ultra-modern stations and affordable prices, Doha Metro seems to be the best public transportation option in Doha. In addition to the reasonable prices, you can also explore the city's roots by metro.
Doha Metro is very clean and visually impressive. Being modern and easy to use makes Doha Metro a very efficient system. Although you will not need much help, the staff will assist you to the best of their ability at any station.
A different world flows in the undergrounds of the futuristic city of Doha. Doha Metro is consist of 3 lines and 37 stations. Even though Doha Metro is operating fine at this time, the project of Doha Metro as a rapid transit is much larger than it appears, and its next phases will be completed in the future.
Doha Metro Stations & Routes
Doha Metro is a well-arranged system. This network consists of three lines at present, and there will be a fourth blue line soon. In addition, there are 40 Doha Metro stations. Nonetheless, for now, there are three main lines, with each having its own station.
Red Line with 18 stations, Green Line with 11 stations, and Gold Line with 11 stations.
Doha Metro Red Line
The Red Line was the first line that started operating back in 2019. Al Wakra to Lusail is connected by the red line, which runs forty kilometers from the south to the north.
Doha Metro red line has two interchange stations for other metro lines and 18 active stations for every part of the city. You can switch between the lines at Al Bidda station or Msheireb.
The Red line connects one of the most important airports of Doha, Hamad International Airport to the city center. If you want to explore touristic sites, you can have stops at Katara station, West Bay station, Corniche, and Qatar University.
Doha Metro Stations – Red Line: Lusail, Qatar University, Legtaifiya, Katara, Al Qassar, DECC, West Bay, Corniche, Al Bidda, Msheireb, Al Doha Al Jadeda, Umm Ghuwailina, Al Matar Al Qadeem, Oqba Ibn Nafie, Hamad International Airport Terminal 1, Free Zone, Ras Bu Fontas, Al Wakra
Doha Metro Green Line
Doha Metro green line connects Al Mansoura from the east to Al Riffa in the west. The green line was the last line that opened in December 2019 and has eleven stations.
The most important stations of the green line are Hamad Hospital, The White Palace, Al Shaqab, Education City, and Qatar National Library.
Doha Metro Stations – Green Line: Al Riffa, Education City, Qatar National Library, Al Shaqab, Al Rayyan Al, Qadeem, Al Messila, Hamad Hospital, The White Palace, Al Bidda, Msheireb, Al Mansoura
Doha Metro Gold Line
Doha Metro gold line extends from east to west. This line runs from Ras Bu Aboud to Al Aziziyah. Along with the green line, this line has eleven stations.
Important stops at the gold line would be the Qatar National Museum, Souq Waqif, Sport City, and Al Aziziyah.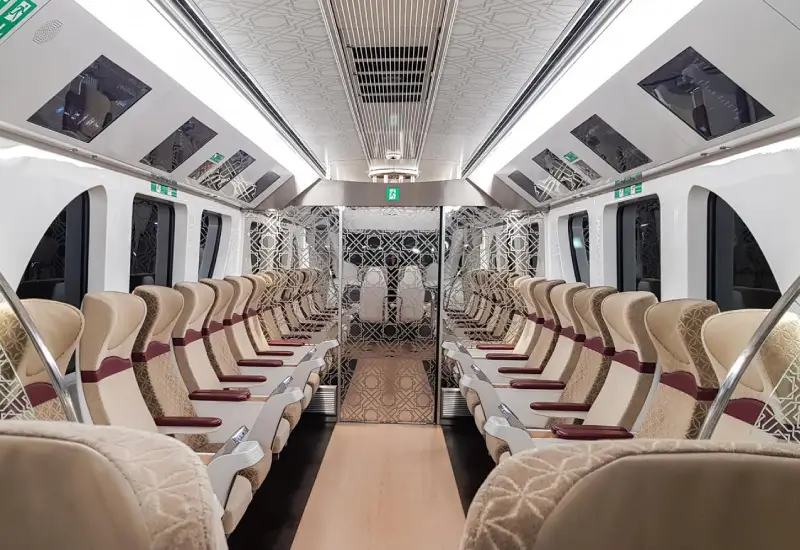 Villaggio Mall is situated at Al Aziziyah. If you are visiting Qatar, you should definitely take the time to visit this beautiful mall in Doha.
Doha Metro Stations – Gold Line: Ras Bu Abboud, National Museum, Souq Waqif, Msheireb, Bin Mahmoud, Al Sadd, Joaan, Al Sudan, Al Waab, Sport City, Al Aziziya
Is Qatar Metro Working Today?
Doha Metro operates seven days a week. Doha Metro timings are from Saturday to Friday. From Saturday to Wednesday, Doha Metro operates from 6 a.m. to 11 p.m. Moreover, on Thursday, it extends 1 hour to its timetable, which runs from 6 a.m. to 12 midnight. However, on Friday, metro service runs from 2 p.m. to 12 midnight.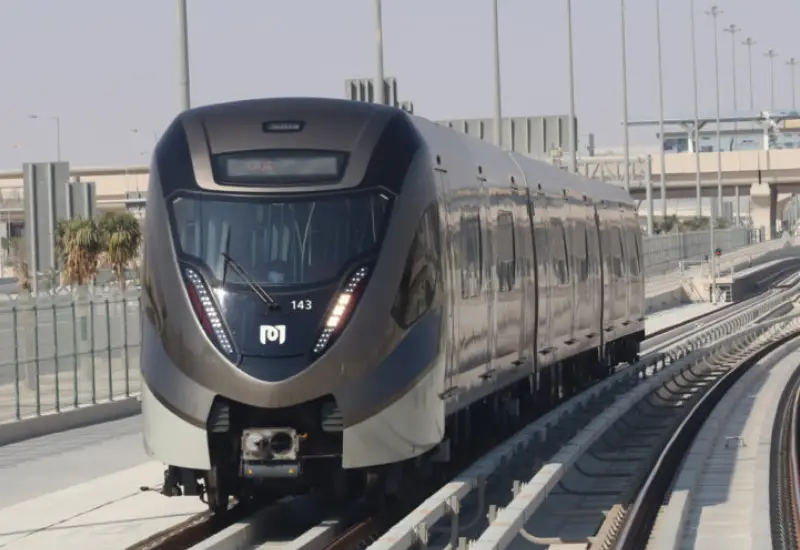 Doha Metro timings are very clear and arranged from Saturday to Friday. The journey between stations is three minutes on average, and trains arrive every 5 minutes. So going around with the metro in Doha is not only cheap, but it is fast too.
Doha Metro Travel Cards
For using the Doha metro, having a travel card is necessary. Therefore, the first thing you should do is buy a travel card.
There are two types of travel cards: Standard Travel Cards and Gold Club Travel Cards. Both of these cards are rechargeable.
Standard Travel Cards are more suitable for travelers costing one single journey QR 2. You can buy Standard Travel Cards at all stations from the vending machines or licensed retailers Al Meera, Lulu, Jumbo, Family Food Center, and Carrefour.
Read more: Qatar Cities
Conclusion
Going around by metro can save a lot of time and charges in traveling. Commuting by metro can bring you closer to the character of a city.
Exploring Doha with the metro system is a great way to know more & deeply about this brilliant capital of Qatar. Metro of Doha is among the fastest driverless trains in the world.
Operations of Doha Metro, with an approximate overall length of 76 km, began in 2019, and it is working to the present day.
If you want to visit Qatar, you can use the Doha Metro Map app and have access to the map everywhere you go.
Are you planning to travel to Qatar? check our Qatar tours.