The Qatar National Library (QNL) is a cultural and intellectual landmark in the Gulf region, serving as a hub for knowledge, research, and innovation. As one of the largest and most modern libraries in the Middle East, it provides an extensive collection of books, manuscripts, and digital resources, making it a valuable resource for researchers, students, and scholars worldwide.
With its modern facilities, comprehensive programs and services, and commitment to promoting literacy and lifelong learning, the Qatar National Library is a testament to Qatar's dedication to advancing education and culture in the 21st century.
History and Development
The idea of a national library in Qatar was first proposed in the early 1970s by Sheikh Faisal bin Qassim Al Thani, a prominent businessman, and philanthropist.
However, it was not until 2012 that the Qatar Foundation for Education, Science, and Community Development announced plans to build a national library as part of its ambitious Education City project.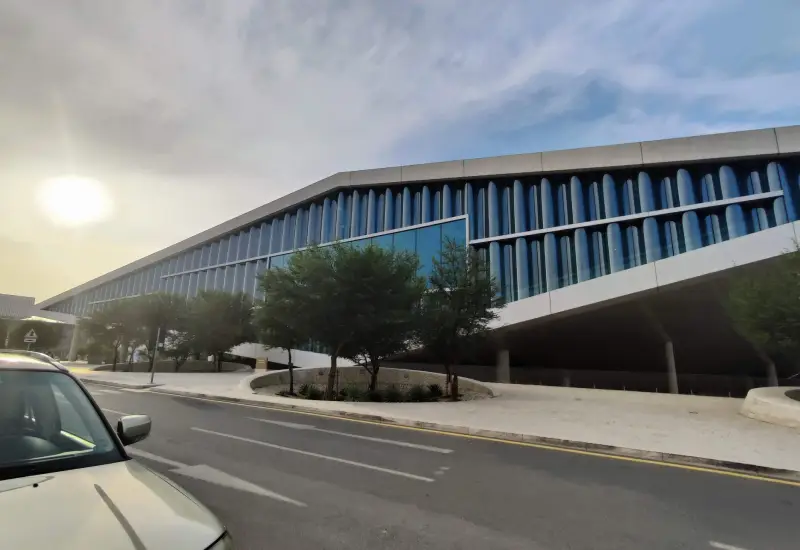 Designed by renowned architect Rem Koolhaas, the QNL building was completed in 2018 at a cost of approximately $434 million.
The library spans an area of 45,000 square meters and can accommodate up to 2 million books and other materials. It features state-of-the-art facilities, including a digital media lab, a conservation and preservation lab, a children's library, a special collections area, and a research center.
Qatar National Library Architecture
The building was designed by Japanese architecture firm Arata Isozaki & Associates and is one of the most impressive structures in the country.
The library is part of an ambitious project to create a cultural hub for the nation and its citizens.
The library's design has a cutting-edge layout that blends traditional Middle Eastern motifs with modern architecture.
Its facade consists of a striking pattern of interlocking glass panels, steel, and concrete that reflect the desert sun and the surrounding environment.
The building is surrounded by lush green gardens and courtyards, creating a tranquil atmosphere.
The interior features a bright and airy atmosphere filled with natural light. It contains an expansive collection of books, as well as digital resources, a media center, and an events space.
The library is equipped with the latest technology, including a 3D printer, digital classrooms, and a robotics lab.
Qatar National Library is a remarkable achievement and an example of how a modern library can be designed to create an inspiring and educational environment.
The building is a symbol of Qatar's commitment to promoting knowledge and culture.
Collections and Resources
The Qatar National Library's collection comprises over a million books, manuscripts, and other materials, including rare and valuable items from the Islamic and Arabic worlds.
It also includes a growing collection of digital resources, such as e-books, e-journals, and online databases, accessible to users from anywhere in the world.
The library's digital collection is particularly noteworthy, as it includes a vast array of materials that are not readily available elsewhere.
For instance, the QNL's Digital Library contains over 500,000 digitized pages of manuscripts, maps, photographs, and other materials from Qatar, the Persian Gulf, and the further Middle East.
It also hosts several online exhibitions and virtual tours that showcase the library's treasures and highlight key aspects of culture and history of Qatar.
Services and Programs
The QNL offers a range of services and programs that cater to the diverse needs of its users. These include reference and research assistance, interlibrary loan services, and digital access to its collection.
The library also provides training and workshops on various topics, such as research methods, digital media production, and preservation techniques.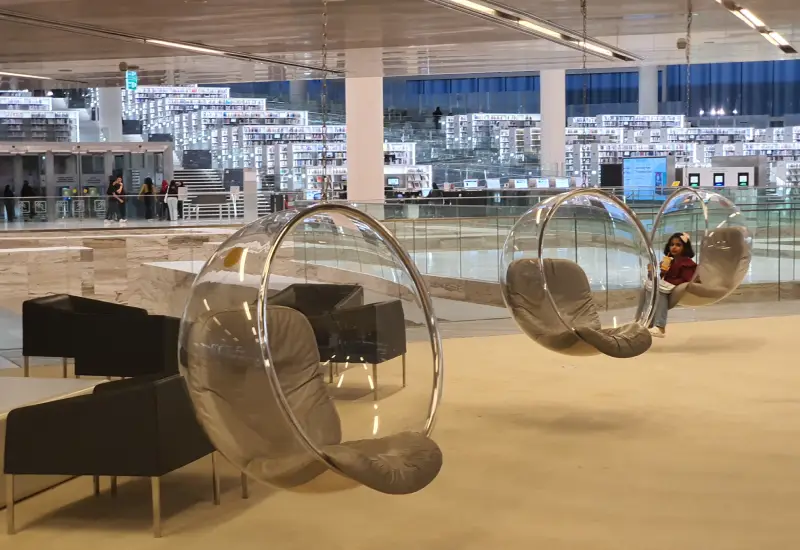 In addition, the QNL hosts a variety of cultural and educational events throughout the year. These include lectures, seminars, book launches, film screenings, and exhibitions that cover a wide range of topics related to Qatar's history, culture, and contemporary issues.
The library also partners with other organizations to support research and scholarship and promote literacy and learning in Qatar and beyond.
Qatar National Library booking
Qatar National Library provides a convenient and secure online booking system for its users. The library offers a wide selection of books for readers of all ages, including bestsellers, classics, and children's books.
To reserve a book, users can simply log in to the Qatar National Library website and search for the desired item. Once the book is located, users can click the "Reserve" button next to the title and provide their contact information.
After the reservation is made, users will receive a confirmation message with a library barcode to use when they pick up the book.
The library also provides a convenient way to manage book reservations. Users can easily check the status of their reservations and cancel them if necessary.
The library also allows users to renew their reservations up to three times. The Qatar National Library strives to provide a convenient and secure online booking system for its users.
From reserving books to attending events, the library makes it easy for users to access its services.
Qatar National Library Photo Competition
The QNL has held several photo competitions in the past, inviting amateur and professional photographers from Qatar and around the world to showcase their talent and creativity.
These competitions aim to promote photography as an art form and to capture the library's unique architecture, culture, and heritage.
Some of the themes of previous photo competitions have included "Heritage and Culture," "Future Library," and "Light and Shadow." Winning entries are often featured in exhibitions at the library or in digital formats on its website and social media channels.
How to Visit Qatar National Library?
If you are planning to visit Qatar National Library, it is important to first check their website for information about opening hours and other details.
Once you have decided to visit the library, you will need to register. To do this, you will need to provide your details, including your full name, date of birth, and national ID number.
You also need to provide an email address. Once you have registered, you will be given an access card which you must present when entering the library.
Once you have registered, you can begin to explore the library. The library offers a variety of collections, including books, magazines, newspapers, and audio-visual materials.
It also has a range of digital resources, such as e-books, e-journals, and databases. You can also access electronic resources, such as online databases and catalogs.
Qatar National Library Location
Qatar National Library is located in Education City, Doha, Qatar. It is easily accessible by both car and public transport, with the Qatar National Library metro station (Green Line) located just a 5 minutes walk away.
The library is located near the Qatar National Convention Centre and the Qatar Foundation headquarters, making it a convenient and easily accessible destination for visitors.
Qatar National Library Entrance Fee
The library is open to all visitors free of charge, and visitors can also borrow books, magazines, and other materials.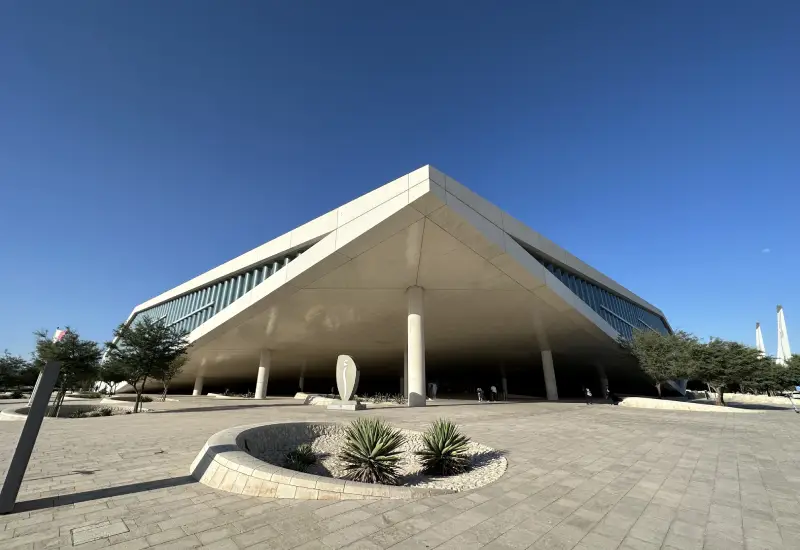 Qatar National Library is open to the public, and there is no entrance fee to visit. However, visitors are required to register in order to borrow materials and use other services.
Registered users can check out up to 10 items at a time and keep them for up to three weeks. Additionally, there is a late fee of 10 Qatari Riyals per item if the items are overdue.
Is Qatar National library Free?
Yes, the Qatar National Library is free for everyone to use. Membership is open to all individuals who are residents of Qatar and can sign up for a free membership card at the library's registration desk.
There may be fees for certain specialized services, such as interlibrary loans, but for the most part, the library's resources are available to the public at no cost.
Qatar National Library Opening Hours
Qatar National Library is open to the public seven days a week. The library is open from 8:00 AM to 8:00 PM from Sunday to Thursday. The library is open on Fridays from 4:00 PM to 8:00 PM. Don't forget the Children's Library closes at 6:30 PM.
QNL website is an important resource for researchers, students, and other patrons. The homepage features a search bar that allows users to quickly find books, periodicals, articles, and other materials.
It also provides links to QNL's various services and collections, such as e-books, digital archives, and audiovisual materials.
Final Word
The Qatar National Library is a world-class institution that embodies the country's commitment to education, culture, and innovation. It is a testament to Qatar's vision for the future, as well as its rich history and cultural heritage.
With its vast collections, up-to-date facilities, and diverse programs and services, the Qatar National Library serves as a vital resource for scholars, researchers, students, and the wider community. As Qatar continues to grow and develop, the library will undoubtedly play an important role in shaping its intellectual and cultural landscape.
Are you planning to travel to Qatar? Please read things to do in Qatar article & Check out our Qatar tours.