Qatar brings tradition and modernity together. In the vision of Qatar 2030, Qatar wants to multiply the welfare of its tourists and gives them a view of the future of the world tourism industry. This important purpose is made possible by holding ceremonies, tournaments, and major global events. The best way to feel the wonders of Qatar is to go to the sights of Qatar. So, stay tuned with Maraya Tours to know the best places to visit in Qatar.
Is Qatar worth visiting?
Is Qatar worth visiting? We answer this with a big YES! Every place in the world is worth visiting because each has its things to offer. Qatar is the new diamond in the Middle East, and there are various things to do in Qatar today.
Travelers come to Doha to see Qatar tourist attractions and enjoy activities like dune bashing, shopping, Water sports, and so on. It goes without saying that many people will become familiar with Qatar after the FIFA world cup 2022 and recommend it to others.
Qatar National Museum
Qatar National Museum is designed like a rose by the famous architect Jean Nouvel. This museum divides the history of Qatar into three main parts. Early history, present, and future modern history.
Qatar National Museum is ready to welcome visitors to 11 galleries to introduce people to the history of Qatar.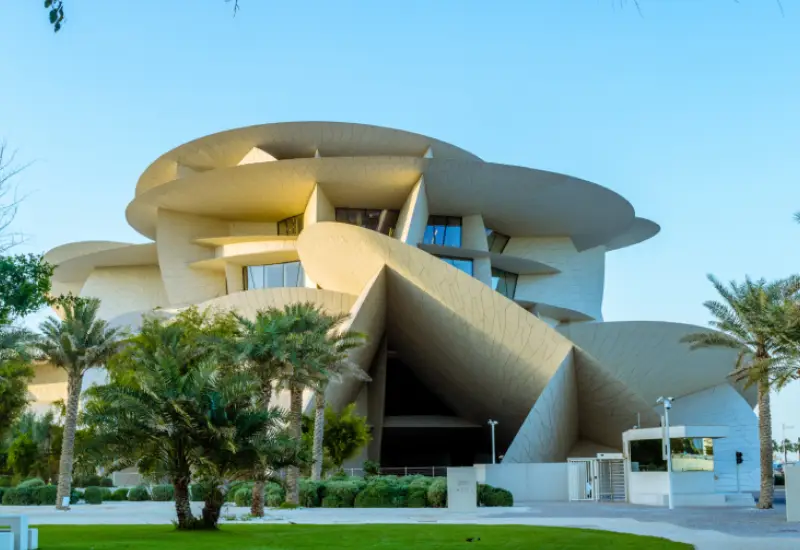 Visiting hours of this museum are from Saturday to Thursday, 9:00 am to 7:00 pm, and Friday from 1:30 pm to 7:00 pm. Qatar National Museum offers events, programs, and exhibitions for visitors of all ages.
Everyone is welcome at this museum, regardless of their age, and can participate in its programs. Among the most popular attractions in Qatar, the museum offers preparations for schools, families, and researchers.
The Museum of Islamic Art building itself is an architectural marvel designed by Pritzker Prize-winning architect I.M. Pei design.
The museum consists of four floors of permanent and temporary exhibitions, a gift shop, a café, and a fine dining restaurant, IDAM, by renowned chef Alain Ducasse on the fifth floor.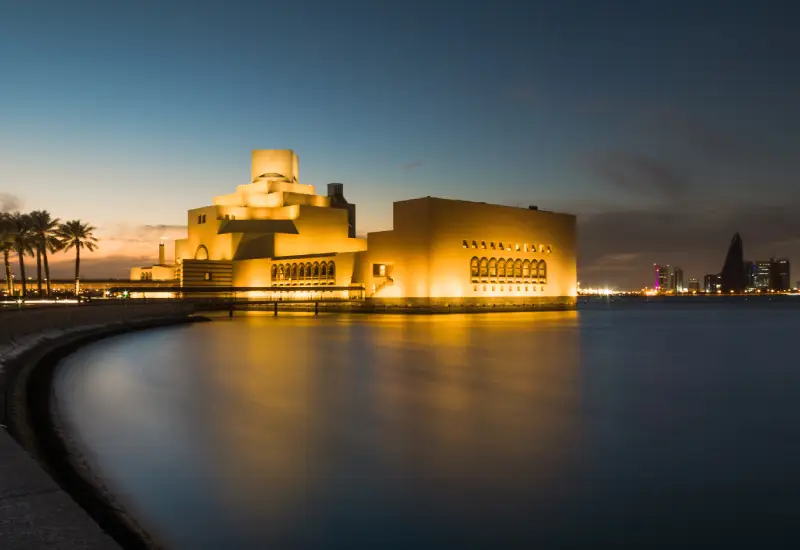 Also, the museum has a library with a collection of 21,000 books, including 2,000 rare copies in both Arabic and English.
In this museum, among the sights of Qatar, ancient Islamic works such as exquisite fabrics, precious stones, and exquisite and old gold, silver, and bronze coins are displayed, some of which belong to the Sasanian Empire era.
The opening hours of the Museum of Islamic Art are from Saturday to Thursday, 9 am to 7 pm, and Friday from 1.30 pm to 7 pm.
Qatar National Library was established in 2012 and opened in 2018 to serve as a regional research and development center.
This national library contains more than 1 million books and 500 thousand magazines and publications, creating an excellent learning environment.
Of course, not many tourists go to Qatar National Library except those who are very interested in books, culture, learning, and education. The working hours of the library are from Sunday to Thursday, 8 am to 8 pm. This place is closed on Saturdays and Fridays.
In only four historic houses in the heart of Msheireb, explore the whole history of Doha. Qatar's history stands out in the development of the restoration and reconstruction of Msheireb, the oldest part of Doha.
Four historic houses, including Bin Jalmoud House, Company House, Mohammad Bin Jassim, and Radovani House, became Msheireb museums.
The houses in Msheireb's museums are built in the traditional Qatari style, with colonnaded courtyards are traditional in Qatar since the early 19th century.
A renovated family house, Radwani House represents the best of a traditional Qatari house, and visitors can learn about a typical Qatari family and how their lives have changed now.
Msheireb Museum is one of the must-see places in Qatar, open from Saturday to Thursday from 7 am to 5 pm and on Fridays from 3 pm to 9 pm. Keep in mind that this place is closed on Sundays.
Katara Cultural Village is the best place to visit in Qatar. Katara offers many activities for tourists to choose from. Go to Lux Street 21 or visit the Golden Mosque.
Go to the beach and indulge in water and beach activities or go to the large amphitheater of this complex, which is built in Greek style.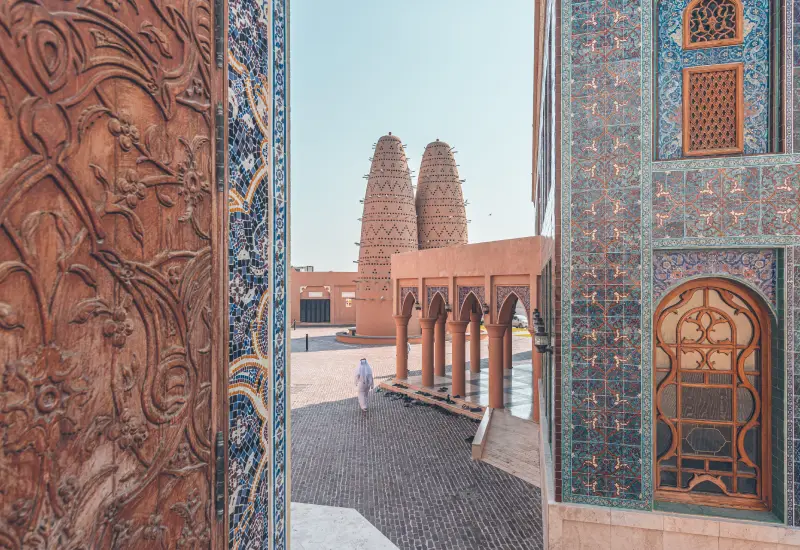 Katara Cultural Village is open 24 hours and is a good place for a night out in a stylish restaurant.
Katara Mosque is also attractive to Iranians because it has Iranian and Turkish enamels and tiles. The twin hills of Katara are also a great place to watch the sunrise and sunset.
It is a 16-meter-high observation tower built with a traditional Qatari design of coral stone and limestone between 1910 and 1916. This watchtower used to be very important for approaching ships, especially Ottoman troop ships in the early 1900s.
Mathaf Art Museum is a museum for those who are interested in modern and contemporary art. Qatar's Education City has this museum as one of its attractions.
Sheikh Hassan bin Mohammad bin Ali Al Thani brought about 9,000 works of art here over 25 years to see a unique collection of Iranian, Eastern, Western, and Turkish modern art in this museum.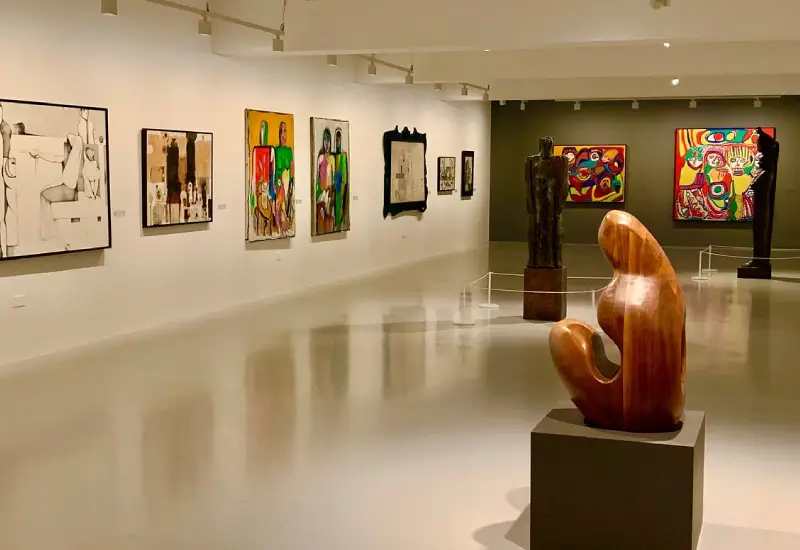 The working hours of this museum are Saturday to Thursday from 9:00 am to 7:00 pm and Friday from 1:30 pm to 7:00 pm.
Al ZubarahCastle is one of the few heritage sites of Qatar registered with UNESCO. Some say that this castle dates back to the 17th or 18th century. In the past, the fort served as a military base but was abandoned again from 1986 onwards. Of course, this place was restored to preserve the coastal resources and traditional architecture of Qatar, and today it can be visited from Monday to Sunday from 7:30 am to 5:00 pm.
Imam Muhammad ibn Abdul Wahhab Mosque
Around 30,000 worshipers can pray in the Imam Abdul Wahhab mosque. Besides being one of the sights of Qatar that opened in 2011, this mosque is one of the largest mosques in the country.
Imam Mohammad bin Abdul Wahab's mosque is modern in design, but it still preserves traditional architecture. That's why you feel tradition and modernity at the same time.
Like any other religious place, this mosque has its regulations. For example, children younger than the age of seven are not allowed to enter the mosque.
You must wear clothing that covers your knees and shoulders to enter the mosque. Photography is prohibited in the women's prayer room, and you should be careful about this case.
Apart from these rules, this mosque will attract your attention with its 93 small domes and tall minaret. It may be strange that a mosque has 20 entrances, but this is not uncommon in Qatar.
Film City is a mysterious village in the heart of the Bedouins of Qatar. Some people say that this village was built to shoot a movie, but still, no one knows the reason for the creation of this village. Tourists who like to experience and explore the enigma of construction can find what they're looking for by visiting Film City.
The Illusion Museum is a world of captivating illusions that will surprise and amaze you at the same time. The interactive activities and educational information make it an engaging and enjoyable experience for all ages.
Qatar Museum of Illusion is one of Qatar's tourist attractions, ideal for family visits, group visits, team activities, birthday parties, and event gatherings. Plan your visit and enter a world of fascinating adventure.
Qatar Illusion Museum is similar to Tehran Royal Park but much more advanced and with higher quality. Your brain is tricked here using scientific, mathematical, and physical tricks.
The ticket price is 80 Qatari Rials for people over 16 years old, 60 Qatari Rials for children, and 220 Qatari Rials for families with parents and two children under 15 years old. The Illusion Museum is a place where you can take illusionary photos.
Zekreet Fort is a square-shaped castle in the Zekreet region, displaying Qatar's traditional architecture and history. This fort is located on the beach, so you can also visit the beach afterward. You can visit Zekreet Fort 24/7, but it is better to go before noon. So, this is not a thing to do in Qatar at night.
The Pearl of Qatar is an artificial island near the Western Gulf region. This area is known for its marinas with yachts moored at the docks, high-rise residential towers, Mediterranean-style villas and hotels, and luxury shopping malls that offer a luxurious shopping experience with boutiques and showrooms of famous brands.
This island has four million square meters of land and is constructed artificially. This area is one of the most luxurious places to live and see the fancy Qatari lifestyle that attracts investors.
Doha Quest
Quest is Qatar's first theme park in Doha, Mushairab district. Quest is a 32,000-square-meter indoor venue built for audiences of all ages, featuring more than 30 rides, controlled simulators, virtual reality experiences, and miniature thrill rides.
Doha Quest ticket price is 225 Rials per person for adults (over 12 years old) and 150 Rials for children 4 to 12 years old. Children under the age of 12 must have a companion over the age of 18 to swing the rides.
Theme parks around the world have their own fans. In Qatar, Angry Birds Park is located in Festival City Doha to take you to the world of angry birds.
The complex was built in 2017 with an area of 17,000 square meters, as well as a 17-meter tree, so the entire park ends with the number 17.
There are many games in this park that you can enjoy. Karting, Pirate Beach, Trampoline Park, Red Alert, Explosive Bomb, Red House, and Studio City are some of these entertainments.
This park was built to attract tourists, which has been very successful until today. You can enjoy this park from Saturday to Wednesday from 10 am to 10 pm, Thursday from 10 am to 12 pm, and Friday from 1 pm to 12 pm.
Desert Falls
Desert Falls Water & Adventure Park is located in the heart of the Salwa beach resort in the southern region of Qatar near the Saudi Arabian border.
With more than 25 rides, slides, and attractions such as Wizard Mat Racer, King Cobra, and Ship Kids Pool, this park is one of the must-see attractions in Qatar.
There is a souvenir shop and swimming essentials available here where you can buy souvenirs for your family and friends.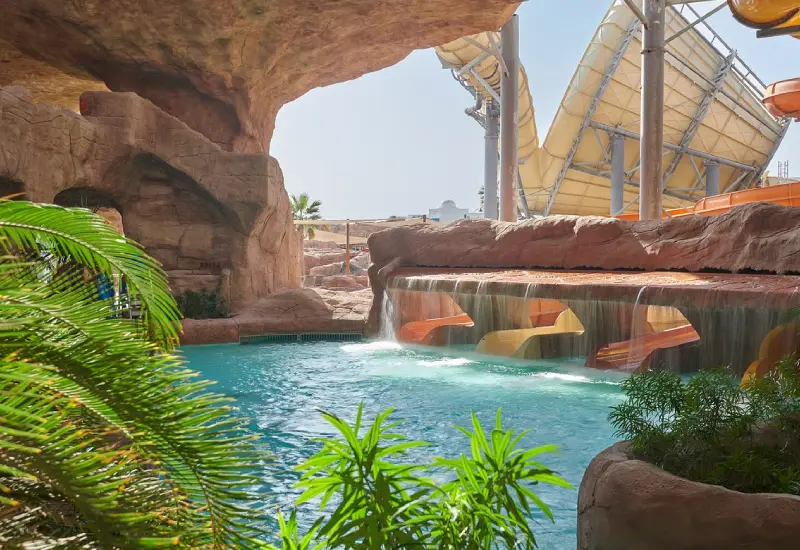 In addition to various water activities and swimming in luxury pools, you can use the restaurant, coffee shop, and Cinnamon Rolls kiosk of the Sahara waterfall. Desert Falls Water Park is a fun place for all family members.
The time to visit this water park is from Monday to Friday from 10 am to 6 pm and Saturdays and Sundays from 10 am to 5 pm.
Oxygen Park
The idea of the 130,000 square meter Oxygen Park is to introduce a green lung in Qatar Education City, inviting students and visitors to refresh their minds, body, and spirit through active exercise and the symbiotic relationship between oxygen and plants to discover.
If you are looking for a clean and healthy life and enjoy the outdoors, Oxygen Park is the best place you can find in Qatar. This park is equipped with running tracks, volleyball courts, a multi-purpose field, etc.
On top of the things to do in Doha at night is visiting the Corniche. It is a 7-kilometer route that runs along the bay and Doha's skyline. Go to Al Fitr Corniche to see the Doha skyline and have a family picnic.
Cycling, walking, and eating delicious Arabic, Italian and international food are some of the activities you can do in Qatar Corniche.
Some tourists go for water sports, and it is convenient to rent a boat or jet ski in this place. You won't find a better place to see the city skyline than the Doha Corniche because it has good hills to view the surroundings.
An important and impressive part of Arab culture is horse racing. Since the Prophet of Islam invited Muslims to learn swimming, shooting, and horse racing, it is considered a first-class activity for Qataris.
QREC (Qatar Racing and Equestrian Club) is known as the best horse training center and hosts international horse racing events in the country where you can visit and see racing horses.
You can find this club 7 km north of Doha in Al-Ryan city. This famous race track consists of a grass track with a length of 1800 meters and a sand track with a length of 1400 meters. This place has a magnificent spectator stand which is famous around the world.
Banana Island Resort Doha by Anantara, the first and only overwater villa in Qatar, offers its guests a taste of traditional Qatari hospitality and a unique island resort experience.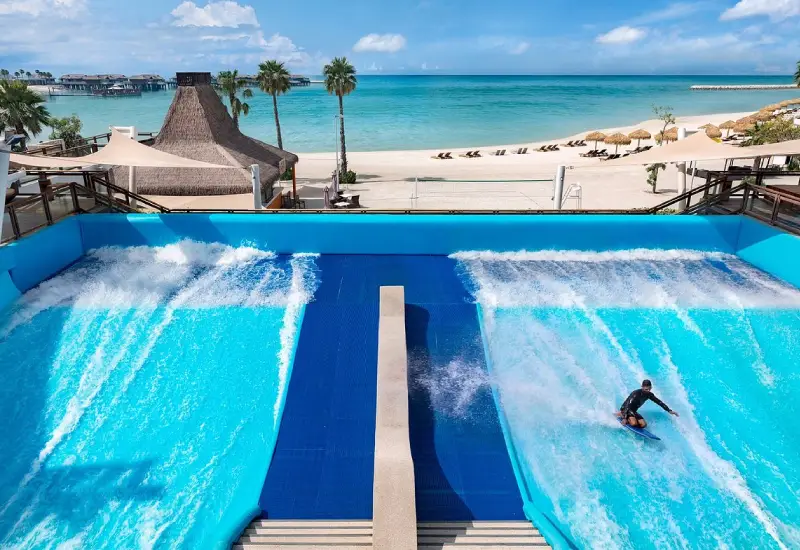 Staying here is very expensive. At Banana Island Hotel, which has the shape of a crescent and a banana, you can experience underwater adventures such as diving to land activities such as bowling and golf.
Banana Island Resort is a place to relax and get away from the hustle and bustle of the city. Here is the choice for celebrities to stay in Qatar. You can also count on Banana Island for a dreamy honeymoon.
Conclusion
The sights of Qatar will amaze you. Since the vision of the Qatari government is towards the future, they want to make Qatar a promised land in the Middle East, so they will spare nothing for this. If you go to Qatar, don't neglect Qatar's tourist attractions.
Are you planning to travel to Qatar? Check out our Qatar tours.