Angry Birds World Theme Park, located in Doha, is the largest entertainment destination in Qatar. This attractive park has an area of 17,000 square meters and includes a closed space of 6,500 square meters. Theme Park Angry Birds World Qatar is one of the four major amusement parks introduced by Trimoo, and the rest of these parks are set to open in Doha Festival City, located on Al Shamal Road.
Angry Birds World Qatar Rides
This park has 20 exhibits about the famous Angry Birds game. Angry Birds World Tour is very popular with travelers and is a great attraction for kids to have fun with their parents. The following are some of the most attractive features of Angry Birds Park:
Angry Birds World Slingshot
Fly 60 meters vertically in the air and feel the G-forces and hair-raising flight! According to tourists' experience, Slingshot is the most exciting activity in Angry Birds Park, so be sure to test it. The minimum height to use this section is 125 cm.
Go Kart Track
Another very popular part of Angry Birds Park is the Go Kart Track. Playing this karting simulator game makes the heart beat with joy and excitement.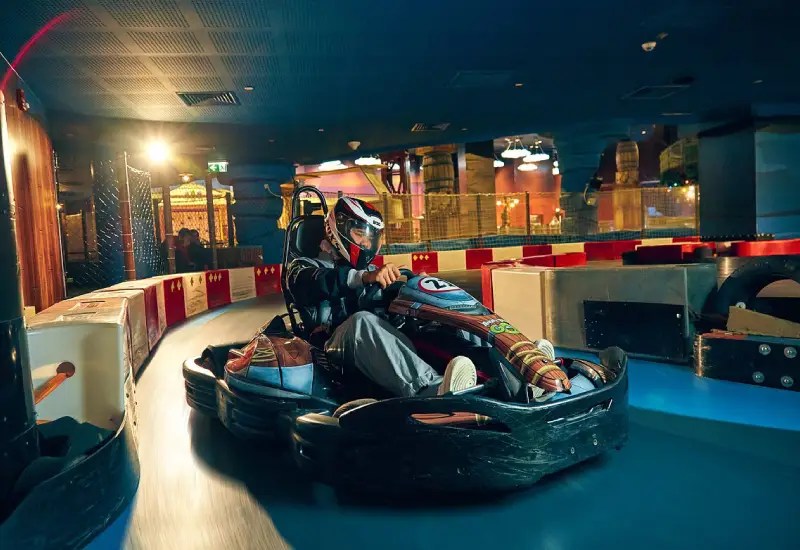 The experience is similar to real karting, where active driving strips control your speed by slowing down and increasing power. This game is possible for people over seven years old with a height of at least 140 cm.
Read more: Things to do in Qatar
The Big Tree
One of the distinguishing features of Angry Birds World in Qatar is the big tree. Children and parents are attracted to this stunning structure with a height of 17 meters.
Apart from this spectacle, tourists will enjoy discovering the basics of science, improving their musical knowledge, and improving their artwork through a wide range of educational content.
The tree also houses Own the Sky, a 106-meter zip line that allows participants to slide high above the city at high speed.
The City Studio
One of the things you must do in Qatar is to visit City Studio at Angry Birds Park. Several activities allow tourists to test their strength and abilities, including rock climbing, parabolic slides, roller gliders, and rope cutting.
One of the main attractions of this park is the Angry Birds Trampoline, which covers an area of 1,300 square meters and enables people to challenge gravity by enjoying the bouncy castles or having fun playing a game of baseball in the foam pit.
Red Alert
One of the most exciting rides that will remain in the minds of tourists for a long time is Red Alert. The twists and turns and the furious journey is something that people should experience. Red alert is one of the most exciting and adventurous things that attract thrill seekers.
The ride features an image of a boar derailing and heading for its lair. Therefore, if you are strong and brave, we invite you to this challenge. The Red Alert game is allowed for people older than 7 years with a minimum height of 140 cm.
Blast Bomb
One of the most exciting and adventurous things to do in Angry Park is the Blast Bomb which will make your heart skip a beat. Blast Bomb is one of the most amazing games in this park that will throw you in the air.
The ideal feature of this ride is its impressive drop and twist that gradually increases to 11 meters. People will feel a stretch and vibration during the climb, and as soon as they are released, they will hit a canvas on the ground. This game is possible for ages over 7 years, and the minimum height of people must be 120 cm.
Red's House
Tourists are often impressed by the distinctive style of the Red's House in this charming park. Kids are immersed in some of the most fun sand play.
Visitors will enjoy a theatrical journey with a boat battle starting from Bird Island to Piggy Island. There is no better place to get adrenaline rushes than Angry Birds Thrill Park.
Pirate Coast
One of the unique games with the theme of Pirate Coast, you can enjoy the open sea where the enemy is encountered. Tourists will experience the conflict between birds and boars as it instills the excitement of visiting the theme park.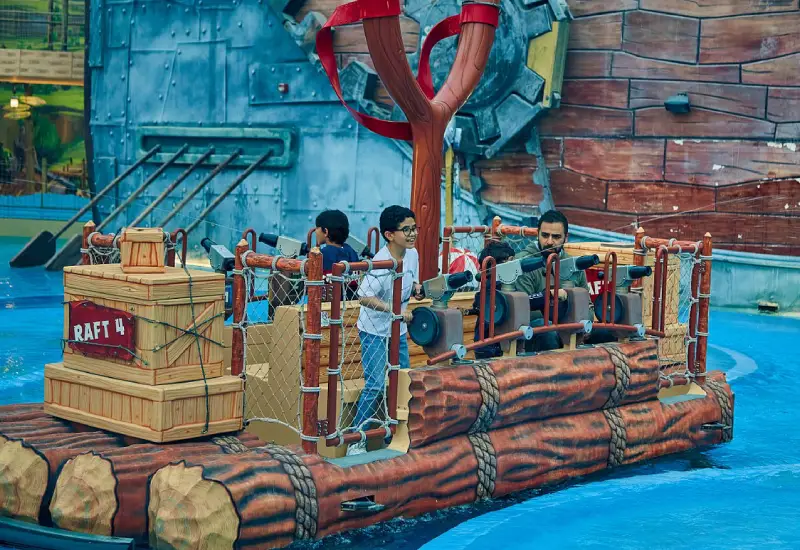 Target your friends on your way with water cannon. This game is possible for people over 7 years old with a height of at least 90 cm.
Angry Birds Park restaurants
When it comes to trying the local cuisine, you can indulge in 11 food and beverage outlets within the park. You can eat all kinds of Mexican and South American food. Angry Birds theme park has a variety of fast foods, pizza, hamburgers, fries and children's food, international food, shakes, and various ice creams.
Angry Birds World Timings
The working hours of this park are from Saturday to Wednesday from 10 am to 10 pm and on Thursday from 10 am to 12 am. On Fridays, it is from 1:00 PM to 12:00 AM.
Best time to visit Angry Birds World Park
Qatar is a hot country. Because of the hot days of the year, the price of tourism in Doha is significantly lower. However, since many of the games at Angry Birds Amusement Park are located outdoors, the heat makes it hard to explore the park.
On the other hand, in the months when the air in Qatar becomes colder, tourism prices in this country increase. Early November to early April, January, February, and March are good times to visit Qatar and see the Angry Birds amusement park.
Angry Birds World Ticket Price
The entrance fee to Angry Birds Park is about 250 QAR. Angry Birds Park offers different tickets and packages that vary in price based on the package you choose.
Ticket prices of Angry Birds World Qatar are available on their website at www.angrybirdsworld.qa.
Angry Birds World Qatar Monday Offer
The FUN-TASTIC MONDAY! The Angry Birds World Monday discount is a great offer that you can use only on Mondays. On Mondays, all rides cost only 55 QAR and are valid from 2 pm onwards.
Are you planning to travel to Qatar? Please read things to do in Qatar article & Check out our Qatar tours.