Doha is one of the newest travel hubs in the Middle East. The capital of Qatar is filled with sites and attractions. The National Museum of Qatar, Museum of Islamic Art, Souq Waqif, Katara Cultural Village, City Center Mall, Villaggio Mall, and Lagoona Mall are some of the most visited attractions by tourists in Doha. Doha is a sophisticated city full of wonders. Doha Festival City Mall is one of the largest malls located in this charming city. The Mall opened on April 5, 2017, and is one of the popular destinations in Qatar.
Best Shopping Mall in Doha
The Doha Festival City Mall started its operation in 2018 and is now one of the largest malls in the region. It is the perfect shopping destination for both locals and tourists. With over 500 shops & stores, this mall offers a unique experience for its visitors.
The shops open in Doha Festival City Mall are some of the famous global & local brands. You can notice many famous brands like Zara, H&M, Dior, Nike, etc., in the Doha Festival City's shops list. Except for stores and famous brands, the Mall is a complex of world-class entertainment which is designated to appeal to all ages.
The mall also includes a variety of high-quality cafes & restaurants. The Mall is considered one of the best shopping and entertainment destinations in Doha.
Festival City Mall Design
The Doha Festival City Mall is visually incredible. The design of the mall is a combination of modern and traditional elements creating a lovely and welcoming atmosphere.
The use of natural light and ambient areas is visible through the bright and open spaces. Marble flooring, modern light fixtures, high ceilings, geometric patterns, and traditional elements, along with the use of natural materials, create a sense of elegance and beauty in the design of mall.
There are also art installations and sculptures. These artworks are done by local and international artists and boost the shopping experience to a creative and cultural interaction. Doha Festival City Mall map is easy for visitors to navigate and is thoughtfully designed.
Festival City Mall is a reflection of luxury and uniqueness, which is both visually fantastic and functional.
Doha Festival City Shops & Retails
The mall shops list shows that it is home to a wide range of stores and retailers, from top local brands to famous international brands. The mall has over 500 stores, including jewelry stores, sporting brands, electronics stores, and so much more.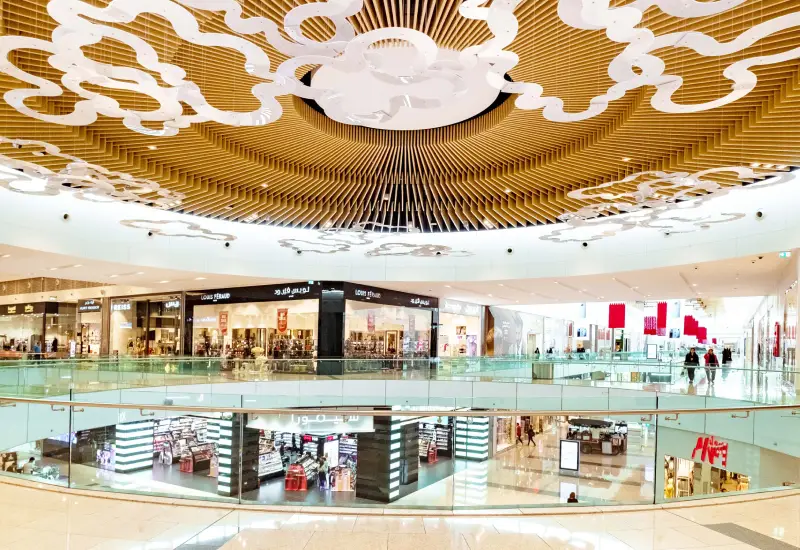 The mall houses several luxury brand stores like Louis Vuitton, Gucci, Hermes, and many more. Fashion retailers are also included in the facility, such as Zara, H&M, Gap, and Topshop.
You can also find jewelry stores and watch stores, including Swarovski, Pandora, and Tous. Alongside the famous retailers, there are also a variety of top-notch stores in different categories, including bookstores, gift shops, beauty, and cosmetic stores, and many others.
IKEA House in Festival City Mall
IKEA is a famous Sweden brand that is internationally famous for its unique furniture and home decor store. Doha Festival City mall is one of the places where you can find an IKEA store.
The IKEA store in Festival City mall is the first IKEA store in Qatar. There are a wide variety of furniture and home decor products, including sofas, armchairs, dining tables, wardrobes, and much more, in the IKEA store at Festival City mall.
The IKEA Doha Festival City mall also features a restaurant where you can enjoy a great meal before or after your shopping experience. The store also provides planning services and delivery services.
Activites & Entertainments
Doha Festival City Mall is the perfect destination for an excellent shopping experience. There are plenty of entertainments and activities in which visitors can participate.
The mall offers a wide range of options for all ages, including an indoor theme park, a multiplex cinema, a waterfront, a water park, a videogame center, a fitness center, kid activities, and many more.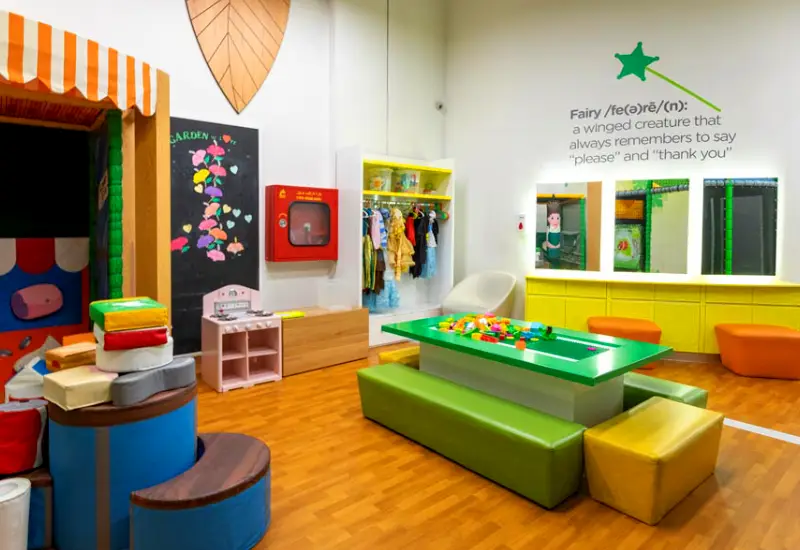 There are also outdoor activities in which visitors can partake. With so many provided activities, visitors can easily spend their whole day at the mall without even noticing the time and enjoying all it has to offer.
The mall's indoor theme park, Snow Dunes, is a popular destination for families and kids. However, for a more unique experience and a fun night out, the multiplex cinema of Festival City mall, equipped with the latest technologies, is a great and enjoyable option.
The Doha Festival City mall houses an Angry Birds World Park, which is an indoor theme park based on the popular Angry Birds franchise. The Angry Birds World Park is considered a family-friendly place that appeals to all ages.
There is all kind of entertainment options, which is provided in the Angry Birds World Park. Visitors can play games and win prizes, experience the rides, or go to the retail stores and purchase Angry Birds merchandise.
Overall, the park offers a thrilling and adventurous experience with a variety of activities that will give adrenaline to your body.
Doha Festival City Events
The Doha Festival City mall regularly hosts live events to create a more unique experience for its visitors. The mall hosts live music performances inviting famous artists, fashion shows, and many other events, which provides a diverse range of entertainment options for its visitors. Visitors can experience new things and have an enjoyable time while their trip to the Doha Festival City Mall.
Doha Festival City Restaurants
The Doha Festival City Mall houses a variety of cafes and restaurants. Restaurants of the Doha Festival City offer both local and international cuisine. The wide range of dining options makes it suitable for every taste and budget.
Visitors can experience high-end dining, such as La Varenne French Restaurant and Roberto's Italian Restaurant.
If you are looking for a quick and easy meal, you can check out fast food options like KFC, McDonald's, and Burger King. There are also world-class cafes and food courts.
International cuisine such as Chinese, Japanese, Thai, Indian, and Lebanese food is provided too. Food lovers will enjoy the restaurants at Doha Festival City.
Doha Festival City Mall Location
The Doha Festival City Mall is a luxurious destination located in the heart of Doha, the capital of Qatar. The mall is situated in Al Nuaimi Area on the northeastern edge of the city, in the Umm Salal municipality.
Doha Festival City Mall map suggests that this place is easily accessible via car, bus, and taxi. The location of the Festival City Mall is exceptional, and since it is situated in the central part of Doha, you can access many other attractions that are very beautiful and worth visiting. Nevertheless, the Festival City Mall will create a unique leisure experience for you and your family.
Doha Festival City Mall Information
The Doha Festival City Mall is one of the best attractions in Qatar. The mall is easily accessible by car or public transport like the Doha metro system and buses. You can also take a taxi at an economical price to the mall. The mall also offers a car-parking site, which is free for the first two hours and has an affordable fee for the next hours.
Doha Festival City Mall Address: Umm Salal Mohammed, near the Al Shamal Road
Phone: +974 4035 4444
Opening Times: Saturday to Friday: 10:00 am – 02:00 am
Paradise for Shopaholics
The Doha Festival City Mall is an amazing destination to experience varied entertainment & activities. With numerous famous brands from all around the world and many leisure activities, the Doha Festival City Mall is the first fully certified mall in Qatar. If you are traveling to Doha, make sure to visit the Festival City Mall.
Are you a shopping lover and planning to travel to Qatar? Please read Dar Al Salam Mall and best malls in Qatar articles and check our Qatar tours.