Do you enjoy luxury shopping while traveling? It would be best if you traveled to a country that gives you this feeling. Qatar shopping malls are so luxurious and beautiful that they will blow your mind. The joy of shopping in Qatar is indescribable, so join us to check out the best shopping centers in Qatar.
Shopping lovers and tourists in Qatar often visit Souq Waqif, the most famous shopping center in Qatar. Souq Waqif gives you everything you want from a trip to Qatar.
From traditional activities of local people to luxury restaurants and coffee shops. This shopping center consists of different markets. Gold Souq, Spice Souq, etc., are among the most popular parts of Souq Waqif.
This market is more than a hundred years old and is considered one of the oldest markets in Qatar. You can find everything at Souq Waqif.
The market is similar to the Tehran Grand Bazaar or other traditional markets of Iran. Thus, this market is the best place to purchase souvenirs from Qatar.
Since Arabic hookah is famous worldwide, you can smoke hookah in Waqif cafes and restaurants. Take advantage of this opportunity because hookah smoking may be prohibited in other malls in Qatar.
Keeping the whole family entertained while shopping cannot be possible in every shopping mall, but City Center Doha can fulfill this need. The 14 screens of the cinema hall, along with the artificial Ice skating rink next to the food court and the restaurants, have made Doha City Center special for tourists, as more than 70,000 people visit this shopping center on holidays.
There will inevitably be a need for a bank and exchange in this center owing to its popularity with tourists; therefore, several Qatari banks have branches here.
If you are planning to buy clothes, cosmetics, and health supplies, you have chosen a good place since famous brands such as Mango, Calvin Klein, Leviathan, etc. have branches in Doha City Center.
There are many luxurious shopping centers in Qatar, and you may not be able to pick one over the other, but City Center is definitely one to remember.
The Villaggio shopping center is no place like Little Venice in Baku or other artificial Venices in other cities because Qatar built Venice amidst the desert.
The Villaggio shopping center is in the Spire area, which has 150 meters of water canal. Hence, it allows you to ride a boat inside it and experience Venice as if you were there.
Of course, you can have more fun in the Villaggio shopping center since it is one of the most entertaining shopping centers in Qatar. Adidas, Nike, Puma, Reebok, Swatch, Zara, Tommy Hilfiger, Ikea, Starbucks, and all famous brands you do not know have stores in Villaggio.
In this place, you can find everything from home and kitchen accessories to the latest clothes from the Milan Fashion Week catwalks!
A good shopping center is not complete without a game complex! Gondolania Theme Park, located in the heart of the Villaggio complex, offers all the various games like Tehran's circulation wonderland.
Place Vendôme is an extraordinary 1,150,000 square meter shopping mall inspired by classical French architecture. This four-story, the open-concept mall has 580 stores that have high-end and mid-range products.
Forecourts, cafes, and restaurants are also an integral part of Qatar shopping centers, which are also present in this shopping center.
You will hear a lot of news about Mall of Qatar because this Qatar shopping center is located next to Ahmed Ibn Ali Stadium, one of the stadiums for the 2022 Qatar World Cup.
Tourists who go to Al-Ryan city and this stadium to watch football can go to the Mall of Qatar and think about buying souvenirs.
Like other shopping centers in Qatar, Mall of Qatar has special facilities. Children's playground, food court, and famous brands.
Since this shopping center is next to the stadium, you can easily find sports equipment, including Al-Ryan club team shirts, including beautiful Adidas shoes.
Do not think it is all about sports because you will also find a lot of jewelry and watch branches. Shopping in Qatar has always been a luxury, which is why Bulgari has its own store in Qatar.
Al Hazm Shopping mall
Al-Hazm, which means "higher ground", offers a unique experience for the travelers of Qatar. It is built in the Italian style, and shops, cafes, and restaurants are in a ring around a central promenade.
Qataris love Al Hazm because it is a luxurious complex that combines art, culture, and food.
In Al-Hazm, you will experience Italian luxury and art alongside Arab hospitality. The combination of these two factors makes Qatar an attractive travel destination.
The best way to reach this architectural masterpiece is to take a taxi or private car. The green grounds of this shopping center also liven up for sightseeing and entertainment.
There are several ways to go to Hayat Plazi, bus, metro, or private car. What is your choice? Hyatt Plaza Mall in Al Wab, one of Doha's fastest-growing neighborhoods, provides the perfect environment for shopping, relaxing, dining, and enjoying.
This mall houses 74 international and local stores, ranging from retail shops to a variety of food counters, custom crafts, cosmetics, electronics, mobile phone accessories, and confectionery.
Next to the lush Aspire Park and the newly opened KidZania entertainment center, the Hyatt Plaza is the perfect place for a family outing.
This shopping center is known as one of the most popular family shopping destinations in Doha. A pleasant selection from fast food to international cuisines such as Nando's, Tim Horton's, and Johnny Rockets.
So, choose Hayat Plaza Mall to shop in Qatar as a family. There will be no regrets.
Lagoona is for those who are looking for luxury in their lifestyle. With more than 180 stores, from unique boutiques to luxury clothing, cafes, grocery stores, a gym, and a live performance stage, Lagoona Mall exudes freshness and convenience.
The atmosphere of Lagoona Mall, with its luxuriously comfortable chairs, will be to your taste. If you want toys that will catch the eye of the family, pay a visit to Joué Club.
There is also a store and a Yamaha Music Academy where you can buy instruments or participate in attending classes and workshops.
There is a large presence of Yamaha Music in Lagoona Mall, which has somehow taken over the place. Qatar's shopping centers each tell a specific story, but in all of them, luxurious notes are played in an indescribable peace.
Festival City Doha is one of Qatar's shopping centers with more than 400 brands and the first Harvey Nichols and IKEA stores in Qatar, which is more than a paradise for shoppers.
The complex is known for its theme parks, from Angry Birds World to the winter-themed SnowDunes theme parks and Virtuosity, and the first electronic gaming center in Doha.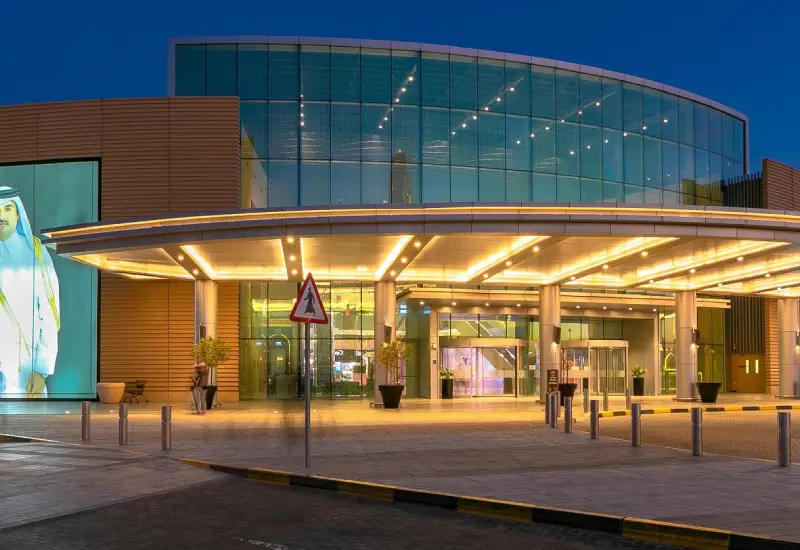 Festival City is the main destination for tourists to eat a delicious meal because the restaurants and cafes of this shopping center have a great variety at different prices.
Therefore, you can have a delicious dinner or lunch here at Festival City Doha with any budget and food taste.
You can easily get to Doha Festival City by car or taxi, but if you prefer public transportation, you can take the red line of the Qatar Metro and get off at the Lusail-QNB station, which is the closest station to the mall.
It does not matter whether you want family fun or retail shops that offer everything; you can have both at the same time at Al Khor Mall.
Al Khor Mall has an exterior architecture with a traditional Arabic style and a modern interior with comfortable and stylish facilities. This contrast in the architecture of Al Khor has made the property special and elegant.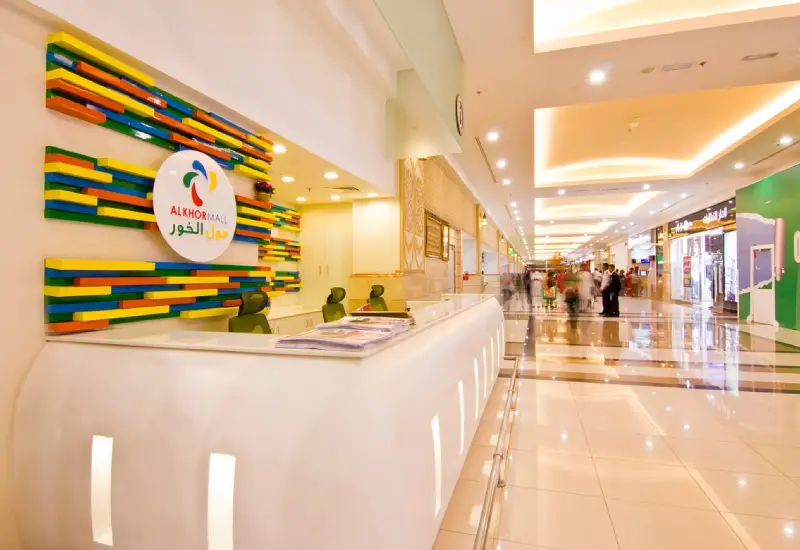 The mall also has a wide selection of affordable international and regional stores such as Lifestyle, The Body Shop, and Splash. To have a delicious snack in this Qatar mall, you are faced with a series of dessert shops and cafes, including Batteel Cafe, Chilli's, and Papa John's.
Shopping malls in Qatar
Qatar shopping centers are among the most modern shopping centers in the world, which have both traditional and modern styles. In the shopping centers of Qatar, you can have shopping along with special and great entertainment so that all family members can enjoy this outing with great memories.
Are you planning to travel to Qatar? Check out our Qatar tours.