The air-conditioned, spotlessly clean Mall of Qatar, located in the Al Rayyan district, is one of the most glorious shopping malls in Doha, where you can experience unforgettable shopping from over 450 shops and restaurants. There are many well-known brands at this mall, and as one of the TripAdvisor's said: Everything is here at the Mall of Qatar.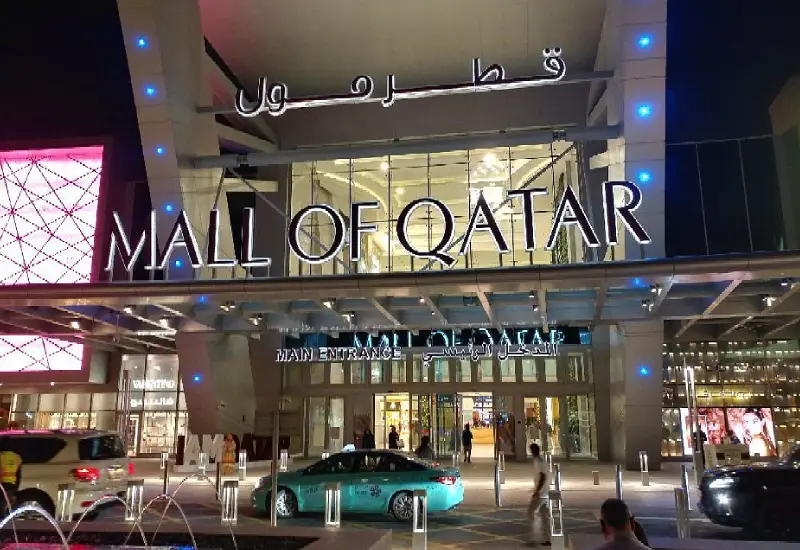 Drake & Scull Qatar was awarded in December 2013 to build this enormous shopping mall in Rawdat Al Jahhaniya, Al Rayyan. The construction cost was originally set at 660 million dollars, but in 2015, entertainment projects increased the price to 1.48 billion.
Mall of Qatar is a 3-floor shopping mall of 464,515 sqm, which has a high central glassed dome. Everything here is spacious and luxurious, as we expected from Qatar. High standard, well designed, and top-notch.
Feeling blue and complaining about the hot weather in Qatar? You can go to this air-conditioned shopping mall and buy many cool clothes from Mall of Qatar clothing shops or outlet shops. Mall of Qatar shops includes 480 retail stores and luxury brands, bringing the positive energy of shopping.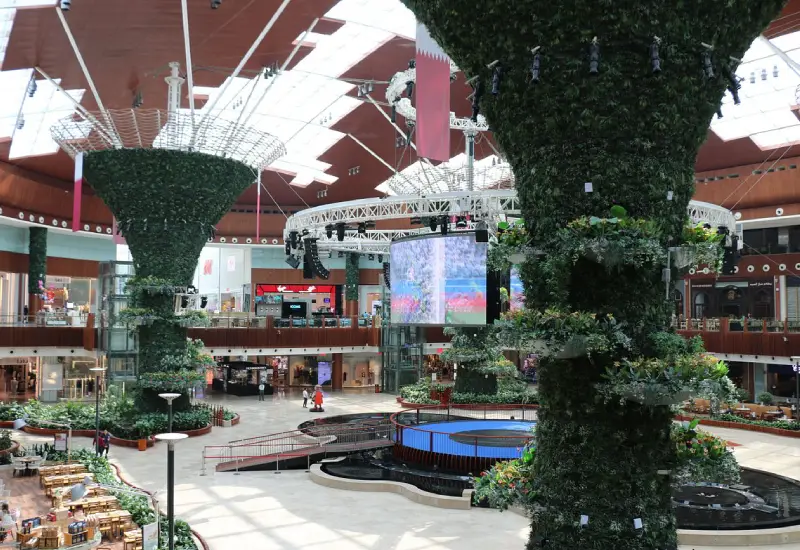 Do you want some delicious food while in the Mall of Qatar? No problem! There are so many café and restaurants in the food court and floors like Basta 23, Baladna, Azkadenya, Black tap, and so on.
So, if you visit here with family and kids, there are many more entertainment places like KidzMondo, Xtreme Land, Novo cinemas, Bowling, Rush Action Park, and The Aviator Lounge.
Read more: Best shopping mall in Qatar
Mall of Qatar shops
As we said earlier, you can find many renowned brands at this mall. Mall of Qatar clothing shops is very famous because so many travelers and locals buy their clothes, outlet items, and accessories from there. Abercrombie & Fitch, Adidas, Bershka, Giordano, Gant, Hollister, LC Waikiki, H&M, American Eagle, Zara, Levi's, and Massimo Dutti are just the only few clothing shops you can choose in Mall of Qatar.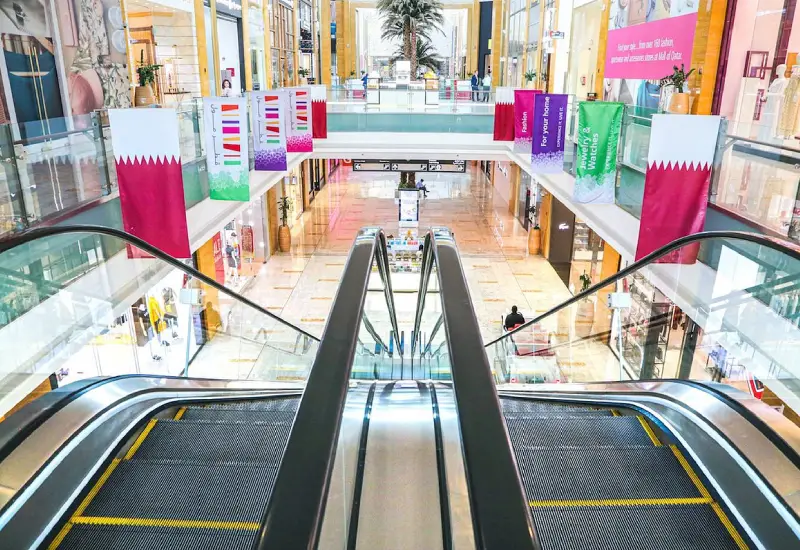 Adidas has two branches here. One on the ground floor and the other on the first floor. All kinds of outlets, new shoes, and sports equipment are available in these Adidas stores.
Health and Beauty shops are the major categories in this mall. Ajmal, Al Ghawaly, 18th Avenue, Dior, Befit, Flormar, MAC, Sephora, and The Body Shop are the best brands among the other Arabic brands here, and you can buy their products from the Mall of Qatar.
Mall of Qatar restaurants
There are many restaurants in the Mall where you can have dinner or lunch. The restaurants of Mall of Qatar are a collection of the best restaurants and food brands in the world. From the best Arabic chain restaurants to international brands such as Starbucks. Do not miss the pleasure of eating a delicious meal in the Mall of Qatar food courts.
Baladna, the leading brand of halal food products, has a chain here. Starbucks, Nespresso, Baskin Robbins, KFC, Pizza hut, Papa Johns's, Mcdonalds, Shake Shack, Subway, and Persian restaurant Shater Abbas are the best restaurant to choose from here at Mall of Qatar.
There are so many options on the food court, from Turkish food, Japanese food, and Persian food to Arabic Halal food. It does not matter if you want to eat shawarma or sushi today; you can get any food you like in the food court.
Read More: Dar Al Salam Mall Doha
Entertainment
KidzMondo Doha is an international educational-entertainment park. Children from 2 to 14 ages can come to this theme park and have the most fun. There is a mini city in this park that is run by kids and has their currency (Kidlar). Therefore, children can choose any job and role-play they desire there.
If you want a 7-star IMAX cinema experience, go for the 19-screen megaplex in the Mall of Qatar. There are various movie options to choose from, and no matter which one you pick, you still will have fun at the 7-star IMAX cinema.
Mall of Qatar timings
When you go to the Mall of Qatar, you should know the opening hours. Opening hours of Shops and Restaurant Might be different.
Sun-Wed: 10 AM – 10 PM
Thu and Fri: 10 AM – 12 PM (Notice: 11:30ِAM – 01:00 PM (Closed for Friday Prayer))
Sat: 10 AM – 11 PM
Mall of Qatar location
It is a nice and quiet Mall that you can access easily by the Green Line of the metro station and heading to Al Riffa Station. If you want to go to this mall by car, it is only 20-minute drive from the center of Doha. Get an Uber or rent a car and drive by yourself. It will surely be an enjoyable drive.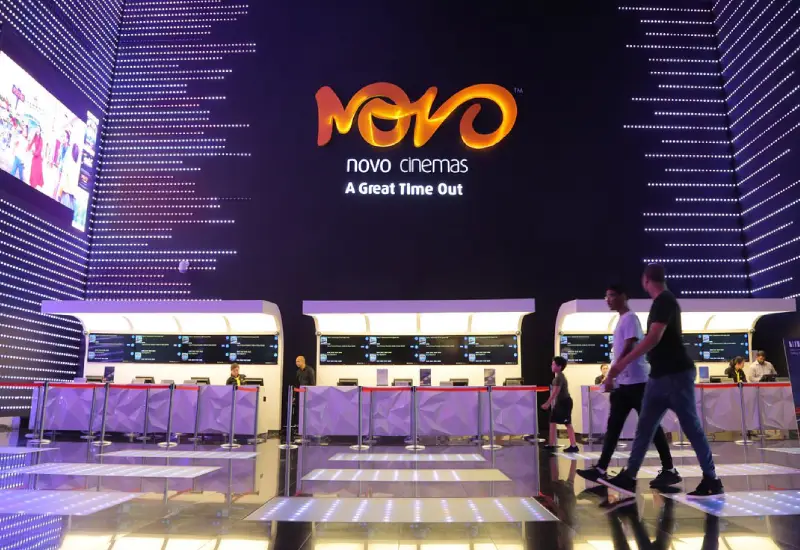 Mall of Qatar Address: Mall of Qatar Jahhaniya, Interchange, Street 373, Zone 51, PO Box 24235 Al Rayyan, Qatar
Mall of Qatar Contact: +97440346063
Conclusion
Here is the best place to visit with your family and friends. You will experience the best entertainment and absolute fun at the Mall of Qatar. It's everything you'd expect from a mall in Qatar, so be sure to check it out.
Are you planning to travel to Qatar? Check our Qatar tours.