When hearing the name of Qatar, a luxurious Arabian country, you may unconsciously think about the heat and scorching sun of the desert. Stay tuned to see whether this assumption about Qatar is accurate or not. Perhaps this is just a brain bias toward the Persian Gulf. Read this article to find out about Doha and Qatar weather.
How many seasons does Qatar have?
Qatar, which is a peninsula, has two main seasons. While the summers are scorching hot, the winters are mild and chill. Therefore, it is always a good time to visit this luxurious destination. With year-round sunshine, Qatar's climate allows you to boost your vitamin D levels effortlessly.
The average summer temperature in Qatar is 36 degrees Celsius and sometimes reaches 50 degrees as well. If you travel to Qatar during summer, wear loose and light, colorful clothes so that the heat does not bother you.
As the weather turns chilly, the days are still warm thanks to the constant sun, and the evening temperatures drop considerably, making Qataris take to the streets and Qatar shopping malls for a night out.
Despite the extremely high temperatures from May to October, there are many ways to enjoy the country, and the Qatari government has made all the necessary arrangements for tourists. For example, the Katara Cultural Village has a long air-conditioned street that you can enjoy even in the summer heat.
The World Cup stadiums have special cooling technology that lowers the temperature inside the stadium to 20 degrees Celsius while the temperature outside the stadium is 36 degrees, which is why sports events can be held during summer and winter.
When is the best time to travel to Qatar?
The best time to travel to Qatar to enjoy Qatar's weather is between November and April (November to May). By this time, Qatar's winter has begun, and we have a moderate temperature of 17 degrees Celsius.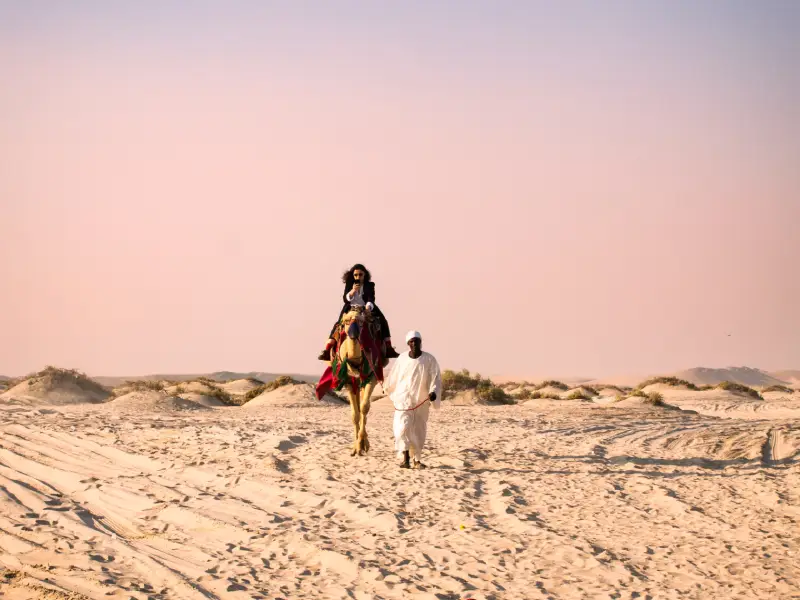 Residents and tourists of Qatar go outdoors and enjoy the Pearl of Qatar, Katara Cultural Village, Souq Waqif, and Souq Al Wakrah. They walk on the Corniche of Doha and watch the beautiful skyline of this country.
Winter is a good season for camping (or glamping), desert safaris, exploring cultural heritage sites, and the countless public artworks scattered across the country. Winter in Qatar provides a good platform for all kinds of sports activities. For example, camel racing, horse riding, falcon training, and other attractive competitions.
Benefiting from sunny winter weather with mild temperatures, Qatar annually hosts nearly 80 world-class sporting events and competitions in many sports, including tennis, squash, and golf, as well as triathlons and marathons.
What is the coldest month in Qatar?
January is the coldest month of the year in Qatar. The cold season, or winter, lasts from early December to early March 8 (November to March), and the average daily high temperature is less than 78 degrees Fahrenheit.
Read More: Where is Qatar?
Does it rain and snow in Qatar?
In answer to this question, we must say that it rains in Qatar, and the average monthly rainfall in this country is 5.9 mm, but from June to October (Khordad to Mehr), the summer and dry season begin in Qatar, and rain may be impossible. Snowfall in Qatar is also very rare.
Travel to Qatar in good weather!
Qatar's climate varies from hot to moderate and cool. If you travel to Qatar in the summer, you should expect a temperature of 36 degrees Celsius to 50 degrees and know that you will perish if there is no air conditioner at noon. However, if you travel to Qatar in winter, which is the busy season of Qatar tourism, expect sunny days but with moderate and cool weather.
January is the coldest month in Qatar. If you want cool weather, travel to Qatar at this month.
December to March. Rainy season is in the cold days of Qatar.
December to February are the best time to travel to Qatar.