After the pandemic, many countries focused on improving themselves. To recover from the damages that the pandemic has done to them. There have been some wonderful developments in some countries in recent years. Qatar, the host of the FIFA World Cup 2022, was one of the countries that tried hard to sparkle in Asia.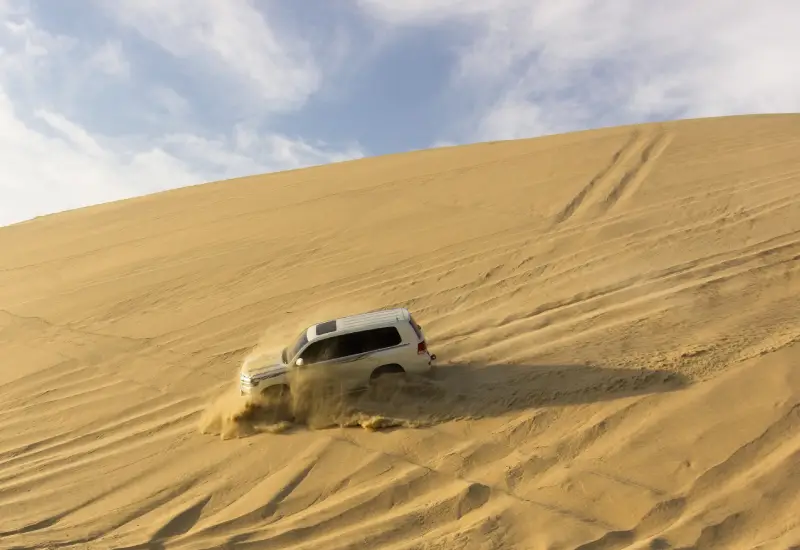 With the fast development of Qatar, this country has been a must-go destination for many travelers all around the world in recent years. Qatar is filled with big malls & bazaars, amazing skyscrapers, and beautiful landscapes. However, many people do not have much knowledge about this peninsular country lying on the shores of the Persian Gulf. But where is Qatar located exactly? To get this question answer continue reading.
Where is Qatar located?
Qatar is a small peninsular country in Western Asia, on the shores of the Persian Gulf, neighboring Iran, the United Arab Emirates, and Bahrain.
Qatar is located in the continent of Asia. Although Qatar is one of the smallest countries in middle-east, it does have a rich history, culture, and heritage.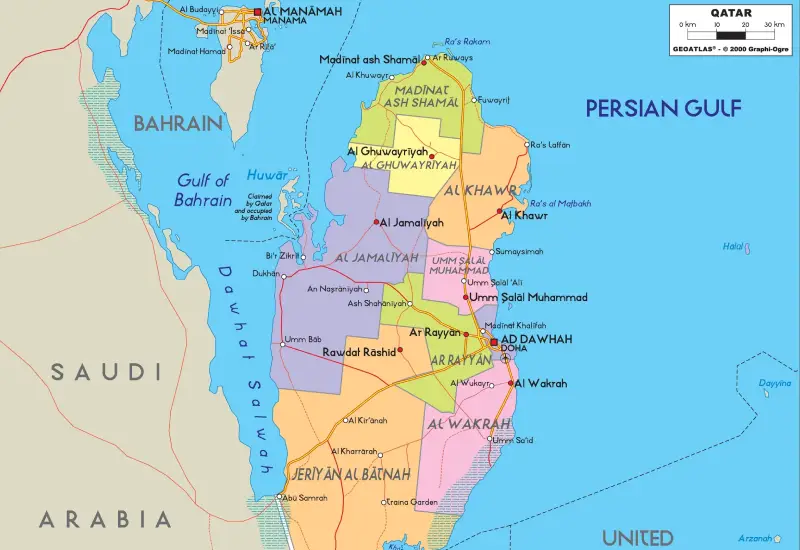 The climate of Qatar is mostly uniform because of its geographical size. It is mainly sunny and hot during the day and mildly cold at night.
Qatar is among the wealthy countries in the world. It is the first-ever Arab nation among the top four wealthiest nations globally.
Qatar's official language is Arabic, but English is also commonly spoken among people. Because Qatar's most of the population are foreigners. Foreigners make up 87% of Qatar's population, and there are only just twelve percent Qatari people who live in Qatar.
Qatar wasn't as well-known as its Middle-East neighbors because of its small geographical size. But today, with fast developments and a good economy, Qatar has become the best tourist destination in the Arab world and the Middle East.
Oil & Gas resources had a huge impact on Qatar's economic status. After Oil & Gas, tourism is another factor of Qatar's wealth.
Capital of Qatar
The capital of Qatar is Doha. Doha has been the capital of Qatar since 1971. The population of Doha is more than 2,382,000, making it the most populated city in Qatar. On the shores of the Persian Gulf lies Qatar's capital, Doha.
There are many activities taking place in Doha. This gorgeous city has a lot of big malls, fascinating bazaars, big restaurants, and many other facilities.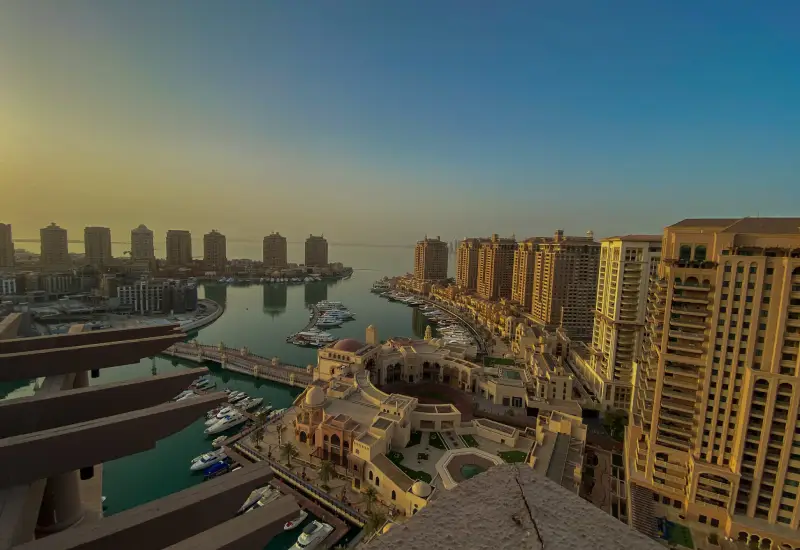 You can find restaurants of every cuisine at varying prices and qualities from average to fabulous. When you walk around in Doha, there is no sign of camels or sands.
You can only see neat streets with luxury cars and amazing buildings. It is also common for people to speak English. This metropolis is very well-developed and beautiful for travel. Due to its futuristic architecture and great skyscrapers, Doha is known as the mini version of Dubai.
The atmosphere of the capital of Qatar is incredibly alive and lovely. Doha is the beating heart of Qatar.
Is Dubai in Qatar?
Qatar lies in the Persian Gulf and shares a land border with the United Arab Emirates. Dubai is a city that has grown at a fast pace.
It is one of the most developed cities in the world within the United Arab Emirates.
Seven emirates form the United Arab Emirates, and Dubai is one of them. So, Dubai is a city in UAE, whereas Qatar is a small independent country.
Dubai Vs. Doha
The fast pace of growth in both Doha and Dubai makes the two cities rivals in many aspects, a contest that advances both of them in the Middle East.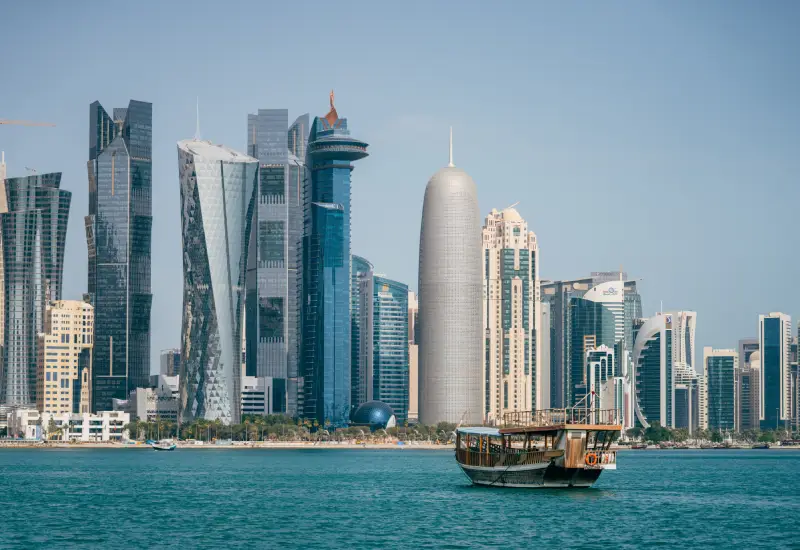 There are many similarities and differences between the capital of Qatar and Dubai. Dubai is more westernized in terms of the general outlook, while Doha's ambiance is consistent with its culture.
Doha is a place to get close to Arabic culture while walking around the futuristic design of the city. The distance between Dubai and Doha is merely a 7-hour drive.
Traveling to a new country may create a lot of safety worries for foreigners. Qatar is among the safest countries to travel to on the Asian continent.
Qatar's crime rate is very low. There are guards in every public place. You are safe walking the streets of Doha at night on your own.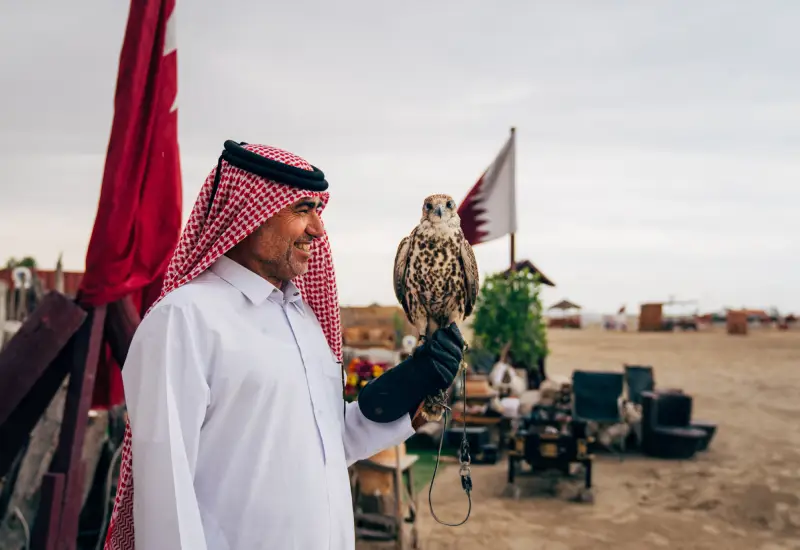 Qatari people are well-known for their kindness. If locals discover you are a foreigner, they will treat you with respect and hospitality. Of course, respecting some norms and social etiquette of Qatar is recommended.
Qatar, The 2022 FIFA World Cup Host Country
FIFA World Cup is one of the important sports events that has many viewers all around the globe. Today, football fans are more knowledgeable about Qatar than most people.
Due to its ownership of the famous France football club Paris Saint-German and being the host of The FIFA World Cup 2022, Qatar has been very well-introduced among football fans.
Qatar will be the smallest nation to host a World Cup. But this beautiful sunny country is ready to host people from around the world for this international event.
Are you planning to travel to Qatar? Check out our Qatar tours.