You have the right to worry about the safety of a country before planning your trip. Reading this article would reassure you about Qatar safety before traveling. Qatar safety rating suggests that it is the first safest country in the world on the Numbeo Crime Index for two consecutive years in 2021 and 2022. Doha, the capital of Qatar, is also the second safest global city in 2022.
Qatar safety record is achieved by successful policies implemented by the country's leadership, through its world-class public infrastructure and safety.
One of the four pillars of Qatar National Vision 2030: Social Development is a "Safe, secure, stable society based on effective institutions". Therefore, the vision for safety is deeply embedded in the foundations of this country.
Is Qatar safe for women?
Qatar is generally a safe place for female travelers. Apart from attending the World Cup this year, the country has unlimited options for things to see and do.
For the most part, women can move around safely and freely on their own. Despite this, women travelers need to keep certain considerations in mind.
There are many men working in Qatar on single status from all around the Middle East and Asia. It is recommended to be careful what you wear so that you would not feel uncomfortable from being stared at.
It is better to cover your arms and knees and dress modestly. Locals and Qatari women generally wear customary dresses such as abaya and a bourka. Tourists, on the other hand, are not mandated to do so.
Read More: Qatar Travel Advise
Qatar Dress code for Women
The generally accepted dress code for females includes modest clothing covering the shoulders, with skirts or pants below the knee. Try to refrain from nighttime outings just to reduce the risk. Otherwise, Qatar can be a choice destination for solo women as there is a lot to do and enjoy.
There are unlimited options for a woman to have an unforgettable trip in Qatar.
If you ask, is Qatar safe for women then? The answer is yes, but using your wits when choosing what to wear on the streets and generally avoiding peculiar places, especially at night, would grant you peace of mind.
Is Qatar safe to travel?
When looking at the country of Qatar from a crime perspective, it is relatively safe. Considering Qatar safety record, it is nestled at number 131 on the most dangerous countries list, giving the impression that traveling to the nation comes with little concern.
The United States Embassy has granted Qatar a Level One Advisory, meaning one should travel to Qatar while abiding by standard precautions.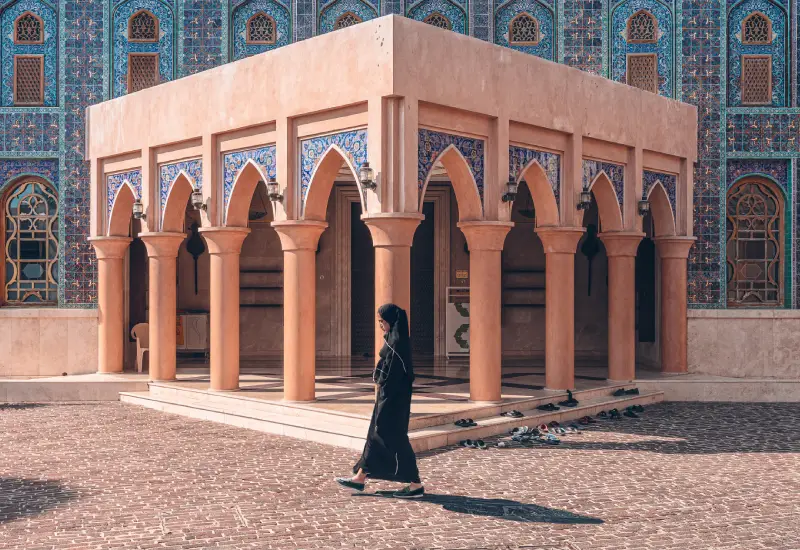 Just like in any other country, visitors may become victims of pickpocketing, bag snatching, or scam. Criminals will often target areas with a high tourist presence for petty theft and crimes.
However, generally, because of the Sharia law, anyone who commits a crime (even pickpocketing or scamming) will go to jail and have serious consequences. Frauds, robberies, and attacks are not common occurrences.
Read More: History of Qatar
Is Qatar safe for Hindus?
Nearly 650,000 Indians are working in Qatar. The Hindu community is almost exclusively Indian 15% of the population in Qatar adheres to Hinduism. Religion is not a criterion for citizenship, according to the Nationality Law. There are churches and Hindu temples in Doha.
Is Qatar safe to live?
Whether you are moving from a neighboring country in the Middle East or relocating from somewhere further, like Europe or Australia, Qatar is seen as a haven for international ex-pats.
The crime index of Qatar is the least in the world because following the laws, rules, and regulations is mandatory in this state.
Always be vigilant on the roads and follow the law- if not, there will be hefty penalties. No country in the world is free of danger, and Qatar is no exception. Even though the Qatari Police Force is known to be incredibly efficient, friendly, and excellent at keeping everyone secure, crime is still present.
Read More: Qatar weather
Have a Safe Trip to Qatar!
Additionally, other factors can affect your vacation. The primary concern when visiting Qatar is the difference in culture, and what expectations are set forth for females in the country.
Many things westerners take, as typical behavior are unacceptable in Qatar and the ramifications can be severe. Aside from such minor instances of petty crime, you do not have to worry about your safety in Qatar. Therefore, to answer if Qatar is safe to live in, it is as safe as any place on earth can be!