Souq Waqif market is one of the most important and busiest traditional markets in Qatar, which is about 250 years old. This market is located in the capital of Qatar, the modern city of Doha, and plays an important role in attracting tourists and the economy of the city.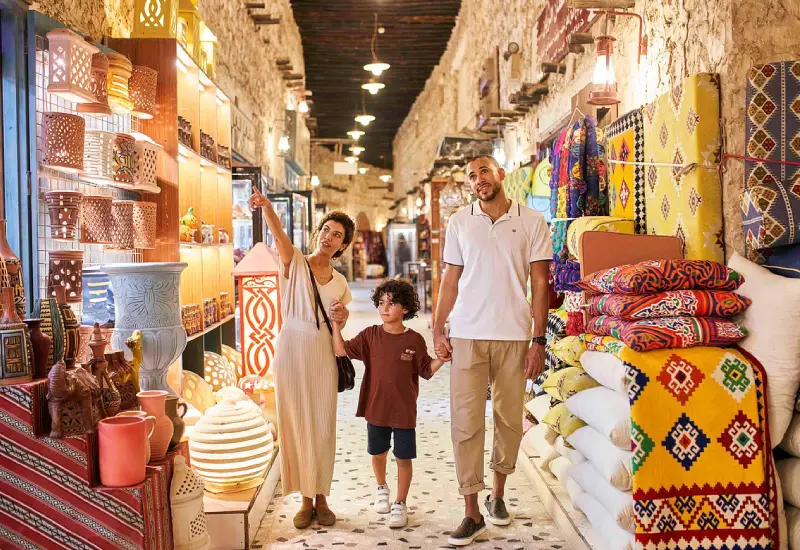 In the old days, due to being close to the sea and high humidity, merchants worked standing in the shops from the beginning to the end of their working hours; for this reason, it is called Souq Waqif, which means standing market.
This great heritage is considered one of the attractive tourist spots of Qatar and has always reflected the culture and traditions of the people.
The Architecture of Souq Waqif
Souq Waqif market in Qatar was the trading place for Arab Bedouins for centuries (nomads who lived in the deserts of Arabia and Syria) to take wool and animals.
This way provided locals with all the necessities they needed daily. Over time, it began to collapse and reached the stage of destruction. It suffered a fire in 2003 and was rebuilt in 2006, adding several new shops, cafes, and restaurants to the complex.
Souq Waqif is known as the heritage of Qatar. Preserving this heritage and the culture of the Qatari people was the reason for the reconstruction of this market. They renovated dilapidated buildings with modern changes.
The architecture of Souq Waqif market represents the style of Qatari architecture. They used a combination of bamboo clay and straw to renovate and rebuild buildings. Due to the extreme heat of Qatar, modern strategic methods were used to insulate buildings against heat.
Attractive entertainment in Souq Waqif market
The amazing attractions of this market are not only limited to shopping and visiting it; some of the best tourist attractions in this market are as follows:
Falconry: Falconry is a traditional sport for Qatari people. In Souq Waqif shops, you can hold one of these birds or put it on your shoulder and take photos. It is possible to buy a falcon and its maintenance equipment in Souq Waqif. There is also a veterinary clinic in the market to treat these birds.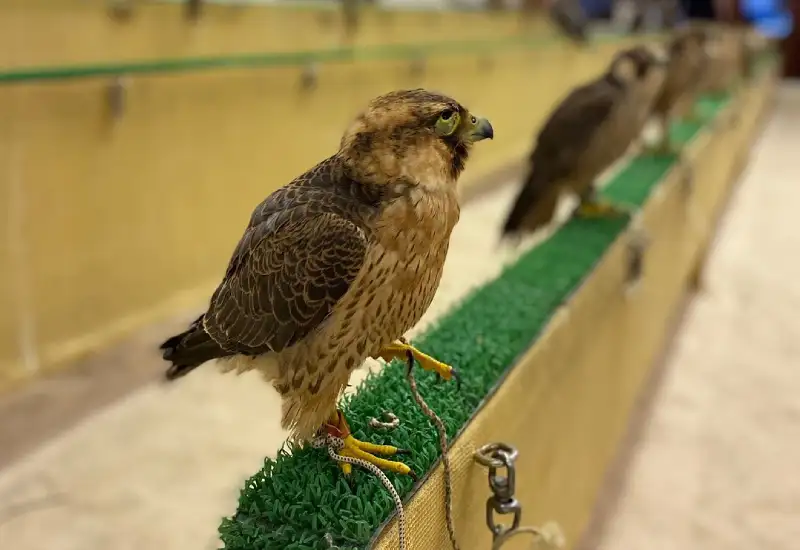 Retail stores: This part of the market is very attractive. There are retailers around Qatar's Souq Waqif Bazaar where every gender can be found. Antiques, handicrafts, and hunting equipment are of this type of goods. Upon entering this part of the market, Oud, local drum and flute players welcome you.
Visiting art workshops: If you are a fan of handicrafts, painting, and woodwork, art workshops are the best option for you. Painted tiles and decorative lanterns are the art of the people of this country, which are exhibited in art workshops.
Flavorful seasonings: All kinds of excellent Qatari spices and seasonings can be one of the attractive purchases of the trip.
Camels and horses: You can go to the Falcon section of the market to see camels. You can also visit the Amiri stable to see Arabian horses.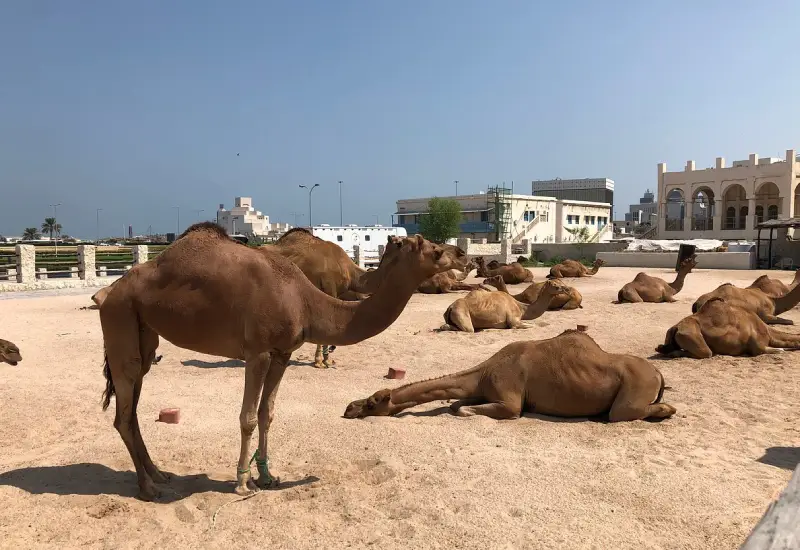 Pearl studies: In the Souq Waqif market in Doha, you can learn the art of pearl making and learn about different types of pearls. It's amazing to see white, pink, and gray pearls up close.
Arabic beauty products: Oud, Musk, customized perfumes, Serum, Argan oil, and Henna are examples of cosmetic and beauty products in Qatar.
Novo Cinemas: located in the heart of the market; this advanced cinema has five screens; four of them are standard halls, and one of them is a 7-star VIP hall. The total capacity of this cinema is 634 people. In this cinema, you can watch and enjoy the latest movies of the day with the best quality with your family.
Iranian view: Parisa Restaurant is a view of the architecture of stunning Iranian palaces mirrored with antique glass lanterns.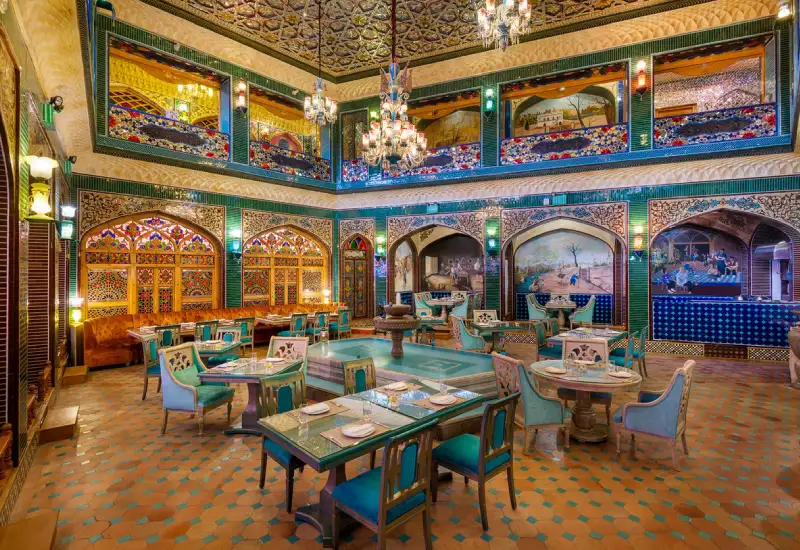 Street performances: Cultural performances by local or regional groups give a special feeling to the streets of the city. You can see street shows during Eid festivals. The courtyards of Souq Waqif are the hosts of these festivals.
Restaurants: In this market, you can find all kinds of Italian, Yemeni, Syrian, Thai, etc., restaurants. Various Middle Eastern and traditional Qatari dishes are cooked in these restaurants, which have many fans among tourists. In traditional shops, there are special hookahs that can be used to relieve fatigue.
What can you buy from Souq Waqif market?
In this traditional market, you can find all kinds of traditional and eastern goods; among the popular and famous souvenirs of Qatar, the following can be mentioned:
Pearls and jewels and gold
Arabic Oud instrument
All kinds of aromatic Qatari spices
Men's and women's embroidered clothes
Arabic hookah and all kinds of cigarettes
Decorative wooden boxes
Incense (including the famous agarwood incense or aloe wood)
All kinds of electronic tools
Arabic coffee set
Al Sadu (a piece of beautifully worked and hand-woven fabric made of camel hair and goat hair. Beautifully colored and glazed fabrics that are used to cover cushions, rugs, carpets, blankets, etc.)
Abaya (beautiful embroidered Arabic veils)
Access to the market and parking
This market is in the city center, between Al Asmakh Street and Al Ahmed Street.
Doha Metro is a new and advanced automatic rail network that runs primarily underground all over the city of Doha. To go to the market, you must use the gold line and get off at Souq Waqif station; this station is only one station away from the Qatar National Museum.
You can also use the metro to reach the airport, which takes only 45 minutes. A single trip ticket costs QAR 3 to any point while traveling the same distance by taxi costs around QAR 50.
This market has a covered parking lot, which is only a two-minute walk away from the market and is open 24 hours a day.
Hours of visiting the market
Most shops and market stalls close from around 1 pm to 4 pm, but its many cafes and restaurants are open all day.
Hotels near Souq Waqif market
Since this market is in the center of the city, it has good access to all sorts of hotels with varied prices that you can choose from depending on your taste and experience a pleasant stay.
Some of these hotels are:
Souq Waqif Boutique Hotels – Tivoli (0.1 km from Souq Waqif)
Al Najada Doha Hotel by Tivoli (0.4 km from Souq Waqif)
Alwadi Hotel Doha – MGallery (0.5 km from Souq Waqif)
Conclusion
Souq Waqif is the oldest market place in the heart of the Doha. If you like to buy traditional Arabic souvenirs for your friends, this is the best place to find them.
Are you planning to travel to Qatar? Please read things to do in Qatar article & Check out our Qatar tours.