Qatar has made significant progress in recent years and has carried out extensive activities in the field of tourism and the prosperity of this industry. Building many hotels is one of these activities. When traveling to Qatar, you do not have to worry about booking a hotel. Just consider your budget and choose the best option according to it. Mandarin Oriental Doha is one the best hotels in Qatar. Read more About it in this article.
The Best among Qatar Hotels
Mandarin Oriental Doha is one of the best five-star hotels in Qatar, located in the center of Doha. This hotel offers world-class facilities and is classified as a luxury hotel.
The new Mandarin hotel will delight everyone with its extraordinary design and architecture, especially people interested in various motifs because this hotel has many colorful motifs.
What makes the Mandarin Hotel different is its astonishing interior design, designed by a Dutch designer and artist.
This hotel has 117 rooms, in addition to the standard guest rooms, and five private rooms, including a penthouse suite, located on the 23rd floor of the hotel with a 360-degree view of the city of Doha. Mandarin Hotel has 18 accommodation models, which include rooms, clubs, suites, and serviced apartments.
Read more: The Ritz-Carlton Hotel Doha
Facilities of Mandarin Oriental Doha
Mondrian Hotel Doha has a luxurious spa with an area of 2000 meters. Also, its gym is active 24 hours a day. Its rooftop pool is also considered among the fancy and superior facilities of the Mondrian Hotel. There is also a ballroom for special events in the hotel.
All hotel rooms are equipped with air conditioning and provide facilities such as a flat-screen TV with satellite channels, refrigerator, tea or coffee maker, kettle, desk, wardrobe, private bathroom, hairdryer, and free-of-charge toiletries.
Other facilities include a terrace, indoor and outdoor swimming pool, jacuzzi, sauna, steam room, massage services, free Wi-Fi, 24-hour reception, family rooms, breakfast in the room, luggage storage, meeting facilities, fax, and photocopying services.
Mondrian Hotel offers other amenities such as babysitting, a safety deposit box, laundry, ironing facilities, ATM, currency exchange, and free private parking.
Read more: The Wyndham Grand Doha West Bay Beach
Mandarin Oriental Doha Spa
Mandarin Oriental Doha salon has an area of 3030 square meters, which includes 9 large treatment rooms, 2 VIP suites, and a unique suite for couples.
The spa has extensive heat and water facilities for relaxation before and after treatment. Facilities include separate men and women's sections for indoor pools, heated loungers, steam rooms, dry saunas, and experience showers.
The spa offers seven different treatment programs, which range in price from QAR100 to QAR2200, depending on the type and duration of the service.
Spa Terms and Conditions:
The spa is open every day from 11 am to 11 pm.
You must be at least 18 years old to use the spa, fitness center, and indoor pool.
It is recommended that guests check in at the spa reception 45 minutes before their first scheduled appointment.
Mandarin Oriental Doha Restaurant
Mandarin Oriental Hotel has nine restaurants. The restaurants of Mandarin Hotel offer a wide variety of international dishes on menus and serve different meals to the guests.
IZU is one of the best-known restaurants of the Mandarin hotel, which also has Mediterranean French cuisine on its menu. Due to the large variety of restaurants, you can use this service from 9 am to 2 pm and enjoy eating delicious food.
Read more: Cielo Lusail Hotel
Mandarin Oriental Doha Gym
The fitness and health center consists of two parts, the active zone, and the Sun & Pool Zone.
Active zone
This department has a gym with advanced equipment and modern technology, which aims to optimize the training performance of the members.
Special studios for women, multi-purpose studios, Group Cycle TRX, yoga, sauna, and steam room are among the various facilities of this part.
Sun & Pool Zone
This section includes saunas, and indoor and outdoor pools, which are suitable for members who look for sports and fun in the water or enjoying the sun. A 25-meter temperature-controlled rooftop pool, a leisure plunge pool, private cabanas, and sun loungers are among the amenities in this section.
Location and Access
Mandarin Oriental Hotel is located in the center of Doha on Musherib Street and is close to many tourist attractions of this city.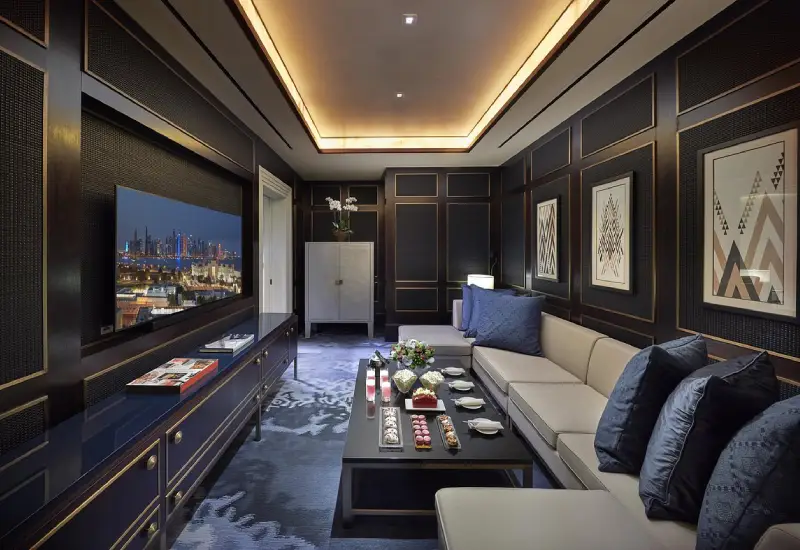 This hotel is 700 meters from The Castle Premium Hotel, 800 meters from Souq Waqif, 1.4 km from Al-Rawnaq Commercial Center, and 2.4 km from the National Museum of Qatar. The distance between the hotel and Hamad International Airport is 9.3 km.
The distance between the Mandarin Oriental Doha Hotel and the popular places
Radwani Doha House (.6 km)
Museums of Musherib Doha (.6 km)
Doha National Museum of Qatar (4.4 km)
Doha Museum of Islamic Arts (4.7 km)
Ras Abu Aboud Stadium or Stadium974 (7 km)
Katara Cultural Village (10.8 km)
Angry Birds World Qatar (18.6 km)
The distance between the Mandarin Oriental Doha hotel and the shopping centers
Souq Waqif Bazaar, Qatar (.7 km)
Royal Plaza Shopping Center (3.8 km)
City Center Commercial Complex (6.2 km)
Doha Landmark Shopping Center (9.7km)
Villagio Shopping Center (11.4 km)
Conclusion
Mandarin Oriental Doha hotel is one of the best hotels in Doha. If you want to have a pleasant stay in Qatar, its good to book this hotel.
Are you planning to travel to Qatar? Check out our Qatar Hotel page & Qatar tours.