The Qatar peninsula is considered the Middle East and Asia meeting point. The country of Qatar is rich in cultural attractions such as museums, galleries, and public art or street art that show tradition and modernity together. Katara Cultural Village is an ancient site with a unique architectural style, built in the neighborhood of the West Bay commercial area and the soaring towers of the Pearl residential area. Katara Cultural Village is among the best things to do in Qatar.
This village tells about the art and culture of the people of Qatar, which has now become one of Qatar's most important tourist attractions.
The meandering that can be seen in the passages and waterways of this spectacular place is a suitable platform for artists, photographers, and filmmakers.
This cultural village is designed to bring back the glory of Qatari culture through traditional architecture and includes many activities.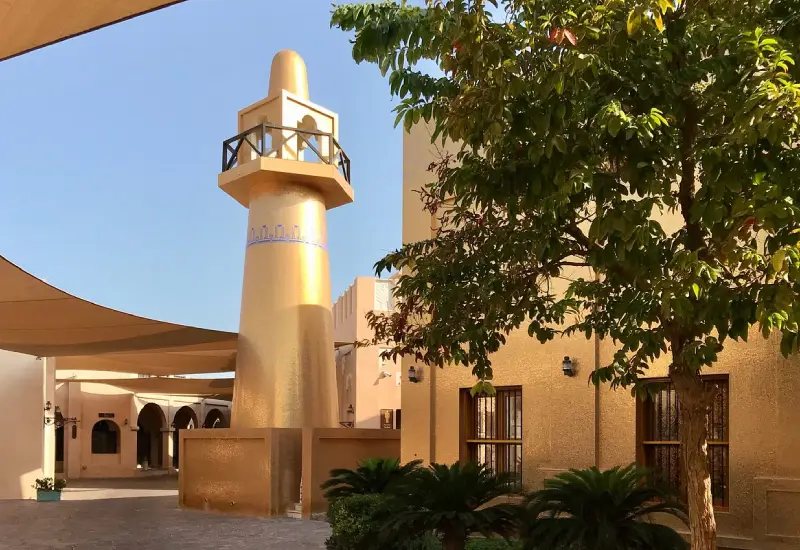 This project cost about 82 million dollars, including the construction of heritage centers, opera halls, libraries, amphitheater halls, art galleries, other academic centers, cafes, museums, other commercial institutions, and green areas. Katara cultural village photos can highlight the beauties of Qatar.
The architecture of Katara Cultural Village
The entire Katara complex is built as a fusion of oriental architectural style and integrated with a romantic and classical theme, completely different from most of Doha's new and attractive cultural buildings in other parts of the city.
Due to a long-held dream by Sheikh Hamad bin Khalifa Al Thani, the Emir of Qatar, Katara's facilities and buildings have been purposefully constructed with the aim of giving the look and feel of a traditional Qatari Fereej.
Built to embody the traditional architecture of Qatar, Katara's design has created a suitable environment for creative cultural, intellectual, and artistic activities through carnivals, social events, conventions, exhibitions, and concerts.
The Katara project is divided into different areas, and visitors can walk through the main area of Katara, designed in the style of traditional Qatari alleys.
Katara Cultural Village location
Katara is bordered on one side by a wide beach and on the other side by the twin hills of Katara; this cultural village is located on reclaimed coastal land on the east coast between The Pearl-Qatar and West Bay, north of Doha.
What to do in Katara cultural village
here is the list of what to do here:
Katara Mosque
Qatar's Katara Mosque was designed by the first female architect specializing in mosques, the Turkish Zeynep Fadiloglu.
This mosque has Iranian and Turkish tiling and enameling in shades of blue and gold, which completely contrasts with the surrounding buildings.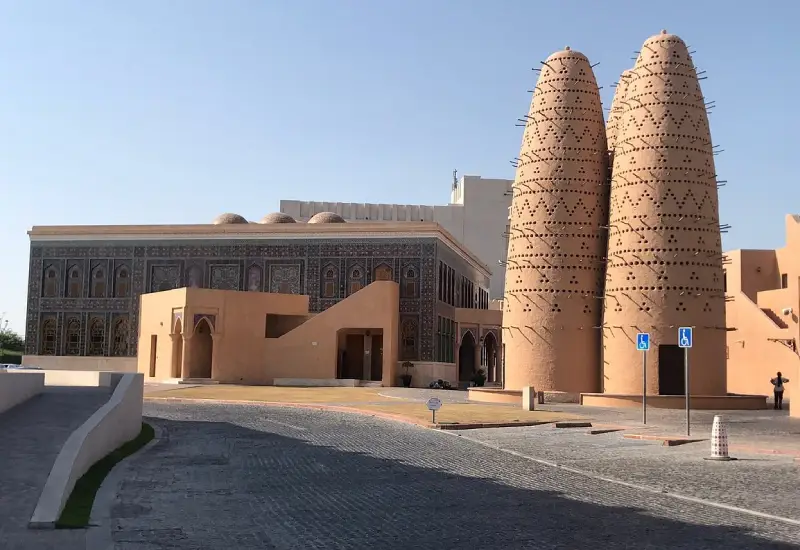 The minaret, dome, and mihrab of the mosque are inspired by Dolmabahçe Palace in Istanbul, which is one of the famous mosques in the Islamic world.
Katara Amphitheater
The Katara amphitheater is built with a unique design from the combination of classical Greek theaters and Islamic architecture.
This theater has stunning views of the sea on one side and the cultural village on the other side. This magnificent place was constructed in 2008 and opened on December 11, 2011.
The design of this massive building takes you back to the ancient Roman era, when such theaters were used for gatherings and public events.
The area of the amphitheater of Katara cultural village is 3275 square meters. This amphitheater has a space of more than 5 thousand people and can hold a massive crowd during events. This theater often hosts the biggest international events.
Art galleries
With numerous art galleries, workshops, exhibition spaces, and performance arenas, Katara is a lovely place for art lovers. The Qatar Museum Gallery, which is among the streets of Katara, displays the arts of local and international artists whose works depict human-centered themes.
Katara exclusive beach
The large public beach in Katara invites visitors to walk, rest or participate in a variety of attractive activities.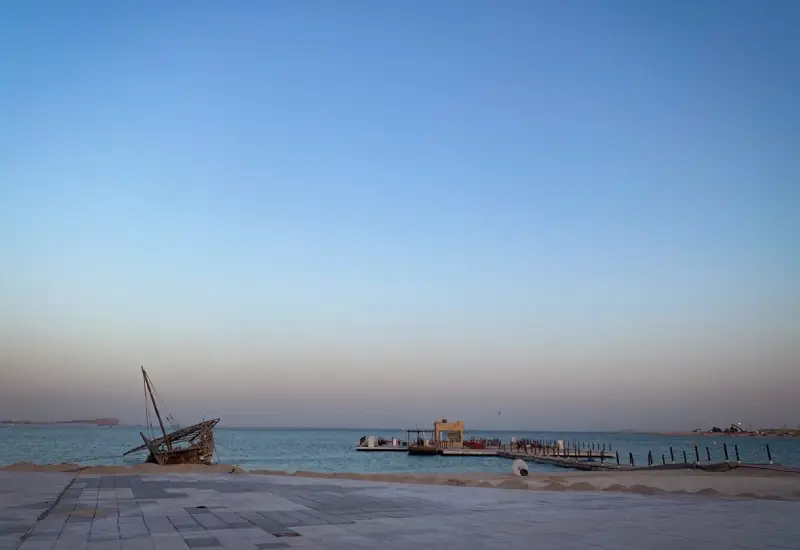 To enter the Katara Beach of the cultural village, you have to pay a fee to use children's play equipment, lockers with keys to store your equipment and clothes, sun loungers, and umbrellas, but it is worth paying the price.
Among other entertainments in the cultural village beach are surfing, water skiing, windsurfing, boating, etc.
Katara Opera House
The Opera House of Katara Cultural Village is the house of the Qatar Philharmonic Orchestra. So far, the best live music performances in the world have been held many times in the Katara Opera House.
With a fusion of eastern and Victorian architectural styles derived from 19th-century European models and traditional Islamic design, the Opera House offers a luxurious cultural experience. The capacity of the opera house is 550 people.
Al Thuraya Planetarium
Al Thuraya Astronomy Center has an entire digital dome system that can take up to 200 visitors on a journey around the world.
In addition to holding exhibitions that deal with issues of astronomy, atmosphere, geology, and oceans, the Al Thuraya Collection invites visitors to participate in discussions about the role of astronomy in Qatar's history and religious traditions.
Drama Theater
The indoor drama theater is another cultural village attraction in Qatar that offers you the best entertainment inspired by Qatar's traditional art and architecture.
Many events and film screenings are held here. This theater is designed with a capacity of 430 people, which can be a part of art and entertainment in Qatar.
Walking in the plains of Katara
In the north and south of the cultural village, there are beautiful hills of Katara. Green landscaping, fountains, and walking paths allow visitors to have a pleasant walk.
The plains of Katara have a flat space that people who like to walk or run can use for exercise.
Katara Cultural Village restaurants
Katara Village has the best international restaurants in Qatar, offering visitors a wonderful taste of the delicious variety of culinary arts with the main flavors of the Middle East and the world's most famous cuisines.
Katara is home to some of Doha's most popular eateries. From Chapattis and Crackers and various teas to fresh seafood. At Katara, you have a wide selection of Middle Eastern and Asian cuisines such as Mamig (Lebanon), Khan Farouk (Egypt) or Ard Canaan (Syria), as well as Sukar Pasha (Turkey) and Saffron Lounge (India). In fact, Katara is full of delicious and attractive streets that are definitely worth trying.
Souvenirs and shopping
In the main area of Katara Cultural Village, there is a market where handicrafts are sold, which is great for buying Qatari souvenirs. In addition, there is a media center, book market, coffee shop, and access to Katara's exclusive beach.
The entrances of Katara village, Qatar
Katara Village has two entrances; the gated entrance is opposite the Doha Exhibition & Convention Center. The second entrance is from Lucille Street, about 400 meters after the exhibition center. Lucille Street entrance has a large underground parking lot.
Katara Cultural Village timings
This cultural village is open 24 hours, and you can visit this Qatar tourist attraction whenever you want. The best timing is late afternoon because of the beach view.
Katara Cultural Village at night
The best time of the day to visit this fantastic destination is in the evening when all the lights transform this place into a dream world.
The village is more active and dynamic at night than in the morning; it really comes to life at night when you can see locals enjoy the amenities.
Are you planning to travel to Qatar? Please read things to do in Qatar article & Check out our Qatar tours.