Film City in Dukhan is a restored old village behind a valley on Zekreet Peninsula. This city is one of the places used to make Hollywood movies and films with an Arab architectural style. One of the movies used in its production is the Arabic series called "Eyaal Al Theeb." Several teasers for the 2022 World Cup have also been recorded there. Read more about Film City Qatar in this article.
By visiting this collection, you are both enjoying its beauty and walking in the scene of a Hollywood movie. Those familiar with video games will notice their similarities with horror and mystery games while walking through the streets of this complex.
If you plan to go to a place where you can get to know the traditional Arabic architectural style, do not miss Film City.
Doha film city architecture and attractions
This city is known as the city of ghosts because of its solitude and mystery. The landscape of the Zekreet peninsula is unique, and the salt flats and rocks of this plateau are very prominent.
The village's main attraction is a rock pillar with a hut on top. Another idea about why it was built is related to the potential of hosting the 2022 World Cup.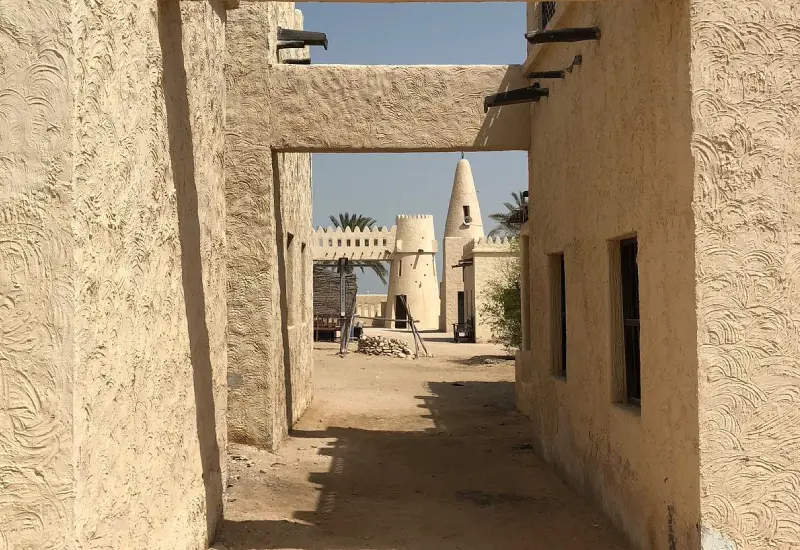 As you walk towards the city's entrance, you see strange outcroppings and rocks that are not dunes and have miniature holes. Some people believe that in the past, the Bedouins built these rocks for their borders with other groups.
The sunlight is reflected in these areas as beautifully as possible. Here is one of the places that is highly sought after by photographers. Do not miss the opportunity to take stunning photos in this area.
Passing the strange cliffs of the Zekreet peninsula, you must climb a ridge and a hill from where you will gradually see the city's buildings. While walking towards the entrance of Film City, you will notice the palm trees scattered in this area.
Walking in this area evokes the feeling of being in an American western movie. After going through this route, you will reach the valley where the entrance to Doha Film City lies.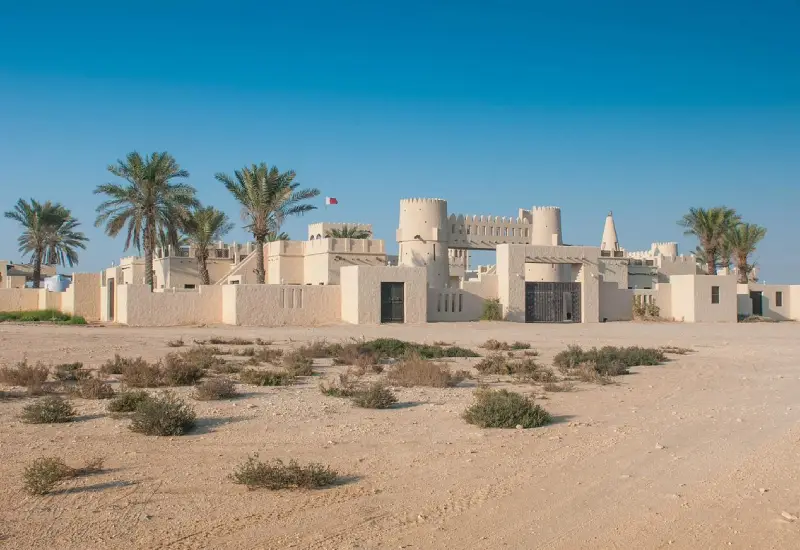 Inside the valley, there is a castle with a narrow wooden door. The buildings inside the fortress consist of rectangular rooms. These rooms have heavy wooden doors that indicate the Arabic architectural style.
If you look above your head, you will see a tower and ramparts taller than other buildings. All these organizations surround the city center square.
In this place, there is a shallow water pool with some palm trees and bushes around it. It is exciting to see this scene, which contrasts with its surroundings.
Read more: Things to do in Doha
Tips for going to Doha Film City
Due to the geographical location of Film City, you must follow a series of tips to avoid any problems when visiting. Among them are the following points:
It is better to go to the film city with a tour; the tour guide can talk to you about the authentic style of Arabic architecture and give you interesting information.
If you plan to go alone to visit this complex, be sure to take one or more people who are experienced in traveling to this area with you. Taking this step will ensure your safety while traveling.
Due to the geographical area of Film City and its distance from urban facilities, it is better to travel there fully equipped. Take the things you need, such as water and medicines, sunscreen, a hat, a handkerchief, your camera, etc., with you.
Don't forget to stop at the ruins of Zekreet Fort and the villages on your way to see the camel caravan.
Return to your starting point at least an hour and a half before sunset.
There is a small store in Film City where you can buy potato chips, bottled water, and other items. Ask the store clerk for directions if you are looking for a restroom.
Film City Qatar Location
The film city is built in Arabic architectural style behind a hill on the Zekreet peninsula; to reach it, you should take an almost unconventional route.
The location of Film City is between Dukhan Road and Doha City. You can drive for some distance on Dukhan road and, after seeing the Zekreet sign, go towards this peninsula.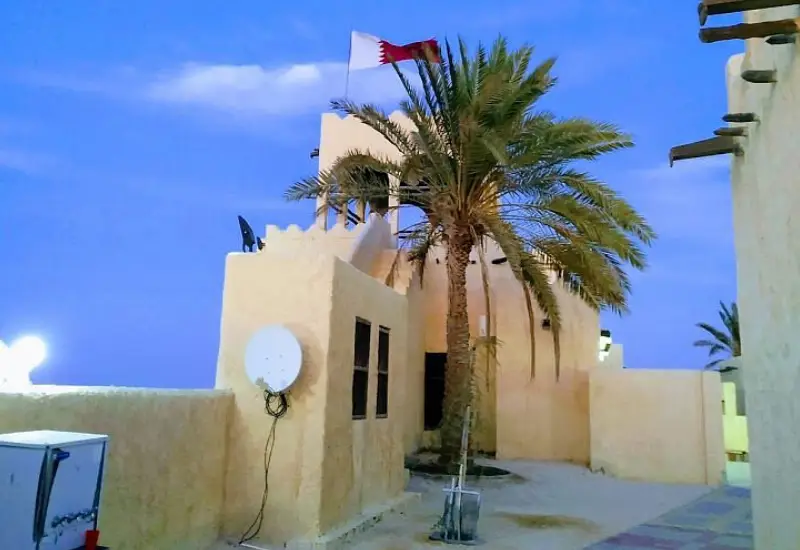 On the way to the film city Dukhan, there are beautiful places and scenery where you can stop by and take pictures. It generally takes between 1 and 2 hours to reach your destination.
For Film City, you will need to drive off-road on a dirt road, but you can be sure it is worth it. This area is 98 km from Hamad International Airport and 83 km from Doha.
Read more: Barzan Towers
Film City Qatar Timings
You have no time limit to visit this place. Film City welcomes tourists every day and at any hour of the day. The cool seasons, autumn and winter, are the best time to visit this place. If you are visiting Qatar Film City in the summer, it is better to go there in the morning or the afternoon.
The best time of day to visit Doha Film City is before noon and late afternoon. Visitors are advised to start their return journey to Doha at least an hour and a half before sunset, as the heat in the dry and arid desert is a bit oppressive.
Are you planning to travel to Qatar? Please read things to do in Qatar article & Check out our Qatar tours.