In the heart of the Islamic Center of Qatar, The Museum of Islamic Art, there is a French restaurant by Alain Ducasse that offers you the luxury and taste of French influence cuisine. Get the best quality with the best service and make the best of your day in Qatar while in IDAM Restaurant.
IDAM restaurant Doha
Alain Ducasse on the IDAM Restaurant site says: "My inspiration comes from a combination of the Southwest of France, where I grew up, and from the Mediterranean, which seduced me from a young age.
I always remain curious. My roots carry me but do not hold me down." That is exactly how you feel when you have fine dining at Idam Restaurant Doha.
You know what people said: French chefs make sure that the flavor of the food is perfect, so IDAM is a French, Mediterranean, European, and Arabic restaurant with a good chef that brings all flavors together perfectly.
IDAM, meaning generosity in Arabic, is set on the fifth floor of the Museum of Islamic Art, designed by Philippe Starck, who brings modernity with classicism with a touch of surrealism and poetry to his design.
An unexpected experience, stunning view & interior design, and gemstone in the museum is the TripAdvisor user comments on this restaurant. Therefore, it is worth visiting to have a dining fine at Doha.
This restaurant is open for Lunch and dinner from Saturdays to Thursdays, 12:30 PM – 3:00 PM for lunch and 7:00 PM – 10:00 PM for dinner.
Read more: Best restaurants in Qatar
IDAM restaurant menu
The most enjoyable part of a restaurant is the menu. Foods shall be in harmony with our taste and taste good.
IDAM food is a combination of Mediterranean cuisine with an influence of French chef masterpieces and an Arabic flavor.
The menu is seasonal with original creations. Tender camel, duck foie gras-black truffle, and soufflé potatoes are the signature dishes of IDAM.
Alain Ducasse's celebrated Cookpot (seven lightly-spiced vegetables), which is a favorite in all of Alain Ducasse's restaurants around the world, is also offered in Doha.
An unexpected experience, stunning view & interior design, and gemstone in the museum is the TripAdvisor user comments on this restaurant. Therefore, it is worth visiting to have a dining fine at Doha.
There is variable and delicious food on the menu that you can order. The 'lunch-hour' menu offers good value at an average price per person of $55. If you like going for the experience and discovering all the tastes of IDAM, the Tasting Menu is $160.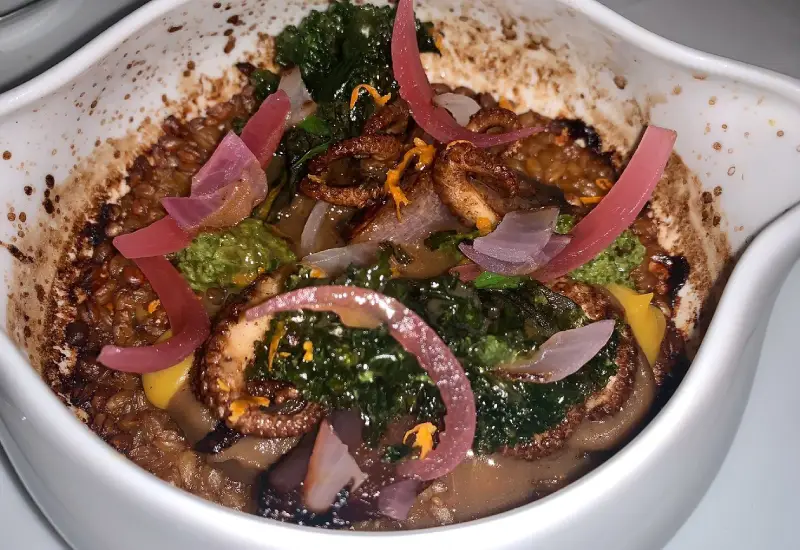 The preset menu is very reasonable, and it only costs 350 QAR. This preset menu includes appetizers, Entrée, and Dessert. The dishes are subject to change depending on availability and season. Therefore, it is not always the same dishes. À La Carte menu includes Starter, Middle course, Main course, Cheese, and Dessert.
Grilled duck foie gras, peach, and rosemary are the choice of travelers for the starter at IDAM restaurant Doha. A cookpot of lightly spicy vegetables is highly famous and costs 140 QAR for the middle course.
The most expensive main dish you can order at this restaurant is Wagyu beef in the fireplace and tarragon condiment (for 2). Better to choose IDAM chocolate for dessert to end your fine dining.
Read more: Parisa Restaurant
IDAM Restaurant during COVID-19
COVID-19 paralyzed all businesses. At this time, all restaurants were closed, and so was IDAM. However, this restaurant continues to cook delicious food for takeout and delivery.
So According to their announcement: "IDAM is closed until further official directives are announced.
For orders, please call us at +974 4422 4488 or email [email protected] ".
Now you can reserve at their website and go to this restaurant in the world cup 2022 while in Qatar.
IDAM restaurant Location
IDAM restaurant Doha is set on the Islamic Museum of Art. You can access this museum via car or taxi. Uber is widely used for this destination. If you want to go to this restaurant via public transportation, the nearest Metro station is Qatar National Museum on the Gold line of Doha Metro.
Information
Address: Corniche St., fifth Floor, Museum of Islamic Art, Doha 2777 Qatar
Reserve and Contact: +974 4422 4488
Website: here
You might like these article:
Lastly
This French restaurant is one of the best restaurants that you can book in Doha and have a great dinner.
Are you planning to travel to Qatar? Check our Qatar tours.