There is no way you can skip tasting delicious foods at restaurants of your destination. Exotic feelings are always evoked when tasting the local foods of foreign countries, and Qatar is no exception! You can dine in Qatari restaurants and taste Qatari cuisine with a spectacular view. Here are the Best Restaurants in Doha you should try during your visit to Qatar.
Al Shurfa Arabic Lounge is more than a restaurant! It is the perfect place to experience an unforgettable evening with friends in the heart of Doha. The cuisine is Arabic, Lebanese, and Mediterranean. Al Shurfa Arabic Lounge offers various types of shishas for those seeking a shisha experience.
Foods and staff are excellent, and you can't beat the view! It's a mid-range price restaurant. Therefore, the food price is very affordable and ranges from only €6 – €14. Al Shurfa is among the unique restaurants in Qatar because their services are exceptional, and here you will be treated like a king.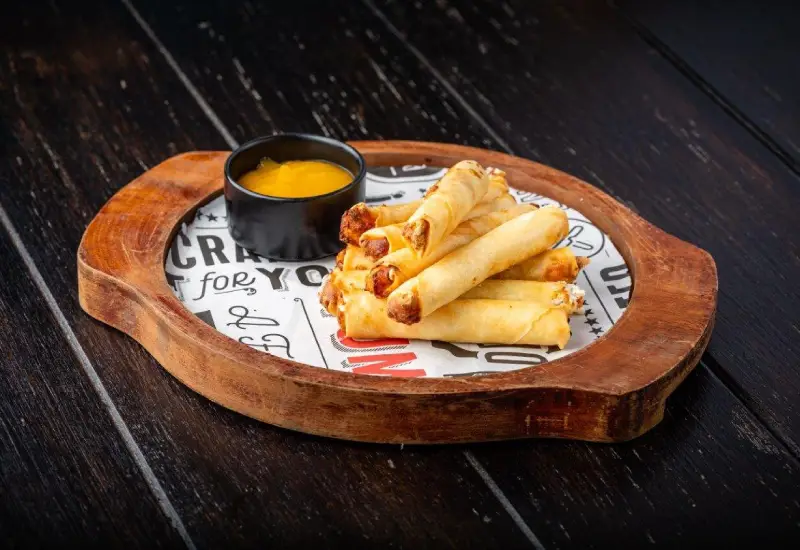 Chicken quesadillas, mixed grill, calamari, beef tacos, and arancini balls are the delicious foods in this Qatari restaurant you should try. All the reviewers on Trip Advisor were satisfied with the food and services they had.
Address: 2nd Floor Al Jomrok Boutique Hotel, Souq Waqif, Doha
Working hours: 12:30 PM – 11:30 PM
Jiwan restaurant is a contradiction between the desert and the sea and the classic/modern style. In the heart of the National Museum of Qatar, Chef Alain Ducasse provides traditional Qatari dishes in one of the top restaurants in Qatar.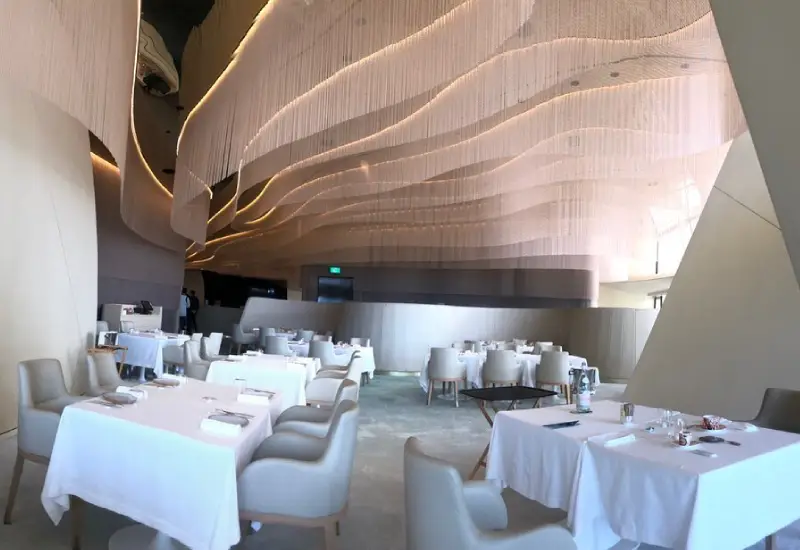 Sherif, one of the waiters at Jiwan restaurant, is very knowledgeable about food and Qatar, so let Sherif be your guide to choosing your foods from the menu. Those who have eaten at this restaurant recommend choosing a set menu since it is delicious and reasonably priced.
Address: Museum Park St National Museum of Qatar, Doha, Qatar
Working hours: 12:30 PM – 8:45 PM
If you ever decide to wander the famous Souq Waqif of Qatar, you should definitely consider going to this mesmerizing Persian restaurant in Qatar. Parisa is one of the finest Persian restaurants you can find in Doha. The restaurant's decoration consists of outstanding traditional Persian mirrorwork and paintings of ancient Persia that will catch your eye right away.
Don't forget to charge your phone or camera when visiting this stunning Persian restaurant for spectacular pictures.
Since BTS member Jung Kook visited this restaurant, the Army added this restaurant to their wish list. If you're also an Army and happen to travel to Qatar, Parisa calls your name.
All kinds of Kebabs are served at this restaurant alongside Persian appetizers and desserts like saffron ice cream and fallodeh.
Address: Souq Waqif, Ras Abu Abboud Street
Working hours: 1:00 PM – 10:30 PM
Just try Nobuyuki "Nobu" Matsuhisa's Japanese dish, the black cod in miso, because it tastes like heaven. Japanese restaurants in Qatar are incredibly famous. Travelers who want to taste authentic luxurious international cuisine should definitely visit Nobu.
Of course, there are more great Asian restaurants in Doha, but Nobu is among the best restaurants in Doha, with more than 671 reviews on Trip Advisor. You should know that this restaurant serves only at night. It is only open from 6:30 PM to 11:30 PM.
Address: The Corniche Four Seasons Hotel Doha, Doha Qatar
Working hours: 6:30 PM – 11:30 PM
Tofu House
K-food has taken the world as K-pop. Never miss out on Korean restaurants in Qatar. Just walk past them, and your mouth starts watering in an instant. That's when you know you can't resist the taste of the heavily tasty Korean food. Tofu House offers variable Korean food in Doha. You can order Garlic chicken, Udon, Tteokbokki, Fried rice, Seafood fried noodle, Jjampong and Gimbap, Jajangmyeon, Kimchi, Bulgogi, and so on. The list of tasty Korean foods never ends.
Address: Al Kinana St, Doha, Qatar
Working hours: not defined
Another great Japanese restaurant in Qatar is Morimoto Doha. Iron Chef Masaharu Morimoto owned this restaurant and serve his signature omakase along with Wagyu beef and the most famous Japanese food in the whole world Sushi.
Morimoto is Traveler's choice 2022 by Trip advisor users. The portions are generous and sushi tastes really good. It's one of the family restaurants in Qatar if your family loves Japanese food.
Address: West Bay Lagoon, Doha Qatar
Working hours: 6:00 PM – 11:00 PM
Turkey Central
If you like Turkish food and you're looking for the best Turkish restaurant in Qatar, you should visit Turkey Central on Al-Nasr Street. This place is always busy. Try a mixed grill platter with lamb chops, mezze platter, french fries, kofta, and shawarma roll, and you will never be disappointed.
It's one of the most affordable restaurants in Doha, and the food is authentic, less spicy but with solid taste. This restaurant evokes the feeling of being in Turkey.
Address: Al-Nasr Street, Doha Qatar
Working hours: 11:00 AM – 01:00 AM
If we want to mention the top restaurants in Qatar, we cannot forget the IDAM restaurant. With spectacular views of the Doha skyline, this French Mediterranean cuisine by Alain Ducasse offers you indulging fine dining in the Museum of Islamic Art.
Dining in IDAM costs you around 250 Qatar Rials. Philippe Starck, the designer of IDAM, uses a contemporary style, so when you enter the restaurant, you know you will have a great and enjoyable experience.
Address: Corniche St 5th Floor, Museum of Islamic Art, Doha 2777 Qatar
Working hours: 12:30 PM – 3:00 PM / 7:00 PM – 10:00 PM
Kailash Parbat
Indian restaurants are favored in Qatar, especially for many Indian travelers who travel to this luxurious country. It is worth trying Indian cuisine in Qatar when you find one. Kailash Parbat is one of the affordable Indian restaurants in Qatar that offers you dishes like Bhatura Platter, any chaat, and Manchow soup.
Kailash Parbat is a vegetarian-friendly restaurant. Thus, vegans can eat there without any concerns. This Indian restaurant is also perfect for hangouts and tasting delicious Indian food with friends.
Address: Near Grand Hamad Street, Doha Qatar
Working hours: not defined
CUT Restaurant
Breakfast, lunch, or maybe brunch, dinner, late-night snacks, or drinks, it doesn't matter what you crave, as long as there's the CUT restaurant. Whether it's the food or the service at this incredible restaurant, you'll never be disappointed. If you want to impress your business guests, we highly recommend visiting this restaurant.
You can expect a lot from the food at this restaurant, as it is somewhat expensive. This restaurant has a strong reputation for its tasty food, but what attracts tourists is its unique service.
Address: Mondrian Doha, Doha Qatar
Working hours: 12:00 PM – 3:00 PM / 6:00 PM – 11:00 PM
Let's dig in!
Fine dine-in restaurants in Qatar are always possible. From Michelin-star restaurants to one bite of street food in Qatar is all about taste, and there's no denying that. It only takes a taste of some Arabic or international dishes in Qatar to enjoy this luxurious country to the fullest extent. Feel free to share your experience if you ever visit one of these Qatari restaurants.
Are you planning to travel to Qatar? check out our Qatar Tours.