Nobu Doha Restaurant is a renowned restaurant located in the luxurious Four Seasons Hotel in Qatar. It is part of the world-famous Nobu chain of restaurants, founded by Nobu Matsuhisa, which has become synonymous with fine dining and exceptional Japanese cuisine. With its prime location, elegant ambiance, and excellent food, Nobu Doha has established itself as one of the most popular dining destinations in the region. If you're looking for the best restaurants in Doha, Nobu should be on your list.
Nobu Restaurant History and Founder
The restaurant is owned by celebrity chef Nobu Matsuhisa. The restaurant opened in early 2019 as part of the new W Hotel in Doha.
Matsuhisa is a Japanese celebrity chef and restaurateur. He began his career in the late 1970s, working in sushi restaurants in Tokyo.
After gaining experience in Japanese cuisine, he moved to Peru and opened a Japanese restaurant, Matsuei. In 1987, he opened his first Nobu restaurant in Beverly Hills, California, which became an immediate success.
He has since opened dozens of other Nobu restaurants around the world, including London, Dubai, Hong Kong, and Tokyo.
Restaurant Design
One of the best Japanese restaurants in Doha is definitely Nobu Restaurant. Nobu is a stunning restaurant that features a modern design that is both stylish and luxurious.
The restaurant has a sleek, modern design. The main dining room presents a contemporary and minimalist design, with a large open kitchen, a modern bar, and an impressive selection of sushi and other dishes.
The restaurant also offers outdoor seating, making it an ideal spot for al fresco dining.
The restaurant's interior is a stunning combination of wood, glass, and stone, with plenty of natural light streaming in through the large windows.
The walls are decorated with modern art and sculptures, giving the restaurant a contemporary feel. The restaurant's seating is comfortable and inviting, with a variety of seating options to choose from.
The restaurant also features unique details, such as custom-made furniture and unique lighting fixtures.
Nobu restaurant Doha is the perfect spot for a night out with friends or a romantic dinner for two.
The restaurant's modern design and luxurious atmosphere make it an ideal place to enjoy a meal and relax. The restaurant presents an unforgettable experience with a delicious menu and an inviting atmosphere.
Read More: Morimoto Japanese Restaurant
Nobu Restaurant Menu
The menu at Nobu Doha is a fusion of traditional Japanese cuisine and contemporary culinary techniques, resulting in a unique and innovative dining experience.
The signature dishes include black cod miso, rock shrimp tempura, and yellowtail sashimi with jalapeno, which have become famous worldwide.
The restaurant also offers a range of other dishes, including grilled meats, salads, and vegetarian options.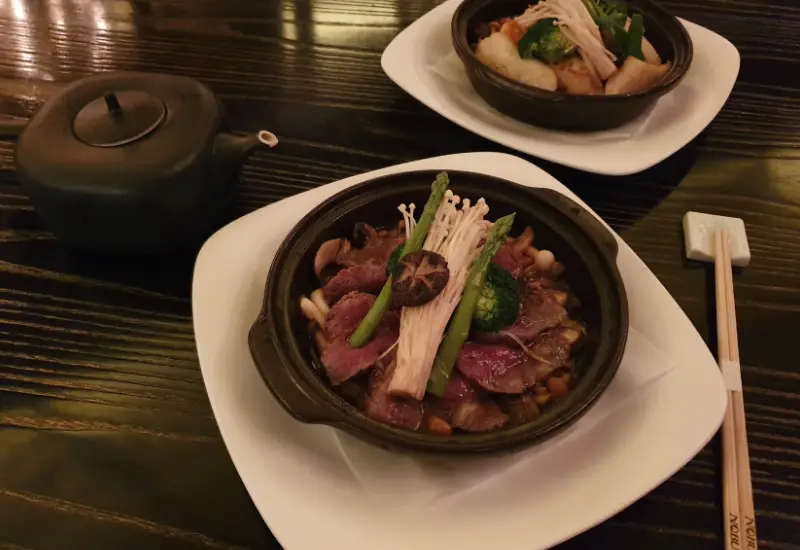 In addition to its exceptional food and ambiance, Nobu Doha also boasts an impressive drinks menu featuring an extensive selection of sake, wine, and cocktails.
The drinks menu has been carefully curated to complement the food, with a focus on Japanese-inspired cocktails and wines from around the world.
Nobu Doha Happy Hour Menu
The restaurant's happy hour menu features an array of delicious dishes, all of which are made using the freshest ingredients.
The happy hour menu includes a selection of appetizers, such as edamame, spicy tuna roll, and salmon tartar. There are also a variety of sushi, tempura, and sashimi dishes, as well as some cooked dishes like teriyaki chicken and seared salmon.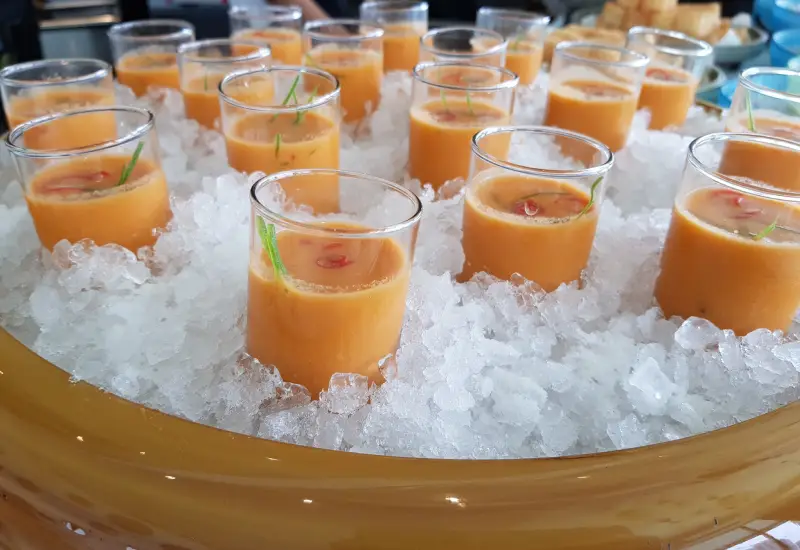 The menu also offers a variety of desserts, including green tea ice cream and black sesame mochi.
The restaurant also has a selection of specialty drinks, including signature cocktails like the Nobu Martini and the Doha Mule. This happy hour menu is a selection of Japanese beers and wines.
Nobu Doha Menu Prices
The restaurant has a wide selection of dishes to choose from, each one carefully created to make a unique and unforgettable dining experience.
The menu at Nobu Restaurant presents a variety of starters, salads, sushi, sashimi, and mains. Prices range from QR 70 for a starter to QR 200 for a main.
The restaurant also has a range of set menus, which include a selection of dishes chosen by the chef. These set menus are about QR 300 per person. (Full Menu)
Nobu Doha Brunch
This great restaurant offers a truly unique dining experience with a world-class brunch. The brunch at Nobu Doha Restaurant features a wide variety of dishes from all around the world, including Japanese, Chinese, Thai, and Italian cuisine.
Guests can enjoy a selection of sushi, sashimi, tempura, and noodles. There is also a wide range of hot dishes, such as grilled prawns and beef teriyaki. And for dessert, guests can choose from several options, such as ice cream, crepes, and Mochi.
The brunch is served in an elegant and comfortable setting, with an attentive staff that is eager to make your experience a memorable one.
Nobu Restaurant Bar
One of the highlights of the restaurant is the sushi bar, where diners can watch skilled chefs prepare all kinds of fresh sushi and sashimi dishes.
The sushi bar offers an interactive and entertaining experience, with the chefs engaging with guests and explaining the ingredients and techniques used to create each dish.
The selection of sushi and sashimi is extensive, with everything from classic tuna and salmon to more exotic options like uni (sea urchin) and toro (fatty tuna).
The teppanyaki grill is another popular feature of Nobu, where diners can enjoy a theatrical dining experience as they watch their food being cooked in front of them on a hot griddle.
The chefs perform impressive feats of culinary skill, juggling utensils and tossing food with flair. The menu has a range of teppanyaki dishes, including steak, seafood, and vegetables, all cooked to perfection.
For those seeking a more private dining experience, Nobu Doha offers several exclusive private dining rooms, each with its own unique design and ambiance.
The rooms are ideal for intimate gatherings, business dinners, or special occasions. The menus can be customized to meet the specific requirements of each group, and the attentive staff ensures that every detail is taken care of.
Nobu Doha Reservation
Reservations at Nobu Doha can be made online or over the phone. The restaurant accepts all major credit cards, so there is no need to worry about payment options.
When making a reservation, guests are asked to provide contact information such as name, phone number, and email address. It is also important to provide an estimated time of arrival, as well as the number of guests at the party.
Nobu Restaurant Branches
Apart from its branch in Doha, Nobu has many other notable locations, such as the ones in New York, London, and Los Angeles, all of which offer an exquisite Japanese culinary experience.
The restaurant is also known for its fusion dishes that combine traditional Japanese cuisine with other international flavors, making it a favorite among food enthusiasts.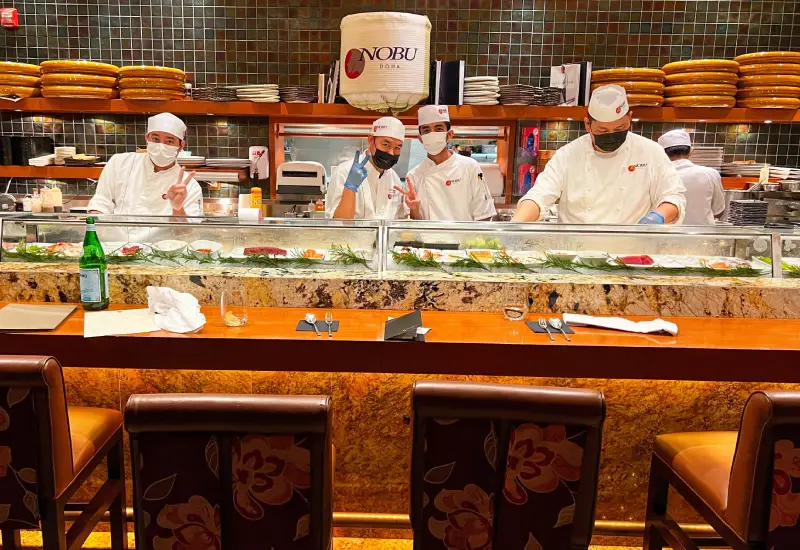 Nobu's success can be attributed to its commitment to providing exceptional quality and service, combined with its unique and innovative menu.
With its global reach and reputation for excellence, Nobu has firmly established itself as a leading Japanese restaurant brand, and its branch in Doha is no exception, offering locals and visitors alike a chance to indulge in an unforgettable dining experience.
More information
Nobu Doha Instagram: The restaurant's Instagram page (@Nobudoha) showcases its amazing dishes and stunning interior design.
Their page is filled with mouth-watering visuals of sushi, sashimi, and other Japanese dishes. It also contains posts about special events, promotions, and news about the restaurant.
The posts provide customers with a glimpse into the exciting atmosphere of the restaurant and have been known to draw a lot of attention from foodies and food bloggers.
Nobu Restaurant contact number: For reservations or inquiries, the contact number for Nobu Doha Restaurant is +974 4009 5555.
Nobu Restaurant website: Their official website is www.noburestaurants.com/doha. Through their website, guests can also view their full menu and upcoming events.
Final Word
Nobu Doha is a must-visit restaurant for anyone seeking an exceptional dining experience in Doha. With stunning design, innovative cuisine, and excellent service, it's the perfect place for a romantic dinner, business lunch, or special occasion. Whether you are a sushi lover, a teppanyaki enthusiast, or simply a fan of fine dining, Nobu Doha is sure to impress.