Food culture plays a huge role in greeting a new country. We can understand everything from the food culture of a society. There is always a beautiful story behind every essence, and it can deliver a unique taste experience.
Getting to know the culture of a place through street foods is a significant part of learning about it. Street food in Doha, Qatar, is very common.
Among the snacks of Qatar, street foods are popular among locals and travelers. Street foods in Doha are accessible in every place in Doha. Popular Qatar delicacies are also very economic and tasty.
If you want to visit Qatar someday, be sure to try these tasty foods.
Chapati (Poori)
One of the most popular foods in Qatar is Chapati or Poori. This street food is so popular and tasty that you can almost find it everywhere in Qatar.
Chapati is a flat-baked bread with fillings. There are many options for filling the bread, from honey and Nutella or other sweets to meat and cheese, based on your desired taste.
You can also roll chapati and try it deliciously to have a better experience. Chapati is mostly accompanied by Karak tea. Karak tea is like black tea but with some added milk, sugar, and cardamom.
A combination of chapati and Karak tea is so good that once you try both together, you can't try them separately afterward because the two flavors complement each other very perfectly.
Read more: Best restaurant of Qatar
Shawarma
Shawarma goes by different names in any country in Asia. It is so popular that, if you have traveled to middle-east, you've definitely heard of it.
Shawarma is a Filipino street food in Qatar. Shawarma is made from chicken or beef, lamb, and even sometimes camel or duck. It is stacked on a rotating skewer and slowly roasted until it is cooked and ready to eat.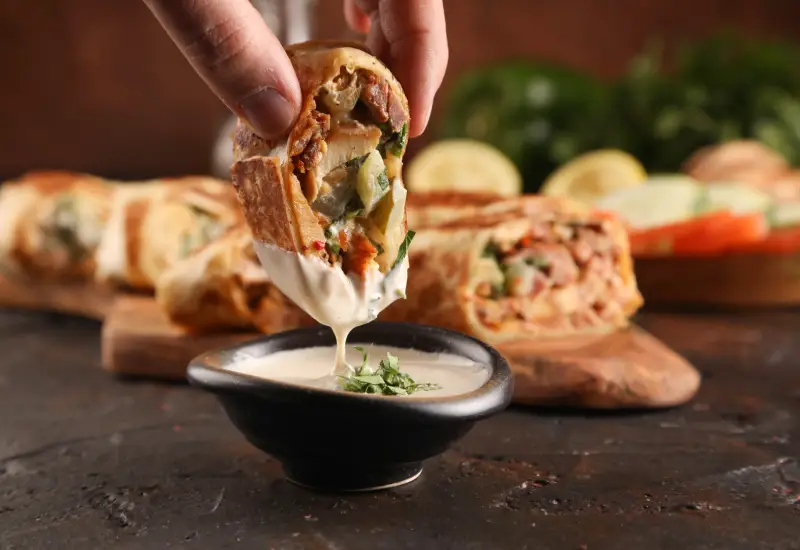 The meat gets wrapped in a slice of bread with sauce, pickles, and vegetables. Its taste is crispy and savory. Also, bread can vary from thick loaves to thin slices of bread based on your choice. Qatari version of Shawarma is one of those must-try street foods in Doha, Qatar.
Falafel
Falafel is yet another tasty snack of Qatar. It is rounded fried balls mainly made of chickpeas, beans, garlic, coriander, parsley, and tahini.
This meal is super favored among vegans. Falafel is so delicious that you can have it any time of the day. It can be an appetizer, breakfast item, or even an evening snack. These cute fried balls are zestful and very crunchy.
You can enjoy Falafel on its own, or it can be wrapped up in pieces of bread with pickles, tomatoes, and salads. These little crunchy shots of health and energy are suitable for any taste. You should try Falafel if you are a non-vegan too.
Ragag (Crepe)
Ragag is a traditional Arabic crepe that has a wafer-like texture. Ragag is extremely popular among the locals. This Arabic crepe can be rolled or folded into a cone shape.
There are a lot of options for topping this crepe. Honey, cheese, eggs, Nutella, fruits, or even kebab is used for these yummy paper-thin crepes. Also, a hot cup of tea along Ragag is one of those heavenly combinations.
Ragag is one of the souq waqif street foods that is very savory and favored by all. Of course, you can find other snacks too in Souq Waqif street foods.
Samboosa
Samboosa or Samosa is an incredibly delicious cuisine that many countries, like Africa, China, Iran, etc., have a different version of it.
The Arabic one is called samboosa, the perfect combination of meat, spinach, mincemeat, cheese, and other vegetables stuffed in a small conical shape of dough.
Once you start eating Samboosa, you realize you cannot stop yourself from eating more. It's that delicious!
Samboosa can be a good accompaniment to evening tea, coffee, Karak tea, or breakfast. These little yummies are another Souq Waqif street foods that are very flavorful and definitely worth a shot.
Luqaimet
Luqaimat is a special Ramadan dessert. Luqaimat or Lukma are little deep-fried dumplings dipped in honey, sugar syrup, or Nutella to taste like a crunchy sweet ball.
Luqaimat is a mixture of butter, milk, flour, sugar, saffron, and cardamom, and it is very healthy and energetic. Although it is usually made during Ramadan, you can find it in Sheraton or Souq Waqif street food.
This dessert surely brings a sweet taste to your mouth. In the first bite, you can feel the crunchiness on the outside and the softness inside. If you someday travel to Qatar, make sure to try these sweet fried dumplings.
A Tasty Experience in Qatar
Qatar's cuisines, from main dishes to street foods, are very diverse. Qatar's Foods make an outstanding presentation about the country.
They are a quick way to know about a country's norms and culture since street foods are cheap and made of various local ingredients.
Qatar street foods create a delicate sense of joy with just a bite. So, if you travel to Qatar someday, make sure to try street foods and local dishes.
Are you planning to travel to Qatar? Check out our Qatar tours.