Gondolania Theme Park, located inside the elegant and luxurious Villaggio Mall, is the premier entertainment destination in Doha, Qatar.
This remarkable theme park with an icon like Venice gives visitors a unique and romantic experience. Beyond this, the park offers an Olympic-size ice skating rink, catering to both leisure skaters and athletes.
Gondolania is famous for its expansive indoor space and has an array of attractions that cater to all age groups.
As the largest family entertainment destination in Doha, Gondolania holds a special place in the hearts of both locals and tourists, offering a unique blend of excitement, leisure, and enchantment.
Additionally, the anticipation surrounding the forthcoming Gondolania Entertainment City, set to be the largest theme park in Doha, only adds to the attraction of the park, promising even more thrills and unforgettable experiences for all who visit.
Gondolania Theme Park Ambience and Architecture
The park's entrance welcomes guests with an inviting view, hinting at the excitement that awaits inside. As visitors step through its doors, they are moved into a world of enchantment and adventure.
By looking at Gondolania theme park photos, you can easily understand that each thematic zone within the park boasts its unique architectural style and interior design.
For example, the Fantasy Zone stares with strange and colorful structures that evoke a sense of surprise, while the Adventure Zone has dynamic elements to match its thrilling rides.
Moreover, lighting plays an important role in enhancing the park's ambiance. As the sun sets, Gondolania comes to life with a charming display of lights that illuminate the rides and attractions, casting a magical aura over the entire park.
The park's commitment to visitor comfort and convenience is evident in its well-maintained facilities, including dining areas, restrooms, and rest zones.
In short, Gondolania Theme Park's interior elements work harmoniously to create a unique environment that is attractive to visitors of all ages, ensuring that each visit is a memorable and delightful adventure.
Gondolania Theme Park Rides
Gondolania Theme Park is a playground of exciting and entertaining rides that welcome visitors of all ages and excitement preferences. From the pleasant roller coasters to whimsical kiddie rides, this theme park has it all.
The F1 Coaster promises a thrilling experience with its twists and turns, while the Drop Tower offers a stomach-dropping adventure for the brave. For a more family-friendly experience, the Carousel and Bumper Cars provide classic fun.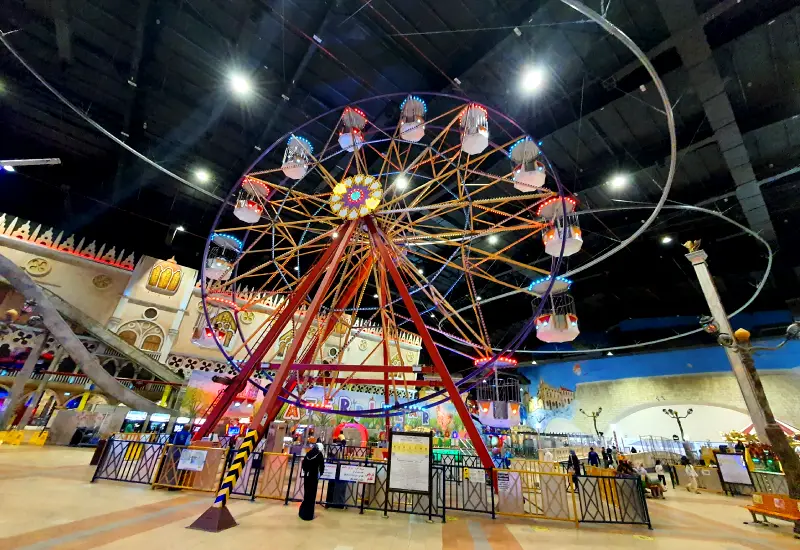 Dino Land transports visitors back in time to an age of dinosaurs, while the 7D Cinema offers an immersive cinematic journey.
The Bungee Trampoline lets you defy gravity, and the Lazy River provides a relaxing float. Gondolania's diverse range of rides ensures that every guest can find their perfect dose of excitement and entertainment in this captivating theme park.
Continuing with the introduction, we will now delve into the presentation of some of the most popular games in this charming park.
Read more: Desert Falls Water & Adventure Park Doha
Gondolania Bowling
Gondolania Theme Park's Bowling Center is the perfect place for family fun, league bowling, birthday celebrations, group events, and more.
The bowling schedule makes it convenient for everyone to enjoy: Sunday through Wednesday, you can roll those strikes from 10:00 AM to 11:00 PM. On Thursdays and Saturdays, the fun goes on until midnight, with the lanes open from 10:00 AM to 12:00 MN.
Fridays offer an afternoon start at 01:00 PM and continue until midnight. Plus, the price for a game is just 25 QAR, making it an affordable and enjoyable experience for all.
Gondolania Theme Park Ice Rink Timings
Gondolania Theme Park's Ice Arena offers a variety of skating options throughout the week. From Sunday to Thursday, visitors can enjoy multiple public sessions, each lasting for a few hours, starting in the morning and extending into the evening.
Fridays feature a more relaxed schedule, with a Shinny Game in the morning and extended public sessions throughout the day and evening.
Saturdays continue the fun with booked lessons in the morning and public sessions until the evening. Gondolania's Ice Arena provides ample opportunities for icy excitement all week long for both beginners and professional skaters.
Gondolania Theme Park Ticket Price
Gondolania offers a range of Gondolania Theme Park prices for its various attractions, making it accessible to visitors of all ages and preferences.
With its clear pricing structure, visitors can easily plan their day at Gondolania Theme Park and enjoy the attractions that best suit their interests and budget.
Here is a list of the Gondolania Theme Park tickets prices for some of the park's exciting attractions:
7D Cinema: 25 QAR
Bumper Boat: 12 QAR
Bumper Car: 12 QAR
Bungee Trampoline (Adult): 50 QAR
Carousel: 12 QAR
Caterpillar: 20 QAR
Convoy Ride: 20 QAR
Dark Ride: 30 QAR
Dino Land: 25 QAR
Drop Tower: 20 QAR
Electric Animal: 20 QAR
Gondolania Theme Park Offers
Gondolania Theme Park offers a variety of exciting packages and services to make your visit even more special. If you are planning a party, the Grand Ballroom is available for QR 700, while the palace can be booked for QR 500 (for a minimum of 30 kids).
Party packages, which include a host, decorations, and games, are priced at QR 1000 for 2 hours. You can also add extra fun with mascot appearances (QR 300), face painting (QR 300), video shoots (QR 250), and photo shoots (QR 250).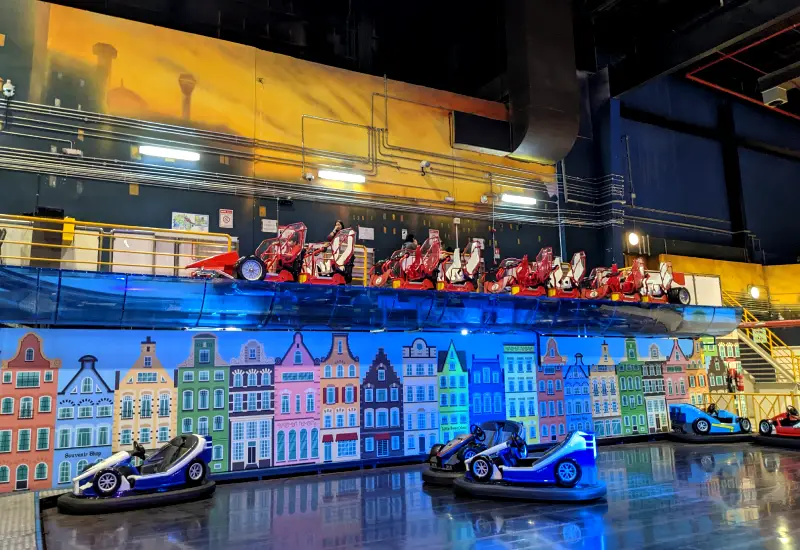 For meals, there is the option of a McDonald's meal for QR 12 per person, and if you want to bring your own food, there is a QR 300 corkage fee.
Additionally, if you bring any facility or equipment from outside, there is a QR 100 corkage fee. You can also enjoy various activities such as Go Kart (QR 60 for 10 mins), Laser Wars (QR 30 for 10 mins), and Bowling (QR 150 for 1 hour for 6 people per lane) with your friends and family.
And if you need a party area, you can rent the Grand Ballroom for QR 2000 or the Palace for QR 1500 for 2 hours, with an extension option for QR 150 per 30 minutes. Gondolania Theme Park has something for everyone, ensuring a fantastic experience for all visitors.
Gondolania Theme Park Timings
Gondolania Theme Park, the Kids Salon, and Cafe welcome visitors from Saturday to Wednesday, starting at 10:00 AM and staying open until 11:00 PM.
On Thursdays and Fridays, they extend their hours, staying open until 12:00 MN (midnight). As for the Gondolania Boat rides, they operate from Saturday to Wednesday, beginning at 09:00 AM and concluding at 11:00 PM.
On Thursdays and Fridays, you can enjoy the Gondolania Boat rides until 12:00 MN (midnight) as well. So, whether it is a weekday or a weekend, there is plenty of time to experience the magic of Gondolania.
More Info to Visit Gondolania Theme Park Doha
Gondolania Theme Park address: VILLAGGIO MALL, 22489 DOHA, QATAR
Gondolania Theme Park contact number: 4403 9800 and 4450 7873 (Ice Arena)
Gondolania Theme Park Email address: [email protected] and [email protected] (Ice Arena)
Gondolania Theme Park website: www.gondolania.com
Final Word
Gondolania Theme Park is not just a place to have fun; it is a destination that ignites the imagination and creates lasting memories for people of all ages.
With its diverse range of attractions, thematic zones, and commitment to safety and quality, it has become a beloved destination in Qatar's entertainment landscape.
Gondolania Theme Park promises families and thrill-seekers an unforgettable experience where imagination meets adventure. So, the next time you are in Doha, make sure to set sail for Gondolania, where dreams come true.
Are you planning to travel to Qatar? Check out our Qatar tours. Maybe you will find it interesting to read things to do in Qatar.