Al Nahham restaurant is an attractive restaurant located on the edge of the sea, which has its own peace and beauty. Its iconic thatched pavilion acts as a window to a stunning world, offering panoramic views stretching over the captivating Persian Gulf.
Local flavors and aromatic spices await you at this culinary heaven, inviting you to embark on an aromatic journey through an array of flavors from different regions. As the evening draws to a close, the Lasting experience expands under the sky canopy, where you can enjoy the pleasures of hookah amidst the twinkling stars. Join us as we step into the world of Al Nahham, where the beauty of nature blends with the art of culinary delight.
Al Nahham Restaurant Interior
By looking at the Al Nahham restaurant photos, you can easily understand its beauty and the cozy vibe it has.
The interior design is a combination of traditional elements and pleasant comfort and creates a space that welcomes you with open arms.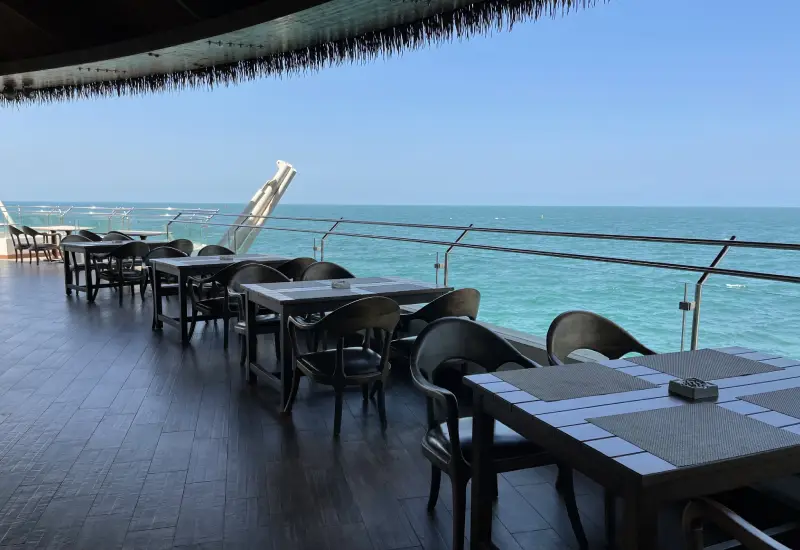 The environment is a symphony of rich colors, soft light, and special details. Warm colors and traditional patterns reflect Middle Eastern cultural heritage, while plush seating and cozy nooks offer a sense of modern comfort.
Al Nahham's interior sets the stage for an unforgettable dining experience, where every moment is made more special by the surroundings.
Al Nahham Restaurant Doha Menu
When you visit Al Nahham Restaurant, get ready for a tasty journey through Middle Eastern flavors. From starters to sizzling grills, the menu is full of yummy choices for everyone to enjoy.
Al Nahham Restaurant menu starts with delicious appetizers like smooth Hummus made from chickpeas and tahini sauce.
Try Moutabel, a dip with grilled eggplant and tahini. Enjoy Tabouleh, a salad with parsley, mint, tomatoes, and more. Fattoush Salad adds crispy bread to fresh veggies.
Next, taste the Hot Mezzeh choices. Hummus with Meat mixes chickpea dip with lamb and nuts. Try Cheese Roll, a crispy roll filled with gooey cheese.
The Al Nahham Mixed Grill gives you a bit of everything grilled, like lamb kebab and chicken shish taouk.
Seafood lovers can enjoy Grilled Lobster, or Rubyan Mashwi, tasty shrimp with rice. There are also special dishes like Kibbeh Bel Laban, where meat kibbeh meets yogurt sauce.
Do not forget dessert. Try Ashta Bel Asal, a creamy Lebanese dessert, or Cheese Kunafa with sweet syrup. The mocktails, like Berry Fizz, are yummy too.
Al Nahham Restaurant Kids Menu
When it comes to creating enjoyable dining experiences for every member of the family, Al Nahham Restaurant goes above and beyond.
The restaurant's children's menu is designed for young adventurers looking for flavors as exciting as their imaginations. With a range of dishes designed to appeal to young palates, Al Nahham ensures that even the youngest guests leave with a smile.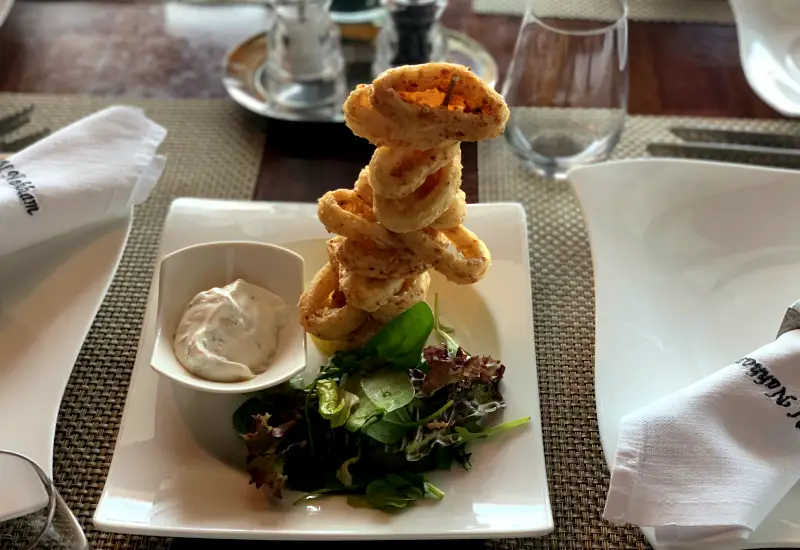 The Kids Menu at Al Nahham is an invitation for young diners to explore a world of flavors. From the Parrots Big Potato, a comforting jacket potato topped with savory baked beans, to the Pirate Swords, offering bite-sized fish goujons accompanied by chunky chips and tangy sauce tartar, each dish has its own flavor and appeal.
For those who prefer classic comforts, the Sultan Salamander awaits, presenting a grilled beef pattie embraced by cheddar cheese, all nestled within a bun and accompanied by a side of golden French fries.
Meanwhile, the Arabian Chicken Grill offers a taste of Middle Eastern delight – a tender chicken kebab paired with a serving of crispy French fries.
Al Nahham Restaurant Kids Dessert
The adventure continues beyond the main course with a range of desserts that are sure to delight. Young diners can indulge in the whimsy of Squiggly Wigglys, a plate of perfectly cooked spaghetti adorned with a flavorful tomato sauce.
The Tropical Surprise, a vibrant fruit salad paired with a dollop of sweetened cream, offers a refreshing conclusion to the meal.
And what is an adventure without a touch of sweetness? The Green Lantern Delight gives young customers the power to choose from a trio of ice cream flavors – vanilla, strawberry, and chocolate – creating a dessert experience that is the color of their dreams.
Al Nahham Restaurant is committed to ensuring that every dining experience is not only enjoyable but also safe and comfortable.
For those with dietary restrictions, allergies, or special considerations, the restaurant encourages guests to consult with their senior management to ensure a seamless and satisfying culinary journey.
So, whether it is a family gathering or a special occasion, Al Nahham's Kids Menu promises an unforgettable dining experience.
Al Nahham Restaurant Prices
Al Nahham Restaurant offers a dining experience that brings together the best of both worlds: impeccable culinary offerings and accessible prices.
The restaurant believes that exceptional food and a wonderful atmosphere should not come with an extravagant price tag.
This commitment to affordability ensures that anyone can savor the flavors of Middle Eastern cuisine without spending too much money.
The menu at Al Nahham is designed to cater to a wide range of budgets. From appetizing starters to sumptuous main courses and delectable desserts, the prices are set to provide value for the quality and variety of dishes offered.
Al Nahham's price range makes it possible for everyone to indulge in the flavors of the Middle East without compromising on taste or experience.
Al Nahham Restaurant Reviews
Al Nahham Restaurant has garnered a lot of praise from diners and critics. Reviews highlight not only the delicious flavors of Middle Eastern cuisine but also the restaurant's commitment to creating a memorable dining experience.
Guests often adore the inviting ambiance, where traditional charm blends with modern comfort. The warm and efficient service provided by the staff is frequently commended, as they go beyond to ensure guests feel welcomed and attended to.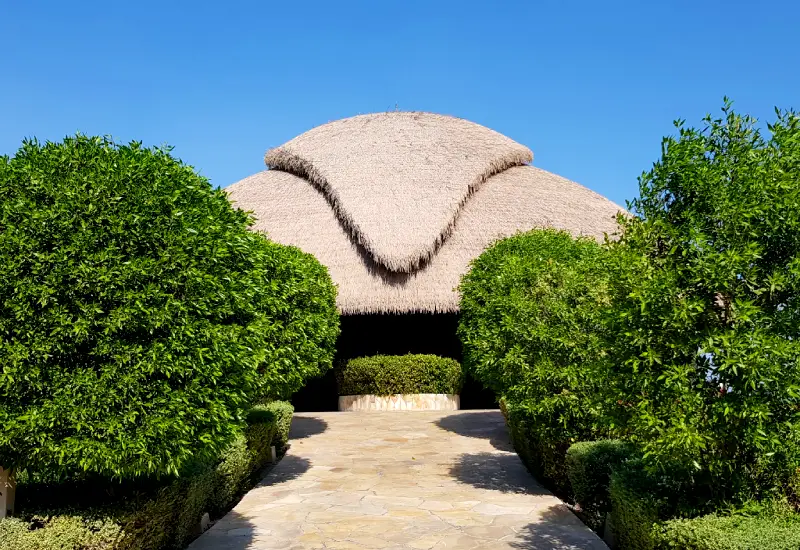 Visitors' delight is evident in the words they use to describe the dishes, ranging from "authentic" and "flavorful" to "exquisite."
The presentation of the food is frequently noted as a work of art, reflecting the culinary mastery of the chefs.
Reviews also highlight the accessibility of the pricing, emphasizing that the quality of the dining experience far surpasses the cost. Overall, Al Nahham's glowing reviews speak to its dedication to culinary excellence, creating a space where every bite is a step into a world of unparalleled taste and satisfaction.
More Info to Visit Al Nahham Restaurant Doha
Al Nahham Restaurant address: Banana Island Resort, Doha, Qatar
Al Nahham Restaurant contact number: +974 4040 5075
Al Nahham Restaurant Email address: [email protected]
Al Nahham Restaurant website: Click Here!
Opening hours: From Tuesday to Sunday, from 1:00 PM to 11:00 PM. The restaurant is closed on Mondays.
Final Word
In the heart of vibrant flavors and warm hospitality, Al Nahham Restaurant stands as an inviting haven for food enthusiasts. With its captivating interior, diverse menu, and accessible pricing, Al Nahham offers more than just a meal; it offers an experience that lasts in your senses.
Whether you are seeking traditional Middle Eastern delights or a cozy gathering spot, Al Nahham ensures your journey through flavors will be both satisfying and affordable.
As you step into this culinary world, be prepared to be enchanted by the ambiance, tantalized by the menu, and welcomed into a realm where every bite tells a story.
Are you planning to travel to Qatar? Check out our Qatar tours.