Doha is famous for its amazing resorts and hotels. The economic growth of Doha has made a huge impact on the outlook of this magnificent city of Qatar. The capital of Qatar invites visitors & travelers to experience brand-new Arabian adventures on the shores of the Persian Gulf.
Banana Island Resort Doha is one of the best resorts that combines both relaxation & entertainment to make a first-class experience. Banana Island, built by Anantara, is a sensational place just off the coast of Doha. Banana Island activities are varied for any taste. This place is a luxurious spot to create unforgettable memories for every visitor from all around the world.
Where is Banana Island Located?
The capital of Qatar, Doha, is home to many beautiful sights & landscapes. Banana Island is a small natural island in Qatar that is quite famous in Asia and the Middle East.
Banana Island, located in the Persian Gulf, is one of many landscapes that outstands the name of Doha in terms of beauty among other Asian capitals.
This crescent-shaped island is different from other islands due to its unique moon-like shape. Banana Island covers about 13 hectares of land, and the entire structure of Banana Island was completed in 2015. Banana Island is a breathtaking sight in Doha that every traveler should make stay or visit at least once.
There are many other luxurious facilities and sites specially designed for tourists too. Banana Island Resort, built by Anantara, is one of the best resorts in Doha.
This resort is the most luxurious one that you can choose to stay in and feel like escaping Doha's bustle and hustle. Banana Island Resort offers first-class services and elegant rooms where one can experience comfort and joy.
The overwater villas and special rooms create a magnificent atmosphere in the sunny weather of Banana Island.
Read More: Al Wadi Hotel Doha
What is Special about Banana Island Resort?
Banana Island Resort is the significance of peace and joy. Walking on the balcony of your room and looking at the calm sea in the sunny weather will bind your soul to nature. Everything is prepared in Banana Island Resort for visitors to have an enjoyable stay at this elegant luxury hotel.
Among the amenities at this resort are 141 sea-view rooms, suites, overwater pool villas and beach, 800m of golden shoreline, a surf pool, a dive center, a 20-seat VIP cinema, a bowling alley, a golf court, Anantara Spa and Balance Wellness Centre.
Banana Island Resort is a must-go destination if you wish to experience adventure & luxury in one place. The services, cleanliness, staff members, and location of this unique resort are excellent.
The resort is the perfect combination of elegance, peace, and comfort in an Arabian style. Walking on the shorelines, relaxing by the sandy beach, sitting on your sea-view balcony, or even having fun in the water, this place is a favorite resort for people who enjoy the natural phenomena or find calm and happiness within nature.
When it comes to entertainment, serenity, and adventure, Banana Island Resort has it all. This special resort is a great getaway to make your memories unforgettable.
Read more: Things to do in Qatar
Banana Island Activities
Despite being geographically small, Banana Island activities seem to never end in terms of entertaining its visitors and showcasing its beauty. You can do many activities on this crescent-shaped island.
No matter what style, Banana Island has gathered everything to create the finest experiences for all its visitors. From enjoying an alcohol-free atmosphere to diving into the water, exploring the beauties of the world beneath the sea, or relaxing by the beach, life flows on this small elegant island.
Banana Island activities do not end here. There are plenty of things to do in this location. You can surf, bowl, golf, dive, or race across lagoon waters with a host of motorized water sports. If you wish to relax at the spa, you can enjoy the Thai massage, Turkish hammam, sauna, or Jacuzzi or get a facial treatment to revitalize your skin.
There are many other world-class facilities like a kid's pool, VIP cinema, fitness center, tennis courts, etc. Therefore, if you are visiting Banana Island Resort with your family or friends, you can be sure that this environment is suitable for all ages, and everyone will enjoy spending their time at this amazing place.
Banana island boat timings: 25-30 minutes
Banana island contact: +974 4040 5050
Banana Island Resort Package
Banana Island is the most attractive private luxury island in Doha, the capital of Qatar. Banana Island Resort has different offers based on your choice and the things you want to do. The promotions and offers range from 200 US Dollars to 1200 US Dollars.
The best flexible rate for the Banana Island Resort starts from 352 USD. However, you can choose an advance purchase to save up to about 15% percent by paying only 286 USD.
The cost of packages may decrease if you decide to stay-longer plans and want to experience more at this beautiful resort. Of course, these packages offer daily breakfast, local transport, beach access, high Wi-Fi speed, and other things.
If you want to experience Thai massage, hammam, spa, wellness, or other facilities separately, some may charge you more. However, you can save up to 15% – 25% by choosing the different packages of Banana Island Resort, containing the services of these facilities.
If you plan to visit this island for one day only, the Banana Island Qatar one-day trip price can range from 160 to 220 US Dollars. All visitors of Banana Island should provide their identification or passports if they are tourists.
Read more about: Doha Sports City
How to get there?
Banana Island is located off the coast of Doha, a vibrant and thriving city filled with life inside and out. Banana Island is only a 25-minute boat ride from Al Shyoukh Terminal. It is the perfect way to escape the bustle of the city and behold the endless sea on a ferry.
Al Shyoukh Terminal is located in Doha's downtown area and is accessible via car or taxi. In addition, Uber is widely used by people, but if you want other choices, you can use Karwa or Careem to get to the Al Shyoukh Terminal.
The distance from Hamad International Airport to Al Shyoukh Terminal is only 20 minutes. Souq Waqif and the Museum of Islamic Art are also reachable by a short walking distance. If you want to get to Al Shyoukh Terminal by metro, the nearest metro station to Al Shyoukh Terminal is the Souq Waqif station.
Experience an Unforgettable Stay in Doha
Banana Island Resort by Anantara is yet another brilliant place in the luxurious capital of Qatar, Doha. Doha is among the top cities when it comes to having exceptional resorts, hotels, and museums for foreigners and its citizens.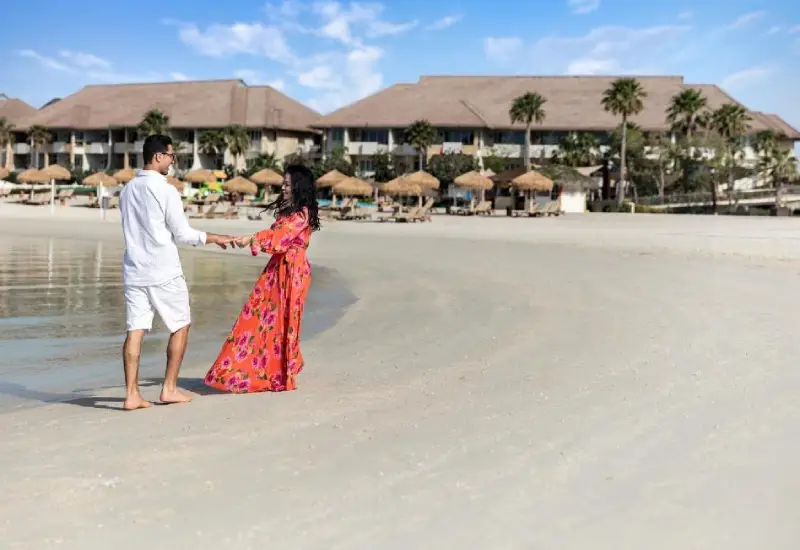 Doha, this bright and sunny city, offers countless activities and places to visit and experience. If you plan to visit Doha, you should check out Banana Island Resort packages. Banana Island Resort is the perfect place to bond with nature and relax with your soul & body. An unforgettable stay mixed with comfort and joy on the shores of the endless blue sea.
Are you planning to travel to Qatar? Please read things to do in Qatar article & Check out our Qatar tours.