Doha Sports City, or the Aspire Zone, is a 250-hectare sports complex located in the Baaya district of Doha, Qatar. This area was established in 2003 as an international sports destination.
Aspire Qatar is an innovative multi-purpose area with state-of-the-art sports venues and facilities. The most prominent feature of Aspire Zone is its 300-meter hotel with a panoramic view of the city, which is known as the Doha Torch Tower.
With world-class sports venues, a sports medicine hospital, a training academy, a turf Research Center, as well as five-star hotels, restaurants, and entertainment, Aspire Zone is an attractive destination for tourists.
Aspire Park offers 88000 m2 of green spaces, including walking/running tracks, children's play areas, a large lake, and Perceval, a public artwork created by Sarah Lucas.
There are numerous cafes and restaurants in the area, as well as Villaggio Mall and Hyatt Plaza Mall, which offer more entertainment, dining, and shopping options.
Aspire Zone Park
Aspire Park, with an area of about 88 hectares, is the largest park in Doha. Aspire recreation ground has all the facilities to keep the whole family entertained and spend an enjoyable afternoon in Qatar: spacious lawns, walking and jogging paths, children's playgrounds, sports equipment, and numerous eateries.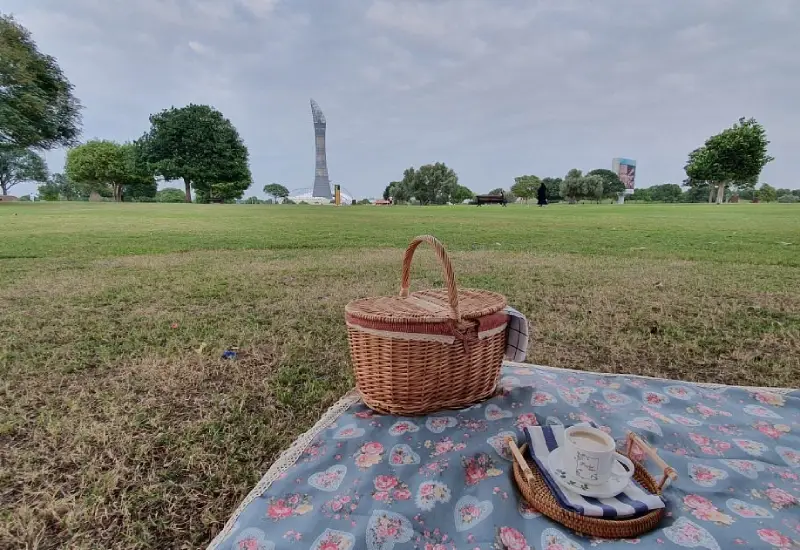 Aspire Zone Park is also home to one of Doha's most distinctive hotels, the Torch Hotel, and the city's only lake, where mallards, ducks, and other birds take refuge to cool off from the intense desert heat. Aspire Park hosts various events and festivals throughout the year.
Aspire Zone Park is the biggest park in the city that is not classified as a tourist place. The park contrasts beautifully with the desert around the city and is considered a hidden gem, making it a must-see when traveling to Doha.
The only requirement for park visitors is to dress appropriately, covering their shoulders, knees, and midsection. Many of the trees in the park were imported from different countries.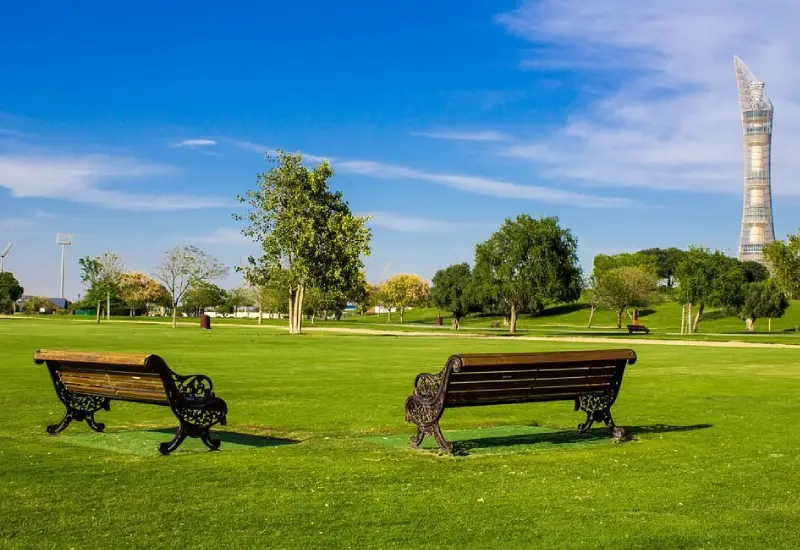 For example, fully-grown silk trees in the park were brought here from Argentina in 2007. The cost of each of these trees at that time was 21 thousand dollars.
Access and location of Aspire Zone Park
Doha Aspire Park is located in the Aspire Zone and behind the famous and popular Villaggio Mall and Hyatt Plaza in the Al Waab district of Doha.
You can reach the park by driving along the road between Villaggio Mall and Hyatt Plaza Mall. There is plenty of space for private car parking here.
Torch Tower in Qatar Aspire Park
The Torch Tower served as a giant torch for the 2006 Asian Games and is another attraction in Aspire Park with an astonishing height of 330 meters.
Resembling a giant Christmas tree with a unique shape and colorful lights, Torch Tower is now a super modern hotel.
This tower was designed by architect Hadi Simaan for the 15th Asian Games and is visible from anywhere in Doha.
Torch Tower is one thing you should not miss when visiting this park. The modern interior, lobby, rooms with unique details and modern lighting techniques, spa, panoramic pool on the 19th floor, and a fantastic 360-degree rotating restaurant on top to see the view of the whole of Doha at night are some of the features of this tower.
Aspire Zone Swimming Pool
Hamad Aquatic Center in Doha, Qatar, is a modern water sports complex with five floors and a capacity of 45 thousand spectators.
In this large swimming pool complex, you can see swimming, synchronized swimming, and diving events. Other facilities of this modern pool include two diving pools and two Olympic-sized swimming pools.
Aspire Zone Swimming Pool Timings Qatar: This complex is open all day and at all hours, and you can use all its services.
Khalifa Stadium
Khalifa Stadium is the first stadium prepared for the 2022 World Cup, constructed in 1967. This stadium hosts World Cup players until the third round of playoffs.
The international stadium of Khalifa has a capacity of 68,000 spectators and well-equipped cooling systems that keeps the spectators and players in good temperature conditions.
Global Sustainability Assessment System (GSAS) has awarded Khalifa International Stadium a four-star rating for sustainability.
Khalifa Stadium will host eight matches in the 2022 FIFA World Cup, including six games in the first round of the group, one in the round of 16, and a ranking match.
Khalifa International Stadium is on the west side of Doha, approximately 10 km from the center of Doha and 18 km from the Pearl of Qatar. This stadium is about 23 kilometers away from Doha Airport.
Padel in – Aspire Zone
PADEL IN is the largest padel franchise in the Middle East, founded in Qatar in 2019 by Mohammad Saadon Al-Kuwari and Khalid Saadon Al-Kuwari.
This complex aims to improve and develop the sport of Padel in the Middle East by implementing high-level indoor facilities while providing professional training services. This set allows people to play at any time under different weather conditions.
Padel IN has four clubs in Qatar, one in Kuwait, and one in the Kingdom of Saudi Arabia. The complex is running a PADEL IN TOUR season throughout the region with a dedicated tour for each country.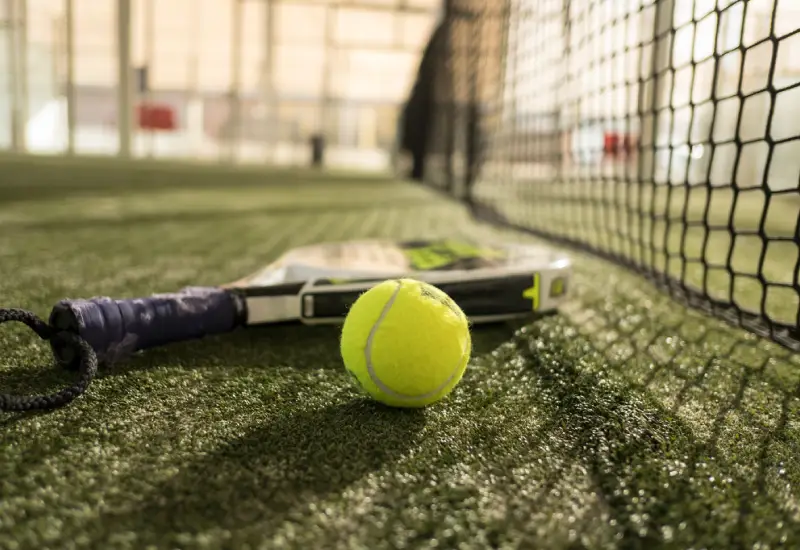 The Padel is a racket sport played by two players on an indoor court smaller than a tennis court. The scoring of this sport is like tennis and the balls used are similar to tennis as well, but with less pressure.
The main differences are that the court has walls, and balls can be played over them to squash, using strong and stringless bats. The height of the ball during play should be at waist level or lower.
The Padel IN Address: Zone 54, Street 670, Suwayya Street Building 123, close to Khalifa stadium Al Waab, Qatar
Monoprix Aspire Zone
Monoprix is an enormous modern supermarket where you can get all kinds of goods at the best price. There are also many restaurants with all kinds of food in this supermarket, which are very popular among tourists.
Aspire Academy for Sports Excellence
Aspire Academy is a sports academy located in Aspire Zone near Doha, Qatar.
It was established in 2004 to expand and improve the level of sports in Qatar and is one of the most equipped sports camps in the world.
The Academy played an important role in Qatar's national team winning the Asian Cup in 2019, as many of the players in the squad were talents discovered at Aspire Academy.
Aspire Dome
Aspire Dome is the world's largest indoor multi-purpose dome. This complex offers the highest quality for several international sports and events. The total seating capacity of Aspire Dome is 15,500 people in 13 separate multi-sports halls.
Villaggio Shopping Mall
Villaggio Mall is the largest and most famous shopping center in Doha, located near Khalifa Stadium. The shopping center was opened in 2012 in Aspire Zone and now has a variety of stores selling all kinds of clothes, jewelry, etc., from international brands.
In addition to shopping, you can use cafes, restaurants, and fast-food chains in this mall and make a different day for yourself. Cinemas, ice skating, bowling, and a theme park for children are other parts of Villaggio Mall.
Conclusion
It is all about sports in Doha. Aspire zone tend to be one of the greatest sports city in the world. most of the football team start the preseason tours here to gain full performance for the rest of the season. so check this place while in Qatar. it is worth to visit obviously!
Are you planning to travel to Qatar? Please read things to do in Qatar article & Check out our Qatar tours.