In the vibrant city of Doha, a colossal architectural marvel that shows the nation's unwavering commitment to sports, innovation, and cultural heritage. Khalifa International Stadium, an emblematic name resonating in the realms of athletics and football, transcends its role as a mere venue.
As its name suggests, the stadium is a tribute to the legacy of Sheikh Khalifa bin Hamad Al Thani, and through its history, transformation, and prominence, it narrates the captivating story of Qatar's journey to hosting the world's most prestigious sporting events. With its storied history, modern design, technological advancements, and sustainable features, the stadium has carved a significant niche for itself on the world stage.
Khalifa International Stadium History
Khalifa International Stadium Qatar bears a rich history that spans decades of athletic triumphs and transformations.
Originally inaugurated in 1976, the stadium's significance deepened when it hosted fifteen matches of the eleventh Gulf Cup in 1992, a momentous occasion that saw Qatar secure victory and claim the Gulf Cup championship.
A pivotal chapter in the stadium's narrative unfolded in 2005, just ahead of the commencement of the 2006 Asian Games, as it underwent extensive renovations that propelled its seating capacity to 40,000.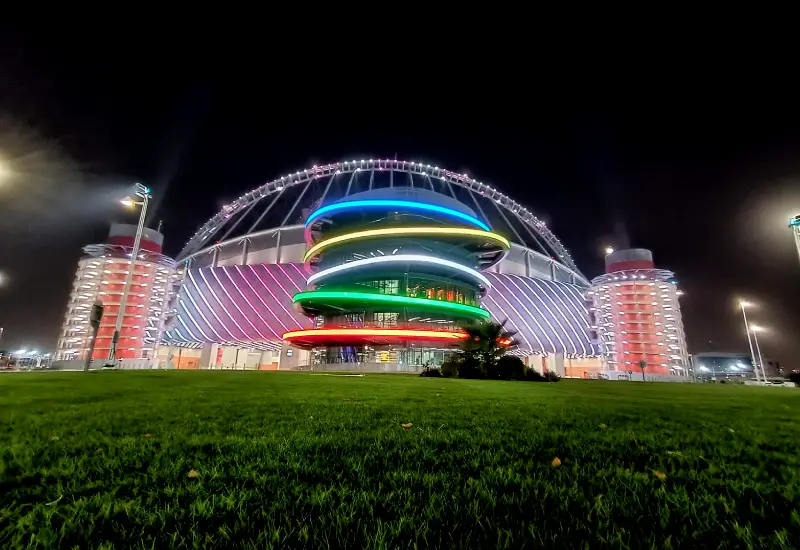 This transformation marked a shift from primarily football events to a versatile arena capable of hosting a diverse range of sports competitions.
Khalifa International Stadium has been a steadfast witness to an array of contests. Since 1997, it has been the home for Qatar's track and field events during the Diamond League in Doha, becoming a nucleus for world-class athletic showcases.
Moreover, the stadium has been the stage for Qatar's national team throughout the group stage, quarter-finals, semi-finals, and finals, in addition to hosting six editions of the Arab Games.
After a brief period of closure, Khalifa International Stadium underwent an extensive refurbishment, reopening its gates in May 2017. In 2019, it proudly hosted the World Athletics Championships in September and October.
With Qatar's selection as the host of the 2022 FIFA World Cup, the stadium embarked on yet another phase of renovation, resulting in an increased seating capacity of 68,000.
Who Designed Khalifa Stadium?
Khalifa International Stadium's journey from its inception to its iconic stature involves the work of several key players.
The Khalifa International Stadium architect is Dar Al-Handasah Company, which presented the original design of the stadium, and the subsequent renovation was carried out by the same company in collaboration with GHD.
The structural engineering prowess was provided by Maffeis Engineering SpA. When it came to construction, the task was taken on by the MIDMAC-PORR-Six Construct Joint Venture under the management of Projacs.
Playing a pivotal role in overseeing the construction was the Construction Manager, Mohemed Ahmed. This architectural marvel, initially founded by the Qatar State Government, was constructed in 1976 and underwent significant transformations in 2005, as well as from 2014 to 2017.
The stadium boasts a built-up area of 44,000 square meters, epitomizing Qatar's dedication to hosting world-class sporting events in a grand and innovative setting.
How Big is Khalifa Stadium?
Khalifa International Stadium is the largest arena in Qatar. Originally envisioned to reach a capacity of 68,030, plans were revised due to the absence of a legacy need for such a large venue.
Instead, the Khalifa International Stadium capacity was scaled down to 48,000, even after incorporating an additional upper tier above the east stand.
Notably, the stadium's enhanced structure has brought forth entirely new functions, including 10,000 m2 of retail space and a further 10,000 m2 dedicated to VIP and corporate hospitality zones.
The stadium's expansion extends far beyond its seating, with an anticipated growth of 48,000 m2 in floor space, encompassing the newly constructed Qatar Olympic Museum linked to the stadium via a pedestrian bridge.
This transformation encapsulates Qatar's commitment to providing a world-class experience for both spectators and athletes, leaving an indelible mark on the nation's sporting legacy.
Khalifa International Stadium Events
Khalifa International Stadium Doha has been the stage for numerous significant events, showcasing Qatar's prowess in hosting both local and international competitions.
The stadium's versatile facilities have accommodated a diverse array of sporting and cultural events, solidifying its status as a premier venue in the region.
Notably, it hosted matches during the 2006 Asian Games, leaving an indelible mark on Qatar's sporting legacy.
With its modern infrastructure and iconic design, Khalifa International Stadium became a focal point for international attention as it hosted matches during the 2022 FIFA World Cup, marking a historic milestone for Qatar and the Middle East.
This event not only highlighted the stadium's capabilities but also underscored its role in connecting the global community through the passion for sports.
Technological Advancements
Khalifa International Stadium stands as a beacon of technological innovation, ushering in a new era of stadium design and spectator engagement.
With meticulous attention to detail, the stadium boasts a modern lighting system that adapts to the unique demands of different events, providing optimal visibility and enhancing the visual splendor of each match or competition.
Complementing this immersive experience are strategically positioned high-definition video screens, allowing fans to revel in the action up close, capturing every nuance of triumph and skill.
Beyond the visual realm, Khalifa International Stadium's acoustics embrace spectators in a symphony of sound, amplifying the cheers and celebrations that define the essence of sports.
This advanced sound system intricately weaves into the stadium's architectural framework, creating an auditory atmosphere that resonates long after the final whistle.
Seamlessly integrated with these advancements is modern connectivity, empowering attendees with Wi-Fi access and digital interfaces that enhance real-time engagement, transforming the stadium into a hub of shared experience and interaction.
Sustainability
Khalifa International Stadium stands as a pioneering example of sustainability, where architectural innovation and environmental responsibility converge to create a lasting legacy.
Rooted in its design and operational ethos, the stadium seamlessly integrates green practices to minimize its ecological impact.
The use of energy-efficient LED lighting not only illuminates the arena with brilliance but also significantly reduces energy consumption, aligning with Qatar's ambitious goals for carbon reduction.
Water conservation is equally integral to Khalifa International Stadium's sustainable approach. Through innovative water management systems, the stadium minimizes water usage without compromising the comfort of visitors and athletes.
Beyond its functional features, the stadium's construction incorporates locally sourced and recycled materials. By promoting recycling, reducing waste, and encouraging eco-friendly transportation options, Khalifa International Stadium sets an inspiring example for sustainability-driven event management.
Khalifa International Stadium Location
Khalifa International Stadium is located in Doha, the capital city of Qatar. Specifically, it is situated in the Aspire Zone, a major sports complex and leisure destination within Doha.
The stadium's strategic location within the city's infrastructure facilitates easy accessibility for both local residents and international visitors, making it a central hub for various sporting events, including football matches and athletics competitions.
Khalifa International Stadium Metro
Nestled within the bustling city of Doha, Khalifa International Stadium is well-connected through an efficient public transportation network, making it easily accessible for both local residents and international visitors.
Among the convenient options is the Sports City Metro Station, strategically located on the gold line, which stands as the closest Doha metro station to the stadium.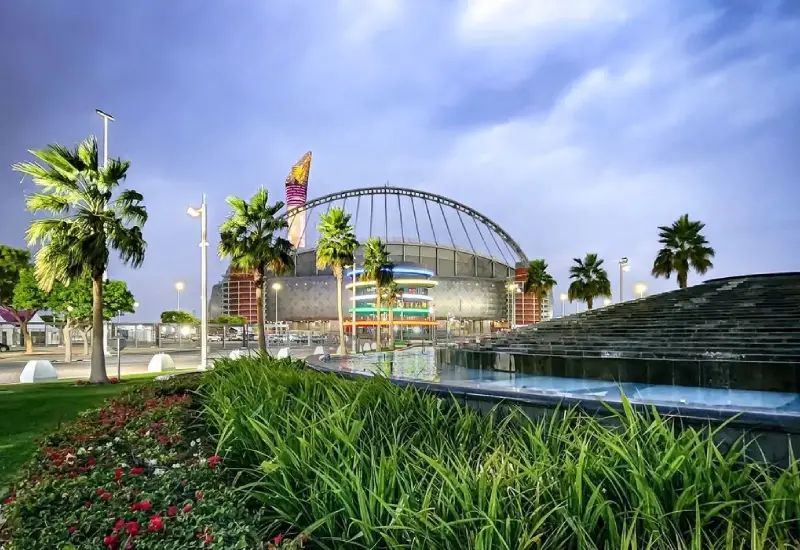 This modern transport hub serves as a gateway for spectators, facilitating a smooth transition from the city's vibrant atmosphere to the captivating world of sports.
With a leisurely 15-minute stroll, fans can traverse from the metro station to the stadium, soaking in the anticipation and excitement of the upcoming event.
Khalifa International Stadium Nearby Attractions
Khalifa International Stadium is an integral component of the "Aspire Zone" project, which served as the foundation for the 2006 Asian Games.
Aligned with Qatar's vision for 2030, this entire area was conceived to foster sports participation and a healthy lifestyle.
Consequently, numerous new structures have been added over the years, transforming the vicinity of Khalifa International Stadium into the bustling sports hub known as the "Aspire Zone."
Among these remarkable additions is the Torch Doha Hotel (Musherib Hotel), which was inaugurated to coincide with the 2006 Asian Games.
In addition, meticulously landscaped gardens, parks, and pedestrian pathways adorn this area, offering a serene respite amidst the dynamic energy of sports and activities.
Adjacent to Khalifa International Stadium, within the Aspire Zone, lies the Aspire Dome, also known as the Aspire Zone Dome.
The Hamad Aquatic Centre, Aspire Park, and specialized women's sports facilities are just a few of the attractions that can be found within the proximity of Khalifa International Stadium, contributing to the vibrant and multifaceted character of the Aspire Zone.
Final Word
The significance of Khalifa International Stadium goes beyond its actual bounds. It embodies Qatar's aspiration to be a global hub of sports and culture, narrating a tale of transformation, ambition, and unity.
With its monumental presence, sustainable ethos, and advanced facilities, the stadium is a living testament to the power of dreams turned into reality.
It serves as a reminder that sports transcend national boundaries and cultural barriers, creating bonds that last long after the final whistle.
Khalifa International Stadium is more than concrete and steel; it is a vibrant chapter in Qatar's legacy, an arena where the world converges, and an everlasting source of inspiration for generations to come.
Are you planning to travel to Qatar? Check out our Qatar tours including F1 Qatar 2023 Tickets. Maybe you will find it interesting to read things to do in Qatar.