Lusail International Circuit is a special place where fast cars race around a twisting track. It is located in Qatar, which is in the Middle East. This track is made for a sport called Formula One racing, where drivers compete in super-fast cars. Lusail International Circuit is not just a simple track; it's a playground for speed enthusiasts. The track was specially designed to challenge the skills of Formula One drivers. It is not just a plain loop; it twists and turns like a roller coaster, demanding precise driving and quick decision-making.
Lusail International Circuit F1
F1 racing at Lusail International Circuit is like a breathtaking show that flawlessly combines speed and strategy.
The track is like a puzzle with its twists and turns, where drivers need to be as careful as they are fast.
When the F1 races are on, the whole place comes alive with energy. People of all ages gather in the stands, waving flags and wearing team colors.
Drivers, dressed in their special racing gear, look like modern-day heroes as they steer their cars with precision and skill. They compete not only for themselves but for their teams and fans, all aiming to win points and become champions.
Lusail International Circuit Map
The Lusail International Circuit map paints a vivid picture of exciting twists and turns that define the heart of this remarkable racing venue.
As you trace the circuit's layout, you will be drawn into a world where speed and strategy go hand in hand.
The map reveals a balance between long straights that let the engines roar and tight corners that require precision and finesse.
The sequence of twists, turns, and obstacles create challenges that drivers must navigate with expertise, showcasing the intimate relationship between driver skill and the circuit's design.
The Lusail Circuit map captures the essence of Formula One racing – an exciting interaction of man and machine with a spice of speed, excitement, and competition.
Lusail International Circuit Altitude
Lusail International Circuit is located at an altitude close to sea level and in the coastal area of Qatar. Its elevation is minimal, which means the track is almost at the same height as the nearby ocean's surface.
This low altitude has a subtle impact on the way the engines perform and the aerodynamics of the cars, although the effect is generally less pronounced compared to tracks located at higher altitudes.
Lusail International Circuit Technologies
The Lusail International Circuit has a substantial size, with a track layout that spans around 5.38 kilometers, offering a playground that is both expansive and complex.
Beyond its impressive dimensions, the circuit is also equipped with advanced technologies that enhance the racing experience.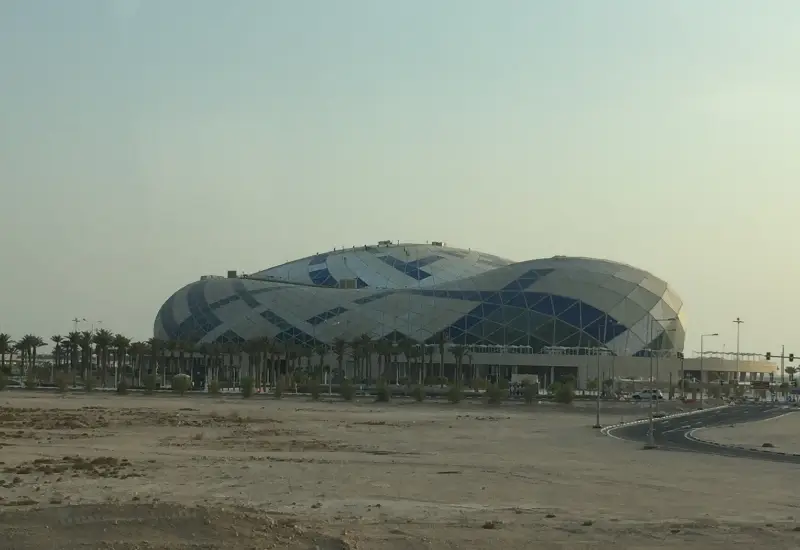 From the modern timing systems that accurately record race results to the advanced safety measures ensuring the well-being of drivers, the circuit blends innovation and precision.
Additionally, the circuit's lighting system, including its iconic floodlights, creates an unparalleled atmosphere for night racing, transforming the track into a captivating sight under the dark skies.
This fusion of size and technology establishes Lusail International Circuit as not just a racetrack but a dynamic stage where speed, skill, and innovation converge.
Lusail International Circuit Events
Mark your calendars for an adrenaline-filled series of racing events at the Lusail International Circuit. First up is the much-anticipated Formula 1 Qatar Airways Qatar Grand Prix 2023 on the 6th of October.
Watch the battle of the world's top drivers on the advanced track. The ticket options are varied: Main Grandstand seats from Zones A to F are available for 2,000 QAR, while General Admission access to the dynamic 'Lusail Hill' area is priced at 600 QAR.
It is great for families, as up to 6 children's tickets (for those under 12) can be booked absolutely free for every adult who buys a full-price general admission ticket.
Following this, the excitement continues with the MotoGP – Grand Prix of Qatar 2023 on the 17th of November.
Main Grandstand tickets offer a premium view for 320 QAR, while General Admission access comes at a price of 160 QAR.
The family-friendly policy also extends to this event, allowing up to 6 child tickets (for children under 12 years old) to be booked alongside one full-price General Admission ticket.
Lusail International Circuit 2023 events not only promise exciting racing but also a shared experience for families, with free entry for the youngest fans.
If you are looking for an unforgettable day, the upcoming events at the Lusail International Circuit offer a mix of speed, skill, and excitement that is sure to thrill everyone.
MotoGP Qatar Airways Grand Prix of Qatar 2023
This action-packed weekend promises an unforgettable experience filled with high-speed racing and entertainment that involve everyone, ensuring an adventure you will not soon forget.
Friday is all about family and practice, where you can watch riders push the limits of the track. It is a day for all generations, as children under 12 have the chance to join in the excitement for free alongside ticketed adults. Remember, it is necessary to book a child ticket online in advance.
Saturday introduces an exciting addition to the MotoGP weekend – 'Sprint Race Saturday.' Here, a sprint race that covers half the distance of the main Grand Prix takes center stage.
Sunday is the grand finale, where the floodlights of Lusail International Circuit illuminate the path to victory. As the riders compete in the main event, the Grand Prix of Qatar, the air is full of waiting and energy.
The track comes alive not only with racing but also with entertainment and hospitality experiences that add to the excitement of the entire weekend. Whether you are a long-time fan or a first-timer, this exciting event promises a mix of adrenaline and competition that is sure to blow your mind.
Formula 1 Qatar Airways Qatar Grand Prix 2023
The 2023 Qatar Airways Qatar Formula 1 Grand Prix is gearing up to deliver an epic race unlike any other.
This high-speed spectacle will be on display from October 6th to 8th and promises an adrenaline-filled experience that racing enthusiasts do not like to miss.
For the very first time, the thrill of the F1 sprint race qualifier will be ignited under the iconic floodlights of Lusail International Circuit on the 7th of October.
It is a groundbreaking moment that adds a new layer to the atmosphere. And for those who prefer the standard F1 format, the 8th of October will witness the main event.
From roaring engines to expert on-track maneuvers, the 2023 Qatar Airways Qatar F1 Grand Prix promises to offer a range of racing experiences to suit every type of racing enthusiast.
Whether you are a fan of sprint racing or the classic F1 format, this event is set to satisfy your need for speed and deliver a race weekend that will be talked about for years.
Lusail International Circuit Doha Nearby Attractions
Lusail International Circuit is surrounded by a tapestry of nearby attractions waiting to be explored. Only a short distance away, you will find the awe-inspiring Lusail Iconic Stadium, a modern marvel that has hosted numerous sports and entertainment events.
For those seeking a leisurely getaway, the Lusail Marina presents a serene waterfront oasis perfect for strolls and relaxation.
And if you are into cultural exploration, Lusail Mosque will definitely be attractive to you with its great architectural design.
With a range of attractions within reach, Lusail International Circuit becomes not only a hub of racing excitement but also a gateway to discovering the multifaceted nature of the vibrant Lusail cityscape.
More Info for Visiting Lusail International Circuit Qatar
Lusail International Circuit address: Lusail International Circuit, Al Wusail, North Relief Road PO Box 23931 Doha, Qatar
Lusail International Circuit contact number: +974 4445 9555
Lusail International Circuit Email address: [email protected]
Lusail International Circuit website: Click Here!
Opening hours: From 8 am to 2 pm
Final Word
Lusail International Circuit is not just a place for races; it's a stage for drama, skill, and speed. It is a place where drivers push the limits of what's possible and where fans become a part of the action, cheering on their racing heroes. The circuit's design, the energy of the fans, and the roar of the engines all combine to create an unforgettable experience that captures the heart of Formula One racing. Visiting this attractive track and watching breathtaking races is a must for lovers of racing and excitement.