Doha is a popular destination for travelers who are seeking a luxurious experience in Asia. The peninsular country of Qatar is a beautiful and diverse place, providing the best tourist destinations, attractions, museums, and hotels for travelers and visitors. If you are planning a trip to Doha, Qatar, and looking for a luxurious and comfortable place to stay, Al Wadi Hotel Doha is the perfect choice for you.
Located in the heart of Doha, this five-star facility features everything that a visitor may need. With top-level services, a great location, and the best restaurants, Al Wadi Hotel Doha – MGallery is a great place to consider.
Al Wadi Hotel Doha Overview
Designed with luxury and effort to showcase true Arabian hospitality, this hotel is an amazing five-star hotel providing top-class services and amenities for any traveler.
Providing comfort and relaxation while taking its design elements from nature, this hotel is the ideal destination for every visitor.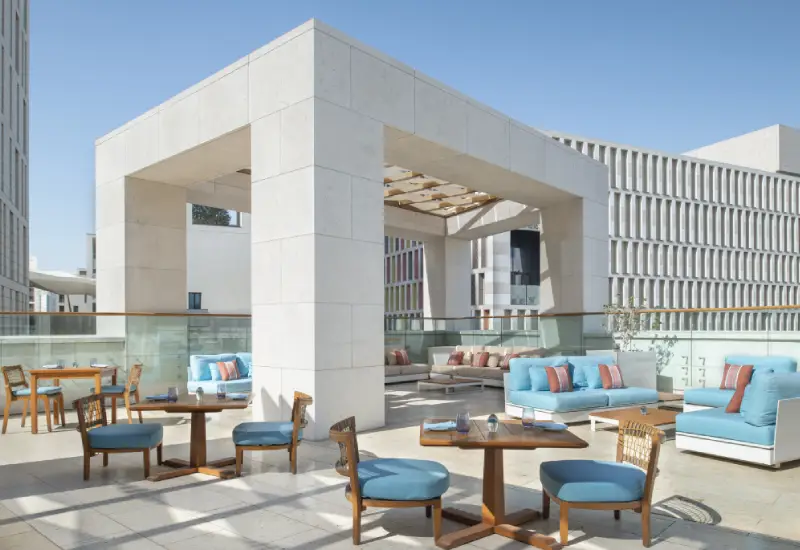 The hotel highlights Arabian elegance by taking its inspiration from Qatar culture.
Along with comfort and luxury, the hotel also features brilliant views of the city and Arabian nights of Doha. Overall, the hotel is a world-class.
Read more: The Wyndham Grand Doha West Bay Beach
Features and Amenities
The Manager of the hotel welcomes the guest to "a refined oasis, a gateway to the world's first sustainable downtown regeneration project, Msheireb Downtown Doha."
The Al Wadi Hotel Doha features a wide variety of amenities and services for guests.
From Alwadi Hotel Doha's infinity outdoor pool to a top-level spa center, the hotel includes a variety of entertainment for visitors.
One of the standout features of this amazing hotel is its stunning rooftop swimming pool. The pool offers breathtaking views of the city skyline.
A sauna, steam room, fitness center, aerobics classes, and children's pool are also provided in the hotel. The rooms of the hotel are beautiful and equipped with the latest amenities that one may need.
The simple and luxurious designs of the rooms are also worth mentioning.
Restaurants
The Al Wadi Hotel Doha restaurants introduce a selective menu of delicious foods, including international and Asian cuisine.
The Hotel restaurants offer delicious dishes to suit every palate. There are 4 restaurants offering services for guests in the restaurant, all consisting of excellent staff and high-quality foods.
The Al Wadi Hotel bar is also an amazing location for guests to enjoy a refreshing drink in a relaxed and calming atmosphere.
The on-site restaurants and bar of the hotel:
AtTEAtude
Infinity Rooftop Bar
Le Colonial
O'Glacée
Sofra
Location
This hotel is located in Msheireb Downtown. Msheireb Downtown is a stylish and luxurious neighborhood and home to several shopping destinations and grand malls.
The area of the hotel is very beautiful and ideal for exploring with your friends and family. Guests can enjoy tourist sites while staying at Al Wadi's five-star hotel.
For more joy, travelers can freshen their moods by visiting Doha Corniche and Aspire Park.
If they are interested in the cultural aspects of Doha, they can also visit the Museum of Islamic Art and Katara Cultural Village. Discover the beauties of Doha by staying at this luxury hotel.
Al Wadi Hotel Doha Information
The hotel is located in Msheireb Downtown and is easily accessible via car, taxi, and Doha metro. The distance from the Hamad International Airport to the hotel is only 15 minutes.
The Al Wadi Hotel is situated in a great district, so there are many venues and attractions nearby, which is super convenient.
Al Wadi Hotel Doha Email Address: [email protected]
Address: Corner of Wadi Msheireb, And Jassim Bin Mohammed St, Doha, Qatar.
Phone: +974 4009 9999
Al Wadi Hotel Doha Reviews
Al Wadi is a five-star facility and a popular hotel located in a luxurious neighborhood of Msheireb Downtown.
The Al Wadi Hotel Doha TripAdvisor reviews show that the hotel is an amazing resort providing the best services, ideal amenities, and a prime location suitable for travelers.
Most reviews suggest that the hotel is an immersive experience of Qatari hospitality. The design of the hotel is a showcase of Qatari culture and elegance.
The atmosphere of the hotel is great. Al Wadi Hotel Doha booking will reassure you that your trip to Doha to be excellent.
Lastly
This 5-Star hotel is one of the world-class hotels in Qatar's bustling capital. This hotel is an ideal place for a comfortable stay in the Doha. Prime location, friendly staff, and various amenities are the highlights of hotel. Moreover, for a better experience, the Al Wadi Hotel Doha features great restaurants where travelers will enjoy their diverse menu. If you are visiting Doha, then consider choosing accommodation in this super luxury hotel.
Are you planning to travel to Qatar? Check out our Qatar Hotel page & Qatar tours.