Qatar is the new preferred destination for many travelers around the world. The country of Qatar has developed very much in the past few years. The booming economy of oil & gas and investing in tourism has gone very well for this small peninsular country. The bride of Asia or as it is called Qatar, houses big malls and various attractions.
Lagoona Mall, situated in Doha, is one of the biggest malls you can visit in Qatar. Lagoona mall offers a variety of brand shops and retailers for visitors. Lagoona Mall is a collection of luxury and elegance and invites people to a shopping experience that elevates expectations to a whole another level.
Lagoona Mall Design & Building
Lagoona Mall is where you feel the vibe and cherish the smooth luxury design. The stunning modern architecture of Mall is a new sense of wonder to those who enjoy mesmerizing designs. Lagoona Mall takes its inspiration from nature.
By taking the key elements from nature like light, space, and air, the interior design of Lagoona Mall creates a unique atmosphere that no one can complain about it. The harmony at the Mall continues with the polished mosaic floors, wide corridors, and high ceilings.
The golden sunlight streaming from the upper ceiling windows stables a good balance on the interior ambiance. Each Lagoona Mall store has a unique characterized design based on the brand. Therefore, each Lagoona Mall store is distinguished from the others.
Despite the diversity and differences, the harmony of each store in the Mall is exceptional. Everything is perfectly matched at the Mall. The design and concept of this stunning mall seem to have the luxury as a prominent feature.
Read more: Mall of Qatar
Lagoona Mall Shops & Retails
Lagoona Mall houses over 150 stores, from top local to globally famous brands. Lagoona Mall is home to toy stores, fashion & clothing brands, grand boutiques, unique home furnishings, music shops, etc.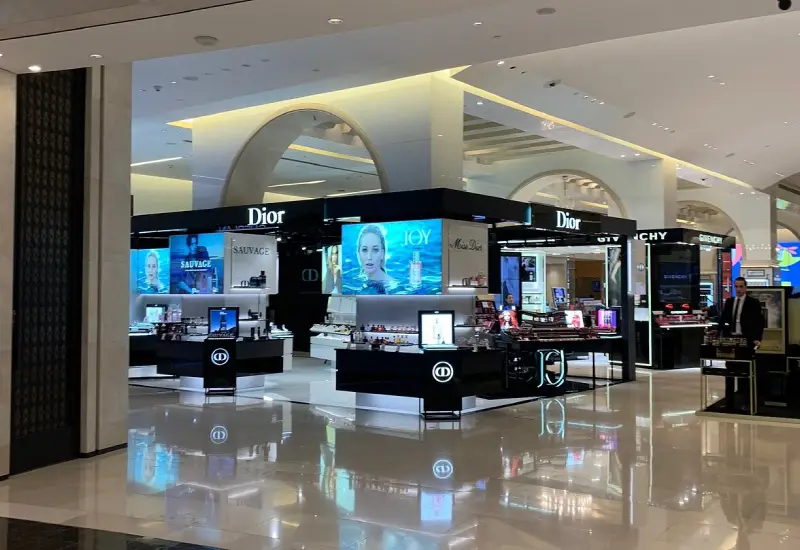 H&M, Chanel, Bosch, Pandora, Yamaha Music Shop and School, and Adidas are a few famous brands that have their patrons in Lagoona Mall. Lagoona Mall supermarkets are any shopper's paradise.
Walking around Lagoona Mall, you will find almost everything you desire. Shopaholics will enjoy the smooth and relaxing atmosphere of Lagoona Mall and the variety of retail & stores in this world-class shopping center.
Lagoona Mall Activities
Lagoona Mall is a new world full of surprises inside the capital city of Doha. Lagoona Mall stores vary from one to another.
There are over 180 stores in the Lagoona Mall, each a famous brand globally or locally. With the working of over 15 restaurants, Lagoona Mall restaurants offer diverse foods & cuisine for each taste. However, this giant facility does not end with its brand shops and restaurants since it also provides plenty of activities for visitors to enjoy with their friends and family.
This place has also dedicated a play area for youngsters. Jungaloona is an adventure-filled play zone designed for children to enjoy their time.
FLIK Cinemas at Lagoona Mall is another activity that family & friends can spend their time on while visiting this shopping center. FLIK Cinemas deliver a unique world-class experience of watching a film, combined with the newest technologies. Live shows, plays, and screenings are also held on the central stage.
Read more: Villaggio Mall
Lagoona Mall Restaurants
Lagoona Mall restaurants are top-level facilities with the number-one quality of their food & cuisine. More than 15 restaurants are working in the mall. Some of them are globally well-known, and some of them are award-winning restaurants that have their own followers.
There are many great options for outdoor dining. The Piazza behind the mall is great for enjoying al fresco dining. With excellent views and an array of good restaurants, this European-style Piazza is a perfect spot to enjoy the stunning views and share delicious meals with family and friends.
Lagoona Mall Exchange Center
Whether it is watching a movie at the FLIK Cinemas, shopping at brand stores, or ordering tea at the café, you, as a foreigner, will need an exchange center. The mall exchange center is open and ready for service at this facility to bring more ease and comfort to your experience.
Lagoona Mall Location
Lagoona Mall's location is in West Bay at the Zig Zag towers of the capital city of Qatar, Doha. Along with its amusing name, Lagoona mall is an experience far beyond the ordinary.
Lagoona Mall is different from any other shopping center that you have probably ever seen in your life. The Lagoona Mall invites patrons to a new level of luxury and elegance, which creates a unique lifestyle experience.
The Lagoona Mall is successful at being a realm of deluxe and style. However, this facility has so much more to offer than elegance and style.
The other elements of Lagoona Mall are comfort and relaxation. The beautiful harmony between comfort and luxury makes this place an exceptional destination for all family-friendly enjoyment.
Embodying a sense of joy and pleasure, Lagoona Mall is a fascinating shopping center that respects the experience of shopping.
Lagoona Mall Address & Info
Lagoona Mall is placed at West Bay in Doha among the famous Zig Zag Towers. Lagoona Mall is easily accessible via car, taxi, bus, or metro. The nearest metro station to Lagoona Mall is the Legtaifiya station on the Red Line. Using Uber is also common. Lagoona Mall is close to Hotel Ritz Carlton Doha.
Lagoona Mall Address: 66 West Bay Lagoon Street, Doha
Lagoona Mall Contact: +974 4433 5555
Lagoona Mall Opening Times: Saturday – Thursday 10:00 AM – 2:00 AM / Friday 1:00 PM – 2:00 AM
Lagoona Mall Website: here
Lagoona Mall E-Mail: [email protected]
Paradise of Shoppers
Qatar has introduced a new world of luxury and elegance to visitors from all around the world. The sophisticated city of Doha is a complex of beautiful attractions and must-go places. Lagoona Mall in Qatar's capital city of Doha is the perfect destination for people who enjoy shopping. Lagoona Mall is considered one of the best malls in Qatar. Lagoona Mall stores are varied, and there is no shortage of activities at the Lagoona Mall of Qatar. The unique style and elegance of Lagoona Mall are far beyond an ordinary experience. The Lagoona Mall is a preferred paradise for shopaholics.
Are you a shopping lover and planning to travel to Qatar? Please read Dar Al Salam Mall article and check our Qatar tours.