One thing is for sure this island will blow your mind away! Purple Island Qatar is a beautiful destination for nature-lover travelers. A hidden gem, Purple Island has all shades of beauty. Although it is widely known as the 'Purple' island, it houses a lot of greens. This unique pearl of Qatar will make you fall for its peace and relaxing atmosphere.
Al Khor Island
Purple Island, with its rich history and spectacular scenery, is an ideal place to visit. Purple Island, also known as Al Khor Island, or Jazirat Bin Ghanam, is located in one of the biggest cities of Qatar.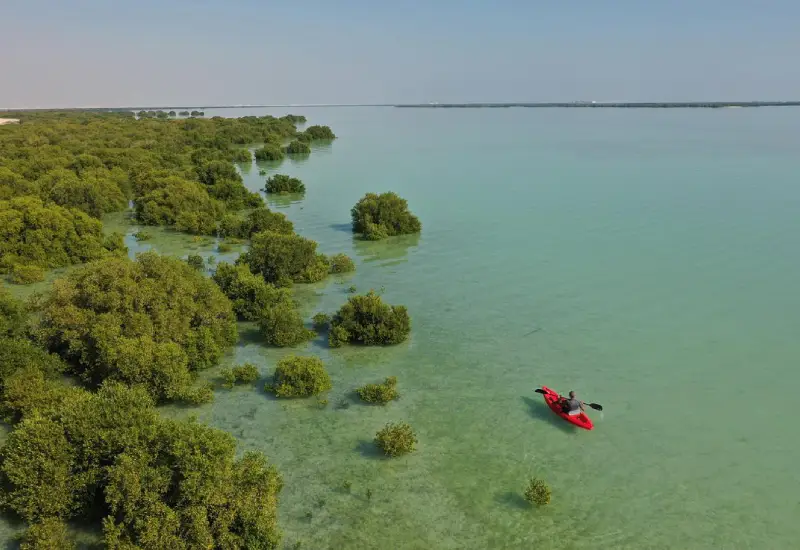 Although many think the island got its name from the purple flowers that blossom in the surrounding damp area, that is not the case. The real reason is that the area used to be a dye production site, and the dye produced was purple, which explains why it is called the 'Purple' island.
There are many attractions and activities available in this deserted corner of Qatar that you should not miss while visiting.
Read more: Things to do in Doha
Purple Island Activities to Enjoy!
There is no doubt that Purple Island Al Khor is one of the most peaceful spots in Qatar. Natural beauty and calm surroundings make the whole spot so captivating that you want to visit again and again. However, there are a few fun activities for visitors as well, and Kayaking is one of the most popular ones.
Bird Watching
Have you ever tried bird watching? If you have not experienced it yet, Purple Island, one of the finest islands in Qatar, is the perfect place. Bird-watching opportunities are plentiful, where you can observe unique and exotic species.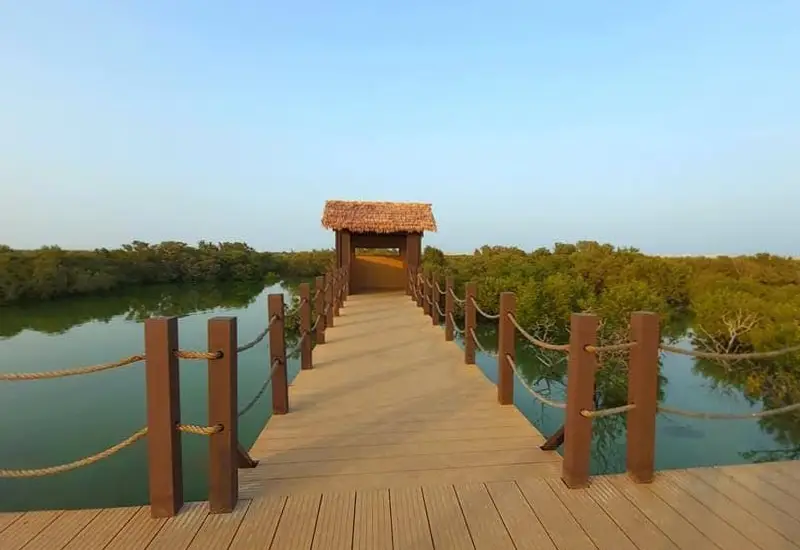 Another fascinating feature of the island is the presence of mangroves, which surround the entire island. Fish and crabs of various kinds live in this water.
Kayaking
Get yourself a kayak and explore Al Thakhira's waterways flowing between the vibrant mangroves. Nothing compares to kayaking on Purple Island for its thrilling experience.
If you want to boost your moods up and get all excited, you need to give kayaking in Purple Island a shot. No matter what level of kayaking experience you have, there is no need to worry. By booking a tour, you will have the guidance of the experts so you can easily get a grasp of it.
Standup Paddleboarding
This adrenaline rush is exactly what adventurous souls are looking for in Purple Island Qatar with standup paddle boarding. Individuals and groups can participate in this adventure sport in Qatar. Keep safety measures in mind while paddleboarding.
Tour operators have specialists to guide tourists during this activity. On Purple Island, SUP sessions last 2 hours, but the chance to balance yourself on a board over water is something you will never forget.
Purple Island Tour
Purple Island booking tour procedure can be done in any tour provider agencies. The tours include an introductory kayaking session and two hours of kayaking with the guidance of experts. The tour includes insurance and you have access to facilities as well.
Please note that your booking can change last minute due to unexpected weather and tide conditions. This can be informed to you up to the day of your tour.
Due to a huge amount of bookings received and requests for this tour, we are fully booked for most of the days. For such days, your booking will be placed on a waiting list and will be given priority on a first come first serve basis- only in case someone from your preferred date cancels or changes their tour.
You will be provided with the required equipment, such as a kayak and paddles, along with safety life jackets. There is a traditional seating area in Purple Island, where you can rest and have soft drinks. A fabulous campfire spot for stargazing in the evening awaits you at Purple Island.
Read more: Banana Island Resort
Purple Island Qatar Direction
The purple island location is easily accessible. It is around 45 minute drive north of Doha on Shamal Road near Al Khor. The last 1 kilometer of the road is off-road, but it is still accessible by a standard car. First, go to Al Khor, pass through the town and then follow the signs to Al Thakira.
At the Industrial Zone, continue to Al Thakira, go past the turning for Al Khor Hospital, and pass the turning for Al Khor Community. On the asphalt road, continue for about 5 kilometers after the Industrial roundabout.
On the right is a large tower with a tank adorned with Qatar gas and Rascars logos. Find a small sign that says "Flower Each Spring Campground".
Turn to the dirt road at the sign. Drive along to approach the path to the island to see a large structure on the left. After driving approximately 2 kilometers, you will see the start of the raised pathway on your right. And you have arrived at your destination.
Best Time to Visit
There are many beaches in Doha, yet Purple Island tops the list when you talk about serenity. November to February is the best time to visit Qatar and is thus also the best time to visit Purple Island.
The weather is quite pleasant and will in turn save you from the scorching heat of the sun. This duration is recommended for those who wish to visit Purple Island, and you get to enjoy the fullest amount of glory, that the spot radiates. Also, the best time to visit the purple island is just before or after the high tide, during this span visitors can enjoy the activities hosted by the island.
Purple Island Resort
The Island has some resorts nearby where you can spend the night. A luxury resort for travelers seeking the ultimate hospitality experience is Simaisma, a Murwab Resort. The resort is located in Simaisma, a delightful coastal village north of Doha.
Another resort you can stay at is the Al Sultan Beach Resort Hotel. The hotel is approximately a 35-minute drive from Downtown Doha. This lovely resort offers rooms on Al Khor beach with views of the Persian Gulf, only a short distance from the natural marine area, where you can enjoy snorkeling and kayaking.
Qatar's Natural Wonders Await You!
The unique Purple Island, with its fascinating history and vast green mangroves, is the perfect place to explore while in Qatar. The Island opening hours are 24/7. Therefore, you can visit this natural wonder of Qatar any time of the day. The incredible attraction is sure to put a smile on your face and have you enjoying yourself with family and friends.
Are you planning to travel to Qatar? Please read things to do in Qatar article & Check out our Qatar tours.