Qatar is more than just its capital city Doha, or modern structures and skyscrapers, or just about museums, beaches, and artificial islands. There is a lot more to this country. Qatar is a destination where you can have plenty of sunshine all year round.
Qatar has port towns and several smaller cities that produce oil and gas. Visitors have numerous attractions awaiting them, including run-down villages, archeological sites that display history, blue-green waters, and islands.
How many cities are in Qatar?
Qatar is divided into eight municipalities or Baladiyat, namely:
Al Shamal, Al Khor, and Al Thakhira, Al Daayen, Umm Salal, Al Rayyan, Doha (Ad Dawhah), Al Sheehaniya and Al Wakra.
How many cities in qatar? according to a database, there is a list of 89 prominent cities in Qatar. Here we introduce you to the most well-known cities of this luxurious country, from the largest city in Qatar to the richest cities in Qatar.
Lusail city in Qatar
This is a planned city in Qatar, located on the coast in the southern part of the municipality of Al Daayen. It houses the Lusail Stadium, owned by the Qatar Football Association, the biggest stadium in Qatar.
Lusail city in Qatar extends across an area of 38 square kilometers and includes 19 residential, entertainment, and commercial districts.
Lusail city features many international star-rating hotels, and its multicultural melting pot promises a boon for hospitality, tourism, and investment in Qatar.
This city will be home to nearly 450,000 people, of which 200,000 will be residents, 170,000 will be professionals in its 19 districts, and 80,000 will be visitors to its entertainment, recreation, and retail facilities.
Famous Districts of Lusail City
Al Wessil district is a hub built exclusively for the commercial, technical, and human resources requirements of the region.
Another district in Lusail city in Qatar is Naifa, a future residential development that provides housing and lifestyle support for people working in Lusail City.
There are other residential districts such as Fox Hills north and south, waterfront residential which epitomizes the pinnacle of seaside living, Al Kharayej, and others.
Lush greenery and pocket parks across Lusail's neighborhoods and residential and commercial areas bring to life Lusail city's green, sustainable living ambitions.
Al Khor
This city was established in 1972, and at the time, pearl trading was one of Qatar's main sources of income. Today Al Khor is one of Qatar's main cities after Doha.
Its employees are in the oil industry because it is close to Ras Laffan Industrial City and North oil. Now Al Khor is a chest of exciting things to do and see.
With an intriguing mix of old and new, this northern city in Qatar is a great destination for a day trip from Doha.
Some of Qatar's striking natural wonders reside in this town, like the Al Khor towers. Here guards watched over the waters of the Persian Gulf for invading pirates.
The precious ancient Ain Hleetan Well provided water for the community and the Thakira Mangroves, Purple Island, Al Farkiah Beach, and the Al Khor Park and Zoo.
On the southern side of the city, the huge Al Bayt Stadium has a capacity for 60,000 fans during the soccer games of the 2022 FIFA World Cup.
Dukhan
Oil was discovered in the industrial city of Dukhan in Qatar's western region. The inhabitants are mostly employees of Qatar Petroleum.
The city is off-limits to non-citizens, and photography is not allowed within Dukhan. Only the mosque and small shopping malls are outside the two security gates that prevent entry to all other areas of the town to people not living there.
Just about the only thing worth seeing in the city is the Dukhan beaches, popular with swimmers and surfers. Zekreet is 14 km north of Dukhan, an ancient village with historic ties to Bahrain, set in a rugged landscape.
Prehistoric graves are cut from the bedrock on the small hill by the village. Beware that there is no accommodation available in Dukhan itself.
Film city Ras Abruq Peninsula is a large building once used as the film set for a Qatar TV series. The entire area has been classified as a nature reserve, and you may see ostriches, gazelle, and foxes.
Read more: Zekreet Fort
List of cities in Qatar: Madinat Ash Shamal
Located in northern Qatar, it is probably Qatar's least populated area. It came into being in the 1970s. A rundown fishing village and beach surround it.
Visitors come to this area to enjoy all that Madinat Ash Shamal has to offer. Travel as far north as you can in Qatar to reach this town near the Persian Gulf. Nearby, view an ancient fort, an organic farm, and a soccer club.
About one mile (1.6 kilometers) northwest is Al Shamal Park, whose restaurants, playgrounds, and grassy areas are open only to women and children.
Al Ruwais
Al Ruwais is in the east of Madinat Ash Shamal and is a small coastal town with some remarkable landmarks. Al Ruwais is the northernmost town in Qatar.
It is about two hours away from Abu Dhabi and is home to the Ruwais Refinery. Our journey to Al Ruwais will take us through a few historical sites, primarily abandoned fishermen's villages, such as Freiha, Al Jmail, and Al Areesh.
Abu Dhalouf
Abu Dhalouf is on the west of Madinat Ash Shamal and appears to be its part. Despite being a small town, it has one of Qatar's most beautiful parks.
One of the most popular attractions in the city is Abu Dhalouf Park, situated along Abu Dhalouf Beach, providing a vantage point of the Persian Gulf.
'Abu' means 'Father' and refers to a distinct feature of an area. In Arabic, 'dhalouf' refers to the curved ends of saddles called dhalfa. It was named so because there is a hill that resembles a saddle's edge.
Mesaieed
Another oil and gas hub in Qatar is Mesaieed, which was an area of prime importance in the 20th century. In 1949, it became the Qatar Petroleum tanker terminal to grow Qatar's oil industry because of the deep waters surrounding the area and since it was close to Doha.
It is located in the southeast of Qatar, housing employees of Qatar Petroleum, but that is not the only reason for its fame. Beautiful beaches and glistening dunes surround Mesaieed.
The largest city in Qatar
Qatar's largest city, Doha, has the highest concentration of Qatari people, besides being the richest city in Qatar. Yet, Al Rayyan Municipality takes up the largest geographical area in this country.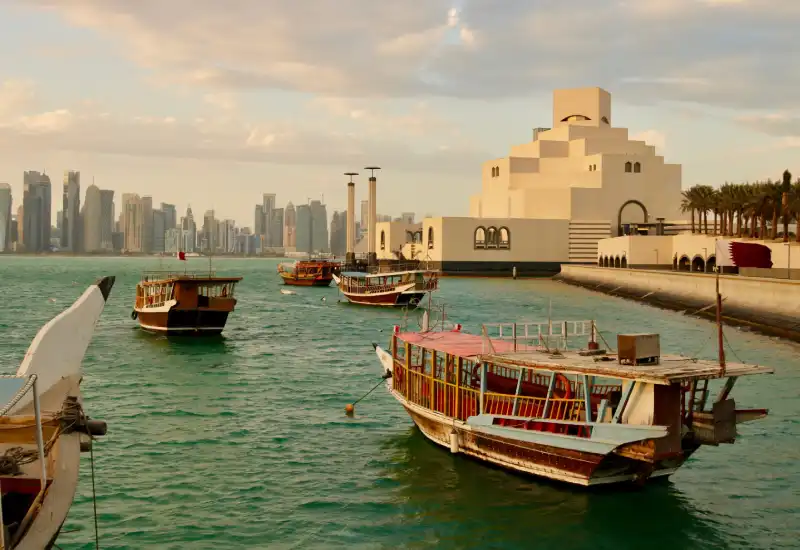 A city tour can help you become familiar with the city, see the highlights, and determine where to explore next. Even short-term visitors can experience the city of Doha, but private tours are available for those who plan to stay longer.
Are you planning to travel to Qatar? Please read things to do in Qatar article & Check out our Qatar tours.