Parks and green open spaces in every city are the best attraction for spending a leisure day and group fun with family members. Al Khor Park is also one of the sightseeing places of Al Khor city of Qatar, which is a gathering place for local families and tourists who want to enjoy various activities in a green and open space during the holidays.
Al Khor Park is one of the oldest and largest parks, opened in 1983 in Qatar. Al Khor Public Park has an area of about 240,000 square meters.
This park near Al-Khor beach with large green areas and massive trees such as Trochetia and cedar trees, a sports field, a children's playground, and a cafe restaurant is a fantastic recreation area near Al Bayt Stadium.
Al Khor Park for Children and Families
Al-Khor Park is one of the oldest parks in the city, which was recently reopened after six years of closure to repair and rebuild its tools and equipment, undergoing extensive renovations with the help of huge investments.
First, the relaxing atmosphere of the park is remarkable, which is decorated with all kinds of eye-catching fountains. In addition, in this park, entertainment and recreation tools are provided for all people, from small to large, so that adults can watch movies in the amphitheater of the park, play in the small golf area, use the electric train with a capacity of 36 people or engage in skating in the designated area.
There is also a special playground for children and a small zoo in the park, which is very informative and enjoyable for children to visit. In addition, many amenities, including 26 restrooms, coffee shops, and delicatessens, have been designed in the park so that visitors can easily spend many hours in the park.
Al Khor Park and Zoo
Al Khor Park is divided into two parts, the first part is environmental and makes up about 35% of the total area of the park, and the other part is entertainment, which includes 56%. Among the environmental features of this park is a mini zoo with an area of 1,335 square meters with fifteen species of large and small animals, the birdcage, which is one of the largest cages, with an area of 11,400 square meters and a height of 40 meters, are just some of the features of this park.
Al Khor Park Zoo Timings
Al Khor Park Zoo is open from 8:00 am to 6:00 pm, and on Tuesdays and Thursdays, it is only for women and children.
The best time to visit the park and zoo is in the afternoon and at night; Of course, the park is more crowded at night, and you may not find an empty parking space, so our advice is to go to the park in the early afternoon.
The best season to travel to Qatar and visit Al Khor Park and Zoo is the cool seasons, especially spring and autumn; Traveling and visiting in summer can be annoying due to the high heat and high humidity. Al Khor Park Zoo Timings Friday is the same as the rest of the week, and there is no difference.
Al Khor Park Entertainment
The park also includes a flat 1,200 square meter museum, air-conditioned, with a listed lecture hall, suitable for multiple and varied purposes.
In the entertainment service department, it includes the playground, which is completely covered and has an area of 4000 square meters. The floor is rubber, and the games are different according to different ages and an artificial lake with an area of about 2500 square meters and in front of the restaurant, there is a restaurant for families with an area of 1500 square meters.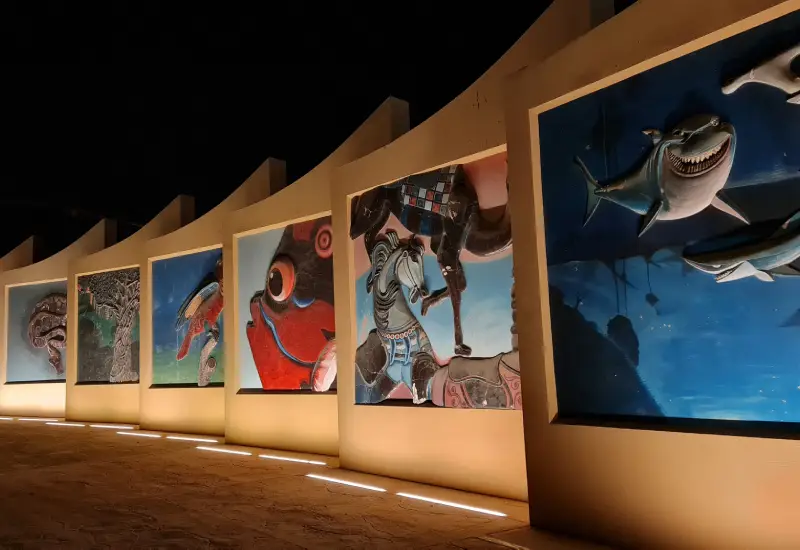 It has an air-conditioned indoor space and outdoor patios overlooking the lake, and the restaurant is about 2 meters above the level of the surrounding green areas.
There is also an open-air hall furnished with terraces with night lights, a dressing room, and show equipment with an area of 160 square meters, a ski area dedicated to skiing, and heights and slopes that reach 3 meters.
The area of golf course is dedicated to different ages and has an area of about 2500 meters.
Read more: Best University in Qatar You Can Study At
Facilities of Al Khor Park
Pergolas are scattered throughout the garden with wooden seats. Al Khor Park includes more than 42 types of trees, shrubs, and perennial plants and many seasonal flowers, black olive and environmental trees such as white gaff, Parkinsonia and other trees and shrubs of Fitna and the beautiful cycas bush and a large number of Indian Alcana.
The garden has a large number of new species that have recently been introduced to the beauty industry in Qatar, such as the yellow butterfly palm, the black olive tree and the white saffron.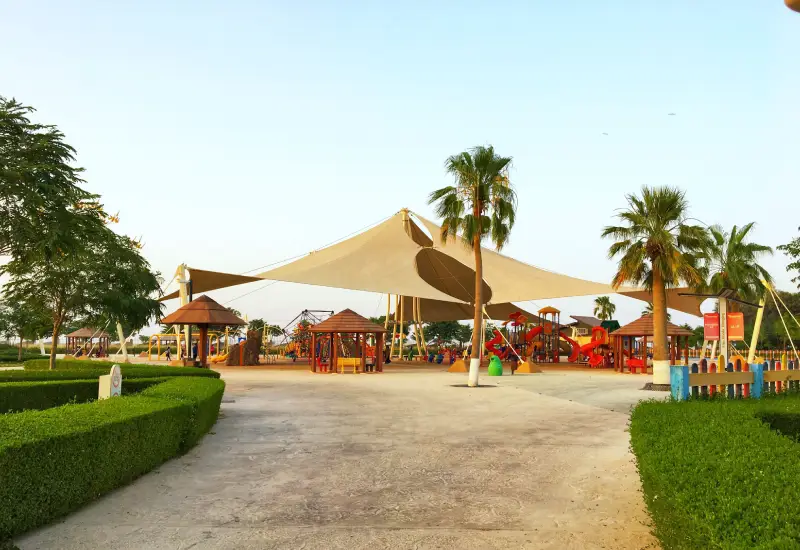 This park also has 4 water coolers and 26 bathrooms, which are distributed in 3 areas. One of the features of this park is the presence of a train, which is one of the new features in the gardens because it works with batteries and can accommodate about 36 people.
It crosses all park areas by bypassing two underground tunnels and a flyover, allowing visitors to enjoy the green areas, trees, flowers, and plants scattered throughout the park.
This park includes small cafeterias to serve visitors, a basketball court, and 700 parking spaces, and there is a glass dome at the park's entrance, under which there is a waterfall and chairs.
More Information to Visit Al Khor Park
Address: MGP8+2F4, Al Khor, Qatar
Ticket fee: Al Khor Park Ticket Price is totally free.
Al Khor Park Zoo Ticket price: For adults is 15QR and for children is 10QR.
Time required for visit: At least two hours
Al Khor Park timing: Parks Work from 5 am to 12 midnight.
Recreations: walking, night tour, photography
Facilities: Restroom, parking, cafe, restaurant, mobile antenna, internet access, prayer room, bench, gazebo
Nearby places: Al Khor fishing pier nearby, Al Sultan beach at 300 meters, Al Khor Mall at 652 meters
Important points: Tuesday and Thursday are special for women and children – other days are special for families
Travel accessories: mobile phone, cash, bank card, comfortable shoes
Al Khor Park Contact Number: +974 44265050
A Fascinating Time at Al Khor Park
Al Khor Park is one of the most beautiful attractions in Qatar. This park, with its vast and pleasant green space, is a very suitable environment for relaxing with the family. Also, the mini zoo of this park has made this place very attractive and educational for children. If you plan to travel to Qatar, be sure to visit the city of Al Khor and its beautiful park. Maybe you will find it interesting to read things to do in Qatar.