Imagine stepping into a realm where fantasy and reality blend seamlessly, where adventure awaits around every corner, and your wildest dreams come to life. Welcome to Doha Quest (دوحه کویست), the ultimate indoor theme park in the heart of Doha, Qatar.
This climate-controlled marvel stands as a testament to Qatar's unwavering commitment to enriching its tourism offerings and carving a niche in the global entertainment landscape. As you step through the grand entrance, the air tingles with anticipation, beckoning you to a world where fantasy intertwines with reality, where adventure knows no bounds.
Doha Quest is more than just an indoor theme park; it is a transformative journey that transcends time, culture, and expectations, inviting visitors of all ages to partake in an unparalleled odyssey filled with wonder, thrills, and the magic of human ingenuity.
When was Doha Quest Made?
In 2021, the long-awaited Doha Quest made its grand debut in the bustling city of Doha, Qatar, captivating locals and tourists alike with its cutting-edge features and immersive experiences.
With its opening, the theme park immediately became a sought-after destination, drawing in families, thrill-seekers, and entertainment enthusiasts from across the region and beyond.
Designed to provide an escape from the scorching desert heat, Doha Quest's advanced climate-controlled environment ensures that visitors can enjoy the park's offerings throughout the year, making it a perfect retreat regardless of the weather outside.
From the adrenaline-pumping roller coasters to enchanting interactive exhibits, the park's diverse array of attractions promises to leave a lasting impression on every guest, fostering a sense of wonder and excitement that transcends cultures and backgrounds.
Largest Theme Park in Doha
Doha's largest theme park, Quest, demonstrates Qatar's commitment to creating world-class entertainment destinations.
Opened in 2021 and sprawling across 32,000 square meters in the vibrant Msheireb district, Quest redefines indoor entertainment experiences.
This novel theme park caters to visitors of all ages, ensuring there's something for everyone to enjoy.
For thrill-seekers, Quest offers a mix of adrenaline-pumping rides, from high-speed roller coasters to media-controlled simulators that transport guests to far-off worlds.
The cutting-edge virtual reality experiences take visitors on mind-bending adventures, while miniature thrill rides provide endless delight for the younger guests.
Moreover, Quest takes pride in its family-friendly attractions, fostering a sense of togetherness and wonder for all generations.
Read more: Angry Birds World
How many Rides are in Doha Quest?
Doha Quest, the innovative indoor theme park in Qatar, boasts an impressive collection of over 30 rides and attractions that cater to visitors of all ages.
From adrenaline-pumping thrill rides that send hearts racing to media-controlled simulators that transport guests to fantastical worlds and from family-friendly attractions that foster togetherness to miniature thrill rides designed to delight the younger guests, Doha Quest offers a diverse and captivating array of experiences.
Doha Quest Rides
Doha Quest has 30 extremely attractive rides, which photos you can see on the site in the Doha Quest photos section.
Doha Quest boasts a captivating collection of rides that redefine indoor entertainment, offering an extraordinary experience for visitors of all ages.
From the world's tallest indoor Roller Coaster, the "Epic Coaster," propelling riders on a high-speed flight around Gravity Station with exhilarating aerial maneuvers, to the awe-inspiring Drop Tower, "Magma Blast," every ride is a breathtaking experience like no other.
Doha Quest's rides are meticulously designed to pump the hearts and get the imaginations going.
The fusion of cutting-edge technology, immersive storytelling, and a diverse array of attractions ensures that each ride at Doha Quest delivers a roller-coaster of emotions, creating cherished memories that will linger long after the adventure ends.
Here it is the list of Doha Quest Rides:
Spikes Astro Tower
Epiq Coaster
Time Travel
Magis' Ice Flow
Oryx Experess
Dune Bashers
Time Tumbler
Wings of Destiny
Climb Quest
Carousel
Gravity Swing
Doha Quest Drop Tower
Doha Quest's Drop Tower, known as "Magma Blast," is an awe-inspiring feat of engineering and entertainment.
Standing tall as the world's tallest indoor drop tower, it beckons thrill-seekers from all corners of the theme park.
The experience begins with an immersive journey aboard a massive research probe, tapping into the potent geothermal energies beneath the earth's surface, setting the stage for an unforgettable adventure.
As the anticipation builds, riders are catapulted high into the sky, suspended momentarily before plummeting down at heart-pounding speeds.
The exhilaration of the freefall is enhanced by media elements that surround passengers, amplifying the sensory experience and adding an extra layer of excitement to the ride.
With a minimum height requirement of 140 cm for unaccompanied riders and 130 cm for accompanied guests, "Magma Blast" is suitable for daring adventurers of varying ages and ensures a shared experience for families and friends.
For those brave enough to embark on this epic quest, the Drop Tower promises three minutes of sheer adrenaline and breathtaking views from its towering height.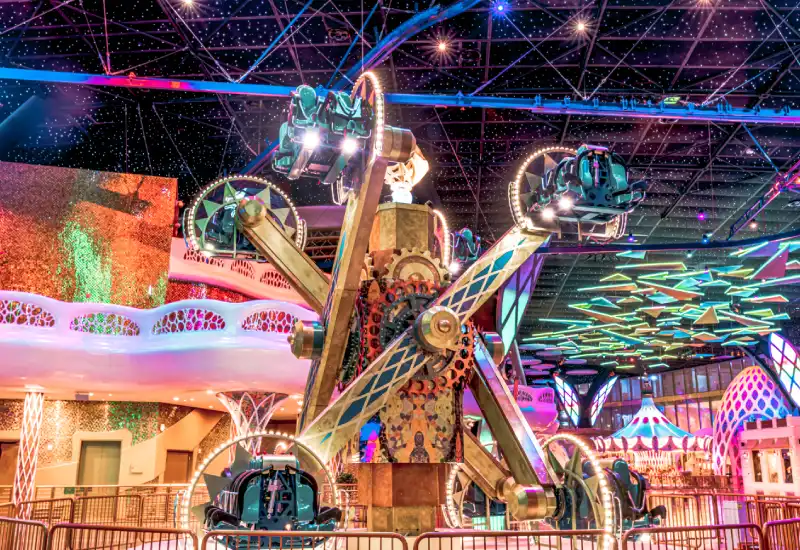 As a testament to Doha Quest's commitment to delivering unmatched entertainment, this captivating attraction offers an instant capacity of 12 passengers, ensuring that eager thrill-seekers can indulge in the adventure together.
Whether you are a seasoned adrenaline junkie or a first-time daredevil, the "Magma Blast" Drop Tower is an experience that will leave you with cherished memories and a craving for more daring escapades within the magical realm of the Doha Quest.
Doha Quest Roller Coaster
Doha Quest's epic Roller Coaster, aptly named "Epic Coaster," is a gravity-defying marvel that stands as the world's tallest indoor roller coaster.
Adventure enthusiasts are in for a wild ride as they strap into the revolutionary solar-driven vessel, personally endorsed by Spike the Space-Hedgehog, for a heart-pounding test drive.
From the moment the coaster accelerates to its high-speed flight of 91 km/h, passengers are catapulted on a thrilling journey around Gravity Station.
Brace yourself as sudden backward launches along a twisting vertical spike create heart-stopping moments before the coaster plunges back down, blasting through the station in a series of awe-inspiring aerial maneuvers and electrifying close-call encounters.
The Epic Coaster's seamless blend of cutting-edge technology, captivating storytelling, and exhilarating design promises an immersive experience that will leave riders breathless and eager for more.
To join this adrenaline-fueled escapade, riders must meet the minimum height requirement of 140 cm and should not exceed a maximum height of 195 cm. With a capacity to accommodate 12 passengers at a time, the Epic Coaster becomes a shared adventure, making it an excellent opportunity for friends and family to bond over an adrenaline-packed ride.
Despite its speedy 90-second duration, this roller coaster leaves an indelible mark, delivering a surge of excitement that lingers long after the ride is over.
Doha Quest's Roller Coaster (Epic Coaster) stands tall as a testament to the theme park's commitment to pushing the boundaries of entertainment, delivering a world-class experience that transcends conventional amusement park thrills and immerses riders in a realm of electrifying adventure.
Doha Quest Timings
Doha Quest entices visitors with its enchanting attractions and immersive experiences. To ensure guests have ample time to embark on their unforgettable odyssey, Doha Quest offers convenient operating hours throughout the week.
On Mondays, the park opens its doors at 11:00 AM, welcoming early explorers to dive into a day filled with thrills and excitement until 9:00 PM.
From Tuesdays to Saturdays, Doha Quest's opening hours begin at 2:00 PM, providing a perfect afternoon escape for visitors seeking a magical experience until 10:00 PM. Doha Quest stands ready to transport its guests into a world of wonder, ensuring cherished memories for every visitor.
For the most up-to-date information on timings and potential changes, guests are encouraged to refer to the official Doha Quest website or contact the park directly before planning their visit.
Opening hours: Monday: 11:00AM – 9:00PM / Tuesday to Saturday 2:00PM – 10:00PM
Address: Doha Oasis, Al Khaleej Street, Doha, Qatar
Contact Number: 44103444
What is the Time Portal in Doha Quest?
The Time Portal at Doha Quest is a coveted "fast pass" ticket designed to enhance visitors' theme park experience by offering swift access to selected rides and attractions.
With the Time Portal, guests can bypass long waiting lines and gain expedited entry to popular Quest attractions such as Wings of Destiny, Spike's Astro Tower, Magma Blast, Gravity Swing, Epiq Coaster, and Magis' Ice Flow.
This exclusive privilege allows visitors to maximize their time at the park, enjoying more rides and immersive experiences throughout their visit.
Moreover, Doha Quest provides the flexibility to upgrade regular tickets to include the Time Portal benefits at any time, further elevating the entertainment value and convenience for every guest.
The Time Portal stands as a testament to Doha Quest's commitment to delivering unparalleled customer satisfaction and ensuring an unforgettable adventure for all who enter its captivating realm.
Doha Quest Ticket
Doha Quest offers a comprehensive and flexible ticketing system designed to accommodate visitors of all age groups and ensure a seamless and enjoyable experience at the indoor theme park.
Children aged 3 and under may access this theme park free of charge, although they will still receive an entrance ticket.
For young adventurers aged 4 to 12, the Junior ticket applies, providing them access to the park's thrilling attractions and engaging experiences.
Adults aged 13 years and above will require an Adult Ticket, granting them full access to all the wonders and adventures that Doha Quest has to offer.
It is important to note that all guests, regardless of age, must possess a valid ticket to access the theme park.
Upon purchasing tickets on the Quest website, visitors will receive print-at-home tickets via email as a convenient PDF attachment.
These tickets hold a unique barcode for scanning at the entrance gates, serving as proof of admission to the park. It is essential to keep the tickets with you at all times while exploring Doha Quest's mesmerizing realm.
The tickets have a specified period of validity, and guests are encouraged to use them within that timeframe to make the most of their visit.
Please be advised that all Quest theme park tickets are non-refundable, but they can be used on another day within their period of validity. For any inquiries or assistance with ticket-related matters, guests can reach out to Quest's dedicated helpline at 44103444.
You can buy your ticket here: Click Here!
Doha Quest Offer
Doha Quest extends a special offer for Persons with Disabilities (PWD), providing them with a 50% discount on the published ticket prices. Moreover, the accompanying person or caretaker of a PWD guest receives a complimentary ticket, a thoughtful gesture that emphasizes inclusivity and accessibility for all visitors.
To avail of this discount, guests need to present a valid PWD ID card during the ticket purchase process. With its versatile ticketing options and commitment to exceptional customer service, Doha Quest ensures that every visitor can embark on an unforgettable adventure within its captivating world.
Best Time to Visit Doha Quest Theme Park
The best time to visit and enjoy Doha Quest depends on your preferences and considerations. Qatar experiences a desert climate, with hot summers and mild winters, so visitors often seek indoor attractions like Doha Quest to escape the scorching heat.
For a more comfortable experience, the winter months (November to March) are generally considered the best time to visit Doha Quest.
During this period, the Qatar weather is milder, with average temperatures ranging from 18°C to 25°C (64°F to 77°F), making it more pleasant to explore the indoor theme park.
Additionally, this time of year aligns with Qatar's peak tourist season, so visitors can expect a vibrant atmosphere and a wide range of events and activities in the city.
If you prefer to avoid crowds, consider visiting Doha Quest during the shoulder seasons of October or April.
The weather is still pleasant during these months, and the park might be less crowded compared to the peak winter months. Keep in mind that weekdays are generally less busy than weekends.
However, if you are a thrill-seeker who enjoys a bustling atmosphere and don't mind the heat, visiting Doha Quest during the summer months (June to August) could be an option.
The park's climate-controlled environment offers relief from the outdoor heat, and you might find shorter waiting times for some attractions due to fewer visitors.
Final Word
In the bustling city of Doha, the quest for unforgettable experiences ends at Doha Quest, Qatar's first indoor theme park that epitomizes the fusion of innovation, entertainment, and sustainability. This sprawling marvel offers visitors an adventure of a lifetime, from heart-pounding rides to cultural immersion and educational opportunities.
Doha Quest indicates Qatar's dedication to providing world-class entertainment, attracting visitors from across the globe, and leaving them with cherished memories that will last a lifetime. If you plan to travel to Doha, be sure to visit this fascinating theme park.
Are you planning to travel to Qatar? Please read things to do in Qatar article & Check out our Qatar tours.