In the bustling metropolis of Doha lies a treasure trove of exotic scents and flavors called the Spice Market. Within the vibrant and historic Souq Waqif, the Spice Market Doha is a heaven for food enthusiasts, seasoned chefs, and curious tourists. This ancient marketplace holds the key to the region's culinary heritage, captivating visitors with its diverse range of spices, herbs, and traditional ingredients.
The Spice Market is an iconic symbol of Qatar's historical significance and its commitment to preserving traditions amidst the currents of modernity. Let us embark on a sensory journey to explore the Spice Market Doha and uncover the cultural richness it holds.
Spice Market Restaurant History
Spice Market restaurant is a highly acclaimed culinary concept created by world-renowned chef Jean-Georges Vongerichten.
The restaurant's first location opened its doors in the trendy Meatpacking District of New York City in 2004, but unfortunately, in September 2016, due to the rent increase, this branch was closed forever.
Jean-Georges drew inspiration from his travels and experiences throughout Southeast Asia, where he encountered a rich tapestry of diverse flavors, spices, and culinary traditions.
The concept behind Spice Market was to bring these Southeast Asian flavors and street food influences to a fine-dining setting, combining them with Jean-Georges' signature modern and creative approach to gastronomy.
The restaurant quickly became a sensation, winning praise from diners and critics alike for its innovative fusion of traditional Asian ingredients and contemporary culinary techniques.
Read more: Qatar Street Food
Spice Market Doha Atmosphere
The atmosphere at Spice Market Doha is a captivating blend of cultural richness and contemporary sophistication. As patrons step inside, they are immediately greeted by a sense of exotic allure reminiscent of the bustling spice markets in South East Asia.
The restaurant's interior is adorned with intricate details, vibrant colors, and traditional motifs, transporting guests to a world of sensory delights. The spice market photos show the charms of this restaurant in the best way.
The dining area is thoughtfully designed to create an intimate and cozy ambiance, perfect for sharing a meal with friends, family, or a special someone.
Soft, warm lighting and carefully curated music further enhance the overall experience, setting the stage for a memorable culinary journey.
The attentive and friendly staff add to the charm of the place, always ready to guide guests through the menu and offer recommendations for an unforgettable dining experience.
Whether it's a romantic date night, a celebratory occasion, or a casual get-together, Spice Market Doha caters to a diverse clientele, making every visit a unique and enjoyable affair.
Spice Market Doha Menu
Spice Market menu offers a captivating culinary journey that combines the vibrant flavors of Southeast Asia with a touch of New York flair.
The menu at Spice Market showcases an impressive array of small plates, each brimming with exquisite combinations of spices and ingredients.
Diners can start their gastronomic adventure with tantalizing options such as the Crispy Beef, served with a delightful blend of Spicy Sweet Soy and Lime, or the Dynamite Shrimp, accompanied by a zesty Harissa Sauce and Green Chili.
For those seeking a vegetarian delight, the Cauliflower Karage, paired with a tangy Lime Kewpie, is a perfect choice.
Spice Market Doha Menu emphasis on rich flavors and diverse textures is further exemplified by dishes like the Wagyu Cheeks, succulently glazed with Yuzu Plum and crowned with Spiced Peanut Brittle.
For those in the mood for sushi and sashimi, Spice Market Doha delivers a delightful assortment of Nigiri and Sashimi selections.
From the delicately prepared Tuna (Maguro) and Salmon (Sake) to the indulgent Wagyu Teriyaki Tacos Set and Toro Tartare with Beluga Caviar, the sushi offerings showcase the restaurant's commitment to both tradition and innovation.
Additionally, the diverse range of rolls, from the classic California to the delectable Lobster Yuzu Ponzu Roll, ensures that sushi enthusiasts are in for a delightful treat.
Spice Market Doha Drink Menu
Spice Market Doha's drink menu offered an enticing selection of beverages to complement its vibrant culinary offerings.
Guests could indulge in a variety of expertly crafted cocktails, ranging from innovative creations inspired by Southeast Asian flavors to classic favorites with a modern twist.
The wine list featured an impressive array of reds, whites, and sparkling wines from around the world, catering to diverse palates.
For beer enthusiasts, a curated selection of local and international brews provided a refreshing accompaniment to the culinary journey.
Additionally, the drink menu encompassed premium spirits for those seeking a sophisticated and well-crafted libation.
Non-alcoholic options, including mocktails and fresh juices, were also available, ensuring a delightful and inclusive experience for all patrons.
Spice Market Doha Buffet Prices
Spice Market Doha boasts an enticing menu that harmoniously blends Southeast Asian cuisine with contemporary influences, and the pricing reflects the restaurant's commitment to delivering a premium dining experience.
The menu offers a wide array of delectable dishes, ranging from small plates to robata skewers, salads, soups, curries, and sushi selections.
Prices for small plates vary, with the Crispy Beef priced at 105 QAR, Dynamite Shrimp at 95 QAR, and the Cauliflower Karage at 62 QAR, providing guests with a diverse range of options to suit their preferences.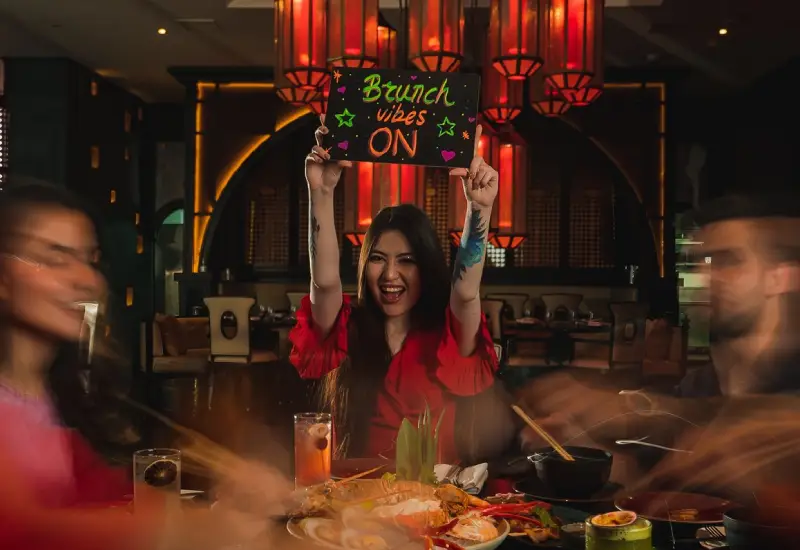 The robata section offers a tantalizing selection of skewers, such as the Mongolian Lamb Skewers at 77 QAR and the Charred Chili Rubbed Wagyu Beef Skewers at 165 QAR, showcasing the restaurant's commitment to delivering bold and diverse flavors.
Main courses and specialties further elevate the dining experience, with dishes like the Miso Glazed Black Cod priced at 205 QAR and the Toro Tartare with Beluga Caviar at 350 QAR, representing the pinnacle of culinary artistry.
Sushi enthusiasts can indulge in Nigiri and Sashimi selections, with prices ranging from 70 QAR for Salmon (Sake) to 82 QAR for Yellow Tail (Hamachi).
Spice Market Doha Awards
Spice Market Doha stands as a culinary beacon in the vibrant city, celebrated for its exceptional South East Asian cuisine and a continuous stream of prestigious accolades.
Over the years, the restaurant has garnered a remarkable collection of awards and recognition, solidifying its position as one of the finest dining establishments in the region.
The restaurant's commitment to culinary excellence has not gone unnoticed, with titles like "Best Restaurant of the Year," "Best Asian Restaurant," and "Favorite South East Asian Restaurant" bestowed upon them by reputable organizations like TIME OUT DOHA and FACT MAGAZINE.
Furthermore, their impressive standing in global rankings, such as the Traveler's Choice Award from TRIP ADVISOR, highlights the establishment's appeal to both locals and international visitors alike.
The BBC GOOD FOOD ME Awards crowned Spice Market Doha as the "Restaurant of the Year Doha," a testament to its ability to deliver exceptional dining experiences, capturing the hearts and palates of countless food enthusiasts.
Through each accolade and recognition, Spice Market Doha continues to shine, setting the benchmark for South East Asian cuisine in Qatar and beyond.
Spice Market Reviews
Spice Market has generally received positive reviews from diners and critics. The restaurant is often praised for its unique and innovative approach to blending Southeast Asian flavors with modern culinary techniques.
Diners have appreciated the diverse menu offerings, including the flavorful small plates, delectable robata skewers, and mouthwatering curries, which provide an unforgettable dining experience.
Reviewers have also highlighted the stylish and vibrant ambiance of Spice Market, which adds to the overall dining experience.
The restaurant's chic decor and attention to detail in presentation contribute to the establishment's upscale and sophisticated feel.
However, as with any restaurant, there may also be some mixed or negative reviews. Some diners may have different preferences or expectations, leading to varying opinions about the food, service, or pricing. It's important to consider a range of reviews to form a comprehensive understanding of the restaurant's reputation.
More Information
Spice Market Doha Contact Number: 0097444535135
Spice Market Doha Address: W Doha Hotel & Residences, West Bay, Doha, Qatar
Spice Market Doha Email Address: [email protected]
Spice Market Doha Website: Click Here
Restaurant Working Hours: Saturday – Thursday: 12 pm to 4 pm – 6 pm to 12 am / Friday: 12 pm to 4 pm – 7 pm to 12 am
Final Word
The Spice Market Doha is much more than just a marketplace; it's a portal to Qatar's rich heritage, a place where history, Qatar culture, and flavors intertwine. A visit to this enchanting haven is not merely a shopping expedition but a transformative experience that connects you with the essence of Qatar's culinary identity.
So, the next time you find yourself in Doha, don't miss the chance to embark on this aromatic adventure at the Spice Market.
Whether you are a seasoned food enthusiast, a curious traveler, or a seeker of cultural treasures, the Spice Market Doha promises an unforgettable experience that will leave a lasting impression and a deeper appreciation for the rich tapestry of Qatar's culinary legacy.
Are you planning to travel to Qatar? Check out our Qatar tours.