W Cafe Doha is heaven for coffee enthusiasts and food lovers in the vibrant capital city of Qatar. Located in the bustling streets of Doha, this charming cafe offers a warm and inviting atmosphere that beckons visitors to step inside and escape from the city's hustle and bustle.
When you enter the cafe, you are greeted with a delightful aroma of freshly brewed coffee, creating a sense of comfort and anticipation.
W Cafe is tastefully decorated with a blend of rustic and contemporary elements, creating a welcoming space where customers can unwind, catch up with friends, or simply enjoy a peaceful moment of solitude.
From the friendly and attentive staff to the carefully curated menu, every element at W Cafe Doha has been thoughtfully designed to provide a memorable and satisfying experience for all who venture in.
W Cafe Doha Environment
The environment at W Cafe in Doha is both trendy and relaxing. The cafe boasts a vibrant and modern interior design that combines industrial chic with contemporary elegance.
The main seating area features a variety of comfortable seating options, including sofas, armchairs, and bar stools. Using warm lighting and earthy color tones creates a cozy and inviting atmosphere, perfect for a casual gathering with friends or a productive work session.
One of the highlights of the cafe is its outdoor terrace, which offers stunning views of the city skyline. With plush seating and greenery, the terrace provides a serene and tranquil setting to enjoy a cup of coffee or a light meal while taking in the beauty of the surroundings.
The cafe's ambiance is enhanced by a carefully curated playlist of music, which adds to the overall experience.
The upbeat and energetic tunes create a lively atmosphere while still allowing for conversation and relaxation.
The staff at W Cafe are known for their friendly and attentive service. They are always ready to assist with menu recommendations or any special requests, ensuring that each customer's visit is memorable and enjoyable.
W Cafe Menu
W Cafe invites guests to embark on a culinary journey that seamlessly blends diverse flavors and culinary traditions, resulting in a menu that caters to a wide spectrum of palates and preferences.
For those embracing an early start, the breakfast offerings beckon with enticing choices like the classic Eggs Benedict, matching perfectly poached eggs with a choice of turkey or smoked salmon on an English muffin crowned with velvety hollandaise sauce.
Adventurous taste buds might opt for the Avo Tartine, an artful ensemble of poached eggs, crushed avocado, roasted tomato, and cilantro cress atop a canvas of flavors.
Transitioning into the daytime, the menu blossoms with an array of flavorful temptations. From the savory allure of Italian Grilled Chicken, marrying mozzarella, avocado, and fresh herb mayonnaise, to the zesty Vegan Bowl boasting rainbow quinoa, kale, chickpeas, and a tantalizing tahini and pomegranate dressing, W Cafe delivers a spectrum of culinary artistry.
And for those who relish the joys of a well-curated afternoon tea, the Afternoon Tea ensemble elegantly combines assorted sandwiches, scones, and homemade pastries, culminating in a symphony of flavors elevated by the choice of coffee or tea.
No visit to W Cafe is complete without partaking in their thoughtfully curated beverage selection. From the velvety Café Latte to the energizing Tropical Carrot juice, the menu boasts a variety that mirrors the diverse culinary offerings.
Sumptuous smoothies, refreshing teas, and meticulously crafted coffees invite patrons to savor each sip, making W Cafe a haven for connoisseurs of both flavors and experiences.
W Cafe Menu Price
W Cafe's menu prices reflect a meticulous balance between the culinary artistry presented and the accessible experience offered to its patrons. With options spanning from the Early Start breakfast selections to the delightful cupcakes, the menu caters to a wide range of preferences while ensuring that guests can indulge in flavors without compromising value.
The pricing structure demonstrates a commitment to inclusivity, where choices like Eggs Benedict and Avo Tartine are priced at 75 QAR, embodying a harmonious blend of taste and affordability. Similarly, the assortment of cupcakes at 20 QAR each echoes the notion that delectable treats can be enjoyed without breaking the bank.
Continuing down the menu, the pricing philosophy extends to the beverage selection, where various teas and coffees, each crafted with precision, are priced with consideration for both the craftsmanship and the enjoyment of the guests.
From classics like Espresso and Macchiato priced at 28 QAR to the more elaborate offerings such as Café Frappe and Matcha Latte, each cup invites patrons to savor the rich aromas and flavors while embracing the value proposition of W Cafe.
The diverse array of dishes, beverages, and their respective prices collectively exemplify W Cafe's dedication to providing a dining experience that balances exquisite culinary creativity with affordability, making it a haven for both food enthusiasts and those seeking an inviting atmosphere to indulge in a diverse range of flavors.
W Café Doha Reviews
The W Cafe in Doha has been receiving rave reviews from both locals and tourists. With its trendy atmosphere and delicious menu options, it has quickly become a popular spot for people to gather and enjoy a meal or a cup of coffee.
Many visitors have commented on the trendy atmosphere and how it adds to the overall experience of dining at the cafe.
In terms of the menu, the W Cafe offers a wide variety of options to suit all tastes and preferences. From breakfast dishes to light snacks, salads to sandwiches, there is something for everyone.
The cafe also offers a selection of freshly brewed coffees, teas, and other beverages, making it a great place to stop for a quick pick-me-up.
The quality of the food at the W Cafe has received high praise from customers. The dishes are made using fresh, high-quality ingredients, and the presentation is both beautiful and appetizing.
Many reviewers have highlighted the taste and flavor of the food, commenting that it exceeds their expectations.
W Cafe Location
Located within the prestigious W Doha Hotel in the bustling West Bay area, the W Cafe enjoys a prime location that seamlessly blends luxury with accessibility.
The cafe is strategically situated for both locals and travelers. Its central placement allows for easy navigation through Doha's vibrant streets, while the hotel's opulent surroundings add an air of exclusivity.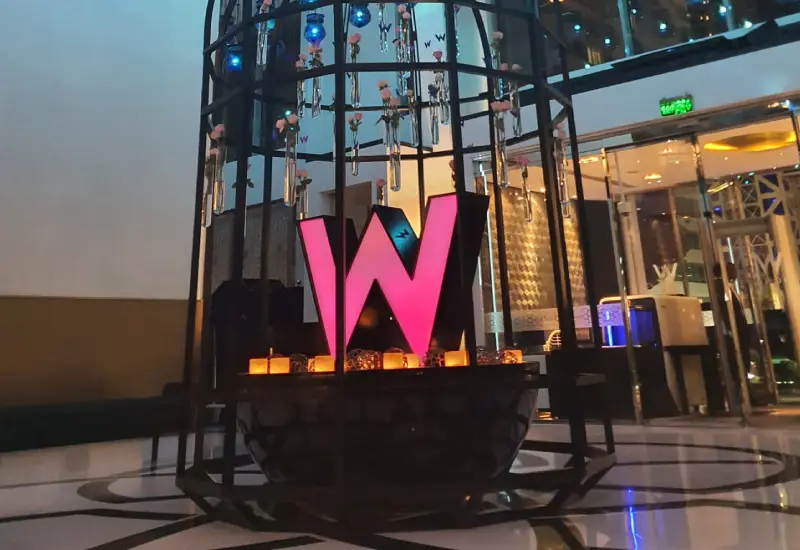 Thanks to its convenient accessibility, patrons can relish the cafe's exquisite offerings without compromising on convenience, making the W Cafe a true gem for those seeking a sophisticated yet reachable dining experience.
More Info to Visit W Cafe in Qatar
W Cafe Address: W Doha Hotel, West Bay, Zone 61, Street 831, Building 262, Doha, Qatar 19573
W Cafe Contact Number: +97444535135
W Cafe Website: Click Here
W Cafe Email Address: [email protected]
Final Word
W Cafe Doha is a true gem in the bustling city of Qatar, offering a delightful escape from the demands of everyday life. Whether you are a coffee aficionado, a food lover, or simply seeking a cozy atmosphere to relax and unwind, this cafe has it all.
From their extensive menu of delicious coffees, teas, and refreshing beverages to their delectable pastries and light snacks, there is something to please every palate. The warm and inviting ambiance, coupled with the friendly and attentive staff, ensures that every visit to W Cafe Doha is a memorable one.
So, whether you are a local seeking a regular spot or a traveler looking for a unique cafe experience, make sure to stop by W Cafe Doha and indulge in the delights they have to offer.
Are you planning to travel to Qatar? Check out our Qatar tours.