Do you enjoy wandering around in a place filled with elusive activities? You might like to entertain yourselves as a group of friends or family. If you are staying in Doha for a few days or live in Qatar, we highly recommend the Museum of Illusions Doha.
The space is ideal for family visits, group visits, team bonding activities, birthday parties, and event gatherings for all ages through interactive activities and educational information.
Types of illusion exhibitions
here are the exhibition:
Images
3D images that create illusions exist in their simplified form in our day-to-day lives on credit cards and banknotes. You will find a collection of some of the best Holograms in the world that takes you through the story of evolution.
There are photo illusions that hide lies in them. Nothing is what it seems in the Museum of Illusions Doha! You would spend minutes staring at a photo to figure out its complexity, which leads to an illusion.
Optical illusions play tricks on you and confuse your eyes and brain. Visual illusions deceive you due to the arrangement of images, the effect of colors, the impact of the light source, or other variables.
Read More: List of Museums of Qatar
Installations
Have you ever compared anything in your life to a bottomless pit? Sometimes life itself can seem endless. The bottomless pit, though, you have never seen one, have you? Well, it is time to see it in the Infinity Tunnel.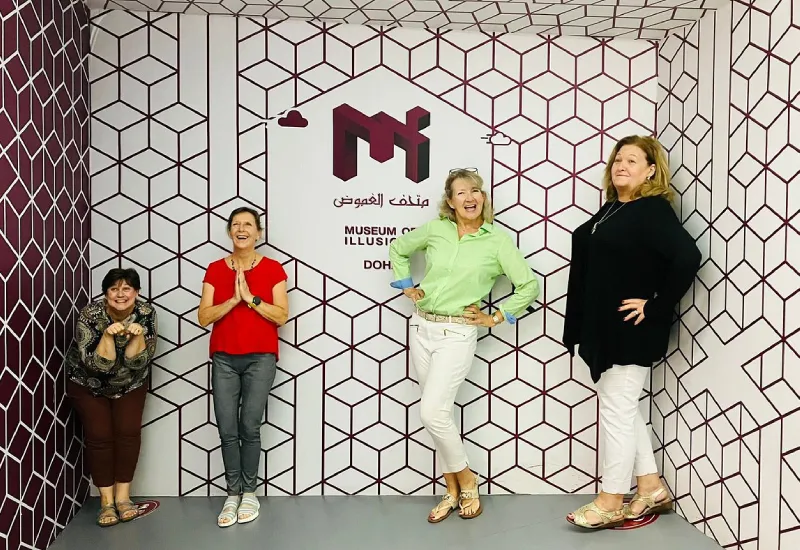 Mirrors lie. Did you know that what you see in the mirror when you look at yourself is not how people see you? Do you want to find out how you look? Visit the Museum of Illusions in Doha to experience the True Mirror.
In the Museum of Illusions in Qatar, some kaleidoscopes create wonderful patterns. Instead of colorful papers and pearls, visitors create patterns.
There is another amusing installation in this museum where you can see your friend's head on a platter! Experience the illusion of a hidden body. Do not forget to take a photo of the head on the platter!
What does a Danish psychologist do? He definitely will not create a vase! However, Edgar Rubin did. This Danish psychologist from the 1900s developed Rubin's Vase, which if you turn around slowly, you can see the various faces it hides.
The Hollow Face Illusion is spooky, as it resembles a ghost! A hollow face points away from you but looks like it is pointing toward you. Something even spookier is if you walk around a room and watch the stationary mask, the head turns! At least it looks that way.
Turn the tables slowly because if not, you will feel dizzy and lose balance! The Turntables is an optical illusion that creates different hypnotic illusions while in motion.
In accordance with the viewpoint, the Ambiguous Cylinder creates a special geometry shape, either a quadrant or a cylinder. The object is placed in front of a mirror so that we can see it from two opposite sides at the same time. The visitor can rotate the object 180 degrees when moving the handle left or right.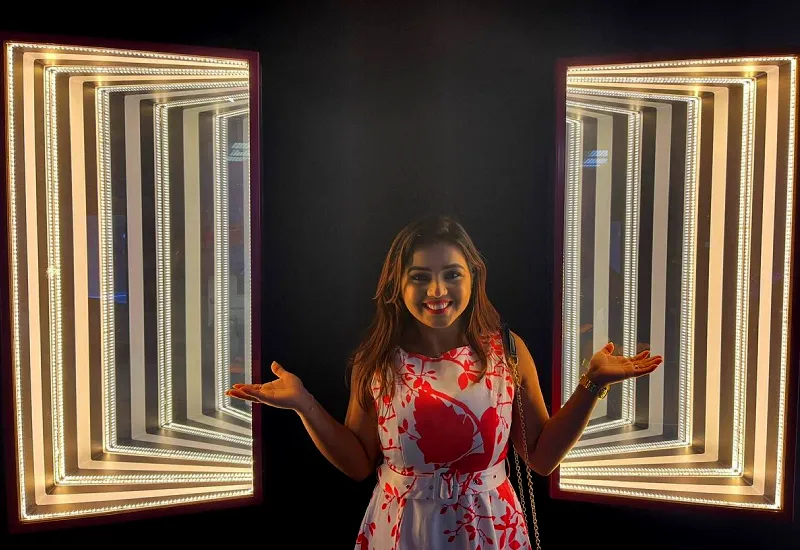 This exhibit is the Tricky Stick, which is attached to a horizontal plate that you can rotate until the stick faces a curved hole in its path. Because of thoughtful geometry, it passes easily through the hole despite our brains assuming it cannot.
Read more: Things to do in Qatar
Rooms
The Color Room provides a splendid opportunity to explore the "Theory of Color Addition". Look inside the room and see a white light on the projection wall. Now look on the opposite side to see three spotlights in red, green, and blue. How are they forming a white light together? A light illusion is formed, and the overlapping light beam is white.
Can you believe that the perceived size of a person depends on the context formed by the objects surrounding it? Explore the laws of perception and play with size rate by simply trying the Chair Illusion.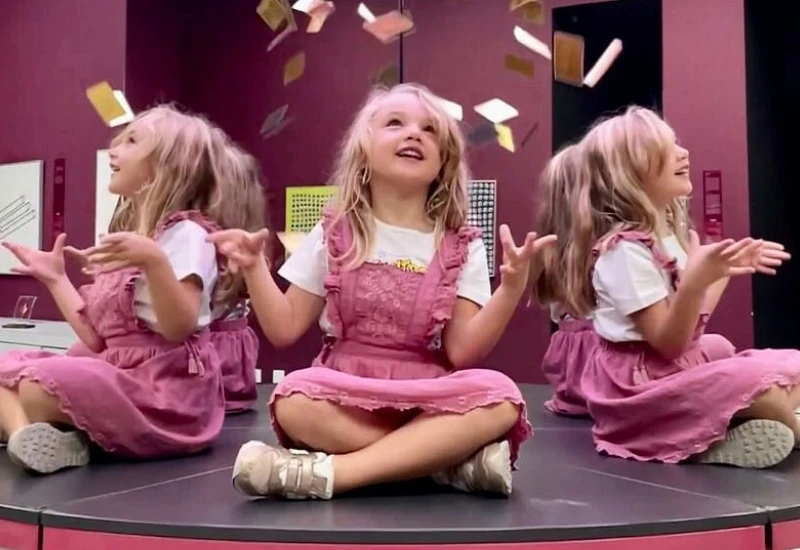 Many more bewildering rooms will leave you awestruck. The Ames Room shows how a person appears like a dwarf and another like a giant just by walking back or forth in the masterly distorted room.
Another room is the Rotated Room, where you can appear in a 90 degrees rotation! In the Infinity Room, mirrors are installed at full height all around you so you can experience infinite space. We recommend three more rooms: elude yourself in and feel anti-gravity, jump into a tunnel like the one in wonderland, and sit at a table that clones you!
Museum of Illusions Doha ticket price
The museum of Illusions ticket prices ranges according to age group.
Adults (16+) 80 QAR
Child (3-15) 60 QAR
Family Pax (2 Adults+ 2 Kids under 15) 220 QAR
Special Needs 40 QAR
Group (5 Adults) 340 QAR
You can pay your Museum of Illusions Doha entrance fee online on q-tickets. Group visits to museums are usually more fun since we can share our insights for each exhibit and have a more exciting experience. The Museum of Illusions Qatar ticket price is cost-effective when you are in groups.
Museum of Illusions Doha reviews
A tourist from Paris strongly recommends the museum and says it takes between 1hr30 to 2h to cover all the activities. Many recommend this outing with family.
They had a great experience and found the staff very kind and dedicated. They appreciated the staff's time and effort in showing them around the museum and explaining every aspect.
Some visitors think the museum was worth the 80 QAR entrance fee, and some went to the museum while exploring The Gate Mall Qatar.
They said that it is a small, family-oriented museum, fun and interactive. They thanked the personal guide for their assistance throughout the exhibition. This place was highly recommended for families with children.
Museum of Illusions Doha location
It is easily accessible via car or taxi (Uber is widely used, or Karwa or Careem). It is at a 25-minute distance from Hamad International Airport. The nearest metro station is DECC (Red line).
Address: The Gate Mall Omar – Al Mukhtar St, Doha, Qatar
Contact: +974 40206273 | [email protected]
Are you planning to travel to Qatar? Please read things to do in Qatar article & Check out our Qatar tours.