Qatar Education City is one of the initiatives of the Qatar Foundation to establish the Education City, which is located in the suburbs of Doha and covers the academic programs of this city. The area of this educational city is approximately 41 square kilometers, equipped with all educational facilities from school-age to university level and research centers.
Some of the educational programs of this city are led by some of the world's leading universities, including the universities of America, England, and France; a significant number of leading universities have branches in this city and train students.
In addition to training human capital to move towards a knowledge-based economy, another goal of establishing branches of leading universities in this city is to attract elites from other countries, especially neighboring countries (with similar cultures).
In addition to being a cradle of science and knowledge, this city has many tourist attractions and activities; other things to do in education city Doha are watching football in a unique stadium, horse riding, playing golf, visiting museums and libraries, etc.
Education City Qatar stadium
Education city stadium is another stadium for the 2022 World Cup in Qatar, whose construction was completed in 2020.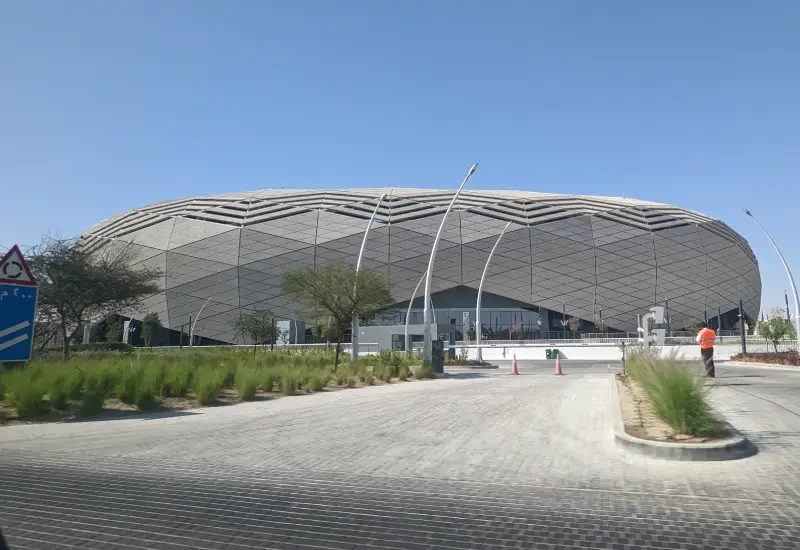 During the 2022 Qatar World Cup, the City of Education Stadium will host six games in the first round of the group, one match in the round of 16, and another in the quarterfinals; the education city games will begin on November 22.
The 40,000-seat stadium will host 20,000 spectators after the World Cup is over, and they will reduce the number of seats.
Read More: Al Khor Park and Zoo
Key features of the Stadium
Education city stadium has received three significant awards, including a five-star rating in design and construction, a Class A rating in construction management, and a seasonal energy efficiency index from the Global Sustainability Assessment System (GSAS).
These awards are a testament to Qatar's commitment to providing sustainable infrastructure for the upcoming FIFA World Cup.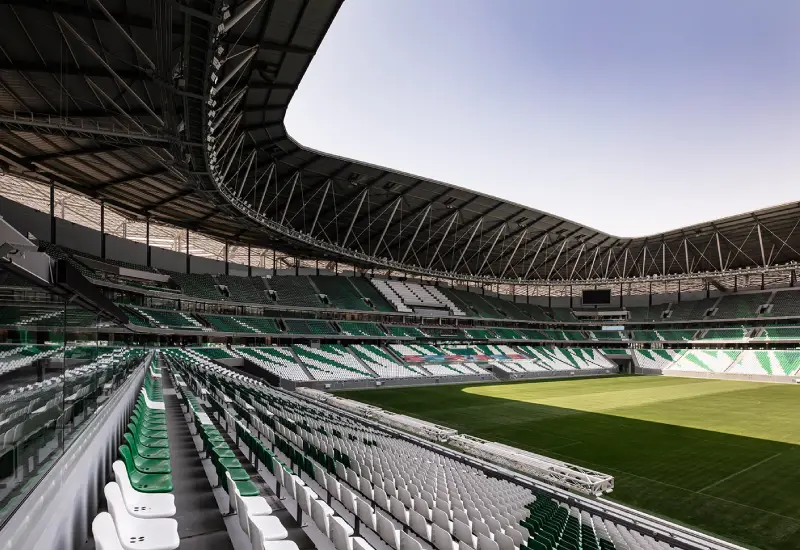 Like all Qatar World Cup stadiums, this stadium uses advanced cooling systems, so players and fans don't have any problems during the games.
In addition, fans with disabilities will have good access to the stadium, especially since the stadium's location in the Education city was chosen according to the accessibility of all fans. Those looking for more comfort can watch football matches from the VIP section and Sky Box.
Stadium architecture
The stadium's roof is covered with metal panels and consists of tensile steel cables. The exterior of the building is decorated with 5,200 triangles connected in diamond-like shapes, and their color changes depending on the sun's angle.
In the daytime, the stadium glows brilliantly, and at night it glistens with thousands of diodes, which is why the stadium is called the "Diamond of the Desert."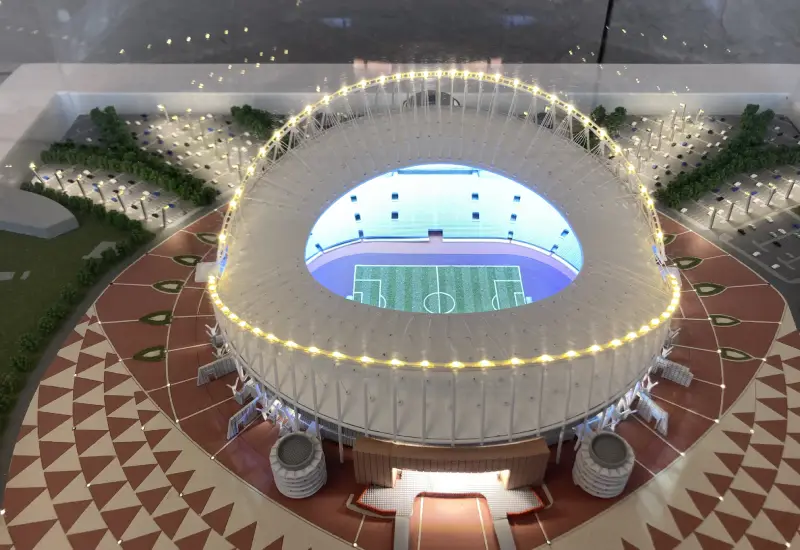 Interestingly, the stadium's facade is equipped with solar panels that provide 20% of the required energy for the complex.
By including such a structure on the stadium's facade, the stadium can maintain a more comfortable temperature in the interior, allowing fans to watch the match at a comfortable temperature of 24 to 28 degrees Celsius, regardless of the Qatar weather.
Facilities of the Education city stadium
There are green spaces and modern facilities, such as a swimming pool, surfing hall, store, football practice fields, a golf course, and a medical center around the Education city stadium.
All of these have been built according to the principles of sustainability and compatibility with the environment.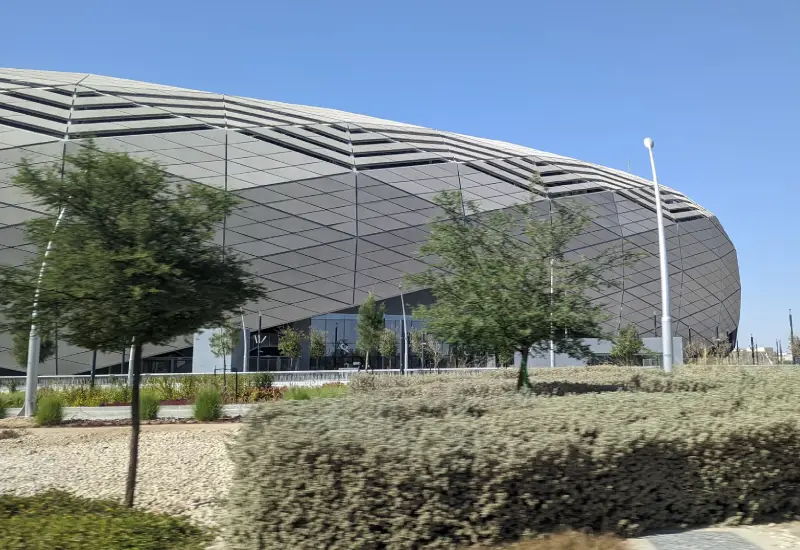 Education City Stadium has 39 skyboxes (a large private room with a view of the playground), each of which accommodates 9 to 36 people.
Each skybox has its own kitchen. Also, the Stadium has six media stands and a conference hall for 150 people.
Read More: Top Iconic Buildings in Doha
Location and access to the Stadium
The Stadium is among university campuses in the Qatar Education City complex and 15 km from the center of Doha.
City Stadium is easily accessible by car, taxi, and subway. Metro station is located about 10 minutes from the arena.
To get to this station, you need to take the metro's green line, which extends from the center of Doha to the east. There is also a local tram system in the City of Education, which is used to travel between the arena and other parts of the City of Education.
Golf course Education City Doha
Education City Qatar golf course consists of 33 holes of golf, specially designed and built by Jose Maria Olazabal, a skilled Spanish golfer.
This course and all the green areas of the golf course, including the fairways, greens, tees and rough, are all designed and built to USGA standards.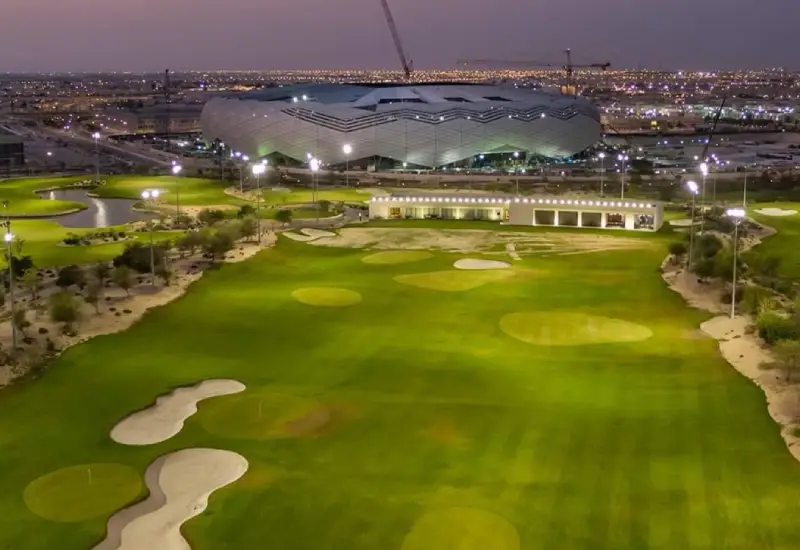 This golf club covers an area of 120 hectares of land adjacent to the Education City Qatar World Cup 2022 stadium. Education City Golf Club is an inclusive golf course that welcomes golfers and non-golfers alike.
Opening Hours:
The Golf Club opens at 6 am, with the first Tee time at 6 am and the last tee time at 7:30 pm.
The Driving Range is open from 6 am, with the last range balls at 9:00 pm.
Depending on the type of course and services offered, golf clubs charge between 225 QAR and 6,300 QAR for practicing.
Golf Equipment Rental Rates:
Full set of golf clubs 18 Holes (Ping G400)
Full set of golf clubs 6 Holes (Ping G400)
Half set of golf clubs 9 Holes (Ping G400)
Footjoy shoe rentals
Al Shaqab Horse Riding Academy
This horse-riding academy is a part of the living heritage of Qatar. This center aims to preserve the historical traditions and heritage of Arabian horses.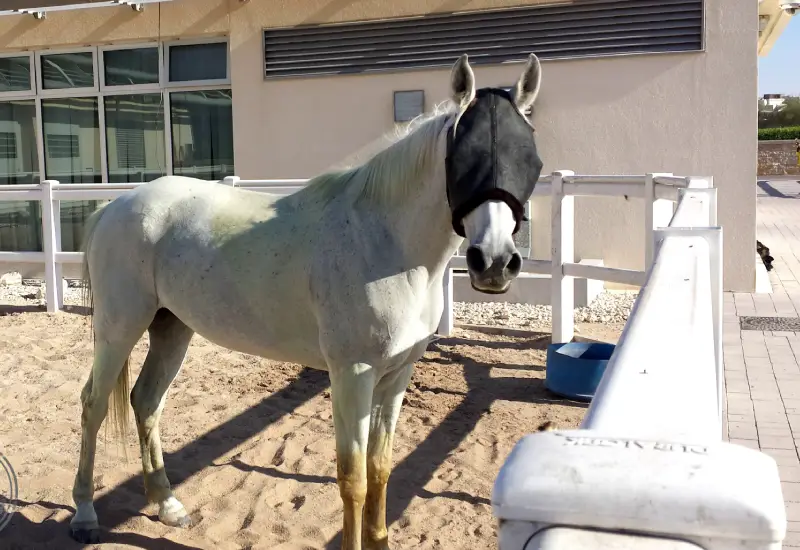 Animals that played an important role in the independence of Qatar are highly respected in this country. Home to more than 700 horses, Al Shaqab represents one of the world's leading equestrian programs based on the three principles of excellence, education, and heritage.
Education City Qatar universities
Education City has eight universities with affiliated research institutes and thirteen schools that are part of the Qatar Foundation's pre-university education network.
List of universities in the city of education:
Carnegie Mellon University in Qatar
Georgetown University in Qatar
Northwestern University in Qatar
Texas A&M University at Qatar
Virginia Commonwealth University School of the Arts in Qatar
Weill Cornell Medicine-Qatar
HEC Paris
Hamad Bin Khalifa University
Sheikh Faisal Bin Qasim Al Thani Museum
In this museum, you travel to the past and visit the collections collected by Sheikh Faisal. The museum was established in 1998 and has exhibited more than 15,000 historical artifacts from the Jurassic period to the present day.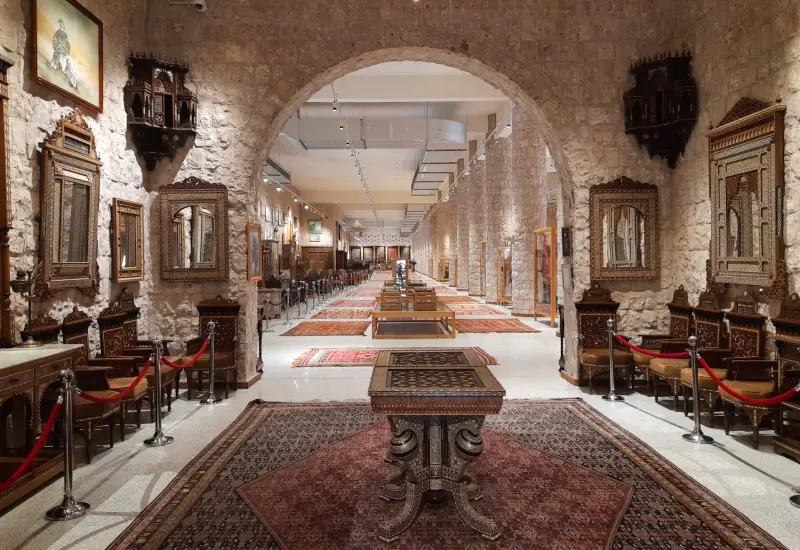 Among the works of the museum, we can mention a large number of exquisite Qurans, Kaaba curtains, 700 carpets, and more than 600 antique cars, various clothes from different parts of the world, antique furniture, and musical instruments.
Rem Koolhaas designed this library in a diamond shape with vast interior space. Bookcases are the main part of this building, which form an integral part of its architecture. Tools and equipment at the library's innovation stations allow visitors to engage in activities such as videography, photography, design, sound editing, and 3D printing.
Education City Qatar hotel
About 78 hotels and residences in the Education city offer you a wide variety of choices. Some of the closest hotels to the Education city are as follows:
Premier Inn Doha Education City (1.6 km from Education City)
Ezdan Palace Hotel (2.9 km from Education City)
Al Messila, a Luxury Collection Resort & Spa, Doha (3.6 km from Education City)
Al Aziziyah Boutique Hotel (5 km from Education City)
The Torch Doha (5.8 km from Education City)
The price of hotels varies from 92 CAD to 7000 CAD (per night)
Restaurants in Education City Doha
In this city, there are many different types of restaurants with the best quality that you can enjoy depending on your mood.
Education City Location
The Education City Qatar map shows that this city is a development in Al Rayyan, Qatar.
Conclusion
Education City is really a city of education. Many students come to education city to get their university degrees from the most prestigious universities in the world in Qatar.
Are you planning to travel to Qatar? Please read things to do in Qatar article & Check out our Qatar tours.