The Fairmont Doha Hotel is a luxurious five-star property situated in the heart of Doha, the glittering capital city of Qatar. The hotel provides guests with an unforgettable stay. The Fairmont Doha Hotel is an ideal destination for both business and leisure travelers, offering a wide range of facilities and amenities. These include top-notch restaurants, various leisure activities, modern accommodations, and exceptional service. From lavish suites to state-of-the-art business facilities, this luxurious property offers a unique and unforgettable experience.
Fairmont Doha History
Fairmont Doha's opening date was 2022, and Since its opening, the hotel has become a popular destination for both business executives and leisure travelers.
The hotel is part of the Fairmont Hotels and Resorts chain, a Canadian-based hotel brand that operates properties around the world.
In the past few years, the hotel chain has opened properties in the Middle East, including the Fairmont Doha Hotel.
Fairmont Doha Accommodation
The hotel offers a wide range of accommodation options to suit every guest's needs. The modern, contemporary guest rooms have been designed to provide guests with comfort and convenience.
All rooms come with a private balcony or terrace and are equipped with the latest technology, including LCD TVs, Wi-Fi access, and iPod docking stations.
The Executive Suites offer even more luxury, with separate lounge and dining areas, private terraces, and spectacular views of the Persian Gulf.
Also, for those looking for the ultimate luxury, the Grand Suite offers two bedrooms, a private living room, and even a private jacuzzi on the private terrace.
Read more: Grand Hyatt Doha Hotel
Fairmont Doha Recreation & Activities
The Fairmont Doha has many leisure and recreational activities for guests to enjoy, including a health club with a 25-meter lap pool, tennis and squash courts, a modern fitness studio, and a spa and wellness center.
For those looking for something a little more adventurous, the hotel offers water sports and diving activities, as well as various sightseeing and excursion programs.
Fairmont Doha Business Facilities
The Fairmont Doha Hotel provides premiere business and meeting facilities for business travelers, including modern meeting rooms, business centers, boardrooms, and reception areas.
The hotel also provides complete audio-visual facilities for all types of functions and events, ensuring that all business needs are completely met.
Fairmont Doha Restaurant
The hotel boasts an array of opulent restaurants and bars, ranging from global cuisine to local flavors, all surrounded by exquisite decor.
The unique cuisine of the Paloma Restaurant provides guests with the opportunity to experience the Arabic warmth of Middle Eastern hospitality in a contemporary setting. The menu is diverse, offering flavors from all over the world that are the latest trends in dining.
Fresh seafood, grilled meats, innovative salads, and spices create a truly unique and unforgettable culinary experience.
In addition, guests can indulge in the exquisite offerings of the Blue Wobble Bar or experience the passionate atmosphere of the Awakening Lobby Bar.
This impressive lobby bar offers an incomparable view of the Persian Gulf, while guests can enjoy signature cocktails, fine wines, and quick bites.
Fairmont Doha Afternoon Tea
Fairmont Doha Hotel is the perfect place to relax and unwind after a long day of sightseeing. Their exquisite afternoon tea is an absolute must-try and is offered daily from 1 pm – 5 pm.
The hotel offers a delightful, traditional English afternoon tea, which includes sandwiches, pastries, cakes, and freshly-brewed tea.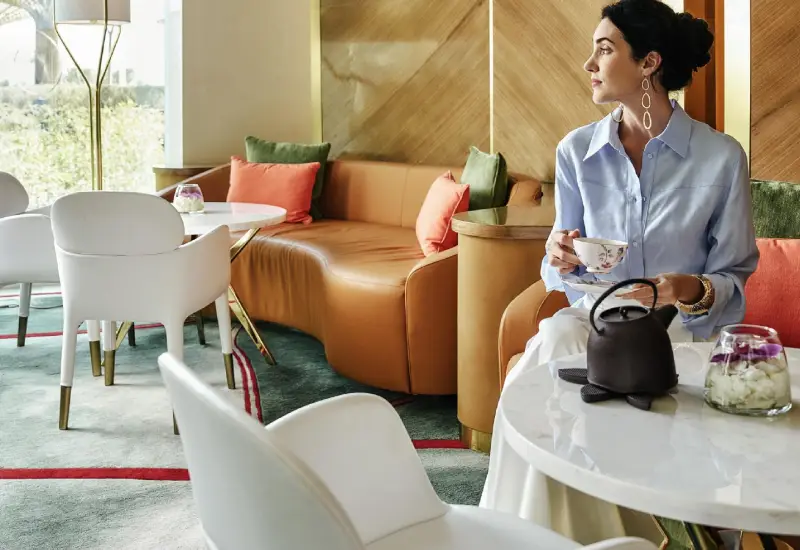 You can also choose from a variety of premium International teas or coffees. The breathtaking view of the APersian Gulf from the terrace of the hotel makes the afternoon tea an even more delightful experience.
Aside from the traditional afternoon tea, Fairmont Doha also offers an array of specialty afternoon tea experiences, including a luxurious "Diamond Afternoon Tea".
This is served with fine sparkling wine and includes sandwiches with caviar and treats with truffles.
The rooms and suites at the Fairmont Doha are generously sized and well-equipped. There is a choice of king-size and double beds, luxurious bathrooms with superior-quality amenities, and a range of gadgets, such as in-room entertainment systems.
Individually controlled air conditioning and complimentary Wi-Fi are provided, as is 24-hour room service.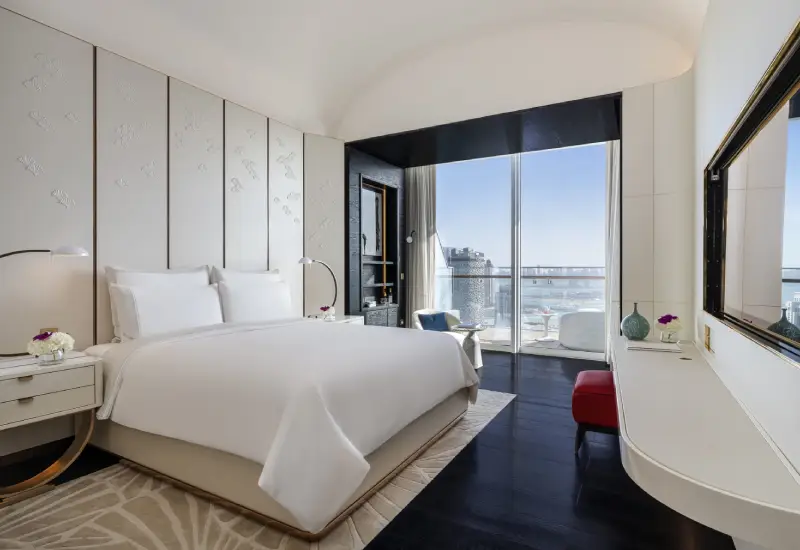 To make a booking at Fairmont Doha Hotel, you can do so directly through the hotel website, or you can search online travel sites.
A variety of packages and special rates are available, including seasonal packages throughout the year. Besides, the hotel has recently launched an e-concierge mobile app that allows you to book your room on your smartphone in no time.
When considering a stay at the Fairmont Doha Hotel, Tripadvisor reviews serve as a valuable resource, offering insights from fellow travelers who have experienced the hotel firsthand.
The exceptional ratings and positive feedback on Tripadvisor reinforce the Fairmont Doha Hotel's position as an unparalleled choice for an unforgettable stay in Doha, Qatar.
Fairmont Doha Careers
Fairmont Doha Hotel offers careers in all aspects of hospitality, from the iconic Front Desk team to the dedicated hospitality experts in Food and Beverage, Sales and Marketing, Administration, Housekeeping, Event Planning, and various other hotel operations.
Every employee is given the opportunity to grow professionally with the help of amazing benefits, like flexible working arrangements and career advancement opportunities.
If you want to be part of a dynamic and growing team, then a career at Fairmont Doha is perfect for you.
More Info to Visit Hotel Fairmont Doha
Address: 6th Street, Lusail Marina District, Lusail City, Doha, Qatar
Fairmont Doha Contact Number: +974 40307200
Fairmont Doha Website: Here
Email: [email protected]
Final Word
The Fairmont Doha Hotel is a true gem in the heart of Qatar's capital city, offering an unparalleled experience of luxury, elegance, and warm Qatari hospitality. With its exceptional accommodations, exquisite dining options, a world-class spa, and impeccable service, this distinguished property has firmly established itself as a premier destination for travelers seeking an extraordinary stay in Doha. A stay at the Fairmont Doha Hotel ensures an unforgettable experience of luxury and indulgence.
Are you planning to travel to Qatar? Check out our Qatar Hotel page & Qatar tours.