One of the main difficulties you face when traveling with your friends and family is choosing the ideal accommodation. Deciding to stay in a standard or top hotel can result in the overall experience of your trip. The capital of Qatar, Doha, has been one of the most traveled destinations in Asia in recent years. With many hotels in Doha, staying in a nice hotel may be confusing and difficult for some travelers. However, the Grand Hyatt Doha Hotel & Villas reviews show that this place is certainly qualified for any traveler.
Grand Hyatt Doha Hotel & Villas Overview
Grand Hyatt Doha Hotel & Villas may be a well-known location for any traveler in Qatar. As its name suggests, this luxury 5-star hotel is greatly significant and unique among all the other complexes in Qatar.
A well-developed castle-like design with all the necessary features and amenities at its finest quality, the Grand Hyatt Doha Hotel & Villas is an inevitable decision for anyone who is seeking a 5-star experience.
Taste the comfort and relaxation by all means in the capital of Qatar at the Grand Hyatt Doha, as it is one of the most professional complexes operating in Doha.
Read more: Al Messila, A Luxury Collection Resort & Spa
Amenities
Moreover, when it comes to services and amenities, Grand Hyatt Doha Hotel & Villas has lived up to our expectations.
From the best room services and friendly staff to some extra features such as a fitness center, indoor swimming pool, and BBQ places, this hotel sets a high standard.
There are a variety of activities that you as a guest can do to enjoy more of your time at the Grand Hyatt Doha Hotel.
Here is a list of some things that you can do:
Get body scrubs or body wraps, or visit a spa center.
Relax in the garden.
Enjoy a massage and a hot tub.
Check out the Nightclub and on-site entertainment.
Relax in the sauna & steam room, or go swimming in the pool.
Go on tours or to non-motorized water sports.
Design
Design is one of the main highlights of the Grand Hyatt Doha Hotel & Villas. The interior and exterior design of the hotel is astonishing. Firstly, rooms are simplistic and modern while they are relaxing and comfortable.
There aren't any messy patterns or light-headed designs. The public spaces of the hotel also represent this ideology of being modern and simple very well.
However, the most notable thing you can see is the grand areas and beautiful architecture of the hotel, which includes cultural elements of Arab people while being a modern infrastructure.
Additionally, the beautiful green areas with palm trees, along with a fabulous pool and clean water, have created a dreamy atmosphere outside the hotel.
Read More: Hilton Doha Hotel
Food & Restaurant
After all these activities, which you can do at the Grand Hyatt Doha Hotel and resting, you need to eat delicious cuisine to embrace your trip to Doha.
The Grand Hyatt Doha Hotel & Villas provides a few top-level restaurants that are definitely worth trying. The first restaurant is a worldwide famous complex that offers Thai cuisine with a unique use of spices and herbs.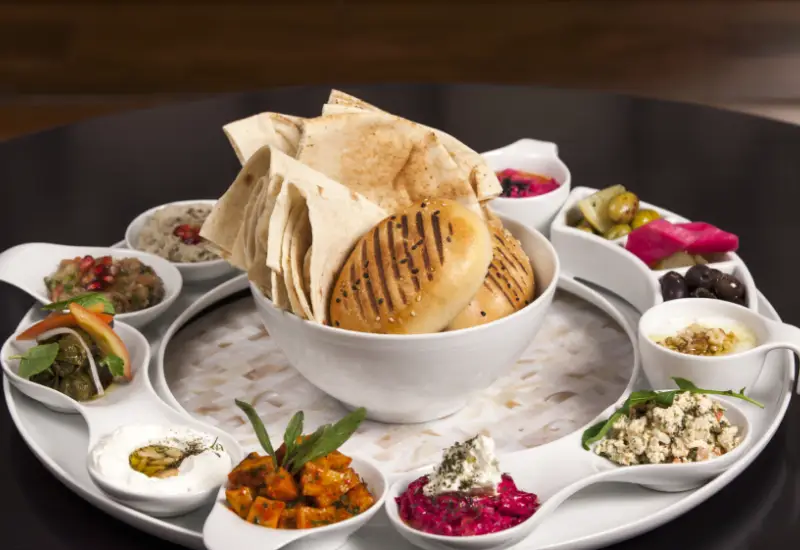 The Isaan Restaurant is the best place to taste Asian cuisine, especially Thai cuisine, to introduce yourself to new tastes. The second restaurant where you can have delicious meals is Rocca.
An Italian restaurant that offers a variety of flavors and different dishes to fulfill your desire. You can check out these two restaurants and have tasty moments with your family.
Reviews
Grand Hyatt Doha Hotel & Villas TripAdvisor reviews can demonstrate the quality, services, and features the hotel offers.
Grand Hyatt Doha Hotel & Villas TripAdvisor reviews suggest that this place is one of the best places that you can choose to stay in Doha.
The Grand Hyatt Doha Hotel & Villas reviews delivered excellence of this hotel in all aspects. Grand Hyatt Doha Hotel & Villas reviews are all positive and this hotel is highly recommended by locals and tourists.
Information
The Grand Hyatt Doha Hotel is accessible via car and taxi. The hotel also offers an airport shuttle and parking sites for guests for more ease.
The hotel includes 5 floors, 2 bars, 4 restaurants, and also non-smoking rooms. If you want to experience a 5-star hotel in Doha, this hotel is a good value for money.
Grand Hyatt Doha Address: Pearl Blvd, Doha, Qatar
Grand Hyatt Doha's Contact Number: +974 4448 1234
Grand Hyatt Doha Hotel & Villas Location
Grand Hyatt Doha Hotel & Villas location is accessible for all tourists and travelers alike. Nestled on a small island between Doha and the Persian Gulf, this hotel provides everything that a tourist would desire to visit.
Grand Hyatt Doha Hotel & Villas location is close to many attractions, must-visit sites, and complexes that can get your travel experience to new levels.
The hotel is proximate to Pearl Qatar, Ritz Carlton Marina, Lagoona Mall, Gewan Island, and Gewan Golf Club.
If you are looking for any restaurants nearby, you can head out to Altabi Restaurant, Jerry's Pan, La Perla Tents, and Shawerma Afendi.
Lastly
Grand Hyatt Doha Hotel & Villas is one of the most qualified complexes to stay in Doha, the capital city of Qatar. It is a place where a sense of relaxation and enjoyment combines and builds up a beautiful experience for travelers of all ages.
This hotel can be an ideal choice for an ideal vacation to Qatar. If you want to enjoy your weekend or holiday in Doha, the Grand Hyatt Hotel is highly recommended by our team of experts and travelers from all around the world.
Are you planning to travel to Qatar? Check out our Qatar Hotel page & Qatar tours.