Traveling to Doha comes with new challenges. One of these challenges is choosing a great and optimal location to accommodate and stay with your friends and family, and since the capital of Qatar is a tourist-welcoming city, there are lots of hotels and resorts that one can choose from. Hilton Doha Hotel, one of the oldest hotels operating in the capital city, is a popular and loved destination among tourists.
Hilton Doha Hotel offers a variety of services and features at a world-class level for guests, so they can enjoy their holiday in Qatar. Let's know more about Hilton Doha Hotel.
Overview
Hilton Doha Hotel is one of the most popular resorts, serving visitors in the diplomatic district. Elegance and luxury are some of the words that define the general vision of Hilton Doha Hotel. With a great focus on both comfort and luxury, the hotel provides everything a traveler needs.
From well-designed rooms to different facilities and, of course, business conference halls, the Hilton Doha Hotel is heaven for an outsider.
Moreover, one of the key advantages of this hotel is its eternal and fascinating views of the sea, which can be experienced through the lovely window of your room. You can also walk a short distance to see the sea from closer angles.
Features
With its private beach, the Hilton Doha Hotel is ideal for leisure travelers, especially for romantic lovers and couples. The hotel also offers a variety of features and amenities.
Beautifully designed rooms with luxurious amenities (A flat-screen TV, minibar, tea/coffee maker, etc.) and free Wi-Fi are the hotel's key highlights.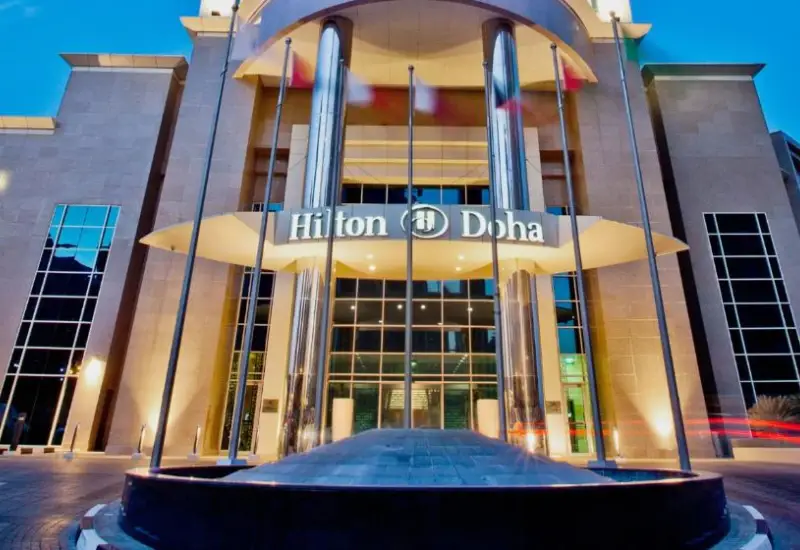 Guests can also enjoy the outdoor swimming pool or focus on their health and body at the fitness center of the hotel.
Further enhancing the feeling of joy and relaxation, the Hilton Doha Hotel also features a spa and wellness center, along with a bar.
Food & Restaurant
Hilton Doha Hotel includes some fantastic dining facilities on site. The hotel is home to several restaurants, which offer international cuisine to suit all tastes.
The award-winning Mawasem restaurant serves a delicious array of international cuisine in a family-friendly environment.
Its design is a combination of modern and traditional elements, while Trader Vic's restaurant offers a taste of the South Pacific with its Polynesian-style dishes in a simple, modern, and relaxing environment.
On the other hand, Tahitian Village invites guests to delicious Asian and Mediterranean dishes. Guests can also enjoy light snacks and drinks at the hotel's poolside bar or lobby lounge.
Reviews
The Hilton Doha Hotel is very popular among locals and travelers as it is one of the top-ranked 5-star hotels in Qatar.
Brilliant views and endless luxury are the most loved highlights of the hotel by reviewers and guests, which makes the hotel a top-level facility while providing ease and comfort.
Friendly and helpful staff, amazing restaurants, an ideal location, and superb features could be the weekend getaway for you and your family in Doha.
The Hilton Doha Hotel tries its best to provide guests with all their needs and does an excellent job in every aspect. The hotel is not only ideal for leisure travelers; it is also perfect for business travelers.
Hilton Doha Hotel Location
Hilton Doha Hotel is located in the Diplomatic district on the waterfront promenade Corniche. The location of the Hilton Doha Hotel is one of its main highlights providing outstanding views and being accessible for newcomers and travelers, especially tourists.
The Hilton Doha Hotel is also ideal for business travelers since it is close to many important buildings and facilities.
Additionally, there are also various attractions and sites which tourists and travelers can visit during their stay at the hotel.
For instance, Katara Cultural Village, Souq Waqif, the Museum of Islamic Art, and other shopping centers are some of the places that are ideal for visiting.
Pieces of Information
The Hilton Doha Hotel is easily accessible via car and taxi. Hilton Doha is a 15-minute drive from Doha International Airport. Free private parking is available on-site.
The hotel also offers an airport shuttle for free, which can be ideal for first-time travelers. This hotel is the perfect getaway for couples and ideal for romantic weekends.
If you are visiting Doha, make sure to check out Hilton Doha Hotel located on Diplomatic Street near the Corniche.
Address: Diplomatic St, Doha, Qatar
Phone: +974 4423 3333
Final Words
Hilton Doha Hotel is one of the amazing places to accommodate in Qatar. It is one of Qatar's top-ranked hotels operating in the diplomatic district. Featuring outstanding views and luxurious rooms, you can make sure you spend great moments at Hilton Doha Hotel. You can appreciate various top-level restaurants, nearby attractions, and the professional and friendly staff of the hotel. Experience 5-star services and enjoy the luxurious amenities of the Hilton Doha Hotel in the vibrant capital of Qatar.
Are you planning to travel to Qatar? Check out our Qatar Hotel page & Qatar tours.