Nestled in the heart of Doha, Qatar, the Souq Waqif Boutique Hotels By Tivoli offer an exquisite blend of traditional Arabian hospitality and contemporary luxury. This unique collection of hotels offers guests an authentic Qatari experience, taking guests on a journey through Qatar's rich cultural heritage while providing world-class amenities and impeccable service.
This luxurious 4-star hotel provides luxury views overlooking the Corniche and the Gulf. Accommodation is offered for up to 174 guests in 28 individually decorated guest rooms and 8 suites.
Souq Waqif Boutique Hotels By Tivoli Facilities & Services
The hotel offers stylish guestrooms and suites, each designed to provide the highest standards of luxury and comfort.
Accommodations include King, Double, and Executive Club Rooms with exquisite furnishing, designer artwork, and high-quality linens for a truly luxurious experience.
All guestrooms come equipped with an array of modern amenities, including high-speed Wi-Fi, flat-screen cable TVs, iPod docking stations, and mini-bars.
Additionally, the hotel features a variety of excellent leisure facilities and services for guests to enjoy, such as a lagoon-style saltwater swimming pool, a full-service spa and health club, a steam room, and a business center.
Guests can take advantage of the hotel's concierge services to help them plan their itineraries and maximize their stay in Doha.
Furthermore, Souq Waqif Boutique Hotels By Tivoli offers excellent meeting and conference facilities, making it an ideal choice for corporate guests.
Souq Waqif Boutique Hotels By Tivoli Booking
To make your booking, the Souq Waqif Boutique Hotels By Tivoli provide multiple convenient options.
One of the most accessible methods is through their user-friendly website. When you visit the official hotel website, you can explore detailed information about each property, including room types, amenities, dining options, and more.
The intuitive interface allows you to navigate the different sections effortlessly, making it easy to find the information you need to make an informed decision.
Once you have selected your preferred hotel and room type, the website's integrated booking system enables you to check availability and secure your reservation in just a few simple steps.
Enter your desired check-in and check-out dates, along with the number of guests, and the system will provide you with real-time availability and pricing.
You can then proceed to complete your booking by providing your personal details and payment information, ensuring a secure and hassle-free transaction.
Tripadvisor reviewers praise the location of the Souq Waqif Boutique Hotels by Tivoli, noting that it is an ideal base for exploring the vibrant city of Doha.
Guests remark on the excellent service provided by the hotel staff, praising the overall friendliness, efficiency, and helpfulness.
With guests noting that this destination is the perfect blend of luxury and convenience, Souq Waqif Boutique Hotels by Tivoli is the perfect choice for a stay in Qatar.
Souq Waqif Boutique Hotels By Tivoli Restaurant
Souq Waqif Boutique Hotels by Tivoli Restaurant is an amazing place to stay if you seek an elegant, luxurious, and unique experience in Qatar.
The restaurant provides a variety of exquisite international and regional cuisines, giving you the opportunity to experience the delicious flavors of Qatar.
Dining at the Souq Waqif Boutique Hotels By Tivoli is a culinary journey through the flavors of Qatar.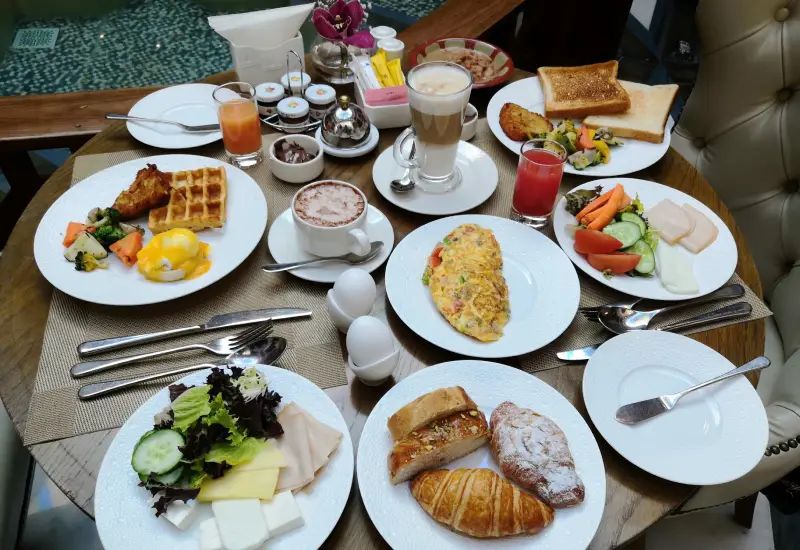 Guests can savor a wide range of delicacies, from traditional Qatari dishes to international cuisine, prepared by skilled chefs using the finest locally sourced ingredients.
Restaurants and cafes within the hotel offer a variety of dining options, from casual settings to elegant fine dining experiences catering to every taste and occasion.
Souq Waqif Boutique Hotels By Tivoli Doha Menu
The hotel's signature restaurant, The Olive Tree, provides guests with an unforgettable culinary experience.
Combining distinctive Middle Eastern flavors with modern techniques to create innovative fusion dishes, The Olive Tree showcases the best traditional Qatari cuisine.
From succulent mezze platters and spicy shawarmas to aromatic grilled meats, vegetarians have plenty of options as well.
If you're looking for a more elaborate spread, Tivoli Doha offers a variety of buffet menus, all featuring a range of international dishes that surely tantalize your taste buds.
Souq Waqif Boutique Hotels By Tivoli Doha Bar
When it comes to experiencing the lively atmosphere of Doha, there's no better place to relax and socialize than the Souq Waqif Boutique Hotels By Tivoli Doha Bar.
As you step into the Doha Bar, you will be immediately drawn to its unique blend of traditional Qatari decor and contemporary design elements.
The interior is adorned with ornate Arabian motifs, vibrant colors, and luxurious furnishings, creating a stylish and inviting space for guests to enjoy.
The bar's extensive drink menu showcases an impressive selection of handcrafted cocktails, premium spirits, fine wines, and refreshing non-alcoholic beverages.
Skilled mixologists are on hand to create bespoke concoctions tailored to your taste preferences, ensuring that each drink is a work of art.
Whether you prefer a classic cocktail or a signature creation inspired by Arabian flavors, the Doha Bar's expert bartenders will deliver an exceptional beverage experience.
Souq Waqif Boutique Hotels By Tivoli Location
Souq Waqif Boutique Hotels By Tivoli is located right in the heart of the historic Souq Waqif district in Doha, Qatar.
This iconic property is made of two distinctive towers offering a comfortable blend of traditional and contemporary architecture.
With an enchanting blend of Arabian hospitality and modern luxury, the hotel is renowned for its wide range of top-notch amenities, services, and facilities.
The hotel offers easy access to the world-famous Souq Waqif, its fascinating cultural heritage, as well as a collection of shopping and dining options.
The hotel is also a stone's throw away from the famous Corniche. Whether traveling for business or leisure, guests at the Souq Waqif Boutique Hotels By Tivoli can experience the mesmerizing Qatar culture, beauty, and modernism of Doha city and its surrounding areas.
More Information to Visit Souq Waqif Boutique Hotels By Tivoli
Souq Waqif Boutique Hotels By Tivoli Contact Number: +974 4433 6666
Souq Waqif Boutique Hotels By Tivoli Address: Souq Waqif Boutique Hotels by Tivoli, Souq Waqif, Doha PO 3496, Qatar
Email Address: [email protected]
Website: Here
Final Word
Whether you are a leisure traveler seeking a cultural escape or a business traveler in need of a luxurious retreat, the Souq Waqif Boutique Hotels By Tivoli offer a unique and captivating destination.
By blending Qatari traditions with modern comforts, these hotels provide an authentic and enriching experience that will leave a lasting impression.
Immerse yourself in the vibrant ambiance of the Souq Waqif and embark on a journey that combines luxury, heritage, and the warm hospitality of Qatar.
Are you planning to travel to Qatar? Check out our Qatar Hotel page & Qatar tours.