Nestled in the heart of the vibrant city of Doha, Qatar, Millennium Hotel Doha offers a luxurious retreat for travelers seeking comfort, elegance, and unparalleled hospitality. With its prime location, stunning architecture, and exceptional amenities, this five-star hotel is a haven for both business and leisure travelers.
This five-star oasis of elegance and comfort stands tall amidst the cityscape, beckoning travelers with its exquisite architecture, impeccable service, and commitment to providing an unforgettable stay. Whether you're a discerning business traveler seeking convenience and refinement or a leisure traveler looking to immerse yourself in the wonders of Qatar in Qatar hotels, this hotel promises to be the perfect haven for your stay.
Millennium Hotel Doha Booking
To begin your booking journey, Millennium Hotel Doha offers multiple convenient options to suit your preferences.
One of the most efficient and user-friendly methods is through their official website. You can explore detailed information about room types, amenities, dining options, and more by visiting the hotel's dedicated online platform.
The intuitive website interface allows you to navigate effortlessly through the different sections, providing you with all the necessary details to make an informed decision.
For those who prefer a more personalized touch or have specific inquiries, Millennium Hotel Doha offers dedicated customer support through various communication channels.
You can contact their friendly and knowledgeable reservations team via phone or email, who will gladly assist you with any questions or special requests you may have.
Their expertise ensures that you receive the necessary information to make an informed decision and have a seamless booking experience.
Millennium Hotel Doha Roof Kitchen
The Millennium Hotel Doha Roof Kitchen offers guests a remarkable culinary experience. The restaurant is situated on the roof of the Millennium Hotel, offering magnificent views of the city skyline and the Persian Gulf.
As the sun sets on the desert horizon, guests can watch the city lights come to life as they savor delectable flavors from the presented cuisine.
The restaurant offers modern Mediterranean cuisine with an Asian twist, combining flavors from many different cultures into an exciting and unique experience.
All dishes are prepared with the freshest and best ingredients to deliver a delicious and memorable meal. To further complement the meal, the Roof Kitchen also offers an array of fine wines and spirits as well as a selection of local and international beers.
Millennium Hotel Doha Spa
The Millennium Hotel Doha Spa is dedicated to providing a five-star experience to all guests. The Millennium Hotel offers a full-service spa, gym, and swimming pool, as well as four different restaurants.
With beautiful facilities and exemplary service, the Millennium Hotel Doha Spa is the perfect place for a luxurious reflection.
The spa area is complete with saunas, steam baths, and massage treatments, offering a variety of ways to relax deeply.
The fitness center is secure and offers a full line of workout equipment, such as treadmills, weight machines, rowing machines, and more.
For guests who prefer to be in the pool, the hotel has an indoor pool and a separate children's pool. These are delightful and great for cooling off on hot summer days in Doha.
Millennium Hotel Doha Reviews
Millennium Hotel Doha has earned a reputation for delivering exceptional hospitality and creating memorable experiences for its guests.
Renowned for its luxurious accommodations, attentive service, and prime location, this five-star hotel has garnered numerous positive reviews from travelers who have had the pleasure of staying there.
Let's delve into what guests said about their experiences at Millennium Hotel Doha.
One aspect that consistently receives praise is the hotel's commitment to providing exemplary service.
Guests frequently mention the friendly and professional staff members who go above and beyond to ensure a comfortable and enjoyable stay.
From the warm welcome at check-in to the attentive assistance throughout the stay, the staff at Millennium Hotel Doha stands out for their attention to detail and willingness to accommodate guests' needs.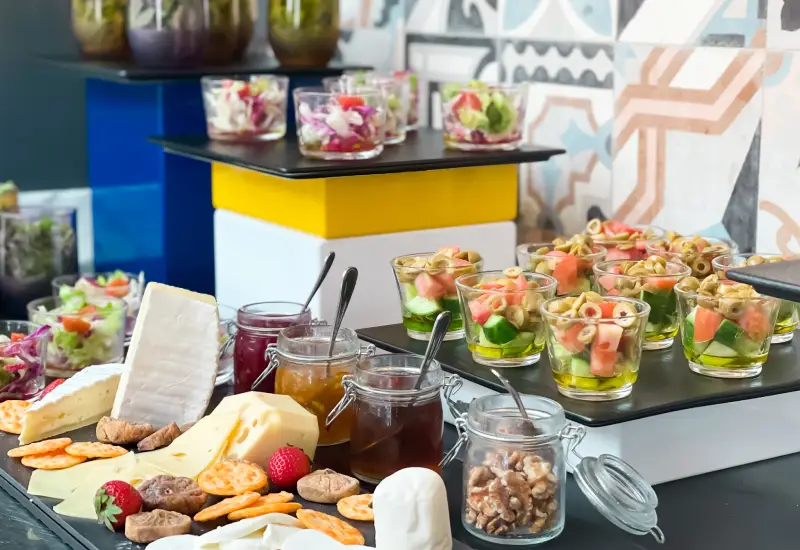 The luxurious accommodations at Millennium Hotel Doha also leave a lasting impression on guests. The elegantly designed rooms and suites are often described as spacious, well-appointed, and equipped with modern amenities.
Comfortable beds, stylish furnishings, and thoughtfully chosen decor contribute to a restful and inviting ambiance that exceeds guests' expectations.
Millennium Hotel Doha Location
Millennium Hotel Doha boasts a prime location that allows guests to touch the rich cultural tapestry and vibrant energy of Doha, Qatar.
The hotel offers unparalleled convenience and easy access to many attractions, making it a perfect place for business and leisure travelers.
The hotel is just a short drive from Hamad International Airport, ensuring a seamless and comfortable arrival and departure experience. Upon landing in Doha, guests can quickly make their way to the hotel, eager to begin their exploration of this fascinating city.
The Millennium Hotel Doha's location offers a distinct advantage for business travelers.
The hotel is within close proximity to major business districts, government offices, and corporate headquarters, facilitating seamless travel for those with professional engagements in the city.
After a productive day of meetings, guests can return to the hotel and unwind in the luxurious surroundings, taking advantage of the hotel's amenities and services tailored to meet all the needs of business travelers.
More Information to Visit Millennium Hotel Doha
Millennium Hotel Doha Contact Number: +974 4424 7777
Millennium Hotel Doha Address: Jawaan Street, Al Sadd Po Box 24249 Doha, Qatar
Millennium Hotel Doha Email Address: [email protected]
Website: Click Here
Final Word
In conclusion, Millennium Hotel Doha offers a perfect blend of comfort, elegance, and convenience for travelers seeking a memorable stay in Qatar's capital city. With its luxurious accommodations, exceptional dining options, top-notch facilities, and attentive service, this hotel promises an unforgettable experience for all who pass through its doors.
Whether you are visiting for business or pleasure, Millennium Hotel Doha invites you to immerse yourself in the finest hospitality that Doha has to offer.
Are you planning to travel to Qatar? Check out our Qatar Hotel page & Qatar tours.